I'll own up. When I first stumbled into women's football in 2011, I did not expect to be sat at Wembley Stadium, watching my own nation and a team I have covered since 2014 winning its first major tournament, and just the second, male or female, in front of more than 87,000 supporters.
Crazy, right? It wasn't even a dream for me, just like it wasn't for many of those in the squad, because back in 2011 it just never felt feasible. Many people always ask if covering a tournament is the best part of the job. In many ways, yes, but in many ways it is also the most draining.
I never want to sound like I'm complaining, it's an absolute privilege, and the payoff of this tournament, standing on a viewing platform with my colleagues and close friends, watching 7,000 supporters go wild for two hours to celebrate England's Euro 2022 success, was one of the highlights of my career.
The whole 24 hours was a highlight, as most of my colleagues would agree, but it was also hard. Tournaments are physically and mentally training and for us they start well in advance of the tournament itself. England must have had five or six media days through May and June, plus the squad announcements and three friendlies. By the time the tournament actually started, it felt like it should be nearly over.
Tournaments always throw up all kinds of surprises, good and bad. The news of Alexia Putellas's injury on the day before the tournament was a huge shock to all of us in our little media WhatsApp group, and sometimes stories like that throw you a curve ball when you've already planned what you'll be writing for the day.
It is full on. Every day there is something going on. The day of the first match day minus one press conference for England, I went along to Switzerland training where Coumba Sow came over to chat after we'd done an interview to complain it was too cold for her. A week later it was 42 degrees Celsius (over 100 degrees Fahrenheit).
Funny things happen during tournaments when you've worked in the game so long. One head coach asked if I wanted to go for a coffee, another sent me a text to see what the atmosphere was like at a rival's media day, I'm fortunate that working on The Top 100 Female Footballers of the Year project to know head coaches all around the world and get insight from them off the record, even during a tournament.
There are surreal moments, like walking the roads I walk every week to Bramall Lane, my home with Sheffield United, for an England semifinal, my fourth covering the Lionesses, and finally the first win.
It was a much calmer affair this time around, so much so nobody could quite believes how easy it was. No hotel-gate, no heartbreaks, just a one-way ticket to Wembley.
There were bumps in the road, but compared to previous years, it was a smooth journey as a writer following England, bar head coach Sarina Wiegman testing positive for COVID-19.
The final itself, the buildup, the day, the aftermath, was just carnage really. Not carnage in the literal sense, but it felt that way. By the end of a tournament you are physically and mentally drained. It felt like an age since the opener at Old Trafford, even though it had been only three and a half weeks.
I headed down to London for the team's final media session at their Lensbury Hotel, then back up home, covered MD-1 from home, then back to London on the Sunday morning.
It was incredible to sit on the train, plotting my two intros for my on-the-whistle match report, hearing almost everyone around me talking about the game. I think at least two thirds of my train must have been going to the game.
On-the-whistle reports are a tricky thing, especially a final involving your country in a home tournament. For any normal game, your match report is just a summary, but this was different, this was something special.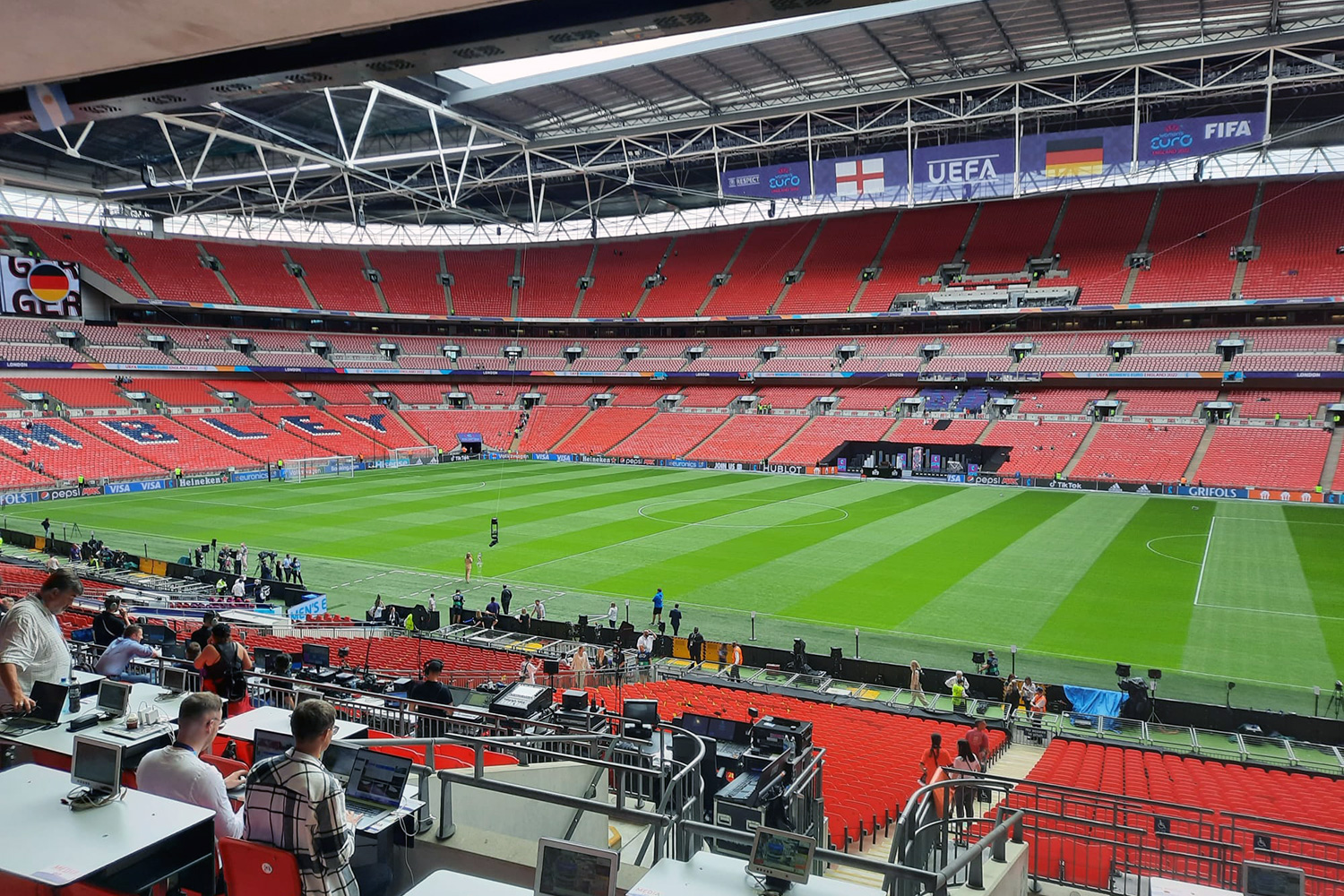 When it's a big game, I always write two intros, one for a win, one for a loss, and try to base them more around the impact, rather than the events. Events change, and only something colossal can overwrite the impact of the occasion.
That happened in 2019, when I wrote one intro about England finally reaching a final and one about another near miss. Only a big event during the match itself could mess with either, and that happened when captain Steph Houghton missed a penalty with less than 10 minutes to go. Cue everything out of the window and a full re-write based around the penalty miss.
Fortunately, on this occasion, the loss intro wasn't needed. It's an unpleasant feeling, the whole press box was on the edge for the most part anyway, with England leading with 10 minutes to go, as I started to file in the events of the game under the intro I had written if England won the Euros.
Then, Lina Magull equalized, and writing stops. Suddenly, you have to start filing the loss article too, with a whole different narrative, all while trying to actually watch the game.
When England played Spain, I was so frantically writing England's departure from the tournament at the quarterfinal stage, I missed Ella Toone's equalizer, only alerted to it by the roar of the crowd. After Georgia Stanway's winner, I was so buried in my laptop that when I arose from it, it was the 115th minute, and I genuinely didn't even know we'd had halftime.
A match's final minutes is on a knife edge is the most stressful time to be writing an on-the-whistle match report, more so when your nation is about to make history and you can't help but rock back and forth at what is unfolding in front of your very eyes.
The buildup itself felt relaxed. We sat in the Wembley press room, chatted, watched the F1, every single women's football writer, and many others, you could name were there, plus all the pundits and commentators.
Several of us chatted away to Chelsea manager Emma Hayes, before making our way out to our seats where 87,000 fans, largely in white, greeted us — that is just about when the magnitude of it hit home.
Then, just one more bombshell. Literally as the teams were walking out, the news broke that Alex Popp, Germany's top scorer, was out. Cue some hasty scrambling, team news rewrites, and completely forgetting the national anthems were being sung.
When the full-time whistle went, there was a strange sense of 'What on earth has just happened?" As I looked around, some of my colleagues I've known for a long time were crying, others were hugging, others sat wide-eyed in disbelief.
For writers though, it doesn't stop. There's the rush down to the press conference room, which at Wembley is quite the trek, where we were greeted by 23 happy Lionesses gate-crashing Wiegman's press conference, before the crush of a far too small mixed zone where players from both teams make their way through.
Despite the game being done by 7:30 p.m., it was almost 11 p.m. before I left Wembley and midnight before I got back to my hotel, still not really having let it sink in what had just happened. You just don't have time. Between midnight and 2 a.m., I wrote three more articles, the reaction from Wiegman, plus Chloe Kelly, Lucy Bronze and Jill Scott.
Then, it was back online to change my train home the next day. Sat in the press conference room, the FA informed us there would be an event in Trafalgar Square the next morning and selected media would be invited to watch and again speak to the players after.
Miss that? No chance. Train pushed back, I probably slept for about four hours, getting up early to file more articles, shower, freshen up, eat (finally), and head back to the center of London for party time. Clearly, while a lot of my colleagues had long nights, so did the players, most of whom rocked up in sunglasses even though it wasn't particularly sunny.
As we made our away around to the temporary mixed zone at the back of the stage, there were more hugs and celebrations with members of the FA staff. The media and the FA are regularly clashing, but there's some incredibly good people at the FA and a realization too we all wanted the same thing and celebrated together.
Lynne Cameron, the team's popular photographer, came for a hug, while another long-standing member of staff approached me and said, "You've seen enough of our losses, you must be the happiest!"
As the players made their way to the broadcast area, we stood to one side and in a way ended up making what looked like a guard of honor. I asked Rachel Daly if she'd slept with her medal on, but she said it was too rough around her neck, and I congratulated several of the players I'd known a long time, like Jill Scott, on their achievement.
There was a glimpse of the impact this team has had as people held their cameras high over their heads to take photos over the fence from the street on the other side of where we were. People shouted for pictures, autographs, anything and everything.
One little girl, Amelia, on her dad's shoulders, was desperate for a wave from Chloe Kelly, England's hero. As Kelly made her way past, after a couple of nudges, she obliged and drew the biggest smile I've ever seen from little Amelia. This is their new normal now.
After the event, I headed back to King's Cross station to file another three pieces from the morning mixed zone before heading home. I haven't watched the game back, but probably will, but quite honestly have needed a day to both take in and recover from what has happened over those 48 hours.
Football, eh?