After six years as a professional soccer player, I'm used to the uncertainty of last-minute flights to foreign countries with little information about what awaits. This was another level of disorganization and disrespect, even by professional women's soccer standards.
Havana Solaun
Havana Solaun recounts her wild 2020.
November 25, 2019
 I was lying in bed in Stavanger, Norway before my departure to the airport for my flight back to the U.S. I had just arrived back from a two-week vacation through Paris and London. It was 11 p.m. and my phone buzzed on the side table. I squinted at my bright screen to see a text from my agent:
"I hope you like croissants?"
I closed my eyes and checked my phone again to see if my eyes were seeing correctly.
"Um… doesn't everyone?" I texted back.
Just as I was contemplating if he had sent that message to the wrong person, he called.
"Havana!"
"Yes?"
"I know it's late for you, but how do you feel about Paris?"
"Uh, I like it?"
Why is he asking me about my trip? Am I really this tired or is this not making sense? I thought.
 "Well, that's great because there is a team in Paris that wants to sign you for 2020. You'd leave in January."
I laid there, silently absorbing the information while my agent waited patiently for a response.  Seconds ticked by before the fog lifted in my brain.
"Really?"
"Yes, don't sound too excited. I know it's late but I just wanted to let you know because I just got off the phone with the manager. I'm waiting to hear back with the contract details. Start practicing your French!"
It's not that I wasn't excited, I had just spent eight months playing in Norway while traveling back and forth to Jamaica for camps to prepare for the 2019 World Cup. It had been one of the most fulfilling years of my professional career but also one of the most exhausting. I was excited about a potential opportunity but also still trying to catch my breath.
December 14, 2020
"Havana, I know you like to take your time and process, but France needs an answer like yesterday."
I stared at the crystal-clear blue ocean slowly swaying in the distance. I listened silently, hoping for an "aha" moment or a sign or something, anything?
I was on a family vacation in the Bahamas only a month after the original phone call. I had been dragging my feet on giving Paris my final answer. We had agreed to terms that made saying no very difficult. I had had endless conversations with the people I trusted most, hoping someone would tell me it was a bad idea.
From the start the thought of going to France made me uneasy. I kept telling myself it was a good opportunity and that I should be excited about it. Despite my gut telling me something was off, I agreed to go. As all the congratulations came in, I couldn't kick the sinking feeling in my stomach.
February 2, 2020
Playing in the Concacaf Olympic Qualifiers ended with two losses and one win for Jamaica. Since the end of the 2019 World Cup the Jamaican Women's National Team struggled with contract disagreements with our federation. Three months after the World Cup ended, we, as a team, took a stand and refused to represent Jamaica again until we were paid what was promised to us in contracts we had signed. Once we took the issue public, we were eventually paid what was stated in our contracts.
However, the federation was not happy with the player group and there was ongoing controversy over funding and future camp possibilities. This made preparing for Olympic Qualifiers even more challenging.
Our final results:
Jamaica vs. Mexico (0–1)
Jamaica vs. Canada (0–9)
Jamaica vs. Saint Kitts and Nevis (7–0)
February 9, 2020
I boarded my fifth flight in three weeks as I headed back to D.C. to sort out my visa at the French embassy. I lugged my large suitcase to the check-in counter. I don't even hold my breath when I put my bag on the scale, I know it's over 50 lbs. When you live out of two bags, one checked and one carry on, you forfeit the right to ever think of not having to pay for overweight baggage.
"Checking any bags?"
"Just one." I try to casually lift my 72-pound bag onto the scale without making a scene.
73.4 lbs. flashes across the screen. The woman behind the desk offers me a pity smile.
"Just barely over this time."
I laugh knowing a $100 to $150 charge is coming.
"You know, it's $40 to upgrade your seat to first class, and then you get a free first-checked bag, no matter the weight."
"Really? That's amazing!" I'm not sure if this is a typical American Airlines upgrade charge. All I know is after a history of endless airports I have found myself appreciating the small acts of kindness.
Paris and I had agreed that I would join them after qualifiers to avoid too many trips across the Atlantic. It worked out because my French visa was taking much longer than anticipated and required an in-person visit in D.C.
When I played in Norway, the club facilitated all the visa paperwork and expedited the process. France functioned differently. I was told to sort out the visa on my own, purchase my flight ticket, and I would be reimbursed for all expenses afterward.
February 11, 2020
After my initial embassy appointment, I communicated with the club about the struggles with the visa and how long it seemed to be taking, they said there was nothing they could do. We agreed upon a departure date that worked best for me to purchase a flight, which also gave my visa time to process. The date we agreed upon was February 26, 2020.
February 19, 2020
The team in Paris stopped responding to all communication regarding housing and other relocation questions I sent. At this point, I had sent three unanswered emails about my living situation. I asked my agent to also reach out to the club to see if we could get some answers.
I was frustrated. It was incomprehensible how a professional organization could simply not respond to emails and phone calls. I was getting constant questions from my family: "Have you heard anything?" "What are you going to do?"
Every question made me feel more powerless and helpless. I had no clue what I was going to do. I had a signed contract with a club who was refusing to communicate. I was unsure if I even had the ability to do anything?
February 25, 2020
With a flight booked for Paris the next day, I had no visa and had not heard from the Paris team since February 16.
"So, am I still going to France or should we find something else?" I half-joked with my agent.
"We have a contract signed with them; I am sure they will get back to me soon. Have you heard from the embassy yet?"
"No, nothing. Still waiting."
After six years as a professional soccer player, I'm used to the uncertainty of last-minute flights to foreign countries with little information about what awaits. This was another level of disorganization and disrespect, even by professional women's soccer standards.
March 3, 2020
I didn't get on my flight to Paris; with no visa and no word from the team in Paris, I had no choice but to cancel my flight. I laid in bed, still in D.C., trying to find some silver lining in the situation but the truth of the matter is I felt hopeless and taken advantage of. The silence made the uncertainty even more painful. I have a bad habit of thinking the worst when there is silence to be filled. However, even thinking the worst felt like the obvious truth at this point, playing in Paris was not happening and I needed to figure out a plan B.
An urgent email was sent to the club in Paris demanding some resolution or clarification as to what was happening. International transfer windows were closing and preseasons for the NWSL were beginning, and I couldn't even get an email back.
March 6, 2020
I finally received my visa. It was very anti-climatic and almost useless at this point. I had a visa to play in France for a club that at this point doesn't even know if/when I will be arriving.
March 9, 2020
After no response from the club, my agent sent a request for a contract termination so that I could possibly get on another team before all the transfers windows closed. A part of me was relieved to ask for termination because, at this point, I felt that I was going to a club that didn't want me. Termination, however, would mean I would find myself back in limbo so it wasn't necessarily a thrilling alternative.
March 11, 2020
The club responded and asked to speak on the phone after almost three weeks of no communication. I got on a three-way call with my agent and the manager of the team in Paris. He apologized for the lack of communication and said they were in the middle of a transition in the front office and my attempts at communication had gotten lost along the way. He asked what needed to be done to "make things right." The conversation ended with him asking for a list of requirements for me to get on a flight to Paris in the next 48 hours.
The emotional seesaw was taking its toll. I was trying to mentally prepare for contract termination and now I had to swing back to mentally prepare to represent a club that I had no respect for. I was beyond frustrated at this point.
My list simply included clarification of my living conditions and the reimbursement of the $2,500 spent on flights and visas, which had already been agreed to. I figured I would spend my 25-hour travel day flipping my mental view of the situation so I could put a smile on my face upon arrival.
The club quickly responded and said I would be sent housing details and to book the next flight out.
March 13, 2020
I woke up to an email from the Paris team letting me know they would be terminating my contract because of escalating COVID cases. I had instant relief and anxiety, unsure of which emotion was greater. At this point emotions were only exhausting me. I had defaulted to apathy. To have no emotions toward your job, which, in my case is my greatest love and passion seems counter intuitive.
To keep moving forward I had to realize what was in my control and what was not. France did not give any options, they were terminating my contract and dropping me. I asked about the $2,500 I had already spent on two flights that they confirmed with me to book. Once again I was faced with radio silence. As of March 2021, I still have not received reimbursement from the Paris team. The case is now in the hands of FIFA.

March 15, 2020
I spent a few more days in D.C. with an old teammate before heading back to Florida. Driving home from a training session the radio was talking about a cruise ship and a virus that had been spreading rapidly in China.
"If we get locked down, who would you want to be with and where?" My question was met with an instant eye roll.
"I hate when you ask what-if questions like that, Havana."
I press my point. "Oh, come on, just answer!"
"What do you mean if we get locked down?" She was half-annoyed and half-intrigued.
"Like, what's happening in some other countries, what if they make us stay in our homes? Where would you want to be and with who?"
Repeating my question led to another eye roll but with a sigh of defeat that she would play my game.
"I mean, I guess I would want to be here in D.C. That's a silly question. That could never happen here."
March 21, 2020
I flew home from D.C. shortly after the Paris team terminated my contract. I sent daily emails to the club and to my agent trying to sort out reimbursement of all the funds that I had already spent. There was very little progress or communication.
Typically, every year during "offseason," sometime from October through February, give or take a month or two, I find myself back home training and getting ready for whatever is next. During the season family time is limited, especially when you're in a foreign country, minus the ongoing pandemic, being home was time to recharge and refuel.
April 2, 2020
Every day the news intensified with stories about the spread of the coronavirus and potential shutdowns.
I messaged a few friends who were in the NWSL, hearing about trainings getting cancelled and preseason getting shut down. Every morning I woke up to news and updates that got bleaker and bleaker. I felt like I was in a bad movie. Conversations seemed to be consumed with the coronavirus and all its numbers, the dangers, the precautions. Slowly, restaurants began to close down, sports leagues postponed seasons, restrictions enacted on how close we could stand to strangers, prohibitions on entering buildings without a mask on, travel shut down — the impossible seemed to become more possible by the day. Yet, I continued to have apprehensive conversations with my agent about what was going on and if there was any team to sign with. No one seemed to know anything.
April / May / June 2020
April, May, and June blurred into days without numbers or times. School was cancelled, college sports were postponed, all events including groups of people were cancelled. People were talking about "essential" industries versus nonessential. Are sports essential? I began to spiral into a place that I know most of America was in at the time. What am I doing? Should I give it up and find another job? Should I join Instacart and start delivering groceries? Life seemed eerie as restrictions and lockdowns intensified.
Training while not knowing what I was training for was not nearly as exhausting as all the questions that were left unanswered. Like most industries at the time, it was day by day; it was too soon to make return-to-play dates and timelines. It was a waiting game in which everyone sat in limbo juggling anxiety and doubt.
I attempted all the activities one is supposed to do during difficult times: focus on the good; read good books, enjoy being outdoors, eat well, sleep well, journal, meditate. No matter what I tried it felt forced and the nagging thoughts still prevailed. I struggled to adapt to the new normal. I felt lonely, isolated, and anxious all the time. There were moments of clarity; after a solo track workout in which the endorphins were pumping so that for a fleeting moment I felt everything might actually be okay. During those months, those moments were few and far between. I struggled to find a sense of purpose. I was 27, living at home, and on month six without any form of income.
June 25, 2020
"Hey, how's it going?" The familiar voice of my agent resonated on the phone.
"Great, living the dream." This is my usual go-to response, typically said with a touch of sarcasm.
"A team in Cyprus wants to bring you over for Champions League games. It would be a short contract, two months with a one-month extension if your team makes it past the round of 32. The level in Cyprus would be lower but getting Champions League experience will look good on your resume. Plus, Cyprus!"
As leagues slowly began opening back up, there were half chances to playing possibilities. The NWSL held a Challenge Cup in Utah but due to circumstances no one was eager to sign new players. I considered going back to my team in Norway but the season there was still uncertainty, and would be a longer commitment. Cyprus had eight total COVID-19 cases on the whole island and had strict entry precautions.
August 2, 2020
I tested positive for COVID-19.
The news was a shock that instantly re-activated all the pent-up anxiety from the previous months. The "what-ifs" consumed my mind. Whether the symptoms were there before or not I instantly had a sore throat and a cough… maybe? Or was it allergies? Just eight days from my flight to Cyrpus I knew this would be a big problem but also wanted to get more tests to confirm that I actually had COVID.
So, while I waited for the next COVID test results to come back I tried to busy myself, which was a task after three months of trying to busy myself. My stepdad's COVID project was to dig up our circular driveway by ourselves and add a half basketball court for my brother. Nothing like some down and dirty hard labor to exhaust the body. I found my "occupation."
I got three more tests that all came back negative, which confirmed that I had had a false-positive test result!
August 10, 2020
Twenty-six hours later I touched down in Cyprus. I went straight from the plane to the most invasive COVID test I have experienced to date. At this point I had had eight COVID tests and after my Cyprus COVID test I wasn't sure I ever wanted another one. I was required to do a seven-day quarantine at a hotel and get two more COVID tests during that time.
At the hotel, my quarantine location, I was reunited with another American, friend, and teammate, Carson Pickett. We sat down on the pool deck and had an eerie dinner with more cats than humans. Cyprus is a tourist destination and due to COVID tourism was down 98 percent, which meant plus the two hotel staff members, Carson and I were the only ones in the hotel.
"Did you know we aren't playing in league games?" Carson blurted out between bites.
"What?" I said in utter surprise.
"We are only playing in Champions League games, which starts the end of October."
I was still half asleep or maybe half awake after my long travel day. Carson was talking a mile a minute about all things that made the Cyprus situation seem less than expected. However, I wasn't fully processing what she was saying. There were so many stray cats staring at me and I was concerned I was about to get my dinner stolen.
"Are you even listening to me?" I look up trying to remember the last thing she had said.
"Umm… sort of, but do you see all these cats?!" She laughed and told me I would get used to them. She had landed barely 24 hours before me and continued to brief me on what I was stepping into.
August 15, 2020
The most stressful part about required quarantines is the lack of access to workout facilities. Since Carson and I arrived one day apart we were allowed to serve our quarantine together. There were endless idle hours spent trying to stay entertained in our vacant hotel, reading, journaling, watching Netflix, doing arts and crafts, and just counting the minutes.
All the meals were provided by the hotel as long as you arrived during meal times, which we found amusing since we were the only guests. There was no choices or menu. Two plates of food were brought out for us, and it wasn't typical meals we would choose. Lots of French fries, fried fish sticks, mystery meats, and halloumi. The cats came in handy once you got used to the constant staring because they helped us finish off the less appealing plates of food. After four days we were itching to get out into a more permanent living situation.
August 22, 2020
"So, these are your two rooms." Carson and I slowly walked through the dark and steamy hallway to two wooden doors. We walked through her room and then mine. Both were almost identical and extremely hot. Since I arrived in Cyprus I experienced a new level of heat. Coming from Florida I am used to 97 degrees and humidity. I'm not sure anything could have prepared me for Cyprus.
"You girls get settled and let me know if you need anything." George was the team's manager/helper who had been organizing our stay thus far.
"Is there a house key?" I felt silly asking.
"There is no key, you may lock the main door once you are inside."
I stared in bewilderment and slowly nodded, waiting to see if maybe this was a joke or simply a language barrier. It appeared to be neither. Since question one didn't go over as planned I kept my follow-ups to myself… like what were we supposed to do while we were all at training?
There were 11 players living in one house. I use the word "house" lightly. Only after moving in did we find out it was actually an old insane asylum. That made much more sense as to why there were bars on the windows and all the "patient" rooms looked identical. There was one kitchen to share. No air conditioning in the kitchen and only individual units in the rooms. The AC in my room was broken, which was difficult when it was over 100 degrees outside.
Carson and I never thought we would miss the hotel and quarantining. After moving into our permanent accommodations we instantly wished we could go back to the hotel and all our cat friends.
September 5, 2020
We just finished a scrimmage against a U-16 boys' team; we had won 8–0. What Carson was trying to explain to me on night one was this: There is a limit in the league in Cyprus on how many Americans are allowed to participate in the weekly league matches. The team already had too many Americans, which meant we would only be playing the in Champions League games at the end of October. So, we trained with the team during the week and on the weekends we sat in the stands and watched the league games.
After the game, we had our first club-organized dinner at a local restaurant. It was a small dimly lit restaurant that had a cavern-like feel. It was mostly empty due to COVID and we were led to a room off to the right with one long table. The restaurant was all outdoor seating but our room was inside. There was an AC unit working at full tilt in attempt to combat the stifling still heat. The team and coaching staff shared the long table and then there was another table just outside of our room with about six men.
"Who are those guys?" I asked curiously.
"They are just different owners and people involved with the club. And that guy in the white button up is the president."
He was younger than I expected with skin tanned by the everlasting sun in Cyprus and short dark hair.
"Everything okay girls?" He stood behind our table and everyone answered in some form of "Yes, everything is great, thank you." The dinner progressed as all team dinners do, loud and expressive until the food brings a hungry silence. Once everyone was adequately full it was time for some short "speeches." The president stood behind the girls at the middle of our long table.
"Hi, I would like to officially welcome everyone. We are very happy to have all the familiar faces and want to also welcome all the new faces we have. It is a very exciting year for us and we can't wait to start. We just got news that Champions League dates have been pushed back until the end of November."
His speech lasted another 20 minutes but after that comment all I heard was the beeping sound from a movie when a patient flatlines. I stole a glance at Carson who was not hiding her emotion nearly as well as I felt I was. Her jaw instantly dropped. I gave her wide eyes to remind her to at least pretend to hold it together for a little bit.
"Wait, so we will be here training for another two months with no games?" Carson leaned close and half whispered, half hissed in my ear. Carson's quick calculation was on spot. She didn't try to hide her exasperation. I responded with a look of disbelief.
I thought to myself: "That's sort of what it sounded like, is that right? That's a really long time to wait to play a game. I have to check but I don't even think my contract goes through November. I am pretty sure it's until October with an extension if we qualify for the round of 32." I replayed my conversation with my agent in my head trying to remember the details.
The drive home to the converted insane asylum seemed fitting. I felt like I was going slightly crazy on this desert island. I was trying to see the positives: at least I was on a team and playing? Well, not technically playing in games but training?
There were three of us — me, Carson Pickett, and Cassie Miller who were all in the same boat. We were only brought over for Champions League, which had now been pushed back. Both Cassie and Carson were on loan from NWSL teams and began to look into the loan agreement. My situation and contract were different from theirs, but after the team dinner the thought of staying and training for two more months was daunting. Champions League experience is an amazing opportunity, no doubt. However, at this point I was thinking more longer term. To compete at the highest level, you have to train at the highest level consistently. The level of training in Cyprus was low, so now learning we wouldn't even be playing for another two months complicated the reason all three of us had come to Cyprus to begin with.
September 13, 2020
After a few short conversations with my agent, he recommended I go and speak to the president about the Champions League dates to get confirmation. Carson and I met with the president together. We walked into a brightly lit, ice cold office.
"Good morning, how are you?" The owner stood as we walked in.
"Good, how are you?"
"I am well, what's the matter?" He sat back in his chair motioning for us to take the two wooden chairs in front of his cluttered desk.
Polite conversation was ignored as we went straight to the issue at hand. The meeting was longer than expected and we spent most of the time talking in circles. Despite the freezing room, I was sweating. He said that Champions League dates were "most likely" to be set for the end of November with the second round being in December. He made a lot of demanding comments about how he would extend our contracts and we had no choice but to stay until mid-December. The thought alone made me feel sick. He couldn't force us to stay here could he? I felt supremely ill equipped for the conversation and spent a majority of the time listening to what I would be doing, there was not much room for conversation.
September 17, 2020
Meeting with the team president, take two. This time around I wasn't going in to listen, I was going in to speak. I hoped that my voice would match my words. Sometimes in tense situations my voice betrays me and shakes ever so slightly.
Since the last meeting, Champions League dates had come us. The president told us we would not be allowed to leave and reinforced previous demands about how we had signed to play for Champions League, and we would stay until that duty was performed.
"Good morning, we need to discuss what we are going to do now that Champions League dates have been officially announced." I stated, hoping my voice didn't depict the swirling of nerves in my stomach.
"What is there to discuss? You will stay and you will play." His tone told me he was trying the intimidation tactic.
I was ready for battle this time. I took a deep breath and spoke slowly with conviction.
"My contract states: 'After October 13, 2020 if the team qualifies for the round of 32 the contract will automatically renew for another month.' Since the Champions League dates have been pushed back my contract will not be able to extend after October 13, which is obviously before any games begin. I would like to terminate our contract now so that you have time to replace me before the transfer windows close."
His black eyes bore into me. "That is not an option. I went through a lot of trouble to bring you here. I had to pay for a quarantine, player registration fees, housing, and many other costs. We will not be able to rewrite the contract, so you must stay and play."
The calm in my voice reassured me that I was in control. "I understand that me leaving is not ideal for you or the club. It is important to me that I do not leave the club without a replacement. My agent has already agreed to help replace my spot and cover the agency fee. I know you are trying to do what's best for your club, but I also have to do what's best for me and my career. I have already been here for eight weeks without playing in any games and it's not realistic for me to stay for another two months without playing in any games. I also do not have a valid contract past October 13."
I paused. Surely he had more to say? We continued to stare at each other.
He crossed his arms across his chest before he responded. "You will stay, you will play Champions League like the contract says."
"But my contract doesn't say that." I held his gaze, determined to maintain eye contact.
"It will say that! The new one will say that!" For the first time in two meetings his temper showed. In that moment I felt a pang of confidence. My mom always said the first to get angry in an argument always loses. I wasn't sure if this was an argument, but I felt like I just might have a chance of winning. He stopped and took a deep breath trying to control the momentum swing that he must have felt as well.
"What do you want to do?" He leaned onto the desk and rested his chin on his fisted hands.
"I would like to leave as soon as possible." I answered decisively.
"Okay, then make me a promise." I thought about saying I promise I will leave, but I felt like that wasn't quite what he was asking for.
"A promise?" His tone and question caught me off guard.
"Yes, you want to leave, so then make me a promise. I cannot just let you leave."
"I am sorry I don't quite understand what kind of promise you are asking for."
"Promise me your first paycheck back in America."
Reactively, I laughed at the audacity of his words.
"I haven't had a paycheck since November of 2019 and you'd like me to promise you my first one I make in 2020? I have been here for eight weeks and haven't even been paid yet."
"Well, you haven't worked for me yet, you haven't played in Champion League games." In that moment I realized this conversation was no longer about compromise and understanding. It was about egos. To say that I had not worked for him yet when I showed up to training every single day was laughable. I let silence be my response to his comment.
"So, you will stay then." He stated more then asked.
I hoped the heat stirring in my stomach wasn't showing on my cheeks. "If you would like me to stay, I understand. On October 13 I will leave because that is when my contract ends. The transfer window will be closed by then so you will lose me and the opportunity to replace me. I do not want that for you or this club, but if that is the only option you see, I will stay, collect my paycheck and leave."
"Then make me an offer!" We had progressed from promise to offer. The conversation once again went in circles saying the same thing in different ways. He told me I would not leave, I would stay until December and he would bench me for Champions League. The meeting ended with me saying I would send him his offer in a few hours. As I got up to leave he said, "After your soccer career I think you would make a good lawyer, I would have loved for you to be a part of this club longer."
"Thank you," I replied with a tone of question in the ridiculousness of his comment.
I stepped out into the magnified heat outside his icy office. Fun fact, I never saw one cloud during my eight-week stint in Cyprus, nope, not one. I closed my eyes and let the brightness of the sun singe my skin.
I sent my offer as follows:
I will not collect my 3,000 euro salary.
My agent will replace me and cover fees.
I will return the 200 euros (I was given 600 euro cash upon arrival).
I will cover my travel home.
I got a response via text instantly.
"No."

September 19, 2020
I stood in the airport bathroom in Cyprus and cried.
After my offer was denied I went to training in zombie mode, disbelief swamping my every thought. Sitting in my stifling room that afternoon the phone rang.
"Check your email." The simple command was spoken by my agent.
Flipping up the screen on my Mac I opened an email sent from the club. Attached were my release papers. I quickly signed the document virtually, pressed send, and booked a flight home.
In the rush of things, I failed to read all the new COVID travel requirements. The last eight weeks had been emotionally draining and exhausting, I had never felt so trapped in any situation as I did in Cyprus. The flight I had booked (17 hours earlier) included a one-way flight to Greece where I would spend the night in the airport and then depart on a 6 a.m. flight to Amsterdam and onto Atlanta. As I went to check-in I was told that Greece was a category C country, which means 24 hours before you fly you are required to fill out a certain form.
Pleading my case to the desk agent, I spoke quickly: "But I booked the flight 17 hours before, I wouldn't even have been able to fill it out."
The airline agent recited a robotic response: "I am sorry, you are not allowed to enter Greece, ma'am."
"I have a 6 a.m. flight out of Greece." It was currently 6 p.m. so if I didn't get the last flight to Greece I would continue to be stuck in Cyprus. So I found myself having a moment in the Cyprus bathroom. Cassie and Carson had driven me to the airport and stood by check-in while I turned and walked away. I washed my face. As if it's possible to hide a mental breakdown.
I returned to the counter 10 minutes later. Maybe someone took pity on me, but without anymore conversation the agent checked my bags through to Atlanta and told me to promise not to leave the Greece airport. I promised on my life I would not for any reason leave the airport and boarded my plane to Greece. I tilted my head upward and thanked the lucky stars that must've shining above me.
(I didn't leave Carson and Cassie behind, they got out a week later. Because they were on loan from the NWSL they were able to get their clubs to recall them.)
September 20, 2020
If COVID wasn't running rampant I could have kissed the ground in the Atlanta airport. Once I got to my dad's house in Atlanta, I got tested for COVID as a precaution. It was a rapid test, and the results came back negative. I also got a 24-hour test just to be sure.
"So, what now?" My dad asked as we sat over my first homemade meal in weeks.
"I've been communicating with some NWSL teams. I'll let you know when I get something official."
I attempted to decompress and process the last eight weeks. My family was confused as to why it was such a terrible experience. "But the photos look beautiful!" Don't they always?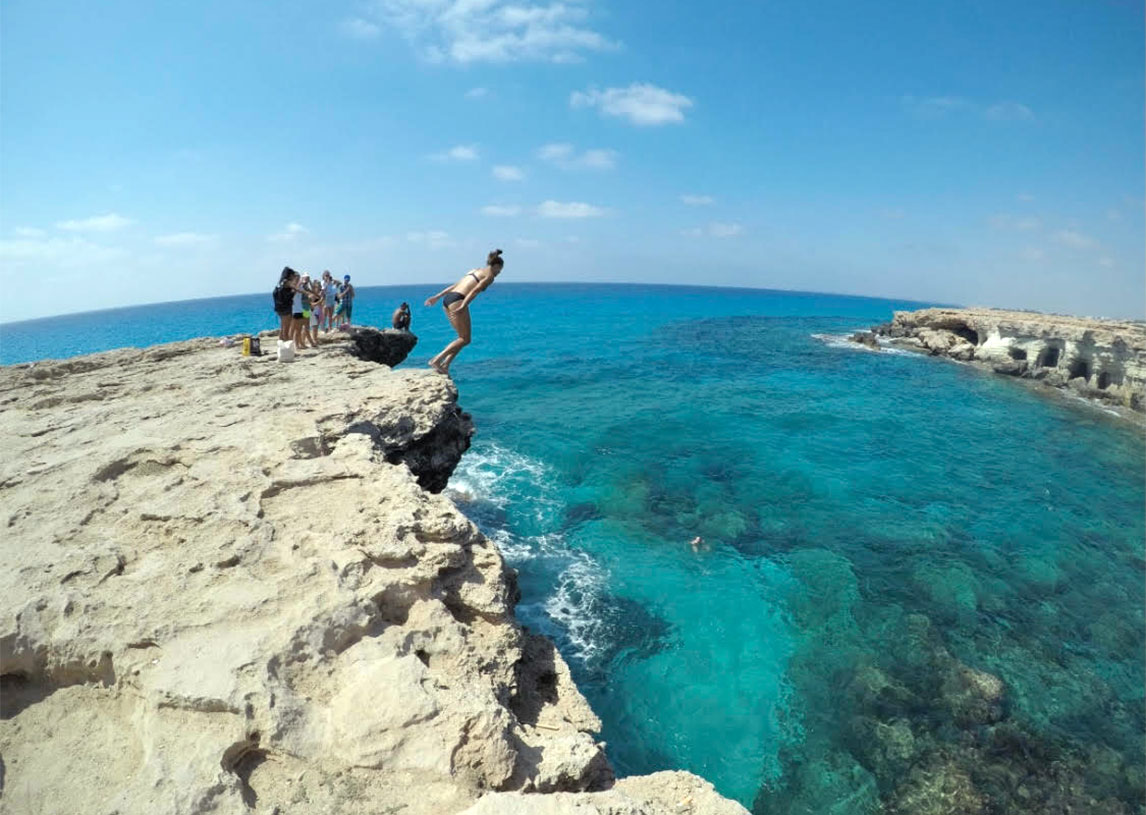 They weren't wrong, there were some amazing pictures taken and some sights that were breathtaking but things aren't always as pretty as they seem in photos. I have never felt so trapped and out of control of my own life and well-being. I attempted to convey this to them the same way I have tried to convey it to you here.
Going overseas was magical and destructive. Norway was a season of growth, but Cyprus broke me down physically and mentally. It's important when you go overseas to make sure you ask 107 questions. You don't want to find yourself in a restaurant with more cats then humans and hear things for the first time.
September 23, 2020
"What are you doing?" My agent's curious voice sounded calm.
"Umm… walking." Really, I was walking into H&M but felt my agent didn't really want to know exactly what I was doing.
"Can you be in North Carolina tonight?"
"Yes." My heart throbbed at the reality of his words.
"Great, the Courage want to sign you. Head north and I'll get a hotel address for you. You'll obviously need to do a quarantine before you join the team."
I went home, told my dad I needed to leave in about two hours, packed up my car, and typed "North Carolina" into my maps app.
September 29, 2020
"Alright, who's got a joke?"
One minute before the team huddle of my first session with the North Carolina Courage I was told we start every session with a joke and the new person was typically expected to have one. I spent the next 59 seconds racking my brain for a joke, some joke, any joke. I could think of nothing worse than being in a new group of strangers and telling a joke, but also wished I had one in my back pocket.
"Havana, do you have a joke for us?" The two girls standing in front of me stepped aside so everyone had a clear view of me. In hindsight I should have said no but for some reason unknown to me the word that came out of my mouth was yes.
"What does the Easter bunny do at the gym?"
"What?"
"Eggsercise."
I cringe even writing that. Why that is the ONLY joke that I know off the top of my head I'm not sure. Why I thought a bad joke was better than simply passing and saying I didn't have one, I'm not sure. That's how I started off my first training session with the Courage.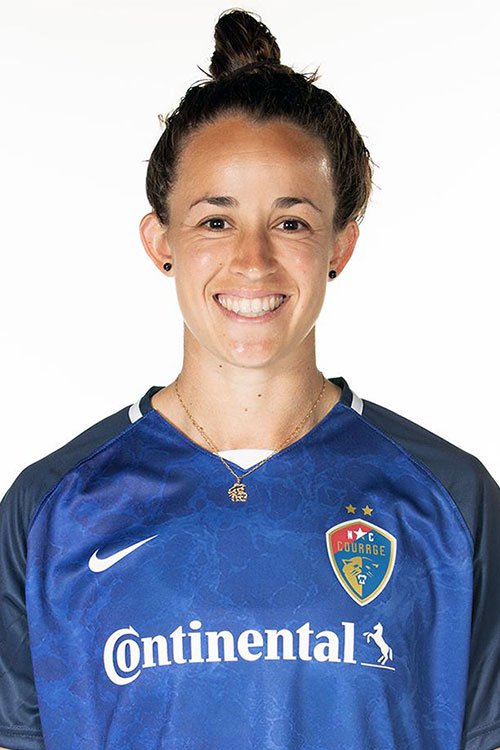 After four seasons in the NWSL, I was familiar with how things work, although COVID put a slightly new twist on things. Teams were all now in their respective home markets but living in extended bubbles. We were tested twice a week. Wore masks at all time. Expected to only be out to get food. Not seeing anyone outside the team. On high alert when traveling.
I spent three weeks in North Carolina, which was all that was left of the Fall Series. Two games, one against Houston in Houston and one against Orlando in Orlando. Training was challenging and drastically different from Cyprus. I loved everything about it: the intensity, the level, the demanding drills, the competitiveness. I knew I wasn't as sharp or as fit as I wanted to be but I also knew I had three weeks to try and prove I deserved to be back in the NWSL.
Every year my family picks a word or intention for the year. I always struggle with this because I wish I could write a paragraph about my intention, so choosing one word is always challenging. In January 2020 when I was thinking about going to live in France for six months I decided my word should be "Courage" because living in a foreign country can be difficult.
When I found myself battling with the team in Paris over the funds I lost, I was reminded to find the Courage to speak up. When I landed on a desert island hopeless and hot, I reminded myself I needed Courage to get myself out of a bad situation.
I closed out 2020 playing for the NC Courage and started 2021 with a contract playing for the Courage. I didn't realize at the start of 2020 how powerful intentions can truly be — it took a year of Courage to find a new home with the North Carolina Courage.