We have amazing leaders, people like Dani and Ali, they drive that culture. Angel City isn't a brand we have to live by, the players and staff buy into it and it's collectively something we've established ourselves.
Miri Taylor
By her own admission, Miri Taylor didn't think she would "gel" with Los Angeles. The 22-year-old forward was drafted by new National Women's Soccer League franchise Angel City FC at the start of 2022 after a successful four-year spell on the east coast of the U.S. at Hofstra University, but never expected to end up in LA alongside the likes of Christen Press, Claire Emslie, Ali Riley, and Almuth Schult.
Formerly a youth team player at both Chelsea and Arsenal before heading stateside, Taylor has played her fair share of games for Freya Coombe's side during a solid first NWSL campaign for a club propped up by a who's who of A-list celebrities and sporting icons, and it's all still a little bit surreal for the second youngest player on the roster.
"It is crazy to think I've been really blessed to go to school in New York and now be drafted to come here to LA," she laughed. "It's surreal I've been able to come and live in some of the best parts of the world. I'm English, I'm typically pale, but it's actually mad to think how much I love LA now.
"I've made some great friends and they've shown me some beautiful parts of LA. The beaches, the sights, the museums, everything you can do here. The most important thing, obviously, is the football, but you have to feel confident and make friendships away from the team as well as on the team."
She jokes she's proud she's now picked up a little bit of a tan after a few months on the west coast: "I'm definitely still one of the palest, it's a process."
Homebody
Taylor admits to being a "home person," but has embraced life away from her family and through hard work and good form at Hofstra earned the right to be picked up by Angel City in the college draft ahead of the 2022 season.
She will go on during the course of our interview to wax lyrical about the club, the city, and the people, but she hasn't quite been able to fully leave behind her English persona and lifestyle just yet.
"The weather is so much bloody better over here, but I miss my family, I miss my little car! I'm a big home comfort kind of person – Irn Bru and Lucozade! I miss so much. Proper fish and chips, a bacon sarnie, stuff like that.
"There's a place in Thousand Oaks called the Hare and Hounds, it's a lovely little Scottish lady and they sell English snacks and food and drink, but I do miss home a lot. I'm a homebody, you probably wouldn't think it, but I am."
Taylor may be the only English player on the roster, but she is far from alone when it comes to fellow members of the United Kingdom, whether it be players or staff.
Scotland international Claire Emslie joined over the summer, while former England international Eni Aluko works behind the scenes. Former Wales international and Arsenal player Eleri Earnshaw is the team's performance analyst; goalkeeper coach Daniel Ball is English, as is assistant Rob Udberg, formerly of Chelsea, and so is head coach Freya Coombe, something that has helped Taylor settle in, particularly as she joined up later than most of her new teammates.
"I definitely feel like that's helped so much," she said. "We have our little traditions, things we like to talk about and that's helped ease me in and talk about things away from football. I do miss home, but I've come here to play football, but I can talk about typical English things with people who actually understand! You form a different kind of connection that way."
Age is Just a Number
Born in Gillingham, Taylor became a young star in England, becoming the second youngest player to play for Chelsea under the guidance of Emma Hayes, while becoming a regular, then in midfield, for the England youth teams.
A short spell at Arsenal followed before like many previous and many who followed, Taylor made the leap across the pond to get her education alongside her football, with a four-year stint at Hofstra in Long Island.
While at 22 she may be considered a youngster and is in her rookie season as a professional in the U.S., Taylor has been around senior players since she was 16 and admits her time in England has helped prepare her for this part of her career.
"It's been a massive jump from college football to professional football. I'm sure everyone says the same thing but I think the speed of play, the massive leap physically, tactically and technically, it has been a big jump, but also one I've relished. I love pressure and I love being the underdog, playing with the big names in our team, everyone is unbelievable. It's been a big change, but one I think I've dealt with quite well.
"Being the second youngest in the team, being foreign, coming from college has been different, but I've been around first team environments since I was 16. I've played around big names since I was really young and I feel like that has helped with the pressure. Being around a competitive environment before has really helped me adapt. Coming here, all the girls are so receptive and welcoming. All the rookies, not just me, we've all adapted really well."
Taylor has been joined in LA by a whole host of international superstars, including the likes of U.S. World Cup winners Christen Press and Sydney Leroux. There's also Germany's long-standing goalkeeper Almuth Schult, New Zealand's Ali Riley, Canada's Olympic gold medalist Vanessa Gilles, young Japanese talent Jun Endo, and France's Clarisse Le Bihan.
While she's no stranger to being around big names from her days in England, it's different now as a true first-team squad member who has already reached double figures for appearances this season, and she can't put a price on the experience she has gained from her teammates so far during her debut campaign.
"You know what is expected of you on the pitch, but off it as well. To be professional, to recover well, to eat well, even things like being punctual. This first-team environment is driven by the players and I've been really lucky to be with amazing people on and off the pitch and that has helped me grow into the team and not just be dropped into the deep end.
"To be part of this inaugural team, one of the first foreign players and players to be drafted has been amazing. The staff have been amazing in getting us all to gel. Age and your background is just not important, we've all just gelled together so well and we're just a really good team of people. It's brand-new, I think you kind of lose the importance of that, you're thrown in the deep end and you have to perform, but we are also building a brand-new culture from the ground up. We have amazing leaders, people like Dani [Weatherholt] and Ali, they drive that culture. Angel City isn't a brand we have to live by, the players and staff buy into it and it's collectively something we've established ourselves."
Taylor continues, discussing the opportunity she has to lean on any one of the older players, especially those in the forward positions such as Press and Leroux, players who have played and succeeded at the highest level.
"It's something you can never take for granted," she said, smiling. "Even at Chelsea and Arsenal, I always asked those questions and having those players around, you can't help but get better. Ali is an unbelievable captain, Vanessa is a gold medalist now. Just to see what's important to them, their choice of words, what they eat, how they recover, everything is so constant and repetitive, there's never a moment you can't go to someone and lean on them for a piece of advice. Age is just a number, it's not valid at all in this team. I'm still starstruck every day going to training. Seeing Christen, Almuth, it's a feeling I'll never take for granted and I just hope it keeps making me a better player."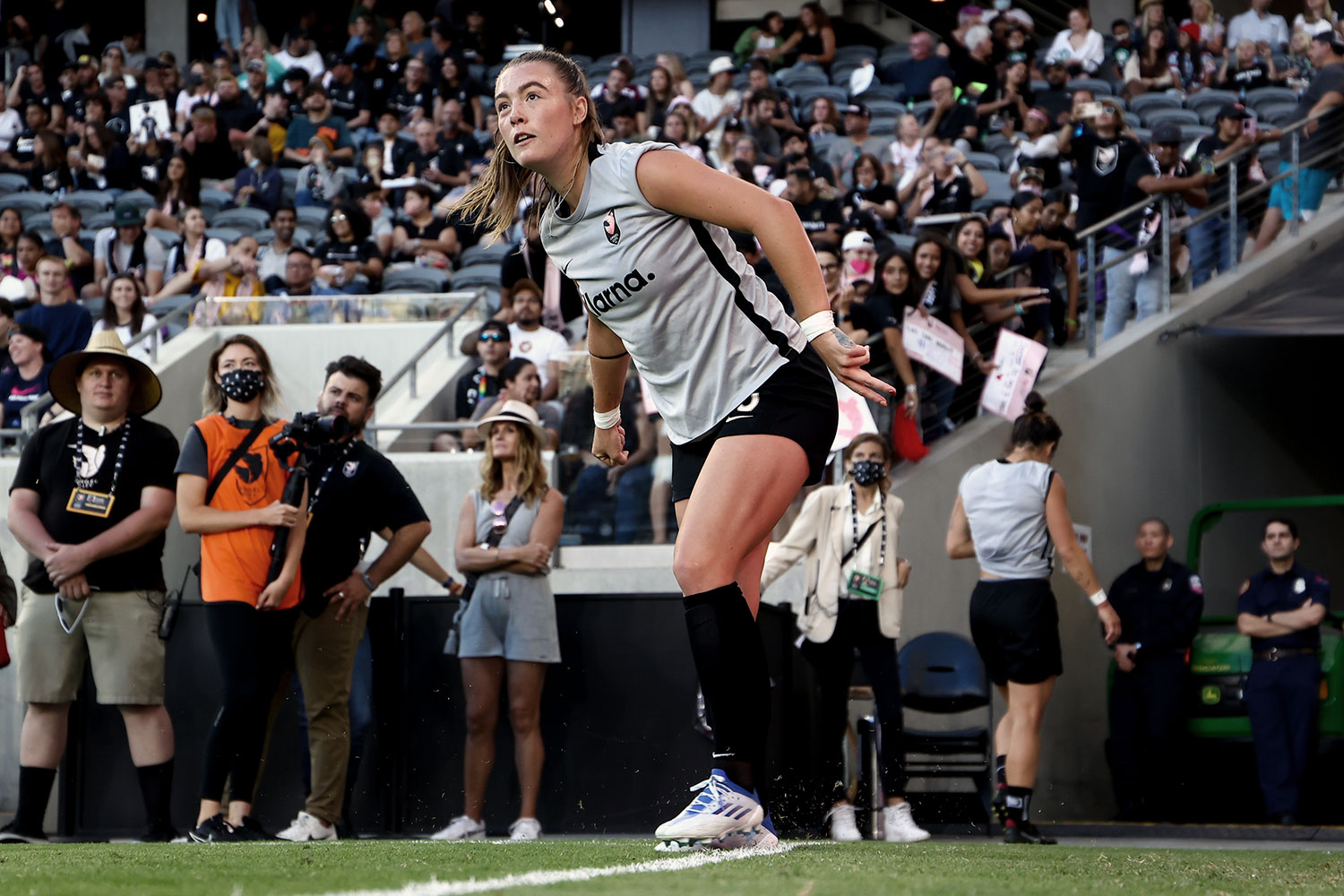 College Years and NWSL Draft
Like any college prodigy hoping to make it into the NWSL, Taylor had to go through the college draft, something which can be notoriously difficult for even U.S. players, let alone internationals given the limited amount of international players allowed on NWSL rosters.
Given hundreds of young hopefuls enter every year and only a few dozen get selected to play professionally in the league, Taylor admits the prospect and unknown was daunting, and she never expected to end up at Angel City.
"I think everyone feels the same, that it's a whirlwind and you have to ride the wave of it. I spoke to Simon [Riddiough], my university coach, and he really helped me navigate this. Being an English girl in America, the whole system is very different, so I was learning as it was happening and Simon was great at letting me know which coaches were interested and where I might want to play. I spoke to one other coach and had a bit of interest from a few, but I wouldn't say there was anything serious.
"Even though my school had a good year and I had a good year, that meant nothing. We were a little school, I really wasn't expecting it at all. I've always wanted to play football professionally for as long as I can and I debated going back to England or going to another country, but I wanted to see if I could get drafted. There's so many girls who don't get picked, it's like nothing else I've experienced. I was just watching the YouTube with friends and family, it was crazy, I had no expectation. The team I was actually talking to, that didn't happen, I had no idea about Angel City. I had a call with Rob, then Dan, and then Freya, but it was all up in the air until my name came out."
Taylor laughs as she recalls her initial reaction of "screaming and hugging everyone around me" when her name was read out, reaffirming she didn't expect to be picked.
"Let alone to a new team, what they were building, it felt like a perfect fit. Everything they were doing aligned with me. LA, the players, it was just unbelievable. I didn't know what to think, but obviously it was a yes straightaway. My poor mum, she was overjoyed, but I think she had the little thing of would I come home and play, it was all really up in the air."
There was even more doubt on whether she would even get as far as the draft when her last two years at Hofstra were heavily affected by the onset of the COVID-19 pandemic. After a solid freshman and sophomore year, Taylor was able to play just a handful of games in her junior year, having to rely heavily on bouncing back with an impressive senior year so as not to fall off the map.
With thousands of young girls in the same boat across the country, she admits it was a very uncertain time and only added to the pressure of trying to forge out a professional career for herself.
"It was a massive halt across the nation and the world, with any form of activity. As soon as it happened, I was with my best friend Emma and she was looking to go home, another friend booked a train home, but I was from another country, all I could think was, 'What am I going to do? Have I just lost a year of eligibility? Did it mean I have only my senior year?'
"It felt like a lot of pressure, but I'm lucky to have an amazing system back home. I could train when I got home, I knew a lot of people and that really helped me. Initially, I'm sure everyone felt the same, felt terrible, we didn't know what was going to happen. Junior year we had a few games, hardly any away games, then senior year was really make or break."
Taylor's senior year was impressive enough to attract the attention of Coombe and her staff as they were building their inaugural NWSL squad.
After a consistent and solid first season so far, Angel City sits just outside a NWSL playoff spot and still has a very realistic chance of making the cut, but have lost key players to long-term injuries, allowing Taylor more game time than perhaps she would have imagined heading into her debut year.
It's also allowed her to develop her game in other areas, both in terms of strengths but also in terms of her position on the field.
"In England, I was a number 6 or number 8, in typical England ways it was very ball-orientated, a bit slower. I knew if I wanted to compete and stay in the England team or for the future I'd have to change my game and deal with these very transitional, physical games.
"I moved away for educational purposes and to be independent and grow in this way, see if I could do it, live away from home, but on the football front it's made me a more physical player, more tactical. The English and American games are so different, four years here have really helped me, but I know I'm a ball-orientated player, so if I go back to England or somewhere else or stay here, I think that extra versatility now will help me in that regard."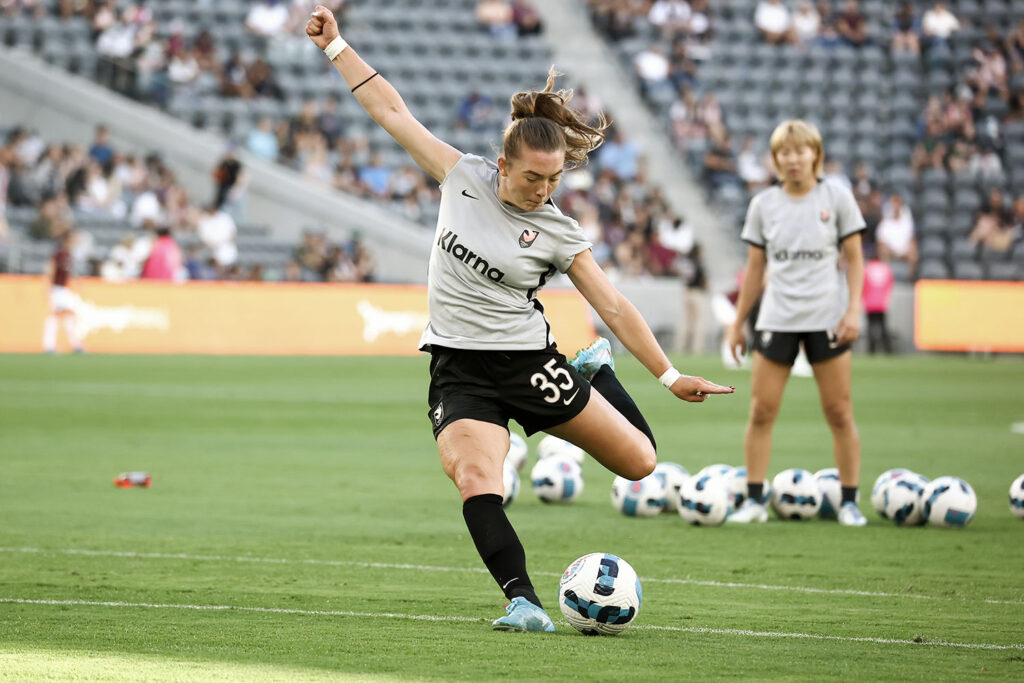 On the international front, Taylor made plenty of time to keep up with England's successful Euro 2022 campaign, despite being in a completely different time zone at the other side of the world.
Having been a teammate of many of the young Lionesses players at either youth team level or in her days at Chelsea, she admits it was a special feeling watching the tournament unfold as Sarina Wiegman's side finally got their hands on a major trophy.
"We would watch it after training or a couple of the girls would come around here. It was unbelievable, to have played with about 50 percent of the team and to know them so well. When we won, we were training at the Banc, it was just crazy, for me to know the girls and to look up to them and to want to be there myself soon, it was unbelievable.
"It was due, and I'm so glad it finally, finally came home."
T
aylor still has almost half a season left to enjoy before she can fully reflect on her first professional campaign in the U.S.
So far, it's all good, and plenty of boxes ticked, both on and off the pitch. She has lived with and learned from some of the top international players in the world and off the pitch embraced a part of the world she never thought she could as someone who admits she "hates the heat," but has fallen in love with LA.
"I think it's just absolutely crazy to think I've come here and actually been able to play. I've played number 9 and right wing, I've never played right wing, but at college I was a number 9. We've had injuries and COVID-19 problems, which is unfortunate, but it's perhaps aided me in terms of game time. I've started six games, I've come on in others, it's given me confidence and made me a better player. My first game versus Racing Louisville, I wouldn't do certain things then that I would now, it's definitely improved me and long may that continue."
On life in the city of Angels, Taylor finishes, "The beaches and the sun, it's something I never thought I'd love so much. I hate being hot. If I'm on holiday, that's fine, but playing in this heat now is a blessing every day.
"To play in this beautiful stadium, to have the beach 20 minutes from my house. Me and Clarisse go to every beach, every rock near our house. I never thought I'd be such an LA kind of person, weirdly, but there we go."