I'm so competitive, I just love to win. It's not anything I have to tell myself, it's just every day I go out and give 100 percent, and I'm always trying to improve.
Brenna McPartlan
T
he love of football came to Brenna McPartlan at a very young age. The midfielder from Lancashire, England spent most of her time following her older brother around hoping to join in while he played. Watching her brother play instilled in her a passion that sparked the obsession to become part of the game – even going as far as stealing his football kits to put on and sport herself.
She wouldn't need to steal her brother's kits any longer once she began her own playing journey, one that would see her in an elite club's prestigious developmental system in Manchester, become a Under-16 Premier League Cup champion, wear the international shirt, and play university football in the United States – all before her 20th birthday.
McPartlan, who just finished her junior season at the University of South Alabama, has had an impressive career in the U.S. While dealing with uncertainty due to the COVID-19 pandemic and competing in one of just six conferences that continued to play this fall season, McPartlan lead the Jaguars to their second back-to-back Sun Belt title and seventh for the program overall. Along with team accomplishments, she also racked up individual accolades this past season, including leading her team and the Sun Belt Conference in goals (8) and tying for first in the conference for assists (5) as well as being a dominate presence in their conference tournament run with three goals to earn a spot on the Sun Belt Conference All-Tournament First Team.
Manchester is Blue
In 2016 McPartlan had the opportunity to join one of England's best clubs when she became part of Manchester City's Academy squad for two seasons.
"I loved playing at Man City, the facilities were top-class," McPartlan said. "I wanted to play professional football, so it was great being a part of our team who were all wanting the same goals as me."
McPartlan joined the academy already a champion after winning the U-16 Premier League with St. Bede's RC High School after defeating Kings' School in a penalty shootout. McPartlan, captain for the match, scored a brace in regulation to give St. Bede's a 3–0 lead going into the half. Kings', though, would mount a comeback in the second half to take the match into extra time before ultimately falling in the shootout.
In McPartlan's first season with Manchester City Academy, the club finished third in the table with a 9-5-4 record in the FA WSL Development League. She started seven times in seven appearances while scoring five goals, including a brace in their 5–1 win over Aston Villa LFC Reserves. City made it through to the quarterfinals of the FA WSL Development League Cup before falling to Liverpool Academy.
The next season, McPartlan and her teammates came back hungrier and more to determined to improve on the previous season.
Earning the captain's armband, McPartlan made 17 appearances and 17 starts and lead her team to a FA WSL Development League title, losing one and drawing one while outscoring opponents 46-6. City also won the FA WSL Development League Cup after a 3–1 win over Birmingham City Academy in the finals. The goal from Birmingham City Academy in the finals was the only goal Manchester City Academy conceded in the tournament, outscoring opponents 17–0.
"We had a great team and managing to top it [the season] off as FA Cup Champions and League winners was great," McPartlan said. "It was a great couple of years at Manchester."
International Duty
The international stage is one footballers dream of and many spend their entire careers imagining themselves wearing their nation's crest. In 2017, at 18 years old, McPartlan received a call-up to the U-19 national squad, but not for England. This call came from Alfie Wylie, an accomplished manager in Northern Ireland who was in control of the squad at the time.
"We first saw Brenna play when we received video clips and her ability was noticeable right off for us, so we invited her in," Wylie said. "She was a big talent, many girls didn't have the talent Brenna had."
McPartlan is of Northern Ireland decent on her mother's side, which allows her to play for either England or Northern Ireland's national squad. The call-up came just in time for the qualifying rounds held in Northern Ireland for the UEFA U-19 Championship. After qualifying for the main tournament, this would be the first women's final tournament at any level for Northern Ireland.
"It was an intense time to have this big competition to get ready for," McPartlan said. "It was really cool getting to represent Northern Ireland as it was my family's country and having them be able to actually watch me play was great."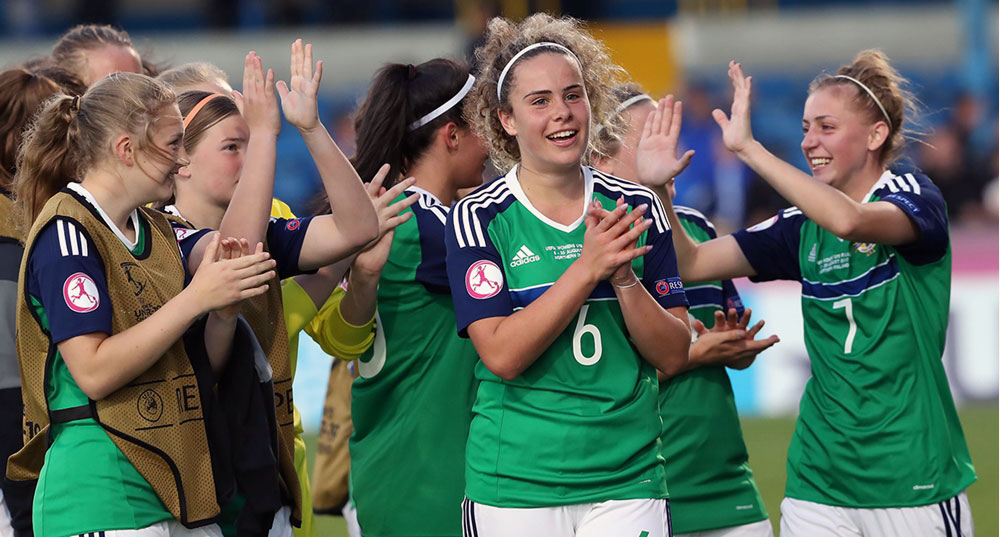 In the first match of the tournament, Northern Ireland took on Spain at Windsor Park in Belfast in front of a record-setting crowd of 4,289, making it the largest attendance for women's football in Northern Ireland.
McPartlan earned a starting position and would end the night with two shots on goal. Although Wylie's side proved to be dangerous on counters, Spain pulled out the 2–0 win and would go on to win the tournament and earn their second UEFA U-19 Championship.
The second match was one of McPartlan's most memorable moments while playing internationally. Northern Ireland faced Scotland in front of roughly 3,000 fans, which ended in a draw after an equalizer in the 85th minute from Northern Ireland's Louise McDaniel.
"The 1–1 draw versus Scotland in group stage was Northern Ireland's first goal in a major competition," McPartlan said. "It was an amazing feeling being part of that."
The final game in group play was against six-time UEFA U-19 Champion Germany, who proved to be too much for Northern Ireland. The match ended in a 0–6 defeat and Northern Ireland failed to advance in the tournament. McPartlan ended the tournament with a start in each group-stage match, recording 270 minutes.
"She was always very good for us," Wylie said. "She was very good with her feet, could do good things. She has a great range of pass, could really strike a ball 40, 50 yards really accurately. She was very impressive in our U-19 tournament."
The U-19 tournament wouldn't be the last international stage McPartlan would see. McPartlan earned minutes in several more international friendlies with the Northern Ireland U-19s including two matches in which she earned the captain's band against Norway, as well as a 2–1 win over Cyprus in which she recorded four shots on goal.
Across the Pond
In 2018, football led McPartlan to the U.S. and a whole new opportunity to advance her game at the university level.
Prior to enrolling at the University of South Alabama, McPartlan had not traveled to or visited the U.S. but describes the opportunity as one she had to follow through with in order to reach her goals outside of football.
"I honestly didn't know what I was getting myself into," McPartlan said. "The idea to come to America and get a degree while still playing football and training everyday was a great opportunity and something I couldn't really turn down."
Advancing her playing career and continuing to develop her game is of great importance to McPartlan but she describes education and earning her degree as also a high priority for her.
"I've always wanted to play professionally and that's still my goal but on the education side I always wanted to get a degree too," McPartlan said. "I think that's important in women's football."
When Scotland native and South Alabama head coach Richard Moodie recruited McPartlan he was well aware of her talent and accomplishments at Manchester City and with Northern Ireland but became even more impressed with her capabilities and humble attitude as she began her collegiate career in his program.
"As a coach, I think there's always that anticipation of how well will this player do at the collegiate game, or for internationals, how well will they do in the American game," Moodie said. "With Brenna, it's not surprising how successful she's been for us, to be honest, because she's from a very well-developed program and has a very high football IQ, but what I think amazes me the most is even with all those accolades to her name she trains like she's the worst player on the team and wants to do more and be better and I think that's the most humbling thing about the whole process of her."
South Alabama DNA
Technical. Tactical. Physiological. Psychological. Those are some of the components Moodie searches for and considers in players when determining if they would fit the mold for the program he's building. When Moodie took over South Alabama four years ago he had a clear vision on how he planned to move the program forward.
"We wanted to continue the success of the program but also build on that, and the goal was to make the program better than what it was when we took over," Moodie said.
To achieve this goal, Moodie needed distinct individuals who fit the complete package in terms of competitiveness and how they would impact this program for the better. As the South Alabama DNA was created one component held much more significance in the equation: character.
"Obviously, the fact that they are technically gifted and tactically gifted draws us to these players," Moodie said. "But at the end of the day if they're not good people, they're just not going to belong here at South Alabama."
McPartlan's list of accolades earned in her three seasons under Moodie show why she was such a huge draw for the program but it's her mentality that fits the South Alabama DNA. Moodie describes her as completely buying into the program's objective in what they call marginal gains.
"If we're talking about 10 small things that you can improve 10 percent, then essentially your overall gains improve 10 percent and Brenna's bought into those 10 things that can make her a better player," Moodie said. "She's always working to improve her overall potential even with diet and nutrition, sleep nourishment, or stretching."
Making a huge impact right out of the gate, McPartlan earned Sun Belt Freshman of the Year while tying for first in assists per game and tying for third in goals per game. She also made an impression nationally by ranking in the NCAA's Top 10 for goals per game, tying for eighth in assists per game, and third in game-winning goals. For good measure, McPartlan led her team in goals (5), assists (4), and game-winning goals (4).
"Since Brenna has got here, she's worked hard every day in practice and has matured in a lot of ways as a person but also matured in a lot of ways as a footballer," Moodie said. "Even with being Freshman Player of the Year she's still looking for ways to get better and improve."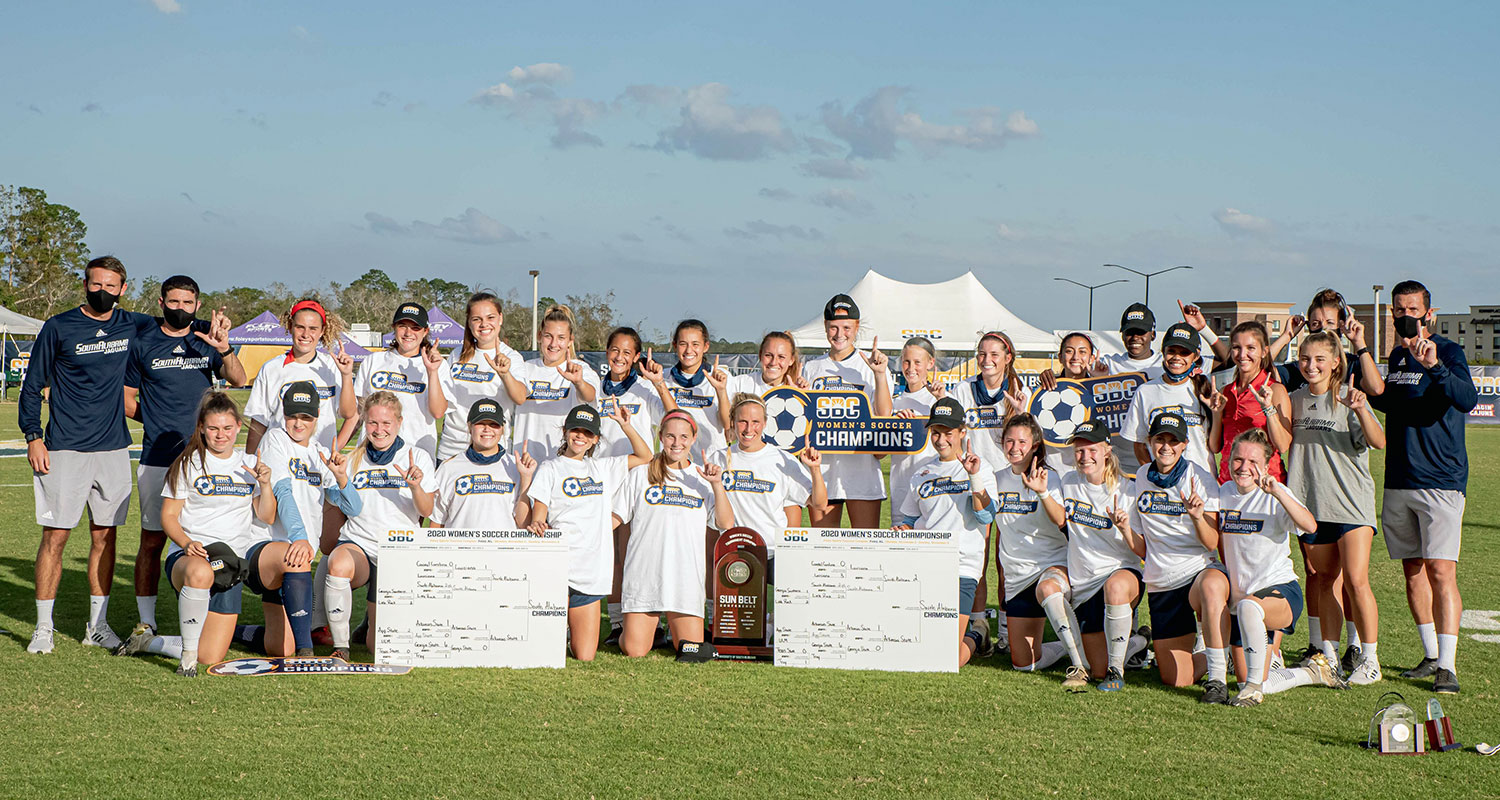 A Champion in England and America
McPartlan entered her sophomore season on the preseason All-Sun Belt Team and ready to get to work on improving from the previous season.
"Honestly, I just love football and I love training every day and playing," McPartlan said. "I'm so competitive, I just love to win. It's not anything I have to tell myself, it's just every day I go out and give 100 percent and I'm always trying to improve."
McPartlan started 22 games her sophomore season, scoring five goals (four of which were from the penalty spot). Having the same fierce impact on each game as she did the previous season, McPartlan scored the game-winning penalty against Georgia State to lead the Jaguars to the conference championship. There, the Jaguars were crowned Sun Belt Champions after beating Arkansas State, 5–1, and McPartlan earned a spot in the Sun Belt All-Tournament Team.
"She epitomizes what a champion is, she puts in extra work and time, and just obsesses with trying to get to where she wants to be," Moodie said. "She's keen to prove a point and relentless in effort on the field and has so much confidence in herself, her teammates, and her ability."
An Unforseen Adversity
Like so many college athletes this year, McPartlan couldn't have foreseen how her junior season would go amidst the COVID-19 pandemic that has impacted the world. It was unclear in the spring if the Jaguars would even have a season at all.
With the go-ahead to move forward with a season — just one of six conferences — Moodie and his players couldn't predict the ways in which they would have to adapt each week.
Learning from the football and basketball programs that reported first, the women's soccer program was able to see what wasn't working and what was while implementing ways to prevent risks. The team still faced a few scares however.
"We're getting ready to go on a bus and we get done with practice and ready to leave next day and we have contact tracing for four players," Moodie said. "Well, now all of a sudden we are changing all the paperwork to travel; we're trying to make sure we're taking all the precautions and making sure no other person on that bus was impacted."
The Jaguars' mindset this season had changed from how far they could get in the national tournament to whether they could make it through a season without losing players or canceling games because of the pandemic, which had become the main objective for Moodie.
Testing the players and coaching staff every week, no locker rooms, a soccer bubble to keep the players quarantined, and a positive outlook despite the potential threat looming over the program kept the Jaguars focused on the task at hand each time they stepped on the field.
"It's been hard and definitely different than past seasons but right now we are one of the only conferences still playing so we feel very lucky and just trying our best to stay safe and as fit as we can to be able to play each week," McPartlan said. "I feel like we've done really well at that."
The COVID-19 pandemic didn't seem to have much effect on the Jaguars on the field. They finished the season with a 10-3-1 record while losing only two conference games and going undefeated on the road.
Despite the uncertainty, McPartlan recorded her best performance yet in a Jaguars kit: netting eight goals (ranked third in the NCAA) and recording five assists (top ten in the NCAA). Having yet another clutch tournament performance earned her Sun Belt All-Tournament team honors after she scored a brace in the Jaguars' matchup against the University of Arkansas at Little Rock in the final minutes before the first half was over.
After a scoreless first half in the tournament finals, the Jaguars became back-to-back Sun Belt Champions after a 2–1 win over Arkansas State and earned the program's seventh title in eight seasons.
A Bright Future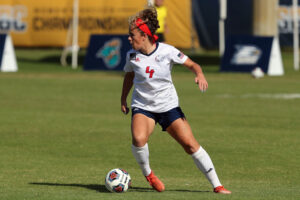 At 21 years old, McPartlan has already racked up plenty of accolades and has proven her appetite for winning and natural drive to never settle.
"Talent never goes away and Brenna has great talent so for her it's just staying focused, staying dedicated and disciplined, and more opportunities will come," Wylie said. "Brenna is still very young and has a long career in front of her."
What makes McPartlan an ideal footballer isn't only how well she plays on the field, it's also her presence and willingness to hold herself and her teammates accountable.
"Brenna on the field is someone you can always turn to in moments of confusion and chaos. She's always calm and confident in her ability which radiates throughout the team," said Gracie Wilson, Jaguar sophomore midfielder. "She is the teammate that is always going to demand the best from you, and she holds everyone to the same standard, which is nothing short of the best version of yourself."
McPartlan's influence has been significant within each team she's been a part of. She's come a long way from stealing her brother's kits, and it's not if we will see more of McPartlan but rather which kit she'll be in next.
"Brenna is an all-around great person and great player, I wouldn't put a limit on where she will go after her time here," Moodie said. "For her, she wants to go pro at the end of this and that's the driving fact for us."
S
outh Alabama is no stranger to having players make the leap to the professional level. Moodie has former players currently playing in the FA Women's Super League in England — Jemma Purfield (2015–2016) now with Bristol City and Hannah Godfrey (2015–2018) with Tottenham; and he can see the same potential in McPartlan, although, he would love to see an opportunity for the NWSL come along.
"If Brenna continues the trend that she's on, she'll have a lot of options. I think England is definitely an option but as a division one program in America, we'd like to see players go into the NWSL and that's a goal of me as a coach to get players into this league." Moodie said.
At 21 years old, McPartlan has already racked up plenty of accolades but it's her drive to never settle that will continue to create opportunities for her, whether at the professional level in England or America or back on the international stage.