"She will make people laugh for days, she would just wander into their offices, drop on the couch, and sit for hours at a time."
Brian Pensky, University of Tennessee Head Coach
Outside of her own family, Hue Menzies knows Khadija "Bunny" Shaw about as well as anyone.
The former Jamaica national team head coach spent several years working with the striker and the pair helped take each other to the 2019 World Cup in France.
The respect and relationship between them is such that when Menzies, now working back in the United States where he has spent a majority of his coaching career, returns to the Caribbean island with a box full of COVID-19 vaccines for the locals, it's Shaw who picks him up at the airport just three days before she will be returning there to fly to Manchester.
During his time working with her, Shaw has become one of the best strikers in the world, culminating in a move to FA Women's Super League side Manchester City this summer, and Menzies recalls his first impressions of witnessing her talents firsthand before he was even the national team head coach.
"I was working for U.S. Soccer with the youth national teams at the time," recalled Menzies. "The Under-17 World Cup qualifiers were being played in Jamaica and I just came down to see some games.
"She would have been only 16 at the time and she'd played in the Under-20 qualifiers a few weeks earlier too and was the MVP. I was like, 'Wow, this kid must be special.' I came to watch her play and she was the best player, better than any of the U.S. players."
Early Losses
While Bunny, a nickname her brother Kentardo gave her as a child because of her love for carrot juice, had all the talent and potentially the world at her feet on the pitch, what many at the time didn't know was the true heartache her family was enduring off it.
The youngest of 13 siblings, Shaw had already lost three of her brothers to gun violence in Jamaica, and Menzies' assignment of getting Shaw to leave her family behind and go to college in the U.S. was no easy task, and was made even harder when a fourth brother died shortly after in a tragic road accident.
"It was one of my jobs at the time to help get girls into colleges here in the USA and at the time she was going through some very, very difficult times with her family.
"Her mum was struggling — she'd lost three of her kids. I called her and told her she needed to go to college, but obviously her mum wanted her to stay. We guided her through that process and she ended up in Florida where I was working at the time."
Initially, Shaw was going to go to the University of Florida, but ended up at Eastern Florida State College, where she would be coached by Jeffrey Carr.
"We're a junior college, so it's a two-year school and then you move on for your last two years somewhere else," said Carr. "She was actually going to go to Navarro College, but she never played there.
"I was good friends with two of the coaches and they said, 'Would you like Bunny?' I just said, 'Absolutely, yeah, we want her.' We knew she was a special player, a very special player."
At the time, Shaw was playing as a midfielder and not as the goal-scoring striker she is known as today. In her first year in Florida, she struggled with injury and fitness, but Carr recalls how in her second season before moving on she quickly showed how talented she was.
"Her second year here she was absolutely phenomenal. She was All-American both years, which means you're one of the best players in the country and you know, she was so talented, there wasn't much coaching going on as much as just watching her do what she does on the pitch and it was kind of like a woman among girls when she played.
"She was tall, but her technical ability and her pace was second to none. She was so gifted and just a joy to be around."
But Shaw still had to work on her fitness after lacking a professional program back home in Jamaica, and even had to be encouraged not to give up the game completely by Menzies when her fourth brother died.
"She wasn't really fit," admitted the former national team head coach. "She got by because she was still the best player, but she wasn't taking that side of it seriously, then her other brother died in a bike accident and this is when she decided to go back home and help her family.
"I spoke to her and told her she would be able to help them better if she stuck with the program, she ended up staying."
The tragedies didn't end there either, as Carr recalled.
"When she was here, her nephew got electrocuted down in Jamaica. There was a storm and I think he'd gone to play football, leaned up against a chain link fence, and there was a power pole against the fence and he got electrocuted.
"She's experienced so much hardship but she's come through, her smile is contagious and she's just an absolutely special young lady and we were so thrilled to see her do well at Bordeaux and, of course, get the move to Man City.
"She is deserving of it all and you can't find another young lady like her. Her joy for the game and just her joy for life, even after all the tragedies she's going through, is absolutely amazing."
Off the pitch, Shaw was studying business during her time around soccer in Florida and eventually went on to get a degree in communications, so keen she was to improve her communication skills knowing media work would be a key part of any potential career she would have.
Shaw was flourishing as she continued to get used to her new surroundings and adapting to a different culture in the U.S. compared to her upbringing back in Jamaica and Carr recalls some of the moments Shaw began to take in what life was offering her away from home, and how humble she was about experiencing a new life away from her family.
"Sometimes growing up in Jamaica, she wasn't exposed to everything," he said. "You could just see the excitement of seeing something for the first time. We went to Colorado and as we were flying in, she got to see the mountains and just to see the joy that gave her because it was something she had never seen before.
"She came over for Thanksgiving, which is a big American holiday, and she had white potatoes for the first time my wife had made. She absolutely loved them and talked about them forever. These were new experiences for her and it was just the joy she got out of it. It was very rewarding to experience that with her, everything was new to her.
"I'll never forget that. The funny thing is, she was scoring goals, these unbelievable goals in games, but that wasn't a big deal to her, the big deal was all the other things that she was experiencing."
University of Florida
After two years in Florida, it was no surprise that Carr admits almost every school in the country was contacting them to take Shaw for her final two years before graduating.
The University of Tennessee is where Shaw settled on, where she would work under Brian Pensky, a good friend of Carr's and someone he describes as an "exceptional coach."
Under Pensky and with Menzies in place as the national team coach in Jamaica, Shaw continued to flourish and was now getting things right off the pitch as well as on it.
"Tennessee is where she started becoming a true athlete," recalled Menzies. "She got her degree, we qualified for the World Cup that year too, and everything started to fall into place for her.
"I've been with her since she was about 16 and I've seen that journey up close. Things have tried to derail her but she stood the course of time and she's come through. She made a decision to stick with it and I'm not going to take all the credit for that."
It was at Tennessee working with Pensky that Shaw started to become striker we know today, and the hard work would set her up to become the top scorer in France's Division 1 Féminine with Bordeaux in the space of just a couple of seasons.
Pensky recalls the time Carr first spoke to him about Shaw and how he went down to Florida himself to see what the fuss was all about.
"Jeff Carr reached out to us and told us he had a kid who was pretty special," said Pensky. "Her story struck us and we started doing a little research and we saw some highlights of her with the Jamaica Under -20s and those highlights were of her largely playing as a midfielder, sometimes as a number 10.
"We went down there and visited her and Jeff and she was playing in the center of midfield there, too. She used to claim being a 10 was where she wanted to be, that was her spot and obviously now she's an acclaimed goal scorer, but she's a very good passer too, a true footballer who happens to be fast and can score goals in a variety of ways."
Amazingly, given what she's gone on to achieve in the years since, Pensky admits Shaw actually had reservations about whether she would be "good up top" and was still set on being a more creative midfielder.
But during the course of her first year in Tennessee, Shaw did eventually become the striker she is today and soon after the goals began to flow regularly.
"I wouldn't call it initially resistant, but she did always fancy herself as a 10, it's where she wanted to be and what she wanted to be. I just kept telling her, 'Bunny, nobody is going to stop you in front of goal, you're a monster.'
"The college game here is very transitional and I think initially she found being up high suited her because it allowed some of her traits to really shine through. Playing up top allowed her to hold the ball up and on counters use her pace and I think she discovered she started just scoring goals in bunches, started receiving a lot of awards and accolades, and who doesn't love that?"
Shaw was instantly one of the top players in the Tennessee program and already was gaining interest from the professional ranks, including teams in the National Women's Soccer League teams and a host of European sides hoping she would make the hop across the Atlantic Ocean.
Like others, Pensky describes a person who wasn't arrogant about her talent, and in fact was the complete opposite despite most of her teammates acknowledging how good she was and could become.
"She had an incredible humility," he recalled. "She was actually terrified of walking into our team and taking someone's position, that's just who she was. She didn't want to upset the apple cart and sometimes you see big-time players walk through the door and say, 'Move over', but she was the exact opposite."
As Menzies alluded to, Tennessee is also where Shaw began to realize the importance of nutrition if she was going to take the next step coming out of college.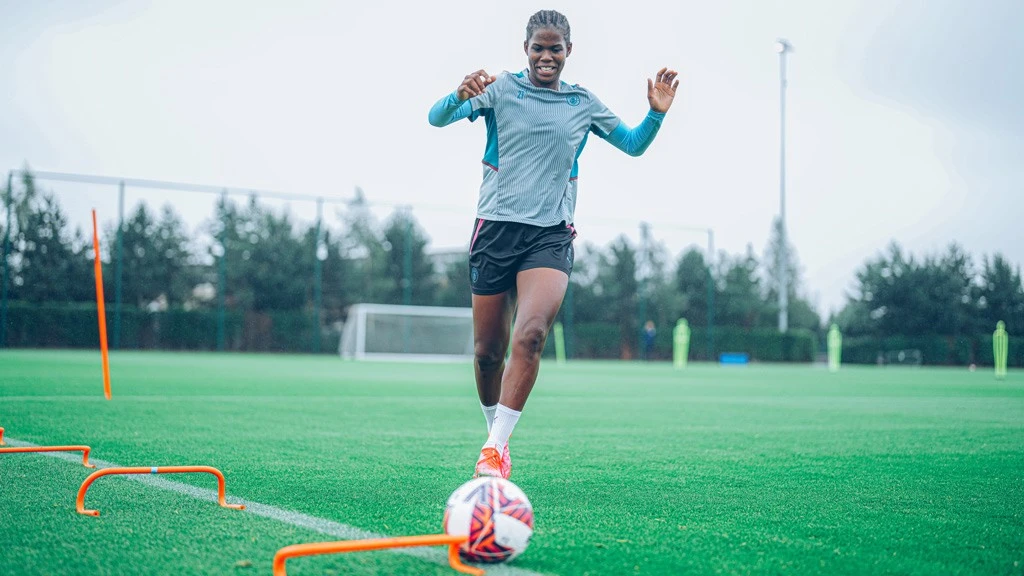 "One of her real developments with us was her improved fitness. She talked about it a lot, we introduced her to our nutritionists and she talked about how she wanted to get fitter and how she loved to eat fruit!
"I remember on one of our trips we gave her some grapes and a nutrition bar and she just went to town on the grapes! She really wanted to change her body, that was an area she took to another level."
As Shaw reached the end of her college career, her personality began to blossom further, as did her unique sense of humor. Such was the impact she made on those she worked with, there are still memories of the Jamaican's presence in Tennessee even several years later.
"She has an amazing sense of humor," laughed Pensky. "We have people who work for the NCAA here and she became very close with those individuals. She will make people laugh for days, she would just wander into their offices, drop on the couch, and sit for hours at a time. They would text me, 'My face hurts because Bunny made me laugh so much,' she wasn't afraid of those mature relationships and connections.
"Some of those people still today have, 'Bunny was here' written on their dry boards in their offices that Bunny wrote herself, she just had this personality and her smile, she was special."
Bordeaux and Beyond
After graduation, Shaw decided not to enter the NWSL College Draft and chose to pursue a career in Europe. Many teams chased her signature, but it was developing French side Bordeaux where Shaw decided would be the best next step in her career.
Aided by the fact Shaw was in France for the summer participating at the World Cup with Jamaica, Menzies recalls meeting the club at their team hotel and the promise Shaw gave to the club about what they could expect from her.
"Bordeaux came to our hotel in France with her agent and they signed her for Bordeaux," he recalled. "This guy looked at her and asked how many goals she was going to score by the end of her contract. She said she would be the top scorer by the end of it, she actually told him that. Last season she was the top scorer."
The stats don't lie. Last season Shaw scored 22 goals, one more than Paris Saint-Germain's Marie-Antoinette Katoto, and at the end of her two-year deal had the eyes of the world on her as almost every top club worldwide chased her signature.
With interest from within France, as well as Germany, Spain, England, and the NWSL, Shaw picked FA WSL side Manchester City as her next step, considering how she could develop further as a player, and confided in those closest to her on what her decision would be.
"Making that next decision was tough for her," said Menzies. "Everyone was reaching out to sign her and she had to figure out where to go. She could have come back to the USA, but she has to look out for her family, too.
"Man City came into the picture and I told her my opinion. She wanted to play in the Champions League, that was a big thing for her, and she actually has family in Manchester. All the accolades City have, their environment, she decided that was the best place for her development because she believes she is still developing."
Pensky added: "We talked over the summer because a lot of teams wanted to bring her back here, but she told me about wanting to stay in Europe because she wanted to keep getting better. Her want to stay there and to choose Man City gives her that opportunity. I'm not surprised she's at Man City, all I ever wondered was, 'Who is going to stop this kid?!'"
Not only does Shaw have family in Manchester with her dad's side of the family based there, she also lived in England for a short period of time when she was a child, so it won't be a completely new environment for her. She even gave thought to her squad number, choosing the number 21 because it was the year she made the next step in her career.
Carr was the first person to work closely with Shaw after she left Jamaica, and he too isn't surprised she has ended up at one of the top clubs in Europe.
"I think she's going to do so well with Man City. She's a treat to watch. I text with her all the time, still keep up with her, she's really excited. Having family there is what's nice for her.
"She's just a special young lady and we just absolutely love her, she put Eastern Florida on the map. She's the greatest player to ever play here, and we've had some special players. I was just honored to be able to be around her for a couple of years and get to coach her. She's just special, she texted me when she graduated from Tennessee, she sent me a picture from her graduation, she doesn't forget people or where she's come from."
S
haw is now an icon back home in Jamaica. In a nation where track and field is and always has been the dominant sport and Usain Bolt so often the first name mentioned when it comes to Jamaican sporting athletes, Shaw is now right up there in the next breath.
"She understands the magnitude of where she's at and the role model she is and could be," said Menzies. "At the World Cup, I got a phone call, like 20 times, just before we were about to play our first game.
"I finally answered and it was a nurse back home. They wanted to get the correct spelling of her name because the mum wanted to call her child Khadija. When I told her that story it made her realize how she could change people's lives. Track and field is all people see female athletes excel at in Jamaica, but Bunny can change that myth."
Menzies admits their passion for development and her career from both sides meant conflict sometimes, he has always had Shaw's best interests at heart.
Three days after picking her former coach up at the airport, Shaw returned there herself with a one-way ticket to Manchester to start the next chapter of her career.
"A lot of people come and tell me I developed her, but there are kids who come to you sometimes and you're like, 'They're the one.' I didn't have to do much, she is a natural footballer. Talented, a student of the game, she could play in a phone booth if you asked her to.
"You can't teach what Bunny has, there are very few people who come around like her."