I'm not an emotional person but every time I looked at my boots I wanted to cry. To feel like that was something I couldn't get a hold on. If I did play, I knew I'd be angry, I'd be playing for the wrong reasons.
Sue Kumaning
D
uring lockdown, Sue Kumaning lost her job shortly before the company she had worked for went into administration. Living alone with her dad abroad and her mum helping to look after her sister's children, the 27-year-old was in a lonely place, helped little by an incident that happened four days before the football season was prematurely curtailed.
Playing for Hounslow Town, the center midfielder was racially abused during a game and a week later found herself having to deal with the after effects on her own, with the country going into lockdown and her family and friends unable to offer any face-to-face solace.
Kumaning was ready to walk away from football completely before being encouraged to get involved in BT Sport's new Ultimate Goal reality series, with Kumaning one of 31 women to take part, under the guidance of expert coaches and players from both the men's and women's games.
The 10-day camp at St. George's Park did more than change Kumaning's outlook on life, it saved her career, but she admits she hasn't fully yet dealt with what she experienced pre-COVID-19.
"This still gets to me now," she said, pausing before opening up on what she went through at the start of the year. "In March, I was a victim, I guess — I hate that word — of racial abuse. We played on the Sunday and on the Thursday the season ended.
"I was battling with myself and I wasn't able to be around people to get myself out of my own head. I was thinking about it 24/7, did this really happen? How could this happen? I didn't really have the support, not just because of COVID-19, but because of the subject and what it was. People were a bit iffy about wanting to get involved and it hadn't gone to the FA yet.
"I think if it had come to August and the season started, I think my boots would have been hung up. I'm not an emotional person but every time I looked at my boots I wanted to cry. To feel like that was something I couldn't get a hold on. If I did play, I knew I'd be angry, I'd be playing for the wrong reasons."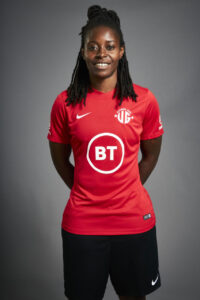 Ultimate Goal
However, Kumaning is back playing, having had her life changed by the feelings she experienced filming Ultimate Goal back in August, and back playing for Hounslow Town, who she was also with last season.
"I genuinely thought that was the last they'd see me," she admitted. "But after Ultimate Goal, something in me told me, 'Let's not finish it this way.' I'd never left a team on bad terms, I didn't feel complete with the season ending how it did, I needed to finish things, and it's given me that drive.
"We're struggling, we're a new team, we're underdogs, we're barely getting a team together, but I've now come to terms with who we are as a team. We're not supposed to win, but I now have that extra bit of drive, that whole mindset has come from doing Ultimate Goal."
Kumaning was so committed to Hounslow Town last season, it even cost her her job, though the company she worked for entered administration during the lockdown period.
She now works as a Tesco delivery driver around football, ensuring people who are unable to get out during the pandemic have what they need.
"With another lockdown coming, I know there's still a job for me. That was another thing: having all those thoughts in my head and losing my job on top of it. I also work for a car rental company based in central London — I like driving!
"I lost my job trying to help Hounslow. My work wanted me to work Sundays but I was so committed, I didn't want to let them down because we could barely put a team out, so it all went a bit downhill from there. I've been picking up a few driving jobs, doing what I can do to make ends meet."
Rewinding back to the start of 2020, Kumaning is open in admitting she didn't see herself continuing with football had Ultimate Goal not come onto the horizon.
Having worked with Rosie and Mollie Kmita, the football sisters heavily involved with the series, in the past, it was Rosie who encouraged Kumaning to sign up in order to tell her story.
"It was a difficult one for me because I was basically on the verge of quitting," she recalled. "I didn't really want to play this season because of what happened last season. When Rosie mentioned she thought it would be a good chance for me, it went from there really. I got a call from Alicia [Ferguson-Cook] and she asked if I still wanted to do it.
"It's been a great experience. It's brought the love of the game back to me; just being around like-minded people who want the same thing and care about your development and your journey — that really touched me. The girls were great, the coaches were great. I miss it, I've had withdrawals since I left!"
The series finished filming in August, though Kumaning says it "feels like yesterday." The 31 contestants spent five days together before being whittled down to the final 16, all of who then spent another five days together, bringing the total to 10 days in each other's company.
"When you're so stuck in your own story, it's kind of nice to hear everyone else has something to add," she said. "Yeah, we play football, but there's reasons why we play and to hear everyone's story and why they play, it's touching, it really is. People say girls are bitchy and whatnot, but there was none of that, everyone got on and it was really, really great."
At 27, Kumaning was one of the more experienced players in the 31, with only a handful older than her.
Some were still teenagers, with many playing at different levels within the English women's football pyramid. With her added experience and also some previous experience of TV work, Kumaning was able to be a sounding board for others as well as emphasizing her own story.
"My journey in football allowed me to give that helping hand. I was on Wayne Rooney's Street Striker years ago and I actually cried on TV. It was my first time getting an opportunity like that, so I knew how some of the girls felt in terms of being nervous and wanting to do well.
"I just love the game so much, it was only right I shared that with the girls and helped them understand these things happen. I've always said I'd love to be a role model for girls, being able to give them that shoulder to lean on was lovely."
She added: "I didn't think I'd be able to do that for them before I went on the show because I was so in my head about whether or not I wanted to carry on. That's how powerful this journey was, to sort of get me away from my own thoughts and put that into the girls. It showed me something new about myself and I appreciate them for that. You stop thinking about yourself and realize some people have it way worse. To be involved with people who have been through that is an eye-opener."
Using Her Platform
While Kumaning was a shoulder to lean on for many, she found her own sounding board in England centurion and one of the main faces of Ultimate Goal in Eni Aluko, who has shared experiences with the racial abuse Kumaning faced earlier this year.
"Eni was our manager and I knew she'd been through a lot to do with racism, to have her there as well gave me some comfort and speaking to all the girls about the incident, they opened my eyes and were like, 'Sue, we know you now, it would be a shame and a waste for you to stop.'
"It was nice to hear that, but I was still battling with myself. Yeah, I have talent, but what good is it if I play well and become a victim again? Even now, talking about it, I still feel it in my throat, that lump in my throat, it's horrible. I know someone else who went through it not long before me and even when she explained it I couldn't understand, you can't until it happens to you.
"When it happens to someone else you're like, 'Come on, pick yourself up,' but to think I needed 10 days of all these amazing people around me just to make me want to play again really shows how it affected me."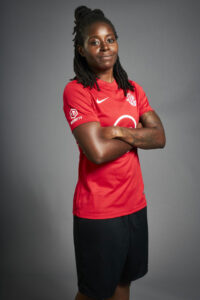 Back in March and throughout lockdown, Kumaning had nobody to talk to, nobody to open up to, nobody to let out her frustrations and emotions.
While Ultimate Goal has revived her love for the game, it also gave her one of the biggest platforms available to get her message out there. While episode one is set to air in the U.K. on Tuesday night, Kumaning's story takes center stage in episode five.
"During lockdown, that became my mindset, how do I get this out there?" she said. "So many are dealing with it and have nobody to talk to, that hurt me the most. I usually have a good support network but I felt really alone, so to be able to get the word out there on such a big platform, it's really touching and I'm just really grateful.
"I hate that I've had to go through it but it's helped me understand those who have been through it and help those that will. It's not going to go away, let's be real, it's 2020 and we're still talking about it. You shouldn't have to go through it, you shouldn't have to bounce back, I never imagined I'd be racially abused, no way, but I've had to come to terms with that, these are the things you have to deal with."
On the show itself, Kumaning got to play alongside ex-Arsenal legend Freddie Ljungberg while the likes of Jill Scott, Faye White, and Fara Williams were also involved in coaching the contestants.
"To get that coaching and play next to an ex-pro like Freddie, nobody would ever have been able to write that down for me. Having Jill, Faye, and Fara there, it's nice having the big men's players but it means a lot to have the women's footballers who are where you want to be; you start to believe it's just the beginning and it's just another step towards your own goals."
Even Kumaning's upbringing wasn't a simple one. In fear of being led down the wrong path, she moved to the United States to play and study at college and spent six years there, only returning when she was 24, but she credits her initial love of football before moving across the pond to her local coaches.
"Going to America was to kind of set a new path in my life, to get away from distractions and decide how much I wanted football. The options were to go with three friends or on my own, and I took the latter because I believed I needed to do it for myself and friends were kind of the reason I wanted to get away.
"When I was six, my next door neighbor, his grandson was a scout for Fulham and QPR. His friend lived about five minutes from my house and ran a company called ABC Coaching. It was for six to eight years old and when I went there the scout told me he wanted me to trial at QPR. I went over there and the coach I had there made my love even bigger. The coach became a father figure to me, he even made me want to become a coach!"
A
t 27, Kumaning's experiences this summer have made her fall back in love with the game she fell out of love with. Back playing and working, she even admits the new-found ability to open up to others has helped on her travels delivering much needed resources to her local community.
"I've come across so many customers who are shielding and just need someone to talk to," she saids. "They talk to me about all sorts, it's nice to know once I leave they've had someone there to speak to, just like I was for the girls on Ultimate Goal. It's become me, I've always had it in me, but now it's really highlighted who I am and I'm kind of just going with that now."
For those in the U.K., you can watch the first episode of Ultimate Goal on Tuesday, November 3, at 10:30 p.m. on BT Sport 3. Ultimate Goal builds on BT's commitment, as part of its partnership with each of the four U.K. "Home Nations" Football Associations, to inspire a new generation of girls and women to participate in football.