I'd always wanted to play abroad and the two things just seemed to marry up somewhat. I just thought, 'There's no time like the present.'
Marie Hourihan
[dropcap]M[/dropcap]arie Hourihan has made a couple of eye-catching and fairly rare moves during her playing career so far.
The 32-year-old London-born goalkeeper is the only player to move directly between Chelsea and Manchester City and even swapped countries in 2017 when she made her debut for the Republic of Ireland after briefly representing England at the youth level.
But her most recent unique move is perhaps her most interesting, leaving behind the south coast and Brighton for Portugal with champions Sporting Braga in the Campeonato Nacional Feminino.
Playing in Portugal
COVID-19 pandemic or not, Hourihan looked unlikely to get her hands on the trophy after joining the club with the team sitting eight points behind joint leaders Benfica, new to the league this year, and Sporting Lisbon.
Hourihan, though, did get the chance to play in the Champions League, but Braga were on the end of a 0–7 aggregate defeat to Paris Saint-Germain. Although the goalkeeper was sick and unable to play the first leg, she did keep an impressive clean sheet in the second leg away from home.
Hourihan is now back home in England with European football on hold due to the current COVID-19 situation, but says Portugal has "managed it really well" and she hopes to be able to return soon to continue a challenge she embarked upon after leaving Brighton just under 12 months ago.
"It was around the beginning of March [last year] they made contact," recalled Hourihan. "They told me they were about to win the league and had made a big commitment to the women's team as they were going into the Champions League for the first time in their history. I spoke to Miguel Santos the manager, he's very young but very innovative, and I was impressed with his vision.
"When I heard about it, I didn't know a lot about women's football in Portugal. I'd been offered another contract at Brighton, but when I spoke to Braga and went over to have a look around and watch them play against Sporting Lisbon, I couldn't help but be impressed. I'd always wanted to play abroad and the two things just seemed to marry up somewhat. I just thought, 'There's no time like the present.'"
While Braga trails their two rivals this season, Hourihan admits it will be "disappointing" if the season can't resume with the team in the league cup final and the semifinal of the nation's main cup competition.
The league is similar to the situation Hourihan found herself when the FA Women's Super League launched nearly a decade ago, with her team, Benfica, and Sporting Lisbon all full-time, while most other teams are part-time.
It means Benfica, who won promotion easily in their first season last year, sit top of the league at the first time of asking, having dropped just three points, scoring 101 goals, and conceding just four goals, their +97 goal difference keeping them above Sporting.
Hourihan compares Benfica to the rise of Manchester United over a similar period of time in England, but admits seeing the professionalism at the very top end surprised her when she first arrived.
"That's what's been most impressive," she said. "I didn't know a lot about Braga but going over there and seeing the facilities really impressed me. You train every day, the same access as the men, I have to commend them for their level of commitment to their women's team."
Beginnings
The goalkeeper's journey starts much closer to home and goes back more than 25 years. Like many others, it was Hourihan's older brother who was her biggest influence, admitting she "wanted to be in the garden and be better than him" when the two played as children.
"I probably didn't join an actual girls' team until I was 10 or 11. I just trained with the boys until then. You'd get parents being upset because their little boy wasn't playing because a girl was playing instead."
As her career kicked off, Hourihan enjoyed spells at Watford, Fulham, and Doncaster Rovers Belles before joining Birmingham City in time for the start of the FA WSL in 2011. She may not have known it immediately, but Hourihan was walking into a team that would instantly push Arsenal at the top of the league as well as winning the FA Cup in a dramatic shootout against Chelsea in 2012.
"Marcus [Bignot] and David [Parker] were in charge," she recalled. "I remember coming into the squad and we came in for a photo shoot and they'd brought in about 15 players. When you go through the list, you looked around the room and thought, 'We're going to do something here.'
"In hindsight now, the biggest regret is we should have won the league, at least one title from those first two and we finished second both seasons."
Hourihan, like many players, had a tough commute with the league part-time. Training at Birmingham three nights a week, the goalkeeper would set off for training at 3 p.m. and wouldn't return home until after midnight most days.
Halfway through the 2013 season, Hourihan swapped Birmingham for a club closer to home in Chelsea. At the time it was a step down with the Blues sitting second bottom of the league, but with Emma Hayes now at the helm there was a real sense behind the scenes the club was on the way up and success wasn't far away.
"That was the first time for me that going full-time became an option in my career," she said. "It's testament to Emma for where Chelsea are now. We didn't have our own water bottles when she arrived, but she always told us it was a process, she said we needed to put silverware on the table before we could demand more.
"We knew it was going to be a process but we knew she could recruit players. She had the experience from being at Arsenal and in the professional league in America to get to where she wanted to go. When we finished second in 2014, the girls would point out now that it was the turning point because it hurt so much, to be so close and not succeed, everybody felt it."
Hourihan added: "You saw the consequence of that the following season. The team was relentless, like a machine at times generating result after result. We came back into preseason in 2015 with the added quality of the new recruits, with the firm belief that that team was going to win the league. I still maintain Emma was the driver of that, she was the one that demanded more out of the club which others before her couldn't get. But she backed it up, she knew she had to win trophies and she did."
FA WSL Drama
My right collarbone had snapped.
The second-place finish Hourihan refers to in 2014 will likely go down as the most dramatic day in FA WSL history, and Hourihan was at the very center of the drama. If a film was ever made about the events that unfolded on the final day of the season, she would no doubt command a starring role.
Hourihan was starting the game at Manchester City but the club needed an emergency backup in case the worst happened, as Christiane Endler had an injury and couldn't travel, so they drafted in Clare Farrow, a goalkeeper who had never played in the FA WSL and had barely trained with the team leading up to the game.
Less than 10 minutes into the game, disaster struck for Chelsea. Hourihan takes up the story of how a day that should have seen her and Chelsea win their first FA WSL title ended in desperate defeat when they only needed a point.
"Me and Georgia Brougham collided in the air after I'd caught a cross from a City free kick. I fell at a weird angle so I landed straight on my right shoulder and I knew straight away something wasn't right. I could have been physically sick and the physio's face went completely white when I tried to lift myself of the floor. My right collarbone had snapped."
With Hourihan taken to the ambulance, on came Farrow. Before too long, City were 2–0 up and suddenly Chelsea's title hopes merely hung by a thread.
"I was in the ambulance for a good half an hour so I heard the cheers when Jill Scott and Toni Duggan scored, but I was high as a kite on gas and air so I wasn't particularly with it. My mum had traveled up so she came to the hospital with me. I was sat in reception asking what the score was. I was told Gilly [Flaherty] had scored and I knew we only needed another goal.
"I'm sat there waiting for an x-ray and constantly asking what the score was, eventually finding out we had lost 2–1 and hadn't won the league. I had to go back to the stadium to travel back on the coach with the team. By that time all the adrenaline had worn off. I was in so much pain, it was probably one of the worst journey's I think I've ever had."
She added, laughing, "I suppose the only solace I have is that at least I played a part in the most dramatic day in the FA WSL!"
Hourihan was right though, the final-day defeat did serve as motivation and Chelsea came back in 2015, newly invigorated with new signings and players still wounded from the final-day loss, bouncing back to win both their first WSL title and the first FA Cup final to be held at Wembley.
When the players returned for preseason training, Hayes put images of the players in tears on the pitch at Man City's stadium up on the screen to serve as a reminder that it will not happen again.
"She said, 'Remember that feeling.' Everyone almost became possessed that it wasn't going to happen again. We turned that corner, we came back from it and that was the most important thing."
The 2015 season would be Hourihan's last at the club when she ironically swapped Chelsea for Manchester City in time for the 2016 season.
Chelsea had beaten City to the league title on the final day of the 2015 season, exacting some sort of revenge for City being the team to deny them 12 months earlier, and Hourihan is still the only player to move between the two sides.
Her timing couldn't have been better. While Chelsea went into 2016 as the favorites, Hourihan would bag a second successive league title as City went the whole season unbeaten, winning the league with a 2–0 victory against Hourihan's former club and their nearest rivals for the title.
"It [the move] wasn't something I'd really thought about but they made contact to find out if I'd be interested," Hourihan recalled. "I went up to visit the Academy [CFA] and I spoke with Nick [Cushing] and listened to his vision on where the club was going and at that point it was something I couldn't turn down."
What was so impressive about City's 2016 achievement is the fact they conceded a mere four goals all season in the FA WSL — three of them from the penalty spot.
They didn't concede against Chelsea and they didn't concede against Arsenal. Hourihan is one of few players who can make a fair comparison between working with Hayes and Cushing, but she believes the latter's insistence and belief regarding his own philosophy was pivotal in the team's success.
"One thing that is consistent there is the City way of playing and the structure. It was literally ingrained in you. It wasn't players playing positions, it was players playing roles within a system. Nick set the team up so that it utilized and maximized the strengths of the players.
"Winning the ball back quickly was a key concept of this system and recovering the ball quickly became relentless. The level of intensity in every training session sustained high fitness levels and enabled the team to play how Nick wanted."
She goes on to add, "If you asked me honestly what the magic ingredient was, that structure that Nick started and had continually trained and implemented for the two years prior really came to fruition. He was so consistent with it. He stayed true to the club philosophy and the players bought into it. It would have been easy to toss that away after the first two seasons and just throw money at recruiting more players. The club could have had the pick of players they wanted but they are very specific about what types of players, and above all, people, they want part of the football club."
While Hourihan played backup to Karen Bardsley during the league campaign, she did play in the Continental Cup final as Man City beat Birmingham City, another of Hourihan's former clubs, to secure their own domestic double.
Needing more first-team football, Hourihan joined Brighton on loan in January 2018, before the move was made permanent when the team earned a spot in the FA WSL for the 2018–2019 campaign.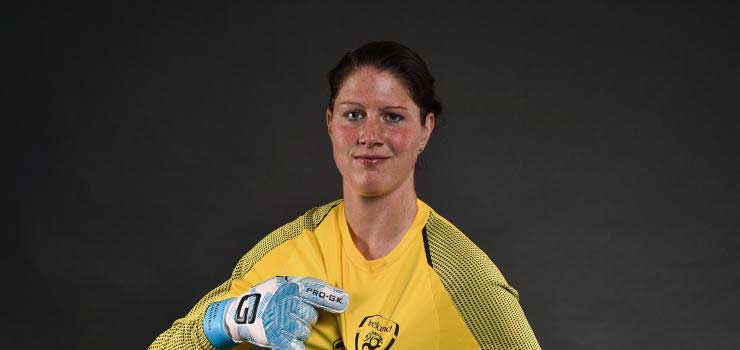 For Country
Twelve months earlier, Hourihan had also made her debut for the Republic of Ireland under former Champions League-winning head coach Colin Bell.
The goalkeeper has gone on to become a regular for the national team, earning more than 24 caps in the three years since her debut, but she wants to make it clear it was not a spur-of-the-moment decision and that she has deep Irish family roots and is proud to represent the country, despite being born in London.
"When Colin came into the job he found out I was eligible," she said. "He approached me before the Cyprus Cup in 2017. Prior to that, I'd been asked to go for a double-header against the USA a couple of years earlier, but it wasn't a FIFA window and we had domestic games so I couldn't go. But there'd been contact; both my mother and father's family are Irish and we'd always return to county Roscommon every school holiday to visit them, it became a second home in many ways.
"Colin told me about his plans and how he wanted to get the team to a first major tournament. Nick was the one who told me Colin had been in touch and I was delighted to accept the call-up. Harriet Scott [Birmingham City defender] got called in at the same time so it was quite nice to be going into my first camp with someone else."
With all three domestic titles to her name and having played in the Champions League, a major international tournament is next on Hourihan's tick list. Republic of Ireland has never qualified for a major tournament but they have their best chance yet and it would be the best time to do so with the next European Championships set to be held in England, with two of the venues former homes of Hourihan's, the City Academy and Brighton's AMEX Stadium.
They currently sit a point above Germany in qualification having played a game more, but are already nine points clear of third place. Top spot would seal automatic qualification but second could still seal the deal should they be one of the three best runners-up; otherwise, it would be a playoff to earn a spot at the now rescheduled tournament in 2022.
"We have put ourselves in a very good position for the Euro's qualification," she said. "Realistically, when the draw was made you see Germany, the top seeds and are expected to win the group. But you look at second and go, 'That's definitely an attainable position for us,' and that's testament to the work that's gone on leading into this campaign and the work Vera [Pauw, current head coach] is now continuing."