"I feel proud to remember that Colle gave them the opportunity to reach the best team in the country and the national team."
Pili Espadas
U
nión Deportiva Collerense, or Colle, as they are affectionately known locally, is only 23 years old as a football club.
Based just six kilometers outside Palma, the main city on the Balaeric Island of Mallorca, it became the first club from the Mediterranean islands to make it to the top division of Spanish football in 2009, but now reside in the third tier, back where they started in 1999.
When FC Barcelona, who UD Collerense once classed as a divisional rival, once again walk out in a Champions League final on Saturday night against the team they dethroned in Lyon, it's unlikely many outside the Catalan city will know the impact Colle had on the former's current crop of dominant European superstars.
Club Heyday
In its heyday, UD Collerense produced players such as Virginia Torrecilla and Maitane López, but also molded three of Barca's current stars: midfielder Patri Guijarro, striker Mariona Caldentey, and up and coming goalkeeper Cata Coll.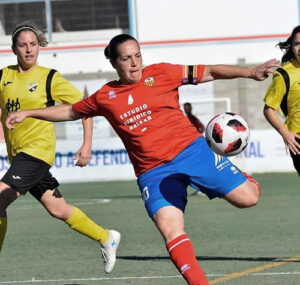 They are just the main five names in a list which extends to Patri Mascaró, Rosa Herreros, Sandra Torres, Ruth Álvarez, and Rocío García, all of whom started their careers on the Mediterranean island.
The person best placed to offer insight into the beginnings of several of Europe's current top players is María del Pilar Espadas, more commonly known as Pili Espadas, who has played for the club since day one, and at the age of 39 is still playing for UD Collerense now, having never left over a period that has lasted almost a quarter of a century.
Pili is the club captain and undoubtedly its loyalest of players, and the time span she's been at the club means she has seen the likes of Guijarro, Mariona, and Coll come and go across the years.
"Collerense has always worked with a base of younger players to give them opportunities and confidence to reach the first team," said Pili.
"So they can continue to grow as players, but above all, as good people. Mariona, Patri, and Cata were all very professional players from day one due to their work, effort, and capacity for growth, and their great ability to always help the team. They were responsible, brave, and great people."
After promotion from the third tier at the third time of asking in 2002, UD Collerense became instant challengers in the second division, finishing runners-up four times in five seasons, before finally winning the league in 2009 and earning its first promotion to the top division.
It was here that UD Collerense started to attract the very top players Mallorca had to offer, with 15-year-old Torrecilla joining in time for the team's first season at the top level and subsequently becoming the youngest player to feature in the league at the time.
Always in the bottom half, but Colle solidified themselves as a top division side and though Torrecilla moved on two years later, she was soon replaced with the next crop of exciting young Mallorcan talent.
Mariona joined the club's youth team in 2011 and the first team a year later in 2012, and at the same time Guijarro also joined the youth team, and again stepped up a year after Mariona as the pair played first-team football together on the island both had grown up on.
The club's current sporting director, José Sánchez, was the first-team manager at the time Mariona moved on to Barcelona in 2014, but coached midfielder Guijarro for a year and later goalkeeper Coll who was the last of the trio to come through the Collerense system.
"I was struck by the desire of both of them to grow, to be professionals, to reach the top, to want to be role models for other young female footballers," recalled Sanchez.
"Apart from their qualities and innate talent, their ability to excel, to work, take care of themselves, it was small details that make the very few players who reach the elite."
After being relegated with just one win in 2016 and Mariona and Guijarro long gone, Coll became the club's regular number one for three years in the second tier before she too was snapped up by Barcelona and loaned out to Sevilla.
"Just great people in the locker room," said Sánchez. "They both had great leadership skills, but above all, had great capacity for sacrifice and work.
"It is not easy to leave your home, your parents, your friends and go and live with at 16 years old in a new city far from your environment, far from your comfort zone, and compete in a squad with older players, but all of them did it, and now they are doing it wonderfully in Barcelona."
Current Club President, Tolo Verd, is also well placed to recall the days where his club enjoyed the presence of now some of Europe's finest footballers, as he approaches a decade in his role, but has been involved in the development of women's football in Mallorca for much longer.
"My first memory of these players was when I was the delegate of the regional women's team," recalled Verd. "Mariona was not old enough to play nationally and Patri was a player on our youth team.
"Whether as a team delegate or later as president, I have always been a very close person to all of them, involving myself to the maximum for anything they need. Since my beginnings, football has been a means to try and train players like you would people, giving them values beyond just sport."
No Secret to Development
So, what's the secret as to why a club the size of UD Collerense, with its humble beginnings in the third division, was able to help develop players who have gone on to play in Europe's top team and win every trophy that comes with that honor.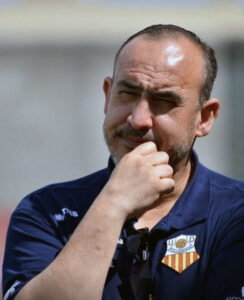 "There is no secret," said Verd. "First of all, these players had the capacity to work, they had the enthusiasm to get to where they wanted."
"Perhaps the biggest secret is that we were the first club in our community in 2000 to really bet 100% on women's football on an equal footing," said Sánchez.
"We matched the conditions of the men's team, had the same training and match times. The same rights, infrastructure, equipment, that has made polishing diamonds in the rough such as all these great players who have now moved on much easier."
Former teammate of all of them, Pili says all three worked with "humility, effort and sacrifice," and says she took on the role as a senior player to help nudge them along on their journey.
"We made them feel like very important players for our team and encouraged them to keep growing as they have done in a great club like Barcelona," she said.
"My role as a companion, captain, and veteran player has always been to try and give advice so they can improve day by day. I always supported them and tried to help them on and off the pitch, trying to be an example of commitment to them."
UD Collerense is still developing young players to this day, working with the best talents on the island in the hope they too will one day reach the levels of Mariona, Guijarro, Torrecilla and Co., whether it be for Barcelona or elsewhere.
Now as Sporting Director only after stepping down as the manager, Sánchez offers an insight into how they try and work with their young players to set them up for a career in senior football.
"Work, dedication, and effort," he said. "For me, we provide them with values, such as sacrifice and resilience and make them see that if they wanted to become professionals, bad times would come.
"Moments when they would be alone, when they should grit their teeth and fight. They were offered a friendly and safe environment so they could improve and be able to make the leap to higher level clubs in the future, which they have all done."
I
t is clear all three of them and the club as a whole take what Pili describes as an "immense" pride in seeing Guijarro, Mariona, and Coll in particular represent the treble-winning Barcelona side that is closing in on a repeat feat in 2022.
"I feel proud to remember that Colle gave them the opportunity to reach the best team in the country and the national team," said Pili. "They were great players and very humble people."
"For the club that I preside over," Verd added, "it is a great pride to have these great players and people as ambassadors of Collerense and all of Balaeric women's football.
"They were players who whenever they can reference us as their team, the ones who saw them both as national football players and from which they have all given us great memories."
Sánchez, whose role is to ensure more players do what the trio in question have managed to do, has the final word.
"It is for everyone who at one time or another participated in the growth of the club and of women's football. Seeing our players wear the shirt of our country shows us the values indicated bring you closer to success, they serve as an example for all the players who are currently at the club.
"I'm proud that all of them maintain the humbleness of having started in humble clubs like ours and that whenever they speak in the media they remember us and where they began, they name our club, we are very proud of that."