[dropcap]B[/dropcap]irmingham City duo Hannah Hampton and Harriet Scott aren't quite at the opposite ends of the experience spectrum, but the 19-year-old and 27-year-old's respective outlooks on their club's new campaign largely mirror the other.
Despite the fact she won't leave behind her teenage years until November, Hampton has already been the club's regular No. 1  goalkeeper since 2017, while Scott is a regular Republic of Ireland international.
New Season, New Coach
Both are preparing for what is expected to be another tough season for the club, which only appointed new manager Carla Ward midway through August, and is still actively looking to recruit in the transfer market ahead of the new season starting on Sunday.
But the arrival of Ward has clearly boosted morale, and both players appear optimistic ahead of their first match against Brighton & Hove Albion this weekend.
"I think it's really, it's different from last year," said goalkeeper Hampton. "There's a lot of things that we still need to be working on. Just from the preseason friendlies, I think obviously we've got to keep compact and try and limit being played through, and that's the best we can do, really.
"I think it's definitely positives [so far]. It's definitely working on our attacking play more. We did lack that last year, within the coaching and the environment, but it's completely different this year and there's only positives. The defense invariably worked quite well together, it's just then building on getting the ball from the defensive areas into our attacking third and creating chances."
Defender Scott, added: "She's only been in just under two weeks maybe. The way that she stepped in and has obviously led the team has been really, really good. I think she's immediately given us direction. Before that, we had all of our background staff who had been leading the sessions and actually they'd been doing really, really well with it. But obviously, because they didn't know which direction the manager wanted to take us in, in terms of tactics or anything like that, they were just trying to maintain us and keep us in good physical condition for the person to come in and then take charge.
"Wardy has since come in, and fortunately has done really, really well with us. I think she's first and foremost got us quite organized. We have been working a lot on our shape. We've been working on people being in different positions and being a bit versatile and she settled in really, really well with the group. I think it is a great appointment so I'm really happy with Wardy being our manager.
Previous head coach Marta Tejedor was sacked just before the season was curtailed at the beginning of March, with interim head coach Charlie Baxter never actually taking charge of a first-team game, though he remains part of Ward's backroom staff.
Despite a lengthy period of time between Tejedor's departure and the arrival of Ward, Scott insists she was always confident the club would appoint the right person.
"That's always something that we were all interested in as a group," she said. "We did very well in terms of that we were actually quite close knit. So, when we did all have these questions, and obviously you would see the media were having all these questions as well. We had faith that the club was sorting it out behind the scenes and that's what they were doing. They were working really, really hard to make sure that the right [person] was in place and I'm really pleased I couldn't have asked for a different appointment.
"I think the way that she has handled individual players so far and just the time that she's given to them, I don't think I've seen that quite in a manager yet. She's kind of been really attentive to any single person that's on the pitch, people that have been maybe struggling with niggles, she's been really attentive to those people and just kind of getting to know them, talking to them, understanding what they're good at, what they're not good at. We've had some young girls coming in and spending some time with the first team and actually, she's been giving her time to them as well."
Youngster Hampton echoes Scott's thoughts and said while it's "difficult" not having a manager when preseason gets underway, she re-emphasized she is part of a close group of players at Birmingham City.
"The girls were always already positive before that and we were such a close group of girls that whenever a new manager came in and when the new players came in, they just slotted straight in and it's like they've been there for years and seasons. It's definitely going in the right direction and everyone is really positive and can't wait for the season to begin."
Scott also admitted team morale has been boosted even further since Ward's arrival. "Yeah, massively, as soon as we had our manager appointed, you should have seen the first session, everybody was bouncing, running to get to every cone. I don't know what was going on with everyone!
"But it was a really good mood to be in as soon as she came in. Especially because she established the way that she wanted to do things very, very quickly. She's given time to every single player. So it's not just someone's come in, and she's rushed into doing everything. She's given time to each individual person, which has actually really helped everybody get on board with everything she wants."
Hitting the Ground Running
Ward will need her new-look squad to hit the ground running this weekend when she takes her side to Brighton for her first match as a manager in the FA Women's Super League.
With a match against Manchester United to follow, a positive result against Brighton would be a huge boost to the team, but with morale high and new players settling into the squad, both Hampton and Scott are chomping at the bit to get started.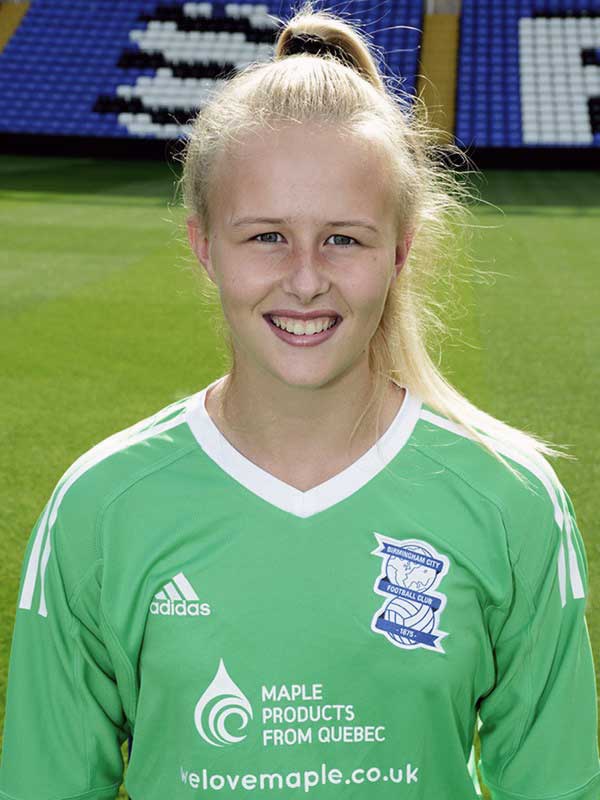 "Everyone can't wait," said Hampton. "I think it's been a long time coming. Being the first game of the season, it's one that you can — it's going to set kind of like a foundation where we can build from on the beginning of the season through to the end. It will be a tough challenge like it was last year against Brighton.
"I think with the way that we've been doing throughout preseason, the players that have been brought in, and the new manager and the style of play she's implementing on the team, there's only positives from my point of view. It's one that I think we can really go down and get some from."
Scott added: "Yeah, actually really looking forward to it. It's a game that's going to be probably very important for us given the campaign and given what we're looking to achieve. It's always a competitive fixture against them and actually, when we played them last year, it was again."
The Republic of Ireland international isn't getting ahead of herself though and admitted the aim this season is about "retaining our position in the league," first and foremost.
"We want to ensure that we are not dropping down this year, we want to establish ourselves. Since Carla's come in, she's been very clear about what our target is. And that is, first and foremost, to establish ourselves in the league, make sure we do not go down.
"We have our own personal target that we keep within the group as in what we would like to achieve. It is to stay in the league and actually, hopefully, surprise teams and show them that we're actually not a team that can be pushed around and we're not just there to make up the numbers, we are there to actually compete with the league."
Derby Time
While keen to not drop down to the FA Women's Championship, the Blues will surely also be keeping a close eye on their local rivals Aston Villa who have come up from the second tier ahead of the new season.
The pair have met in cup games but are yet to play a league game against each other and both players are looking forward to the first second city derby in the FA WSL era.
"Yeah, it's great for Villa obviously, they did really well in their campaign last season and deservedly got promoted," said Scott. "I'm really looking forward to it, I think it's something that the women's game definitely needs. There's a derby up in Manchester, Liverpool there was with Everton, and there is loads of competition down in London, but actually, there was nothing really going on in the Midlands, but now hopefully we can start to emulate something and make it a really good spectacle to watch. I think I'm ready, excited to see what Villa do with their team and hopefully it will make it a good competition for both of us."
Hampton added: "I think it adds that extra incentive for us, every game is pretty much going to be a derby [must-win] I think this season, but even more so then. They'll obviously have something they want to prove, but equally we want to prove why we've been in the league for so long.
Same Team, Different Places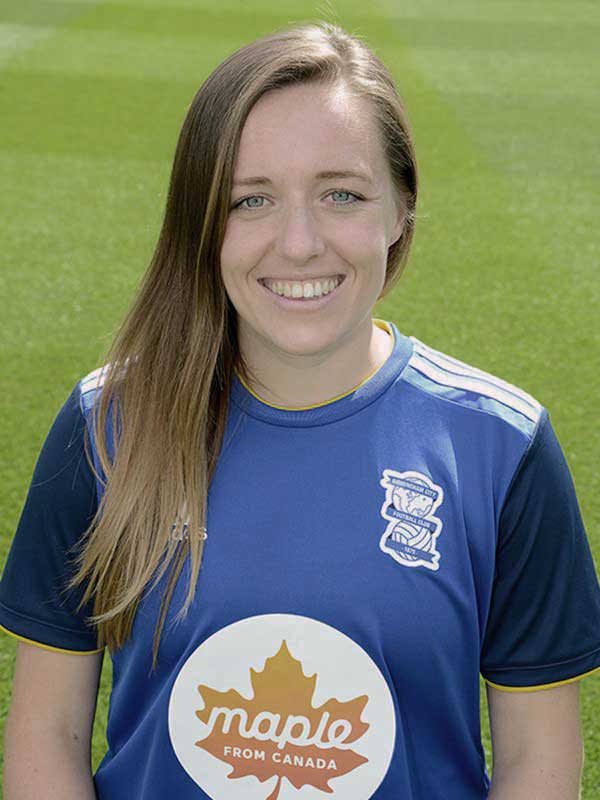 Both may be part of the same team, but are personally in very different places in their own individual development.
Hampton is still a teenager with more experience as a goalkeeper than most would at her age, while she received her first England senior call-up for the 2020 SheBelieves Cup just before the COVID-19 pandemic put an end to the season.
Scott, meanwhile, is 27 and already has one eye on her post-football career. The full back is currently heading into the third year of a five-year course in medicine at the University of Keele, which she admitted is a "juggling act" alongside her football career.
"They are really supportive of my sporting side, so I've had conversations with my year leads and they've basically talked about how they can support me through it," said Scott. "Equally, the club are very supportive of my education. I'm fortunate that I've got a good balance between the two parties that are supporting me, which is exactly what I'd hoped for. I'm really enjoying it and I'm enjoying the balance. I think it's something that people always ask me, 'How did you do it? How do you manage it,' but if you want to speak to anybody in football, they say that you should have something outside of football.
"And if you speak to anybody in medicine, they say you should have something outside of medicine. So, at this point in time, I've got something that balances well, but when I'm studying really hard and it's getting a bit stressful — I've got exams — I actually then throw myself into football and training and I compete as much as I can there and it takes my mind off it and then vice versa. If football is really, really stressful, I actually just can throw myself into some books and actually, it's the way that my balance works at the moment."
Scott doesn't have a huge amount of experience to lean on in her own family, with only her uncle who works in a hospital as guidance.
While most players would struggle to combine such a rigorous schedule, Scott appears to have found a balance that works for her, even if her day-to-day life seems hectic.
"Uni is pretty much five days a week, but it does vary. Sometimes I will be training and then I will do my lectures in the evening to kind of balance that. Generally, Uni would be most days, nearly every day a week, and football would be three days midweek and what I will be doing is I would always be there for the one of them and then try and juggle around the other two to see when I could be there for all of it.
"At the moment, the weekends they can't touch it, so that's okay! Saturdays and Sundays, I get to fully concentrate on football, so it's working that way. I guess football is also my social, it's very socially important to me as well."
Hampton, meanwhile, is still riding the crest of a wave after her SheBelieves call-up, though she is still waiting for her first senior camp, with October's friendly against Germany her next potential opportunity.
The 19-year-old was preparing for an away trip in the FA Cup when she received a call from head coach Phil Neville, though she also admitted she didn't believe at the time she'd been playing well enough to justify her selection.
"I remember it like it was yesterday, really," recalled the goalkeeper. "It was honestly incredible. I was at home packing, ready for a trip to Sunderland, and I just got a phone call off Phil, and it didn't come up with his name or anything. I just answered it going, "hello?" and he was like, 'Hi, this is Phil Neville,' and I'm a bit like, 'Oh, my goodness.'
"When he told me that I was going, I did cry on the phone, I'm not even joking, I was so amazed. As soon as I finished the call, I called my brother. He was at Uni, he was in a lecture, and I called him. He was saying that apparently everyone in the lecture just looked and stared at him because he jumped up and screamed. It was quite surreal to be honest. I think I did not take a smile off my face the whole trip."
On whether she saw the call-up coming, Hampton added: "No. My performances last year were nowhere near where I wanted them to be, so I thought, 'No, you're not going.' I got it in my head like, 'Look, it's not this season, you know you can do a lot better.'"
Hampton has had the best opportunity possible when she was thrown into the first team as a youngster when then Birmingham City No. 1 Ann-Katrin Berger left for Chelsea two years ago.
At just 17, Hampton found herself as the regular Blues shot-stopper and has maintained the role ever since, and she credited her rapid development to then head coach Marc Skinner, now the head coach of the Orlando Pride in the National Women's Soccer League, and Tony Elliott, goalkeeping coach.
"Stepping in at 16, nearly 17, I did not expect that one bit," she admitted. "I owe everything to Marc and Tony [Elliott, goalkeeper coach] for putting their trust and faith in me and believing in my ability more than I believed in myself.
"I think if I didn't get the opportunity then, then I don't even know where I would be. Would I still be moving clubs? Would I still be on the bench somewhere? Everything has a knock-on effect. Would I have got a call-up to England? So, I pretty much owe everything to Marc and Tony."