"I've focused more on off the pitch and what's next for me and I'm at that point now where I'm happy with what I've done on the pitch. That's a nice place to be, I feel like I'm transitioning naturally, mentally in a really good place, and that's all I can really ask for."
Jodie Taylor
H
aving turned 36 earlier this week, there isn't a lot England international forward Jodie Taylor hasn't experienced or achieved in her career.
Yet, when discussing her new life and latest move to National Women's Soccer League-expansion San Diego Wave FC, the striker still describes her latest challenge as a "unique situation."
For someone who has played at a World Cup, won a European Championship Golden Boot, domestic trophies in England, Sweden and Australia, and a Champions League with Lyon, Taylor is still looking for that buzz, and heading to the west coast of America suited a player who has spent a large chunk of her career stateside just fine.
"It's a beautiful place to be," Taylor admitted. "I feel really fortunate. Part of the motivation for me to come here in the first place was to be a part of something new and help build something from the ground up.
"It was really interesting in preseason and knowing only a few players I'd played with in the past and then getting to know the staff too. It was really strange, but for me now it's crazy to think we're 12 weeks in and it feels like a lot longer, it's been a really positive few months."
Taylor will admit later in our chat that she definitely has one eye on the future, but it's clear the fire to succeed still remains, as well as the desire to challenge herself even in the latter stages of her career.
Settling Down in San Diego Wave
The Wave is the fifth separate NWSL team Taylor has represented, but the first she has come into where everybody is new, though some familiarity remains, even in the form of head coach Casey Stoney, who Taylor played alongside for England and briefly for Arsenal.
Stoney's first squad includes several of Taylor's former Orlando Pride teammates, including strike partner Alex Morgan, as well as another former England international in goalkeeper Carly Telford.
"I think the club has done a really good job in who they've brought in," Taylor said. "Casey is an amazing coach and the support staff around her, they're all brilliant and really good at their jobs, which makes it so much easier for us as players.
"The players are great people too. You can tell they've gone with a people-first mentality. We're still trying to gel and build and obviously sometimes it's hard to remain patient when you want to win, but to say we've only been together three months, it's been pretty incredible so far."
Indeed, the Wave sit at the top of the NWSL table after four games, having three and conceding twice, an unsurprising defensive record given Stoney's reputation as a top defender herself in her playing days.
Like fellow expansion side Angel City FC, both sides had the benefit of the Challenge Cup to ease into things, an extended and more competitive preseason that has helped both hone their squads, tactics, and starting elevens ahead of the real thing.
"I'm really glad we had the Challenge Cup, because historically expansion teams have about a four or five-week preseason and then you're straight into the full league season. The reality to being an expansion team is it does take time. It takes time to gel, it takes time to figure things out and try different things and that's exactly what the Challenge Cup was for us.
"We have great staff, but they haven't experienced the league and I was actually really glad we played teams like OL Reign and Portland Thorns because you don't know what you don't know and I think by facing the higher caliber teams, it was like a benchmark for where we're at and where the rest of the league is at. Just the lessons we've taken are priceless, we needed those games."
Taylor admits she's known she would be a part of the Wave's first NWSL squad for some time, stretching back as far as her temporary spell back in Europe with Lyon, when a deal was done to take her back to the NWSL with the Pride. As part of that deal, Taylor would eventually head from east to west once the franchise was confirmed and accepted.
"It was a done deal before I went to Orlando, that was part of the deal in going to Orlando about my rights," she said.
"I was in Lyon, looking at my options, as I'm getting towards the end of my career I've had more of an eye on what comes next and factoring that more and more into my plans and decisions and I just had a great feeling about it.
"I think it was Sacramento initially who had the rights to the license and then it moved to San Diego and Jill Ellis came in, that's around the time I started talking to them," Taylor added. "I was weighing up what I was going to do, it tied in with going to Orlando and they were really supportive and I really do appreciate that and I had a great time there, but I knew my time was limited so I embraced it and made the most of it."
The move means Taylor is now playing under a head coach she once called a teammate, someone she won a World Cup bronze medal with and went to a European Championships with two years later.
Stoney was also briefly a coach under former Lionesses head coach Phil Neville before taking the Manchester United job, and Taylor admits Stoney's seniority within the England camp means it hasn't been too strange adapting to working with her as a coach rather than a player and teammate.
"I got into the England team at 28 and Casey pretty much felt like a staff member at that point in terms of she was always in that leadership group and I've always seen her in that light and then she did actually go onto the staff before she went to United.
"So, it's not been too strange because I've always viewed her as that anyway and she's been unbelievable. She's so knowledgeable, she knows the game, her people skills and management of players is so good. The way she speaks to players, articulates her point, I'm glad she's my coach here."
While Stoney is walking into a challenge faced by many English coaches in the past, there is an element to the Wave job that is familiar to a coach facing her first season in the NWSL.
The challenge of building a squad from scratch replicates what the former defender had to do when taking to the Manchester United squad in 2018, and Taylor believes her manager's previous experience has shone through so far.
"Casey had that experience at United of putting a team together and that experience has shown here. For the rest of us it's quite a new situation and that was a huge motivation for me. I've played for a lot of clubs where I've just stepped into a team that already has a team culture, so you just slip in somewhere and things are the way they are, whether it's good or bad, and I've been a part of both.
"What's set is set and you just get on with the way things are, so it's been nice here to be able to help shape that culture and help start something. It's been about creating what we want it to be long-term because team cultures are hard to change when you are walking into an existing one."
Pros and Cons
While there are familiar faces among the squad for Taylor, she admits it was a pleasant surprise to be joined late in the NWSL transfer window by former England teammate Telford, who was also on the lookout for a new challenge as she too approaches the back end of her playing career.
Unlike NWSL veteran Taylor though, Telford is playing in the United States for the first time, having spent a large majority of her career playing in England, and Taylor admits Telford is very much a "Brit abroad."
"She's never lived in the U.S. so she's doing all that fun stuff now — social security, getting her bank set up, driving on the other side of the road," she laughed.
"It's nice to see a familiar face but we have a few girls from Orlando too. Alex, Taylor [Kornieck] and Emily [van Egmond], and there's a few girls I know from elsewhere too. The more time we spend together, the closer we'll get, it's gone really well."
Taylor has fluctuated between home and abroad throughout her career, having represented the Pride, as well as Portland Thorns FC, Washington Spirit, and OL Reign during the NWSL era, plus several other sides in former leagues.
Mixed in with spells back at home in the FA Women's Super League with Birmingham City, Lincoln City, and Arsenal, Taylor gives a lengthy response when discussing her motivations behind picking her next move, and admits there is always something attracting her back to the USA.
"I've gone back and forth, it's almost that grass is greener kind of thing," she said. "Especially with the national team. I never felt pressure per se to play in England but you also kind of do because almost everyone is there, the travel back and forth is a huge factor and it's hard, and as the FA WSL became professional I did go back and forth a bit, but there's something about the NWSL and the lifestyle, especially away from the pitch — there's just something special about it and in my opinion, it's the most competitive league in the world.
"I'm not saying it's the best in terms of outright quality, but from top to bottom, nothing compares, every game is a hard game. You can't just turn up and go through the motions which is always something I still find when I go back to Europe, there's those games where you smash teams six or seven nil and over here you can't get away with that."
This offseason has seen more players from the FA WSL than ever before head to the NWSL, and with both leagues offering their pros and cons, Taylor isn't surprised to see more players in either league going to experience the challenge on the opposite sides of the pond.
"Lifestyle is important because I'm a big believer in if you're happy off the pitch, you'll play well on the pitch. Am I surprised? Not really. I think with standards improving over here, and I can't always say teams here have been the most professional, when I first came over the league was only six months long, you could have your contract ended at any time and you want stability as a player.
"The league has expanded but you still get a healthy offseason, which is important, but it's only a couple of months now. The CBA has been huge here and the NWSLPA [NWSL Players Association] has been huge in that. It's not even a reflection on the FA WSL, it's going from strength to strength and it's one of the best leagues, but as a player you want to be challenged and I can't speak on behalf of others, but I think players might be leaving the FA WSL just for a new challenge and to learn something new."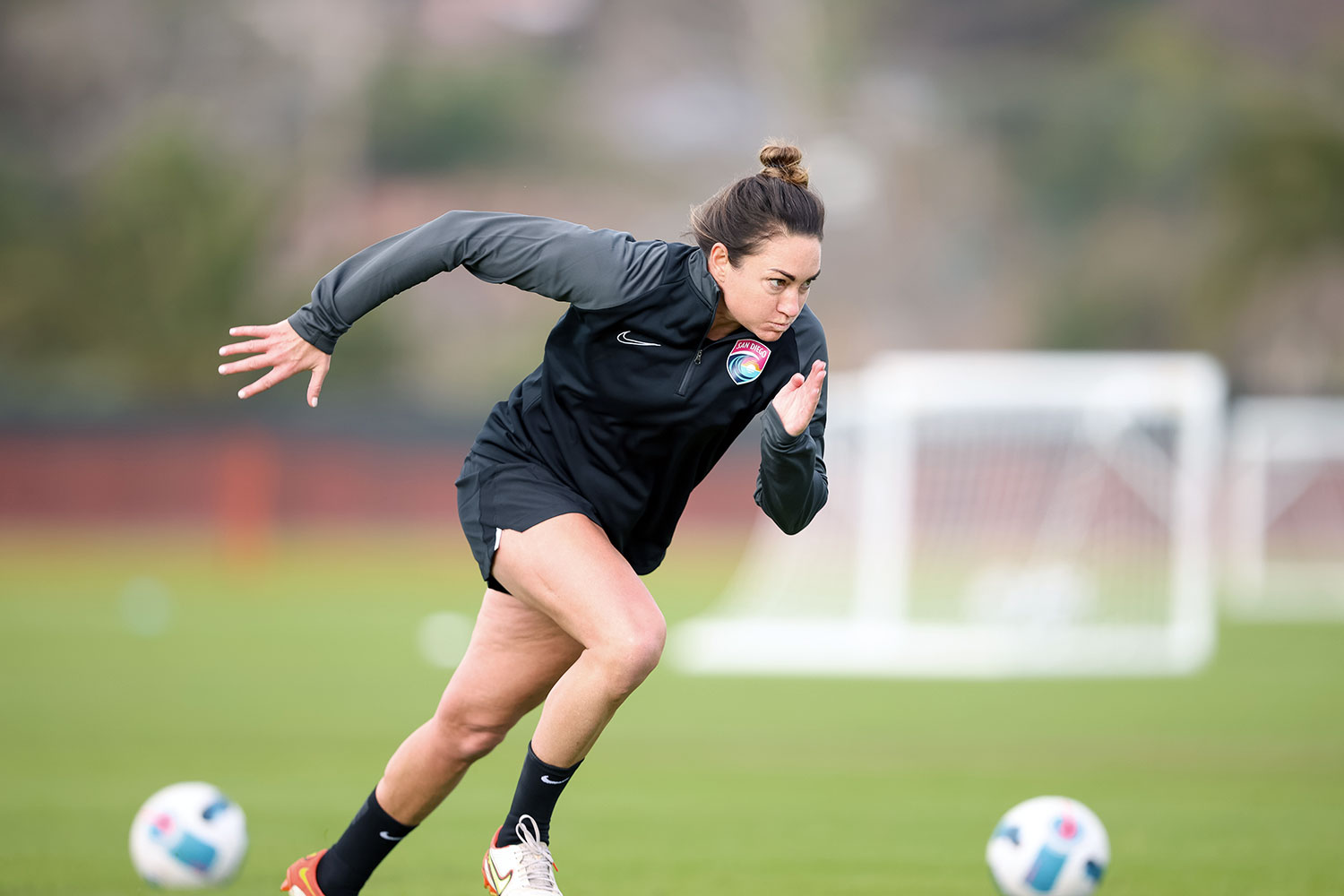 Looking Ahead
At 36, it seems unlikely we will see Taylor back in England, whether it be domestically or for the national team.
Taylor hasn't been selected for the national team since the start of the COVID-19 pandemic when travel meant restricted call-ups for players based abroad, but as her former teammates get set for a home European Championships, the tournament will go ahead without its defending Golden Boot winner.
The striker says she hasn't formally retired from national team duty, but admits she's in a good place mentally and content with the fact she is approaching the end of her career, and is satisfied with what she's achieved with her country.
"It's an interesting one. If I truly wanted to close the door off to it then I would have done an official retirement, but I've never felt the need to do it even though I've not been selected and not had any contact.
"I'm still playing and still enjoying my football, feeling healthy in my body and that's the most important thing for me. I really am enjoying myself, I'm happy where I'm at, I'm just content and at peace with the fact if I never set foot on a pitch for England again that I've enjoyed my time with the national team."
So it's no surprise Taylor is now focusing on what comes next. Having started her career in an era where wages were nowhere near where they are now, the striker is happy she has planned what she would like to do post-playing career, and admits she always knew she would have to have something to focus on once she decides to walk away.
"I've focused more on off the pitch and what's next for me and I'm at that point now where I'm happy with what I've done on the pitch. That's a nice place to be, I feel like I'm transitioning naturally, mentally in a really good place, and that's all I can really ask for.
"I'm close to finishing my UEFA A License and I've been working on that for the last couple of years and it's just figuring out now what that next step will be for me. Do I want to be a coach or go down the sporting director role? I'm not sure yet. I've had great experiences, I'm lucky, but I'm definitely happy with where I'm at and looking at what's next."
Taylor has to look no further than her current coach to find someone who made a seamless transition into her post-playing career, while several more of Taylor's teammates from the 2015 World Cup or 2017 Euros have also made that step away from playing into either coaching or punditry in the past couple of years.
"One thing now is probably seeing it more as a good thing and seeing those other players do it," Taylor admitted. "When we were younger, you had to have that mindset of doing something else because we weren't even professional. When I was a teenager, I knew I had to have an education or get a job, even a lot of my career I wasn't getting paid much, so I always knew I'd have to step into something else because you lived paycheck by paycheck.
"I started my coaching badges quite early. I always say to the young players, chip away at something on the side so you're less stressed about it, because you never know when it will be over. The unknown is scary, but I'm trying to embrace it. I've got a positive mindset, I always think there will be an opportunity, but it's definitely helped having a good experience in the game.
"I'm really glad I feel this way," Taylor add. "I think it would be really difficult if I didn't feel this way and I was hanging onto playing. That's always the fear, not being ready to finish playing when you need to be, but I don't feel that at all. I'm at peace with it."
Whether this will be her last season or not, Taylor isn't done just yet, and while the Wave's current position at the top of the NWSL is unlikely to last, it would be an incredible way to bow out by clinching a first NWSL trophy for the striker.
B
ut there is a bigger picture in San Diego, one perhaps someone at the end of her career may not reap the rewards of, but her first impressions of what the club is building is only positive.
"It's hard not to be so critical on ourselves because we're a new team, but we were disappointed with the last couple of games in the Challenge Cup. You have to remember where we're at. We want to be successful and that's a standard we're setting ourselves as players. We have to be realistic, but we've shown we can compete with the best teams. The expectation from us is to compete."