[
dropcap
]M[/
dropcap
]
ost
seasons last between nine and ten months, but not women's football. Women's football is different, it's always been different.
The 2018–2019 campaign began as soon as the previous one had been shut down. No sooner had Chelsea won the league and Doncaster Belles won the Championship, did the cogs instantly started to turn as the Football Association took the women's game in England into another new era.
New Structure
It was May 27th, just one week on from the final day of the domestic season when Blackburn Rovers and Charlton Athletic met at Bramall Lane in the National League playoff final. A significant game in itself, but what was unfolding off the pitch would set the landscape for the future of the women's game.
In the end, it was Riteesh Mishra's Charlton who won out and sealed themselves a place in the all-new FA Women's Championship, while everyone else endured the tense wait until that evening to find out who had, and hadn't, been awarded licenses in the new "rip it up and start again" restructure.
The drama unfolded in the boardroom upstairs inside the stadium. Representatives from a number of teams whose futures depended on the next few hours waited anxiously, including those from the Blades themselves.
In the end, Brighton and West Ham were fast-tracked into the FA Women's Super League, while Sheffield United, Leicester City, Lewes, Crystal Palace, and Casey Stoney's Manchester United were awarded spots in the Championship alongside Charlton.
For league winners Blackburn, it was not to be, despite a second successive National League North success. For Sunderland, it was the end of the line in the FA WSL as they were demoted two divisions to the third tier, along with Doncaster Belles, Sheffield FC, Oxford United, and Watford.
It left a bitter taste in the mouths of many. The FA had gone in search of the pinnacle, a fully professional league that would hopefully not only provide a more competitive league, but help England's elite in Europe and aid Phil Neville's Lionesses in their quest for glory at the ever-looming 2019 World Cup.
The product had to be worth the sacrifice and it was a long summer of discontent before the action finally got underway in August.
When it did, it was the Continental Cup which kick-started another brand-new season in the women's game. Crystal Palace and Tottenham held each other to a draw while Sheffield United's brand-new side beat Aston Villa, ironically thanks to one of their few remaining players, club legend Tania Marsden.
Twenty-four hours later, all eyes were on Prenton Park and Manchester United's first match as a professional football side. The script was written, the cards on the table. It had to be against Liverpool, it had to be against Stoney's old club.
Not only Stoney, but for signings such as Siobhan Chamberlain, Amy Turner, and captain Alex Greenwood, all of whom had made the short trip down to the motorway to join the Reds' revolution. As one side began to flourish, Liverpool had turned to FA WSL 2 title-winning manager Neil Redfearn to get them back on track.
Lizzie Arnot's sole goal ensured United got off to the perfect start, and it would be the only time Redfearn would manage at the club's home stadium in what turned out to be a very short marriage.
Stoney's side succumbed to their first defeat a week later at home to Reading in front of a strong crowd at Leigh Sports Village.
A week later, the Lionesses secured World Cup qualification in a tense encounter with neighbors Wales thanks to goals from Toni Duggan, Jill Scott, and Nikita Parris. The Dragons had been slayed, the Lionesses roared.
It felt like so much had happened before the league campaign even got underway at the beginning of September. Once again, Carla Ward's Blades were first up, going down 2–0 at home to league stalwarts Durham, who would embark on another brave and brilliant campaign.
A day later, Joe Montemurro's Arsenal laid down a marker for what was to come with an emphatic 5–0 win at home to Redfearn's Liverpool, the second and last game the former Leeds United manager would lead the team out for before resigning less than a week later.
For the Gunners, it was already advantage to them as Chelsea and Manchester City drew a blank against each other on the opening Sunday, while lower down it was Lewes who surprised everyone with a great start to their debut Championship campaign, opening up with a 3–0 win at Millwall.
The Lionesses had, at times, looked like promotion candidates in 2017–2018. But with financial difficulties hitting hard, manager Lee Burch had left in preseason along with most of the players, and it was a young squad largely made up of development players that was left behind.
Man United put a stunning 12 past Aston Villa, another side rebuilding after a summer shake-up and under the guidance of 26-year-old Gemma Davies. Jessica Sigsworth's five-goal haul was a statement of her intentions in the search for a second successive golden boot.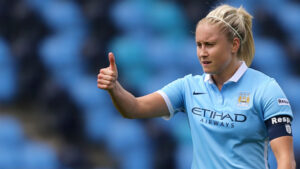 Just over a week into the new season, the women's football community came together to support Manchester City and England captain Steph Houghton, whose husband, professional footballer Stephen Darby, had been forced to retire from playing after being diagnosed with motor neurone disease.
A born leader, Houghton responded in the only way she knew. With Manchester City surprisingly trailing, 2–0, at home to a rejuvenated Bristol City side, Houghton curled home a stunning effort with minutes to spare in her first game after the news broke.
For the team as a whole, the season looked close to unraveling as soon as it had begun. Still licking their wounds from the previous season's collapse, Nick Cushing's side crashed out of the Champions League three days later, falling at the first hurdle against Atlético Madrid.
But there was a turning point. The following Sunday his side battled back from 2–0 down at Birmingham City to win, 3–2, and reignite their title challenge.
Birmingham had started the season brightly themselves. Three successive 1–0 victories had already put Marc Skinner's side in contention, at least for a Champions League spot, but that defeat followed by a 0–0 draw with Chelsea soon set them back.
For Chelsea, they were the story of the opening months of the season. Four 0–0s and a narrow win had almost entirely ruled them out of retaining their title even before they faced leaders Arsenal at the beginning of October.
With Manchester City having returned to form earlier in the day with a crushing 7–1 win at home to West Ham, the Gunners ruthlessly ripped Chelsea apart, scoring goal after goal in a stunning and almost unbelievable 5–0 victory at Kingsmeadow, and Emma Hayes's hopes of a second successive league triumph were in tatters.
November, Champions League
By the start of November, Chelsea were all but clinging onto hopes of even getting back into the Champions League. For others, their journey was just beginning. It was November 4th when Hannah Short's goal ended Yeovil Town's long, long wait for a first top division win against Everton.
For the Toffees, the result would spell the end of a long association between the club and its manager Andy Spence. Replaced by Manchester United assistant manager Willie Kirk just months after the former Bristol City manager agreed to be Stoney's number two, Kirk pulled his side together to pick up a much-needed Merseyside derby victory in his first game in charge.
Back on the international scene, Neville's Lionesses were rocking. A draw at home to Australia was followed up by defeat in Rotherham at home to Sweden, before his young guns came out fighting to record victory in Austria, and debut goals for Chioma Ubogagu and Georgia Stanway, as well as further debuts for Ellie Roebuck and Chloe Kelly.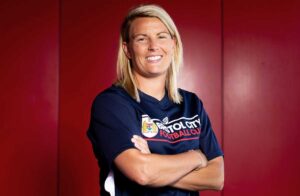 While England's young players were flourishing abroad, one of its youngest teams had found a new lease on life domestically. Now under the leadership of Tanya Oxtoby, Bristol City had proven to be the surprise package of the new season.
Sitting pretty mid-table after having drawn against both Chelsea and Manchester City, Oxtoby's young chargers, led by exciting new signings such as Ella Rutherford, Lucy Graham, and Poppy Pattinson, beat Liverpool, now managed by Vicky Jepson, live on BT Sport to reaffirm their status as a solid mid-table team.
A day later, the course of the title would take a nasty turn. While Arsenal's juggernaut continued with a 4–0 win at Everton, victory came at a cost. Influential midfielder Jordan Nobbs tore her ACL, an injury that would rule her out of the rest of the campaign and the World Cup.
Arsenal bounced back to beat Brighton but as further injuries took their toll, they fell to two Stanway goals at the start of December as Man City put themselves right back in the title picture.
Stanway backed her stunning form up with another critical goal seven days later against Birmingham, while in the Championship, Durham stunned Tottenham in a promotion six-pointer with six goals at Cheshunt to show they weren't going away.
Aston Villa, too, were showing signs of life and went into the winter break off the back of a heavy 5–1 victory against Sheffield United, while Millwall had also picked up a rare point against the Blades the week before.
The biggest result before the break for Christmas came up north at New Ferens Park, where Durham condemned Manchester United to their first league defeat of the season in a superb and enthralling 3–1 victory, one which put them right in the race for promotion.
United bounced back days later, though, to secure Continental Cup progress with a 3–0 victory away at Everton against the club's former assistant Willie Kirk.
New Year, New Challenges
The new year kicked off in dramatic fashion and it was once again Bristol City who placed a dagger in the heart of Manchester City. A 1–1 draw ensured Cushing's side had dropped four points across the two fixtures and it would be a deficit they'd never quite make up on Arsenal.
The Championship got off to a controversial start. Sheffield United Sophie Jones was eventually given a five-game ban by The FA after being accused of making racial remarks by Tottenham defender Renee Hector, and a week later Charlton versus Man United was postponed after less than 15 minutes due to a serious injury to Charlton's Charlotte Kerr.
As it transpired, Charlton had no oxygen supply on the scene, United stepped in to salvage the situation and after a lengthy wait for an ambulance to arrive, the incident raised serious questions regarding ambulances becoming compulsory at all matches.
Just days later, football was once again the headline act as Man United, Man City, Chelsea, and Arsenal made it to the Continental Cup semifinals and a tantalizing prospect was in order no matter what. Stoney's side were drawn away to her former club Arsenal while Chelsea and Man City once again had to do battle in yet another semifinal between the two.
Arsenal had come from behind late on to defeat Birmingham as more injuries threatened to derail a potentially successful season. The Gunners fell to their first home defeat in the league against Chelsea, a result which sparked some final hope of a potential title challenge for Emma Hayes.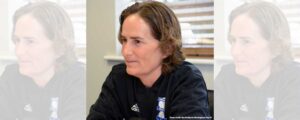 But a fortnight later those hopes were gone when Birmingham City came out on top with a last-minute goal from the returning Ellen White in Marta Tejedor's first game in charge. Skinner's departure to National Women's Soccer League side Orlando Pride was one of the surprises of the season, closely followed by the arrival of former Chile and Peru head coach Tejedor, but the Spaniard couldn't have wished for a better start.
The same day, Tottenham also scored a crucial last gasp goal at Millwall to continue their push for promotion.
One week on and it was time for the top sides to enter the FA Cup. Casey Stoney's Man United overcame Brighton, managed by Stoney's former England head coach Hope Powell, before the Continental Cup moved toward its climax.
A double from the inspired Nikita Parris put another nail in Chelsea's campaign before Arsenal saw off Manchester United at Borehamwood to set up a rematch of last season's final between the league's top two and ensure the trophy would remain exclusive to the two sides.
Four days later, City and Chelsea battled again at the City Academy, a game that would once again dent Cushing's desire for another domestic title. Whereas one year before it was Chelsea who threw away a two-goal lead, this time it was City who held the aces before a late Ji So-yun free kick meant a share of the points.
FA Cup
Meanwhile, in the FA Cup, Huddersfield Town produced one of the comebacks of the season from 3–0 down at Charlton Athletic, recovering to 3–3 before recording a famous penalty shootout victory to set up a quarterfinal encounter with FA WSL side West Ham United.
One week later and the cup produced another classic when Aston Villa and Sheffield United played out their own 3–3 thriller. The Blades held a 3–1 lead with five minutes to go but couldn't hold on and it was Gemma Davies's side who prevailed in the ensuing shootout.
Arsenal's hopes of a domestic treble were ended the same day as their thin squad couldn't cope with Chelsea in a one-sided encounter at Kingsmeadow, and a week later they were reduced to one potential trophy when Manchester City took back the Continental Cup.
In a tight and tense affair at Bramall Lane, chances were few and far between as another penalty shootout once again grabbed the headlines. Lauren Hemp and Leah Williamson saw their efforts saved, as did Daniëlle van de Donk, allowing Canada's Janine Beckie to step home and score the winner.
Sadly, there was tragedy in the days before the final when 18-year-old goalkeeper Jordan Dawes sadly passed away after a battle with liver cancer.
A former Charlton youth team player, Dawes had been playing for Kent Football United when she suffered a stroke in November, an event that led to her cancer diagnosis. It was a story that captured even the biggest superstars' attention, including Manchester United's David de Gea, and Dawes's story inspired the women's game before her sad passing the day before the Continental Cup final.
With domestic duties on the back burner once more, attention turned to England and the SheBelieves Cup. Wins against Brazil and Japan and a draw against the U.S. meant Phil Neville and his side brought the trophy back for the first time.
Chelsea, Manchester City, West Ham, and Reading made the FA Cup semifinals, the latter overcoming Man United in a thrilling quarterfinal; their reward was a tie against West Ham that would ensure a new team would walk out at Wembley.
It also meant another semifinal between Cushing and Hayes, and this one had the most dramatic finale of them all when Chelsea defender Magdalena Eriksson turned a stoppage time cross into her own net to send City to Wembley.
Reading versus West Ham was just as enthralling. An end-to-end encounter led to a penalty shootout and it was January signing Cho So-hyun who stepped up to send the Hammers to Wembley after a succession of misses.
Championship Twists and Turns
In the Championship, there were twists and turns a plenty. In the rearranged Charlton versus Man United fixture, Stoney's side recorded victory while Tottenham were dealt a blow in the form of a stoppage-time defeat at home to Sheffield United.
But the Blades would repay the favor a few weeks later when they did the same to Durham, putting Karen Hills and her side right back in the picture.
As the end of March came around, it was a defining day in the FA WSL title race, too. Man City's late winner against Liverpool kept Chelsea off their tails but Katie McCabe's late goal away at Birmingham all but gave Arsenal one hand on their first league title in seven years.
It took until just mid-April for Man United to seal promotion and they did it in emphatic style with a 5–0 home win against Aston Villa. A 7–0 victory against Crystal Palace sealed the title and Spurs went a long way to joining them with a vital win from 2–0 down away at Charlton.
Two late goals from left back Ashleigh Neville meant Spurs would need just a point away at Aston Villa to ensure their final day meeting with rivals Durham would mean nothing in the race for a place in the FA WSL.
They'd get it. Jessica Naz's early stunner was cancelled out and in the final phase of play, the drama unfolded as first Chloe Morgan palmed away a free kick before Neville was the hero at the other end, this time to head a volley off the line; it was the final action of the match before the whistle confirmed Tottenham's promotion.
A week later, their north London neighbors sealed their own piece of glory with a 4–0 win at Brighton. Record-breaking striker Vivianne Miedema aptly had the biggest say with a stunning opener as they ensured what looked like a titanic final-day encounter with Man City also meant nothing in the end.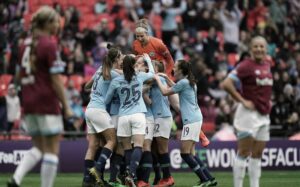 City, though, would seal the domestic double a week later in front of 43,000 fans at Wembley Stadium. Goals from three of their youngest English stars, Keira Walsh, Georgia Stanway, and Lauren Hemp, sealed their second FA Cup and a sixth trophy in six seasons for Nick Cushing.
But they weren't able to secure an unbeaten domestic campaign, despite coming oh so close. After going the whole season without defeat across three competitions, Emma Mitchell's stunner in the 89th minute put the gloss on Arsenal's title parade and left City seven points behind at the close of the season.
In between, Phil Neville announced his England squad for the upcoming World Cup with a star-studded lineup of celebrities to do the public confirmations, while on the same day Lionesses legend Rachel Yankey left her role as London Bees head coach after replacing Luke Swindlehurst earlier in the year.
Blackburn Rovers and Coventry United had their Championship spots confirmed for the 2019–2020 season, but last season's winners Doncaster Belles were condemned to relegation from the third tier after a tough season for their newly built young side.
[
dropcap
]I[/
dropcap
]t was a season in which many of the league's youngest stars came to the fore. Twenty-two-year-old
Miedema
was the headline act, backed up by
Man City's Parris
, who had her best domestic campaign before announcing her swift departure from the club on the evening of their final league game.
City's youngsters such as Walsh, Hemp, Stanway, and Roebuck all matured throughout the season, while Arsenal's Leah Williamson was another who came of age over the course of the campaign.
From youngsters, to veterans. We say goodbye to former England international Claire Rafferty who announced her retirement at the end of the season.
Rafferty was part of the 2015 World Cup side who came home with a bronze medal to add to her FA WSL & FA Cup medals. Rafferty's West Ham team mate Lucienne Reichardt also announced her retirement, as did long-standing Reading captain Kirsty Pearce.
Now, attentions turn to France and England's quest for glory and the hope the Lionesses will go a step further than they managed four years ago.