One big thing is our education from the coaches was and is always one of the best in the world, if not the best.
Babett Peter
"It is incredible to fair," laughed Babett Peter, somewhat understated when I bring up Germany's incredible European Championships record.
Of the 10 tournaments the nation has taken part in, they have won an incredible eight of them, including six in a row during an era of dominance that spanned from 1995 to 2013 and also included two World Cup triumphs.
This time around, Martina Voss-Tecklenburg's side is looking to avenge a rare defeat in 2017, one that shocked Europe as the Germans fell to Denmark in the quarterfinals, their first defeat in more than a decade.
So, what's the secret?
Secret Sauce
"I think it's not one thing," said Peter, who won the tournament in 2009 as a 21-year-old, two years after winning the World Cup as a teenager in 2007.
"It's a lot of things that come together. One big thing is our education from the coaches was and is always one of the best in the world, if not the best.
"I think other countries didn't put as much interest into women's football and put the right people in the right positions to develop their national teams. We have a physical side. We were always strong, tactically smart. It was a really good combination to beat all our opponents."
When Peter came into the squad in the mid-00s, Germany had won four tournaments in a row and six of the seven they'd taken part in.
Walking into a squad filled with experienced legends and serial winners, it would have been easy to feel the pressure that came with playing for a team where winning wasn't just wanted, it was expected, but Peter says she didn't view it as pressure.
"I personally didn't feel it. I really enjoyed it because it was my first Euros and I was just excited. What I have to admit is in 2008 in Beijing, my generation of players, we were like amazed, we were so happy to win the bronze medal.
"But I remember all my older teammates were really disappointed. Maybe that answers your question. I think we were on the edge of the squad changing, there were young players coming through and the older generation were nearing the end of their careers. They were so used to winning everything, whereas we were just super happy to win the bronze."
When 2009 came around, Germany still had their established names such as Nadine Angerer, Inka Grings, Birgit Prinz, and Ariane Hingst.
But Peter was part of a group of exciting younger players that included Melanie Behringer, Simone Laudehr, Kim Kulig, Fatmire Bajramaj, and others.
The need for experience to win a major tournament is an often discussed topic and one without a clear answer, so who better to ask than a player who was 21, looking up to legends of the German game as they came together to try and win a fifth successive tournament.
"It's not an easy answered questions," Peter admitted. "In 2009, from my personal experience, I didn't have to carry so much burden on my shoulders because I had all these experienced players next to me. I could just concentrate on myself.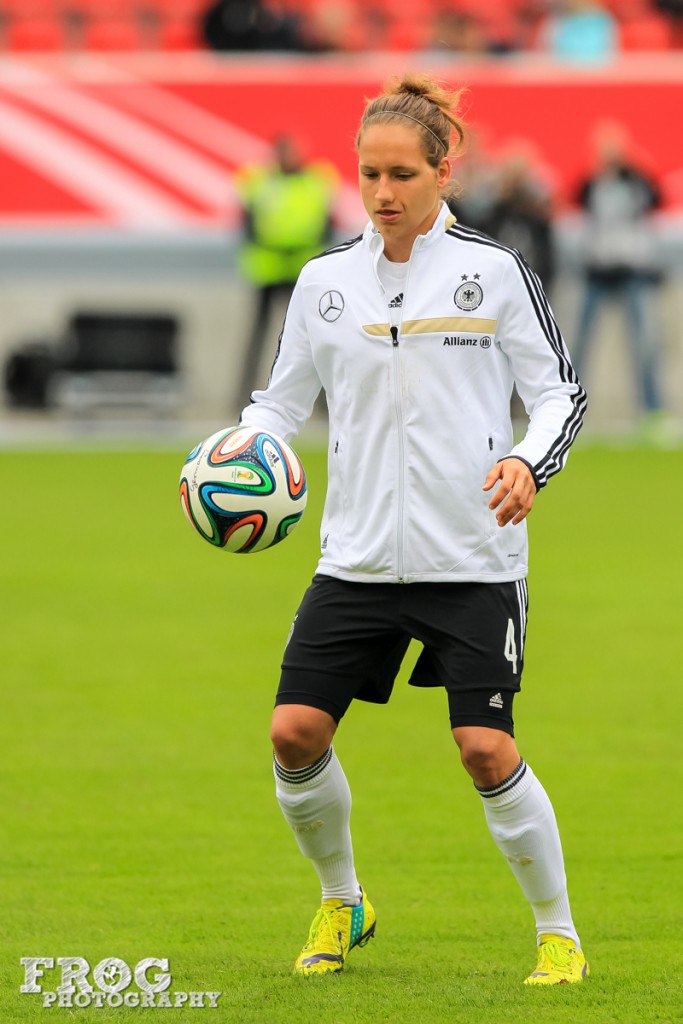 "It's important for young players to have experienced players in the squad, but at the end of the day the coach has to put a team together. What works? What fits? What right now is the best way of putting a squad together? You take some experienced players, you take some younger players and maybe you won't use them as much. It's a thin line. I think it's useful to have two or three really experienced players because they know you have to suffer, you have to strive and you have to work hard."
The Right Mixture
One other thing people often don't take into consideration when a team is trying to win a tournament is just how long the group of players and staff is together.
Between pre-camps, friendlies, and the tournament itself, teams can often be together be for nearly three months, a long time to spend in a hotel together, and Peter believes that team spirit is likely more important to success than any number of experienced or young players.
"It's a long time. It's like pre-season, it's a really intense time. I would say it is just focusing on what is important — the 90 minutes on the pitch. You need a good environment, everyone is on the same page, and you have to be able to deal with every difficult situation, as both an individual and as a team.
"If you have a good group and a good spirit, that helps a lot. You are together for almost three months. Three months with 50 people in the same place, that can be quite challenging, but if it feels like a family then it is different and you can be successful."
Peter admits she "soaked" up every moment of winning the Euros in 2009, the first tournament she had regularly started after being largely unused as a teenager two years earlier at the World Cup.
Perhaps it is that sense of feeling no pressure and instead embracing the challenge that has made Germany such a daunting opponent over the decades, or perhaps it is that the coaches ensured every player felt important.
Germany has a track record of hiring players who have been successful with the national team in their careers on the pitch, whether it be Voss-Tecklenburg, Steffi Jones, or Silvia Neid, the latter the coach during Peter's peak years with the national team.
"I didn't really have that respect for Silvia for what she did as a player because I didn't get to watch her, but she could educate players. Even if sometimes it was a rough time, and it could be rough under Silvia, but I learned most of what I know now and what helped me in my career from Silvia. The lessons she could teach from her experience was huge."
Peter went on to add: "I'm always living life off of perspectives. A lot of people ask me about 2007. 'You were world champion, but you didn't play?' I never understand that question. I was on the roster of 23 world-class players as a teenager, that meant I was one of the best in the world.
"I was so young, I didn't give a shit if I played a minute. I was in that squad, I had this great experience in my career and in my life. Everyone has to accept their own personal role in the team, it's all about that perspective, and that's a massive task for the manager to make sure everyone knows 'you're important, but you have this role' — that is so important for team spirit."
2017 Defeat
Missing Euro 2013 through injury as Germany won a sixth consecutive Euros, Peter returned to the squad in 2017, this time as one of the more experienced players and a vice-captain to Dzsenifer Marozsán.
With her role now flipped from 2009, Peter admits she felt the extra burden of helping the younger players in the squad, and is open about the challenges the team faced, culminating in that shock exit to Denmark at the quarterfinal stage.
"It was one of the biggest disappointments for Germany and also me personally," she recalled. "It was a difficult tournament for the whole federation, there were many things coming together. We deserved the result, the changes didn't really help us. There was a lot of changes in the coaching staff, we had players who had retired; with all the circumstances, we didn't have our best tournament. We have to look at ourselves and say we didn't handle the situation well, the rescheduling of the game and everything.
"The squad at that time was a very new squad. The coaching team was new, I don't think anyone was complacent. As a big football nation, we always want to win. We don't go into a tournament to go to the quarterfinals or the semifinals, you go to win. In 2017, what we wanted and what we could actually bring to the pitch was a little bit different. All the circumstances, the restructure, it was just really difficult for us."
Peter has now just hung up her boots after finishing with Real Madrid and is now living in the United States, but she's keeping a watchful eye on the current Germany team, who for once are not being talked about as a potential red-hot favorite for the tournament.
That, though, may change after an eye-catching opening win and exacting revenge on Denmark with an emphatic 4–0 victory to open their tournament. While Peter believes they have a chance of going all the way, she believes the strength of the tournament no longer means Germany stand out from the crowd.
"I think since the World Cup they have tried to do the right thing, try out a lot of things, but always give the players games and minutes to give them experience on the international stage. I think Germany is still one of the top teams, but maybe not in the top three. Top five for sure, but I see how other teams have developed and it's not going to be easy. Euros used to be two or three teams who could win, now it's seven or eight possibly."
W
ith Marozsán missing through injury and another experienced player in Melanie Leupolz missing as she awaits the birth of her first child, there were question marks around a potential lack of experience in the squad, though they have been able to call upon captain Alexandra Popp and goalkeeper Almuth Schult.
But with an array of exciting youngsters facing their first major tournament, Peter doesn't believe lack of experience can be an excuse if her former team falls short for a second tournament in succession.
"It's too easy an explanation. You have good players. I look at the players, there are seven or eight players who have so many caps, Popp has over 100 caps. I think they want to switch how they play with these young, dynamic, fast players too, so I don't think it is too bad.
"You also have a lot of players between 26 and 28 who are in their peak. You don't have many players over 30, but I still think there is a lot of experience. I expect to see more development from 2019 when a lot of players changed. You can collect a lot of experience in three years and I think the squad is experienced enough."