The FA Cup was my fondest memory.
Tracy Osborn
T
he biggest talking point of the FA Women's Super League offseason has been the influx of foreign superstars brought on by the effect COVID-19 has had on the football world, particularly in the United States. With the National Women's Soccer League unable to complete a full season, several U.S. superstars have headed to England.
Alex Morgan
,
Tobin Heath
,
Christen Press
,
Rose Lavelle
, and
Sam Mewis
aren't the first to sample these shores with their recent moves to England; it's been a mere three years since Carli Lloyd, Crystal Dunn, and Heather O'Reilly also made the journey over to the FA WSL.
And even before those players, Whitney Engen became a league winner with Liverpool, as did goalkeeper Libby Stout, but travels across the Atlantic weren't quite as common before the English game having a professional league.
One who did make such a journey is former midfielder Tracy Osborn Nelson (née Osborn), now working as a head coach and assistant academy director for the Portland Thorns Academy, in the city she called home for many years playing soccer and studying at the University of Portland.
After graduating, Osborn Nelson set about following her dream of playing abroad despite the fact not many players at that time ventured outside the U.S., especially to England.
"It's funny because back in the 90s we didn't have internet and we didn't have email," recalled Osborn Nelson. "When I graduated in 1995, most college players would say they were at the top of their game because at that time we didn't have a professional league here.
"I knew a few players who went to Japan, a couple who went to Germany, so I reached out to U.S. Soccer and asked them to fax over contact information for every federation in Europe. I looked at Sweden, Netherlands, Germany, and a few outside Europe. I started writing letters to clubs and I had my college coach, Clive Charles, write a recommendation and I just sent it out to see what came back. I wanted to travel, play somewhere where soccer was the sport, and immerse myself in that culture."
Taking the Scenic Route to England
England wasn't Osborn Nelson's first destination in Europe though; rather, it was Sweden, specifically top European side Umeå IK, although it would be a few years after Osborn Nelson moved on before they became one of the top sides anywhere in the world.
Osborn Nelson's friend and former college teammate Christina Harsaghy had made the same move one year previous, so the midfielder promptly packed her bags in 1996 and headed for a Scandinavian adventure.
She described it as "probably the best league in the world at the time" and it would be hard to argue with the likes of Sweden legends Anneli Andelin and Lena Videkull leading the charge.
After a year in Sweden, Osborn Nelson reached out to some English clubs. Eventually she joined Millwall, who, at the time, were one of the leading women's sides in the English game at the start of 1997.
"I started reaching out to England and I got a letter back from Millwall and I think from Arsenal too," she said. "They were very open and welcoming when I joined, they found me a family of one of our players to stay with.
"They helped me find a job, covered my expenses. I came over to visit once before I left Sweden and I fell in love with England straightaway. I went back to Sweden for the holidays and then joined Millwall for the second half of the season."
After winning the FA Cup in 1991, Millwall lost many of their top players, including future England head coach Hope Powell, but rebuilt to a side that included the likes of Pauline Cope, Mary Phillip, Lou Waller, and a teenage Katie Chapman by the time Osborn Nelson joined.
Waller, who was an England international at the side, became a good friend of Osborn Nelson's, as it was her parents the midfielder stayed with during her six months in southeast London.
"They were like little grandparents to me," she laughed. "They were the sweetest people, but definitely Millwall strong!
"The team itself were so welcoming to me. I came in midseason as a foreigner but they were great and it was such a fun team. They were all about soccer, they all played for the right reasons. They were passionate. We'd be singing in the locker rooms before games, after games, on the coach!"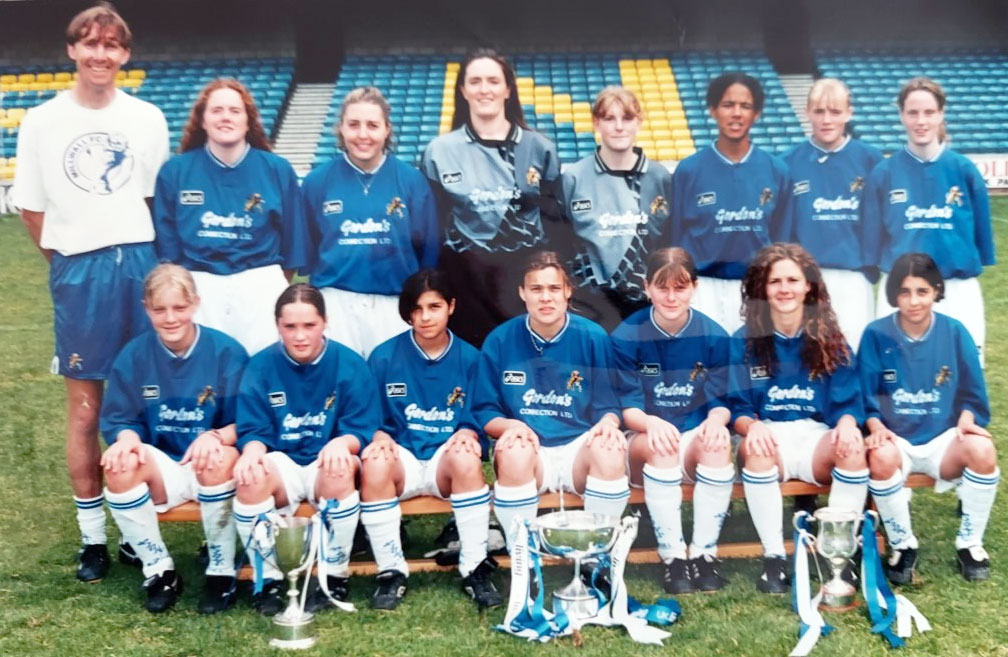 Osborn Nelson didn't have a visa so couldn't partake in any formal work, but took part in some football clinics with the club and also worked in a little flower shop local to the area.
Winning the local Kent Cup and then beating Everton in the league cup final in March, Osborn Nelson was already riding the crest of a wave before the best of the lot came around in the shape of an FA Cup final in May.
"I felt way more comfortable in England," she admitted. "The language barrier wasn't an issue. Umeå was very far north, a little college town, there wasn't a lot to do and they had snow eight months a year. During winter there was no daylight, the culture was a bit challenging for me.
"Going to England was a breath of fresh air, being immersed in a soccer culture. Being close to London, I loved being able to take the train into the city, I was a big city girl. I didn't want to come home but at the time there was talk of a new pro league in the U.S. and I figured out I needed to come back and get more engaged with U.S. Soccer, but it didn't come to fruition. Then I met my husband and decided it was time to settle down, but I could have lived in England for a long time."
The midfielder certainly threw herself all in on the English experience, even attending a Millwall men's home game, which she admits was an experience.
"I remember being overwhelmed! The separate entrances and exits for players, fans being almost caged in, the police mounted around the field. I had never experienced anything like that. I was like, 'Gosh, what is going on?' We left a little bit early because everyone said it could get a bit feisty at the end, it set the tone of what Millwall was for me!"
Fond FA Cup Memories
A win against Croydon in the FA Cup semifinal, one in which Osborn Nelson scored the winner, set up a final against Wembley FC to be played at Upton Park, the home of West Ham United.
In a match played in front of a few thousand in the stands and others watching at home on a recording shown later in the evening, Millwall ran out 1–0 winners thanks to Waller's second-half winner, giving Obsorn Nelson a dream cup treble just months after arriving in England.
"The FA Cup was my fondest memory," she admitted. "The semifinal always sticks out because I scored. It's crazy because it's 23 years ago. It was the first time a women's FA Cup final had been televised and 3,000 people were in the stands. I think I still have the VHS tape, I might have to get that converted!"
Despite bearing no major connection to England or London before joining Millwall, winning at Upton Park turned out to also be quite poignant for Osborn Nelson on a personal level.
"My college coach Clive [Charles, longtime head coach at the University of Portland] played there for West Ham and that's now very sentimental for me because he passed away 17 years ago. It's very special to know I played where he had a club career back in England."
A quick browse of the internet would suggest Millwall took much glee in winning the final at the home of one of their London rivals, so much so that legend suggests the players sang the famous song, 'No one likes us, we don't care' with their fans after the final.
Osborn Nelson was only too happy to confirm it is indeed a true fact!
"Oh yeah, we did!" she laughed. "We sang that song a lot, it was hilarious. We sang it in the locker room, too. One thing I loved over there was everything was about football. The newspapers, football. Turn on the TV, there's football. All anybody talked about was football."
She also has great and fond memories of her teammates as well as her manager, Jim Hicks, who now works for the PFA (Professional Footballer's Association).
"Jim was a great motivator, very positive and very passionate about the game. He was so easy to talk to and the culture was very positive.
"You definitely had some passionate people. Pauline was our motivator and one of our leaders, one of our inspirations. She was hilarious, but also very inspiring, along with Lou. She was also a great leader, radiated a lot of positivity. Katie and her little twin, they were 14 years old playing with women in their 30s.
"Katie was phenomenal, even then. I went back and told my college coach about her because she was incredible, even at 14. I was trying to get her to come over and play in the league."
A
month after the final, Osborn Nelson's time in England came to an end, and 23 years later, she's still yet to return, despite wanting to come back at some point to visit.
Her career back home never took off with a pro league still a few years away. After meeting her husband and moving into coaching, Osborn Nelson would hang up her boots at the age of 28 to start a family.
"I came back and continued to play as much as I could at our highest level for about the next two years," she remembered. "I was around 27 I think then, got engaged, married, and really started getting into coaching during that time, so around then I decided to focus more on that, getting my licenses and transfer that passion and energy into coaching.
"I loved England. Any chance I got to go into London, I took it. We did travel a bit with the team, but mainly around England for games. I took a trip to Wales one weekend which was nice, but I just explored London whenever I could."
She also admits she hasn't had contact with anyone from the team for roughly a decade now, but hopes to get back in touch with some of them in the near future.
"We did keep in touch through letters for a few years. I think I need to get on Facebook and see who is about."