"We were quite defiant back then, we wondered why we couldn't have this and that, why it was a man's domain, but I never dreamed women's football would come this far."
Leslie Lloyd
Whether it be Arsenal's Kim Little or Chelsea's Magdalena Eriksson, neither captain will be walking up the Wembley steps to lift the Vitality Women's FA Cup trophy for the first time in Sunday's showpiece final.
They, like many others over the years, have experienced the surreal euphoria attached to winning one of the world's most famous and historic competitions, though Little has never won the cup at Wembley, while Eriksson has, but not as captain.
Either way, both have FA Cup medals and one will add to their total in Sunday's landmark 50th final in the women's game, with December 5 also marking 100 years since the ban on the women's game in England was imposed. It's hard to comprehend how much women's football has changed in that time, with roughly 40,000 expected to watch Sunday's encounter, but a final did indeed take place in 1971, albeit in very different circumstances.
Firstly, the game was played at the Crystal Palace National Sports Centre, with Wembley not an option for the women's game, and despite the lifting of the ban, no women's games were allowed at any grounds affiliated with football league clubs.
Secondly, there was a Scottish side in the final, with Stewarton Thistle and their 17-year-old sensation Rose Reilly making the journey south to face Southampton.
The differences go way beyond just the teams involved and the host venue, though the old Crystal Palace ground had hosted every version of the men's final between 1895 and 1914, before a new stadium was opened in 1964, just seven years before it hosted the first women's final.
Southampton would win the game, 4–1, with teenaged future England forward Pat Davies scoring a hat trick and Reilly on the scoresheet for the Scottish side, but it was captain Lesley Lloyd who will always be able to say she was the first woman to lift the FA Cup trophy.
"The cup final being at Crystal Palace to us was brilliant," fondly recalled Lloyd from her home in Southampton where she still resides. "But the grass was so long I think they'd forgotten to cut it. Our manager was pacing around going, 'How are we supposed to play on this?!' but we did.
"Things were so much different then. I drove to the game with my husband and friends, we had a coffee and some cake, I'm not sure the dieticians would let you do that now! There was a third-place playoff back in those days, so we sat on the grass bank outside and had lunch — cheese and pickle sandwiches, it was unbelievable looking back now."
Bar a few names who still resonate in the modern day for the legacies they left behind, such as Lloyd's legendary Southampton teammate Sue Lopez, many players like Lloyd will be unknown to the new generation of women's football fans, but she has been involved in a lot of promotion ahead of the 50th final and recently met both Alex Scott and Steph Houghton to talk about her own legacy as the first woman to win the FA Cup.
The First FA Cup Final
The 1971 final came just a year after the 50-year-long ban was lifted and players such as Lloyd were allowed to join actual football clubs, with life as a female footballer very different to the lives the likes of Houghton can enjoy today.
"We played football because we loved it," recalled Lloyd. "Before the ban was lifted we had a league in Southampton of about eight teams. I think it was Southern Gas who started it, they raised a team, we just played on a common with the goalposts you put up and then took down again.
"I remember there was a pond — the ball quite often went in the pond! The facilities were next to nothing. We played in ice, in every condition, all we had was a hose pipe to wash our clothes down after. I was a midfielder, so I'd come off covered more often than not, fortunately my future mother-in-law lived not far away so I walked down there and got straight in the bath!"
Southampton Lineup
Managed by Norman Holloway, Southampton's starting lineup:
1—Sue Buckett
2—Pat Judd
3—Karen Buchanan
4—Barbara Birkett
5—Jill Long
6—Maureen Case
7—Dot Cassett
8—Lesley Lloyd (C)
9—Pat Davies
10—Sue Lopez
11—Lynda Hale
While the ban being lifted wasn't exactly a show of complete support from the FA toward the women's game, with some restrictions in play still in place, it did at least allow for competitions such as the FA Cup, officially called the Mitre Challenge Trophy for sponsorship purposes during the early years.
"It all happened very quickly," reflected Lloyd. "People behind the scenes like Patricia Gregory were working very hard and it took off very quickly once we were allowed to play. We might have only played three or four games a year against another team, teams like Warminster or Fodens. It was slow, but it did progress."
In many ways, though, the way Lloyd describes things is a glorious throwback to when football was football, when players at the top end of the game played for nothing but the pride of success and the joy of simply being able to step foot on a pitch with their friends.
"We got paid nothing, we all funded ourselves, we had no luxurious hotels. If we played Fodens up north, we'd cram into a coach we hired ourselves. We'd have a good old sing-song on the way home, stop at a pub, have a drink, and get back to Southampton at god knows what time!"
But come May 9, 1971, it became serious, with the first FA Cup on the line. Southampton had emphatically thrashed EMGALS, 11–0, in the semifinal, while Stewarton Thistle had beaten Nuneaton Wanderers, 9–2, with the losing pair playing out a 3–3 draw followed by penalties in the third-place playoff at Crystal Palace.
"We knew the expectations," said Lloyd. "Norman said, 'You only get one chance at this.' I remember we were all sat around, all had our ideas of who we would mark and in those days it was all about Rose Reilly, even though she was only 17, she was the standout.
"I was probably shaking when we walked out, but we were all excited, we were nervous, just as players today probably are. They had a little stand with people sat in there, friends and family, but as soon as the whistle blew everything was blocked out."
Two goals inside the first 20 minutes from Davies put Southampton in control before Reilly pulled one back before halftime.
When Dot Cassell added a third, the game was almost put to bed before Davies, at just 16, completed her hat trick late to ensure Lloyd would take the honor of lifting the trophy for the first time, rather than Stewarton captain Elsie Cook.
"It's something you never forget. I felt honored then and honored now, nobody can take that away from me, I was the first lady to lift the FA Cup," she reflected.
"It was a hard-fought game. We had Sue Lopez, we had Pat, her and a lot of that team went on to play for England. I wish we were all 50 years younger because I'd love to see us play now. The skill level now is much higher, don't get me wrong, but some of these ladies with the fitness coaching of today, I'd love to compare some of them with the players of today."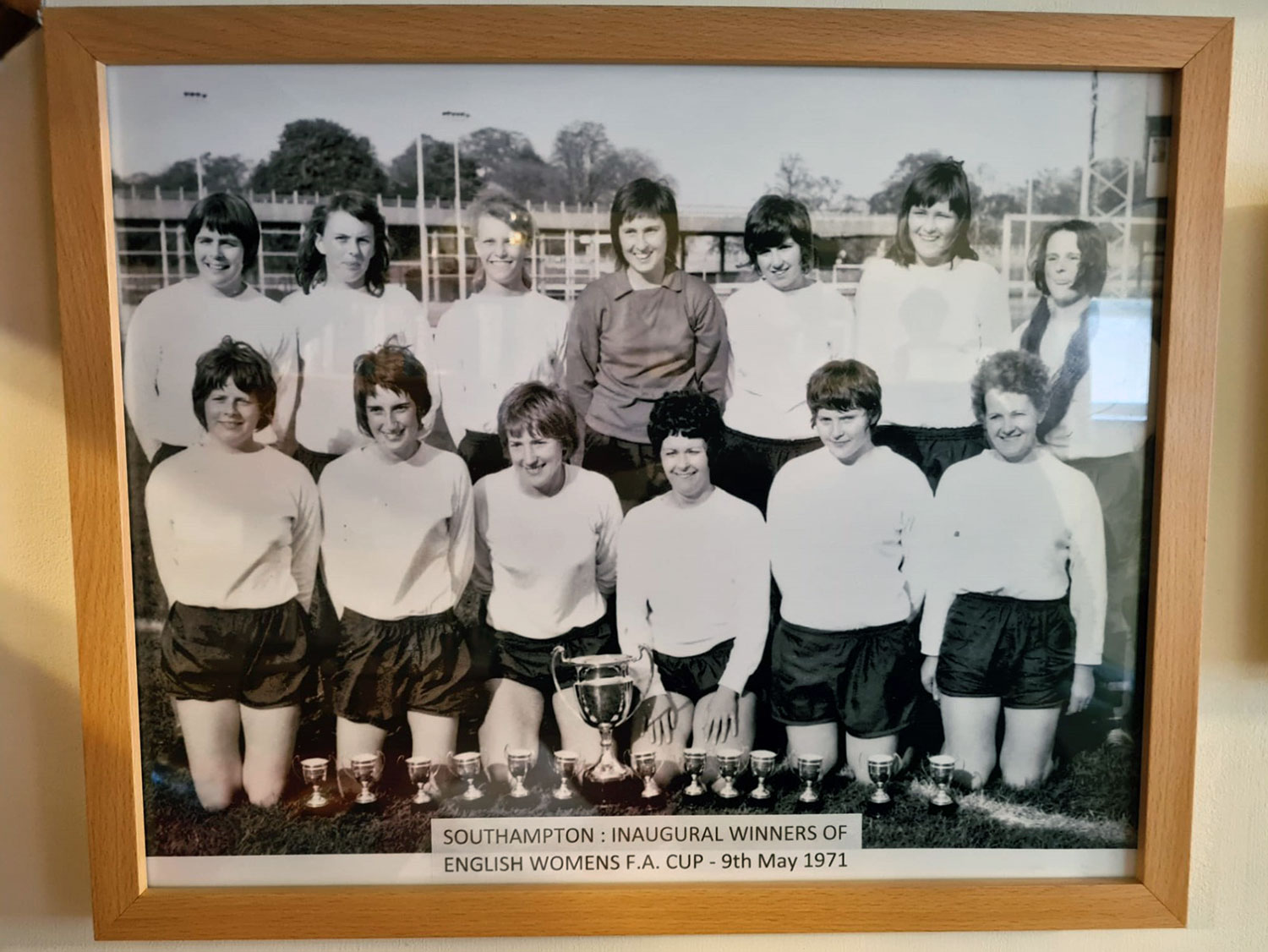 Memories
It's been 50 years since that historic day and one that will always live with Lloyd, and she tells a beautiful story of returning to the stadium that hosted the match earlier this year, this time with her 16-year-old granddaughter in tow.
"It was lovely going back and seeing it all, even just the little things that have altered," she said through a smile. "My granddaughter has asked about it, it's not always been the prime thing on our minds, but she couldn't get over how we were treated 50 years ago. She finds it very strange compared to what they have today. You'd liked to dream this would all happen, but I never imagined they'd be playing finals at Wembley; back then that was our Wembley."
Lloyd is going to the final on Sunday and taking along her 19-year-old grandson who follows Southampton home and away, with the whole family big football fans, including Lloyd who still follows and watches the women's game.
"I went the last time it was Arsenal versus Chelsea as it happens. They all love football, so it's his turn to come with me now!
"We went to see England against North Macedonia a few months ago when they played down here and we'll go to the Euros when they come down again next year. We're all big football fans still — to our detriment!"
Neither grandson nor granddaughter play football despite their grandmother's history, but both do play cricket according to Lloyd, while remaining big fans of the women's game and football as a whole.
"The last time I went to the final was with Sue Lopez," she recalled. "We sat there and we were amazed. They have everything now. The same stadium, same changing rooms, the same walk, the same trophy. We were quite defiant back then, we wondered why we couldn't have this and that, why it was a man's domain, but I never dreamed women's football would come this far."
Lloyd has her cup from that day 50 years ago still in her home, with each player given a mini-version of the cup rather than a medal to mark the first edition of the competition.
The actual cup handed to Lloyd on the day is famously still missing, despite efforts from the FA and the National Football Museum to find the original Mitre Challenge Trophy, it has still to this day never been found.
"The only thing I can think is did someone take it home?!" laughed Lloyd. "I don't know who the last team were to get that cup, but I'm sure they've been asked. Everyone has tried but nobody has found it, it will probably be somewhere really innocuous!"
It's not the only thing lost from that day either.
"My father-in-law filmed bits of the game for us. I got it put onto a VHS [tape] as it was then; I gave it to Sue when I came back here and she couldn't find it. Her house was full of football stuff so I don't know what happened to that either!"
She does still have a framed image of the team from that day on her wall, which she goes to retrieve while we speak and starts pointing out various teammates from that day, though the photo was taken a week later at local club at AFC Totten, as "apparently nobody thought to take one on the day," but it still remains a poignant memory.
Lloyd also doesn't have her shirt from that day, with Southampton choosing to wear one-off plain white shirts rather than their usual red and white, something Lloyd can only put down to the fact they were facing a Scottish side, though without any certainty.
T
he captain went on to play — and win — the first three FA Cup finals, but her career went on a very different path to those like Davies and Lopez who went on to have prolonged and successful careers with England.
"I was married then and took a completely different path," she said. "Many kept playing football, I didn't, it was my decision. As a team we went from strength to strength, trained three times a week, but I had to travel a lot to where we trained. I knew I was never going to play football forever, and even at just 24 I was one of the older ones, believe it or not!"
She wasn't the only one to step away, as she tells the sad story of one player who was just 14 years old and emigrated to South Africa after just one final and has since passed away, as has commanding center back Jill Long.
"We're all in our 70s now," she said. "I only really keep in contact with Sue Buckett, and Sue Lopez, but Sue isn't very well now.
"I had two children. I did come back briefly in 1976 for one game, but I'd had two kids, I wasn't fit at all, that I can remember! I worked in finance in London for a bit when we moved to Essex, I had the career, then I retired and came home to Southampton with my family."
Lloyd hasn't been forgotten though, as so many of her teammates were a lasting legacy of being able to say forever and a day that she was the first woman to lift the FA Cup.
"This week the significance of it all has hit home really. I've spoken to Alex and Steph, I've met a nice lot of people just through playing football, it's crazy really.
"I met Gill Coultard at the weekend too, who won the FA Cup with Doncaster Belles. She said that we are the lost generation; once football was finished, that was it. It's sad in a way, how can I put it? We just didn't have the chance, but it's lovely people still want to speak about it. It's a privilege and an honor, and like I said, nobody can ever take that away from me."
Courtesy of The FA
Tickets for the Vitality Women's FA Cup Final on Sunday, December 5 are available from £20 for adults and £2.50 for children, and fans can still purchase tickets for the final by visiting ticketing.thefa.com.