What we do suits the players, whereas most clubs try to find players who suit them and we try and do it the other way around.
Lisa Welling, Chesham United manager
Little are they known and therefore little do people know about them, but this weekend's Vitality Women's FA Cup First Round Proper ties will be littered with incredible stories of sacrifice, joy, and passion, while a handful of elite clubs who are yet to enter await their shot at next summer's showpiece Wembley final.
The FA Cup has the vibe of two competitions in one: pre-Barclays FA Women's Super League sides entering and post-FA WSL sides entering. The winners of the competition won't come from this weekend's fixtures, but it makes Sunday no less important to those involved, for a whole host of reasons.
For FA Women's National League South West — one of four leagues at the Tier 4 level of the English women's game — side Chesham United, two women who helped create the team in different ways a quarter of a century ago will still be involved when they host Cambridge United this weekend.
Manager Lisa Welling and defender and captain Dawne Peace have been involved since day one back in 1996, an incredible achievement in particular for the latter who has held down a playing role the whole time and still does to this day.
"I played at primary school and then wasn't allowed to play after the age of 11, as girls weren't back in the day," said manager Welling. "At 23 I saw an advert in the paper for a new ladies team at Chesham. A hairdresser friend of mine said we should go along, so we did, and we played a very dysfunctional first season as most start-up teams do.
"Below us we knew of a girls' youth team, I think it was run by a parent. His daughter was quite good and we got chatting to him and he was quite keen to have these girls filter into something else; so we were keen, myself and the two other women who ran the club after that first season."
Welling added: "We sort of knew it wasn't being run how it should be being run, so by complete accident we ended up taking over the club and we were keen in that second year to get these youngsters through to us and that's how we met Dawne. Dawne has probably had more of an impact on the start of the club than she realizes. We signed a few of those girls on, they came to play against a local rival, and well… Dawne do you want to tell the story?"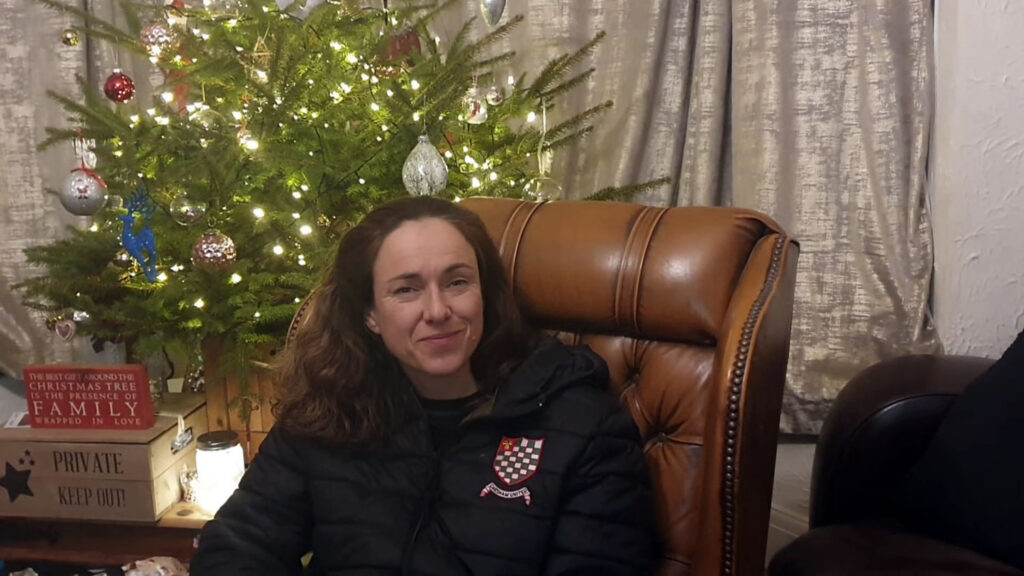 Peace, known by the surname Campbell until she got married this summer, tells of how her 25-year affiliation with Chesham came to fruition, in rather bizarre circumstances.
"They were rivals but also I was against players I played with in the youth squad," she recalled. "It took a bit of a bizarre turn when our goalkeeper moonied the supporters. I think a few things had been said, and I was like, 'What on earth is going on here?! I'm not playing for a team like this.' I went back to Lisa and said I was quite happy to play, but I want to play seriously. Lisa had a bit of a clear-out and that was that."
It was the moment Welling admits now gave her and the whole club a "kick-start" to run themselves on a more professional basis, with Welling herself remaining as manager and then youngster Peace becoming a key part of the team from the late 1990s onward.
"You know what it's like when you start a football club. Half the players are drunk, the other half don't turn up, you're lucky to get an eleven out there," laughed Welling. "We knew we had to do something about it. We loved playing, we loved the social side, but Dawne sort of giving us that ultimatum was enough, and from that moment on we climbed through the lower levels of women's football. We've been higher than we are today, but that was really how it started."
It's fair to say neither expected to be sat here 25 years on a Zoom call discussing another Vitality Women's FA Cup First Round appearance, though not the first time they've made it to this stage of the competition. Both admitted it's incredible to still be involved with the same club after such a long period of time.
"I've gone from one of the youngest to the oldest by some way!" laughed Peace.
"It wasn't in the plan," admitted Welling, adding "but we enjoyed it and it gave us a lot more than just football. It gets you through the tough times and you enjoy the good times. It gives us a social life with like-minded people, me and Dawne go and play golf, we have golf days with the other players. When Dawke got pregnant though, that didn't go down so well, did it Dawne?"
"It wasn't quite a congratulations, more like a 'Oh for… sake'," laughed Peace. "I thought maybe that was going to be it for my career. I came back when my daughter was five months old and then quickly became pregnant with my son and had a proper two or three seasons off. I was around 27, came back into the reserves and worked my way back up to the first team."
So, what's the secret? Peace admits there are always moments she thinks it will be her last season but jokes that Welling "keeps picking her," and believes now in her forties that it will be injury that ends her playing career. Peace puts the way Welling has run the club down to their success as they sit second in their league this season behind Southampton.
"The main thing is it's a great club, it's a friendly club," said the captain. "We've had a few players say it's the friendliest club they've been to. We're very welcoming. Initially, I came back because it was more of a fitness thing after having two children, the social side, blow off some energy, and I was always more likely to go and play football than take myself to the gym!
"I always think, 'This season will be the last one' but luckily Lisa's still playing me so I keep turning up! I think an injury will probably be what sees me off, it's definitely taking longer to recover every Sunday."
Peace and her teammates train every Tuesday and Thursday evening and from Monday to Thursday Peace also works at a local school while looking after her three children.
Her daughter is now 18, her son 17, and she also has a stepson aged 12. She admitted she spends her Sunday mornings watching her son play before shooting off to her own game in the afternoon with Chesham.
Manager Welling spent nearly 20 years working for the Football Association helping to develop women's football but has since focused her eyes away from football onto other interests coming out of the other side of the COVID-19 pandemic.
"Last summer after furlough I took voluntary redundancy and I'm retraining to be a councillor," she said. "I've seen the power of sport, what it does, how it motivates people, and that intrigued my interest into going down a different pathway."
For this weekend, though, it will be all eyes on Cambridge United who sit mid-table in the South East division of Tier 4, meaning it should be an even matchup between the two sides.
While the lack of prize money on offer to women's teams has come in for some rightful criticism, it still means a lot to clubs like Chesham with £850 on offer for winners of any first-round ties, £635 more than the teams who go out on Sunday.
"For the club it matters, financially, yes, massively," said Welling. "Every game you take part in you get some sort of reward and that's huge for the club. You get that extra promotion and interest around games and in that respect it's fantastic. We've been to the second round before but never won the second round.
"It's things like securing good coaches, being able to do contribute to expenses is quite important to us too. It's being able to compete at a professional level, having that slightly more professional environment. The girls really want a Veo camera to watch the games and I have to explain to them that comes with making use of it, an extra night of training to go through the videos and that's where we're a little bit behind.
"These girls all have lives, other careers, jobs, and I don't want football to impact that too much. I want football to be their release, to enjoy it. We have girls from five years old and the philosophy is about the enjoyment and getting the balance right."
It opens up a wider question about women's football below the FA WSL and FA Women's Championship and the priorities of various clubs. While league leaders Southampton are signing established players from the leagues above and have former England international Marieanne Spacey in charge, others are still largely doing it as a hobby around their life away from the pitch.
"Some clubs at our level really push for a really professional environment and it's too much pressure for those girls and their lifestyles," said Welling. "It's amazing someone like Dawne has been here so long because there are so many other things that can draw them away from football."
"It's definitely changed because money influences how high you can go and it's causing a bottleneck in the leagues below. Teams are realizing climbing the pyramid is difficult, it costs a lot of time and money, so I don't think you will see many teams like us coming through, but if we could get to the FA WNL  division and sustain that and stay there, that would be an incredible achievement, but I think going anywhere else would cost too much."
It also opens up the question of can players still play for the enjoyment of the game or is the rush for professionalism also starting to spread as low down as Tier 4 where Chesham currently sit in a healthy position in the league.
"Yes and no," pondered the manager. "There's a real mix of teams at this level. Some have that desire to be professional, but I shape our team around the players and their wishes and their needs, which a lot of managers don't.
"It's difficult to attract players here because we play in the southwest, but for the players we have we try and create the right environment for them and that's part of our success. What we do suits the players, whereas most clubs try to find players who suit them and we try and do it the other way around."
After 25 years, Chesham has never been beyond the second round but this weekend offers an opportunity to at the very least reach that stage again where they'd be one game away from potentially facing one of the FA Women's Championship teams in round three.
Might it be the last cup run for captain Peace? The defender seems happy to still be playing and with a close friend as manager, she says she would continue to support the side either way even when she goes hang up her boots.
"I think I'd definitely still pop down," she said. "I'm surprised myself I'm still playing now. I've pretty much stayed injury-free; I snapped my MCL four years ago and thought that would be it, but I was lucky that I didn't need an operation.
"I do think it will be injury that puts me out… or Lisa stops playing me, one of the two."
For those in the area, head down to your local ground this Sunday, November 14 to see one of 56 Vitality Women's FA Cup First Round Proper ties. This weekend also marks the third-ever Women's Football Weekend, with coverage across November 13–14 via Sky Sports, the BBC, and The FA Player. Visit The FA's website for further information here.