"I felt ever so proud representing Fodens in the cup final … It was all or nothing for us, we had to battle until the very end."
Pat Firth
Alison Leatherbarrow now lives a quiet life in the Brittany region of France. Retired and enjoying time with her family across the channel, few know how important a role she played in one of the greatest Women's FA Cup shocks in its 50-year history.
After the ban on women's football ended in 1971, the first FA Cup competition was held in England under the sponsored name of the Mitre Challenge Trophy, and an all-conquering Southampton side dominated the early years of domestic women's football after its return into society, winning the first three finals and five of the first six through the 1970s.
In 1974, though, they came unstuck, despite an array of England stars in their team at the time, including the great Sue Lopez. After facing Scottish teams in the first three years of competitions, Southampton came up short, 1–2, against Fodens Ladies in the 1974 final, a team few gave a chance despite hosting several England internationals themselves.
Fodens
Started as the works team for Edwin Foden, Sons & Co, a lorry and bus manufacturing company in Sandbach in the northwest of England, the club's origins in the early 1960s were a world away from the reputation of a great Southampton side.
"When I first started at Fodens I hadn't even heard of women's football," laughed Leatherbarrow from her home in France, showing how different the coverage and attention was toward the women's game even after the 50-year FA ban was ended.
"My mum worked at The Greyhound in Leigh, behind the bar, and she got talking to a gentleman who was involved with Fodens and my mum told him I used to play football, but once you turned 14 you couldn't play with boys anymore.
"They exchanged numbers and the following Sunday I went for a trial. I went on at halftime, scored a hat trick, and they signed me there and then."
While a lot of players lived near where Fodens was based, Leatherbarrow lived 50 miles away, but as she admits it was the "first team I'd ever heard of" when joining, so lacking was the attention given to the women's game.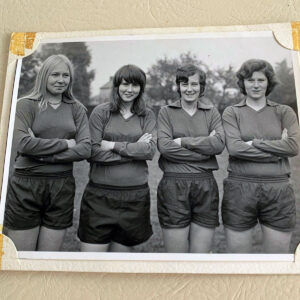 In its early days, many of the players worked for Fodens, but that changed over time as the club began to enjoy national success and attracted England internationals such as Sylvia Gore, Sheila Parker, Liz Deighan, and Jeannie Allott, the latter of whom reportedly played her first game for the team at just 10 years old.
Pat Firth was another England international who joined the club a year previous to Leatherbarrow after leaving home in Yorkshire at 16 to play for a side who had pursued her for several years already.
"My first dealings with Fodens was when I was 14," she recalled. "We had holiday camps, five-a-side, that kind of thing. I played for a pub team at that time and for want of a better word I was headhunted by Fodens to go and play over there near Crewe."
After growing up in Swillington in Leeds and playing for a local side, Firth also fell foul of the rule regarding not being able to play with boys after the age of 14, so she ended up at a local side in Ossett by the name of Fleece Fillies, the pub team she referred to named after the town's local pub.
Firth's reputation grew after scoring a hat trick on her England debut in 1973, and she became a key part of the Fodens side heading toward what would be a historic day in 1974.
"It was so different. We used to fundraise, we had to, but at that time compared to many we felt quite well-off. Fodens paid towards our travel expenses, but a lot of costs back then fell on the players.
"Alison came in after me, we were a good team. Southampton and Fodens were like the Arsenal and Chelsea, but Southampton used to wipe the floor with everybody and we were definitely the underdogs going into that cup final. We had someone who would come and do some fitness training with us one day a week, we had no specialized training, we just turned up and played on a Sunday."
"Fodens at the time was the team to beat in the north, but Southampton was the team to beat full stop. Through playing for England, you got talking to your mates and it was all word of mouth, there were no transfers, nothing like that. They'd been asking my mum and dad since I was 13 if I could go there. Liz moved down for her job nearby, there were all sorts of reasons players joined and we ended up with a great team."
The team trained only once a week, while Leatherbarrow never trained at all given she lived 50 miles away, the forward turned up for games on a Sunday and went home after, with her dad driving up and back from Leigh for matches.
Firth, meanwhile, worked at the company with the secretary for the managing director, delivering post to the local factory alongside her one-night-a-week training.
Leatherbarrow was working at Woolworths, a store back home in Leigh, while also working two nights a week at a local pub, as her mum had done.
"We had to be at Fodens at 8 a.m. on cup final day, so I was up at 4 a.m.," she recalled. "It was all new. The Daily Mirror came down to the pub to do a story and I couldn't stop laughing. They wanted me to show a red card to this big 6 foot 6 bloke from the bar and I couldn't do it, I couldn't stop laughing. We had a bit of local coverage, but not much, but every time I got mentioned in the local paper Woolworths got a free advert!"
The Final
Sunday, April 28, 1974, was the day of the Mitre Challenge Trophy final, with Fodens appearing for the first time against the Southampton side who had won all three editions of the competition to date.
A world away from today's finals at Wembley Stadium, despite the ban being lifted, women's football wasn't allowed to take place at football league grounds, so for the second year in succession it was played at Bedford Town, a modest non-league ground.
With a 3 p.m. kickoff, the competition had a third-place playoff, so the Fodens players sat in the stands before their day with destiny to watch Swindon Spitfires take on Westthorn United, the team they had beaten in the semifinals.
"I remember being in the stands and we could hear comments all around us," said Leatherbarrow. "It was all, 'Who are Fodens?' and 'They've got no chance!' When we went into the changing room we just said to each other 'What have we got to lose?' and after that we had no nerves."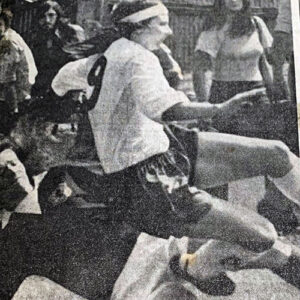 Firth was no stranger to big games as someone who had already represented England and was making a name for herself, but to play in front of a crowd, albeit only of a thousand at best, was a new experience for many given women's football had only been allowed for three years at the time of the match.
"I remember thinking to myself, 'I'd love to play at Wembley,' but I was playing in an FA Cup final, that's all that mattered. It was a different atmosphere, being able to hear the crowd, even though it was only a few hundred.
"I felt ever so proud representing Fodens in the cup final. Southampton defender Jill Long marked me out of the game, she was absolutely brilliant, I remember wondering if I was ever going to get the ball! I worked my little socks off and it was a real battle between me and Jill. It was all or nothing for us, we had to battle until the very end."
After Leatherbarrow gave Fodens the lead, Southampton responded through their hotshot England forward Pat Davies, until Leatherbarrow tapped home a rebound five minutes from time to give Fodens the most famous of wins and still to this day one of the most momentous Women's FA Cup moments.
"I've got the video of the game and it's funny, I remember the two goals completely different to what's on the tape," laughed Leatherbarrow. "I'd been taking Maggie Pearce [Southampton and England defender] down the wing every time, but this time I went inside her and I could have sworn I'd crossed it, but I put it right in the top corner! The second one I thought it was Sylvia Gore who had a shot blocked, but it was Pat, it fell right to me and I had an empty net, there was five minutes to go and I just remember thinking 'If I miss this, I'm dead.'
But Leatherbarrow didn't miss and Southampton's dominance was ended, with Fodens repeating the feat in another cup final a year later, despite the striker suggesting people said "we'd never beat them again."
"To the players, it meant everything," she admitted, looking back now 47 years later, in her mid-60s. "Apart from getting picked for England, it was the pinnacle of your career. I think we were too stunned to enjoy it. Apparently the supporter's coach on the way back was a riot to be on, but our coach was totally silent. We were just sat there absolutely stunned, we'd beaten the invincible Southampton."
Both Leatherbarrow and Firth were only 18 when they won the FA Cup, but it was normal back then to have so many young players, with some playing in cup finals at the age of just 14, which wouldn't be allowed in the modern game.
"I was so young and probably naïve to what was going on," admitted Firth. "I think that game Jill could have jumped in my shorts she was getting so tight to me, but that's the price you pay for being an international footballer!
"I think it was classed as a shock. Southampton didn't just beat teams, they thrashed them. Between the teams we could have fielded an international team, I think they had seven. It was a surprise to people, but secretly not to us, we knew we had good players."
Their careers went on very different paths after their success in 1974, with Firth's promising career sadly affected by injuries, while Leatherbarrow went on to play for successful Welsh side Prestatyn before local side St. Helens was launched and she returned closer to home.
"I played for Fodens for another season," said Leatherbarrow. "But the local players were getting expenses and I wasn't. The club said, 'Well, your dad brings you' and I said, 'So?' and I went to sign for Prestatyn because they'd pay my expenses.
"I had two years there and then St. Helens formed, that was a lot closer to me and I told them I'd be signing for St. Helens, but we still beat them in a final first!"
Firth played for three more seasons before returning to Yorkshire with the soon to be dominant Doncaster Rovers Belles side, but suffered a serious knee injury and at the age of just 20 was told she'd never play again.
After a 12-month recovery, which she admits in today's game would have been a lot less, she tried to return but in her first match suffered a similar injury to her other knee, and at 23 took up coaching and ended up managing several different teams, two of which she led to FA Cup semifinals herself, before walking away from the sport.
"I fell out of love with football a bit," she admitted. "I started working as a driving instructor, I can't do anything half-hearted, it's all or nothing, so that was football done for me.
"I play a lot of golf now, so do a lot of the women who played. I get my teeth into it and I can't blame anyone if I don't play well — only myself!"
Firth and Leatherbarrow still keep in touch via Facebook despite now living in different countries, while Firth says she still speaks to one or two of her former teammates, but many lost touch in an age lacking in social media, or indeed the internet at all.
Leatherbarrow admits she "always wanted to come here" when discussing now living in France, but still has her cup-winning medal and a sole England shirt she wore in an international friendly as a reminder.
"I've just got a new French neighbor. We had a barbecue earlier in the year when it was a bit warmer, he bought the house on the corner. My family was telling him I played football, I showed him the video of me in the cup final, now whenever he sees me he tells everyone, 'She played for England.'"