"I'm honored to have done that because there were a lot who went before me who didn't."
Katie Chapman
Katie Chapman won multiple honors during an illustrious career. Now 39, the former England international was regularly picking up silverware on the pitch, whether it was with Fulham and Charlton Athletic in the early 2000s or Chelsea toward the end of her career or an embarrassment of successes in between with an all-conquering Arsenal side that saw her pick up every trophy going, including the coveted UEFA Women's Cup.
The midfielder also racked up personal accolades, winning the FA Women's Young Player of the Year award twice in succession, as well as success on the international stage where she picked up a European Championships silver medal and a World Cup bronze medal.
Chapman's most prolonged success came in the historic FA Cup, which she won an incredible seven times during her career, a span of success across 21 years until her final triumph as Chelsea captain at Wembley in 2018.
The First
Less is known, however, about Chapman's first trophy as a senior player, also in the FA Cup, more than two decades ago. The term senior is also pushing the boundaries and the reason for that explains why it was such an extraordinary success — Chapman was just 14 years old at the time.
Yes, that's right, Chapman played in — and won — the FA Cup final at her first club Millwall Lionesses all the way back in 1997, on a side which boasted big names of the time such as England internationals Pauline Cope and Mary Phillip.
Chapman wasn't the only 14-year-old in the squad, her twin sister Sophie also played for the Lionesses that season, but while Katie started the final, Sophie was on the bench.
"It was a proud family moment" recalled Chapman, 24 years after the final. "We played together all the time, at school in the playground. When we joined Millwall there were actually two sets of twins, the Chapman twins and the Hunt twins, so we weren't the only ones!"
Chapman and her sister had grown up in Bermondsey, a district of South East London not far from where Millwall trained, and she joined the club at just 10 years old, making her debut at 14 earlier in the ultimately successful 1996–1997 season, which saw the Lionesses pick up the Premier League Cup just several months after their FA Cup triumph.
The manager at the time was Jim Hicks, who still works in football to this day for the Professional Footballer's Association. Hicks had been at the helm since 1993 and worked for Millwall in various roles for several years previous.
"Both of them were very, very talented," recalled Hicks. "Katie was slightly more physically mature at that age and at 14, she was precocious in terms of her physical ability, she could cope with it at that age.
"She came into Millwall as an Under-11, she's a local girl, didn't live far away from where we trained, so she'd often been up with the first team training with us. In the first season she came up, she got into the team straightaway and that 1997 season she would have played in a number of games, including both the cup finals and got two winners medals at 14, I can't imagine there's too many people who can do that."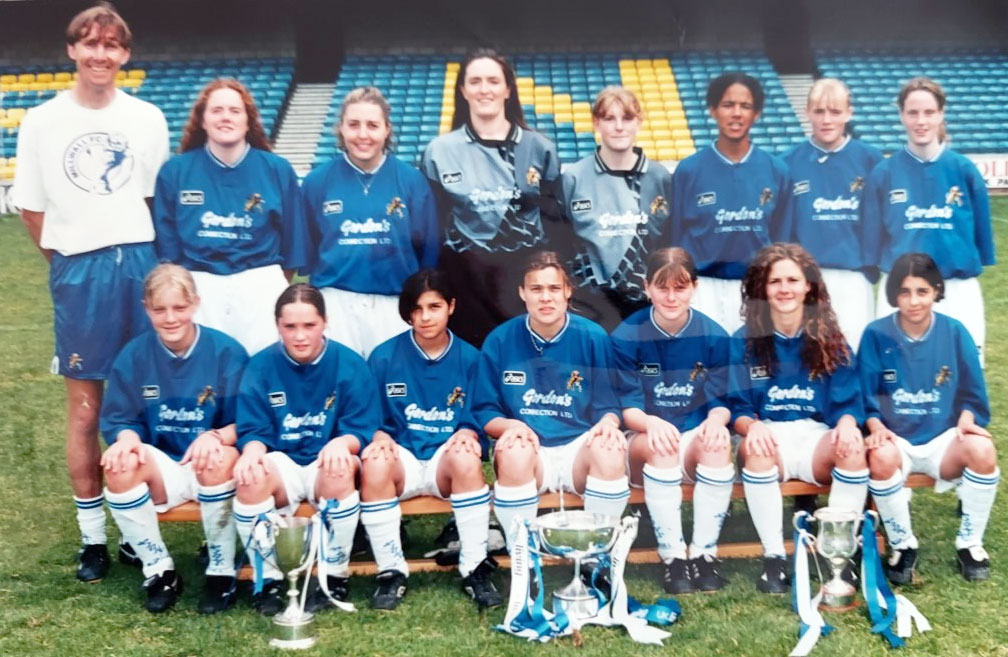 Back then Chapman wasn't the dominant midfielder new fans of the women's game would have remembered her as during her later days at Chelsea, instead playing at the heart of the Lionesses defense, and in a back three in the 1997 final against fellow Londoners Wembley FC.
"She played alongside Mary Phillip, who went on to play for England, and a girl called Abbie Walsh. They were much older than her, so she was very much the junior in a very talented back three. She was playing in front of Pauline Cope and at that time she was one of the best in the English game, if not the world, so she had loads of experience around her and Louise Waller in front of her in midfield.
"Every player was treated with the upmost respect. Lou, Pauline, they were all so incredibly protective of the younger players and did everything they could to make sure the girls were comfortable and respected. It was fascinating to see how everyone closed ranks to keep those young girls protected. Everyone was looked after, it was almost a motherly feel to it," he said.
It's a memory Chapman echoes, given it was a first taste of real first-team football and a first major final for both her and sister Sophie, with the game to be played in front of a decent crowd at Upton Park, the home of Millwall's rivals West Ham United.
"They took care of me," she said. "They sort of mothered me and made sure I was okay. Jim would push me to make sure I was playing well, training well, and to be the best I could be.
"Jim helped me a hell of a lot. He would even take me to training and to games, it was so different to how it is now."
Wary of the pressure he was putting on his young players, Hicks hatched a plan to make them feel more comfortable ahead of what was for many a first major final.
It wasn't just the Chapman's, another future England midfielder, Danielle Murphy, also played aged just 15, with several others set to make the match day squad.
"The final was at West Ham and some of our younger players were understandably a bit worried," said Hicks. "Playing in front of a big crowd was new for them, so we took them all to Upton Park the week before.
"We walked around the changing rooms, down the tunnel, out onto the pitch, just to make sure they didn't turn up on the day, freak out, and run off home. That could have happened, they were so young, we had no idea what their reaction would be."
"We stayed in a hotel the night before the game, something else which was completely new back then. We wanted to make sure they were well rested, had a good meal inside them, so we did a lot of things which would be very common today, but we would never, ever do normally, and we knew this would be a big change for some of the younger girls."
Whatever the preparation, it must have had the desired effect, as Chapman describes feeling "fearless" on the day of the game, and while footage of the match is sparse, she must have put in a solid performance to help the Lionesses win and be part of a defense that kept a clean sheet on the day.
"I don't particularly remember being scared, I don't remember not wanting to play and I think that's what set me on my way, " said Chapman.
"Winning that first trophy, I just wanted that feeling again. It's the first, that gave me the hunger to be successful and to get my hands on it again. I've always said the first and last are the two which always stand out for me.
"From Jim, he always expected a high standard," Chapman continued. "You had to turn up for training properly or you'd be out of a session. He always demanded high standards and I was grateful to be given that opportunity to play in the team so young, to play in an FA Cup final then was special."
Even 25 years later, there's a clear mutual respect in how the pair talk about each other and certainly from the manager to ensure his players felt protected and looked after.
"Katie's quite a shy character anyway," said Hicks. "She didn't want to be treated differently to anyone else, but we had a responsibility as adults to make sure we could deal with it.
"We didn't know how they would, this had never happened before. The FA WSL players now will be used to the big stadiums and big crowds, but back then it wasn't normal at all and a real challenge."
While now there are rules regarding how old a player has to be to play in a first-team professional football match, back then it was actually quite common for players under the age of 16 to play in major games, with youngsters playing in the FA Cup final quite common going back to its inception in 1971.
Chapman, though, wasn't fazed by the prospect given how accepted it was as part of the game even in the mid-1990s.
"We didn't really do all the welfare stuff back then, did we? I used to go out and play where I live and I said, 'Mum, I'll be back later when the street lights come on,' and I knew I had to be back for dinner, it was so different back then."
However she felt, Chapman played well enough to keep a clean sheet in the back three alongside Phillip and Murphy, as well as ensuring she got to lift the first of many major trophies at just 14 years old.
"She did very, very well," said Hicks. "I've never watched the game back funnily enough, I don't think it was a classic. We were disappointed to not put in a good performance, we wanted to show people we could play, but we didn't, even though we won. But her getting through it was a huge learning opportunity for them and us."
C
hapman went on to become one of the modern day icons of the game, playing internationally for England across several major tournaments and for every top club in London across different eras of the women's game.
The midfielder was at the top of her game when the FA WSL started in 2011 and went on to win multiple major honors, including six more FA Cups, the last of which came in 2018 at Wembley.
"I think that we did actually win and getting a trophy for the first time is what's most memorable. Experiencing that with my twin sister was something special. I think we just enjoyed the buzz, the buzz of winning, of being handed a trophy.
"Everyone wants to play in an FA Cup final and having the opportunity to do that over two decades, seeing the progression in the women's game, the attendances, the TV coverage. I was one of the lucky ones. I got to experience the start and got to experience being a professional, playing at Wembley, lifting the trophy at Wembley. I'm honored to have done that because there were a lot who went before me who didn't."