It was such a special day for so many people on our team, so many players had gone close but Arsenal were so untouchable. Back then it was the biggest game, it had the biggest crowds so it felt like a dream, especially for me scoring the two goals. I remember every goal I score but that one is definitely up there.
Natasha Dowie
[dropcap]I[/dropcap]t was just going on 5:20 p.m. in the evening, under the setting Nottingham sun, when Natasha Dowie dinked the ball over Arsenal goalkeeper Emma Byrne to create her own slice of history.
In the two hours and 20 minutes that preceded Dowie's goal, one of the greatest Women's FA Cup finals in recent history had played out, culminating in a finale that humbled a Gunners side unused to defeat, especially on the big stage.
Indeed, it is 10 years ago this very day since Mo Marley's defiant Everton side left Nottingham Forest's City Ground with the most historic trophy in England football — the FA Cup — after a pulsating five-goal thriller against Arsenal that ended with Dowie's 119th-minute minute winner in a 3–2 triumph.
Giant Killers
The feat of the accomplishment is laid bare when you read the stats. Arsenal had appeared in 10 previous finals and won all of them, including the previous four leading up to the 2010 final.
Everton, meanwhile, had just one previous final appearance, a 0–1 defeat to Charlton Athletic in 2005, so the odds were heavily stacked in favor of Laura Harvey's side.
But when Charlton's funding was cut after the men were relegated from the Premier League in 2007, Marley's Toffees emerged as the main threat to Arsenal's dominance.
In the 2008 Premier League Cup final, Marley's side beat Arsenal, 1–0, ending the club's 58-match unbeaten run in the process.
The same year, a 0–0 draw in the league saw Arsenal drop points for the first time in a year and a half, but Everton was fatally wounded on the final day of the 2008–2009 season after a 0–1 defeat to their rivals gave the Gunners the league title on goal difference — any sort of result would have handed the league to Everton.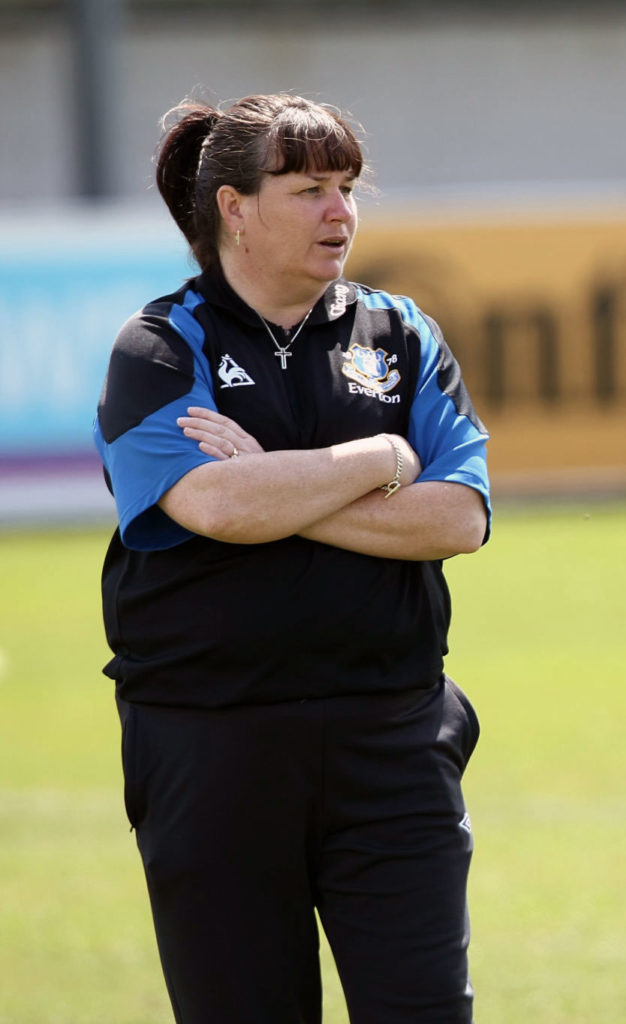 The rivalry continued to grow in the buildup to the 2010 FA Cup final. Everton once again knocked Arsenal out of the Premier League Cup, this time in the semifinal, and Byrne saw red for an off-the-ball incident with Dowie.
Their last meeting just weeks before the cup final saw the Gunners come out on top, but they lost captain Jayne Ludlow for another off-the-ball incident, this time with Fara Williams, meaning the Welsh international would miss the showpiece occasion in Nottingham, but the scene had long been set for what would be a superb and historic occasion.
"That day, there were a lot of players who had gone close," said manager-at-the-time Marley. "I think for Becky [Easton] it was her fifth final and she'd lost the previous four. It was the one we wanted and we knew we could compete with them.
"When we beat them in 2008, it changed our whole outlook. If I had to define why we could compete I'd say it was because we would play football too. Every game we had with them was pretty tight, when we had our full team out we knew we could compete with them."
Marley had won the FA Cup herself as a player 21 years prior with Leasowe Pacific, who would later become Everton. It was 3–2 on that day too, with Marley on the right side of the result again against a strong Friends of Fulham team, but she doesn't feel her experience as a player influenced her decisions as a manager.
"We'd had a couple of finals and lost," she recalled. "We played Charlton in 2005 and played well. Becky got injured, we went down to 10 players, and never really recovered. You learn more from defeat and that was a hard lesson to take."
She laughed and said: "When I won it, flipping heck, it was years ago!"
Preparation was not what it would be today. The team trained just twice a week, with several players, including two-goal hero Dowie, traveling hours after work for training. Dowie herself had to travel all the way from London, while Emily Westwood made the journey from Birmingham and midfielder Jill Scott would head south from Sunderland.
"We'd go on at about half eight, after all the academy lads," recalled Dowie. "I'd drive up, meet Woody [Emily Westwood] in Birmingham, and drive back after training. I'd drop Woody off at about midnight and my dad would meet me and get me back to London for about 2 a.m. It was crazy!"
The Final
Arsenal Starting XI:
Emma Byrne
Corinne Yorston
Faye White (c)
Gilly Flaherty
Niamh Fahey
Ciara Grant
Jen Beattie
Gemma Davison
Kim Little
Rachel Yankey
Julie Fleeting
Everton Starting XI:
Rachel Brown
Becky Easton
Emily Westwood
Lindsay Johnson
Rachel Unitt
Fara Williams
Jill Scott
Jody Handley (c)
Michelle Hinnigan
Toni Duggan
Natasha Dowie
Even the day itself was far from ideal. The team traveled down on a team coach the day before and stayed at a hotel near the ground, but a wedding party in the same hotel led to an accident that saw the coach's wing (side-view) mirror get damaged.
"There was a wedding, there was music, we had the best bus and the wing mirror got pulled off," recalled Marley, laughing. "We didn't have a wing mirror driving to the stadium, but we put in one of our best performances."
With Harvey looking to continue her 100 percent record after taking charge of the team in February, she would have to do so without captain Ludlow and fellow midfielder Katie Chapman, who had departed for the Chicago Red Stars in Women's Professional Soccer.
Still, it was a team that boasted a front four of Gemma Davison, Kim Little, Rachel Yankey, and Julie Fleeting, while Marley could call upon a full-strength side.
In front of 18,000 fans on a beautiful afternoon, plus 139,000 watching back home on Sky Sports, it was Dowie who struck the first blow when she swept home captain Jody Handley's cross with just 15 minutes gone, but that would be just the start of the drama.
"That year with that squad, we'd had a really good season and we were confident, but on the flip side we knew we were the underdogs," admitted Dowie. "We had a mentality of real togetherness though at Everton, I think that worked in our favor.
"Arsenal had Fleeting, Little, etc, they were untouchable, but there was a real relaxed vibe about it. I'd played in a cup final before for Charlton and Arsenal had smashed us. But everyone was calm, it just went by in the blink of an eye. It had everything: five goals, penalties, own goals, and a last-minute winner."
She added, "It was a beautiful stadium. The crowd was great, I've never played in a game with that kind of atmosphere and environment, bar maybe away at Portland in the USA. I think that was the best FA Cup final we've had in England in my opinion."
A Little penalty leveled things up just before halftime, but a Faye White own goal after she headed Toni Duggan's cross into her own net gave the Toffees a lead heading into the break.
Fleeting's second-half goal would be the last until Dowie had the final say in the dying seconds, but Marley recalls a series of moments in the hour or so in between that encapsulated what made her team special.
"When your players produce for you on the day, you always have a chance," she said. "Two key moments stand out for me with Fara in particular. The first goal she strikes one from distance, it falls to Jody who sets up Tash, but it came from Fara's drive. Then late in the second half, I can still visualize it, Fara puts this tackle in and I'm like, 'That's a tackle of a player who wants to win.'"
"Arsenal overloaded Rach Unitt but between her and Woody they did everything, they put bodies on the line. When players grind it out, they're the things that stand out. We brought on Brooke Chaplen and she set the winning goal up. We brought on Michelle Evans and she competed for a 50-50 [ball], which led to the goal. We brought on Fern Whelan and within five minutes she puts in this amazing tackle when she's one-on-one against the attacker — there's loads of those little tiny match-winning moments from individuals. People say it's cheesy but I could give you so many moments like that."
With the game heading for the dreaded penalty shootout, Dowie's moment arrived. Substitute Chaplen played a ball through for Dowie, who moments later dinked the ball over the on-rushing Byrne to seal the cup and spark wild celebrations.
"I remember each stage of that goal," recalled Dowie. "I actually thought Brooke had over-hit it, but Emma came out and I felt she'd made my decision for me. I saw Gilly try to run back and clear it but it rolled in. I didn't really even know how long was left but the emotion was incredible.
"I remember jumping into the crowd and hugging this boy, I don't even know who he was! My dad still shows that goal to all his friends, even 10 years later. I've watched it back 100 times and I remember thinking, 'Please don't go to penalties.' I'd have been confident, but we were dead on our legs, everyone had given everything."
While her players almost in unison made a crazed rush to join Dowie in the crowd, Marley was somewhat unsuccessfully urging her players to keep their heads from the touchline, despite the drama of the situation.
"I'm just screaming, 'Just get back!,'" she laughed. "I don't really show emotion at all and that's probably the first time I ever hugged Andy [Spence, assistant manager]. I'm quite calm on the bench but you can see it's almost in the bag. Just to go ahead against Arsenal was exceptional in that period. You had to work for it, they'd won it a ridiculous amount of times so for us it was making a bit of history."
Dowie added, "It always makes me laugh seeing Mo's face. It was typical Mo, she's always thinking about what's next and making sure we saw the game out, while everyone else is just like, 'Oh my God, we've won the FA Cup.'
"It was such a special day for so many people on our team, so many players had gone close but Arsenal were so untouchable. Back then it was the biggest game, it had the biggest crowds so it felt like a dream, especially for me scoring the two goals. I remember every goal I score but that one is definitely up there."
With a mixture of experienced heads but some younger players, including Hinnigan and Duggan who were just 19 and 18 respectively, at the time, Marley recalls the influence of the more experienced players in aiding their success.
"Players were actually challenging me for tactics," she laughed. "Usually when it's that tight things just happen but the players were razor sharp in finding solutions live in the game.
"The players do that themselves. In 2008 we stayed at West Ham's ground, the hotel pitch side and we weren't playing the game until the evening. We had this big room and that day alone I remember the older players taught the younger players more in that one day than I could probably teach in a whole season."
Marley's Legacy
The final would be Marley's last major trophy before stepping down two years later to focus fully on her role with the England youth teams, a role she has now been in for fast approaching 20 years.
After coming so close to a league title on several occasions, Dowie's only regret is the team couldn't win more for a manager who has developed so many of England's top Lionesses.
"I never saw her play but Becky played with her and against her and she always used to tell me that she was one of the best, if not the best center halves in the game. If the ball got past her, you wouldn't kind of thing!
"She gave so much to women's football, especially at a time when it was largely voluntary. The players she brought in were there because they loved the team, they loved Everton, and they respected Mo."
Dowie had previously worked with Marley when she herself was an England youth team player, and the respect she had for Marley was so high she rejected Arsenal for Everton, meaning a journey of four hours to training and back, and the 2010 final could and would have had a very different outcome in history had Dowie not been lining up in the Toffee blue.
"When I left Charlton I could have gone to Arsenal," Dowie recalled. "Vic Akers showed me around the training ground, it was five minutes from my house. It had everything. They trained where the men trained. I had that choice or drive four hours up to Everton where we didn't have the best facilities, and I chose Everton.
"I wanted to go to a team that could beat the best and not a team where it was going to be easy. I'd worked with Mo with England, I respected her as a coach and how nice she was a person. We wanted to win for her and winning that game was really special.
"I just think it's such a shame we couldn't have won more for her but also stayed together longer. The names you could reel off, you think what it could have looked like and it's a shame we never won the league. We lost it so heartbreakingly on the final day and I just wish we could have won more for her. As a coach, she deserved to win more but I can't speak highly enough of Mo and I'm happy I could give her some silverware."
[dropcap]S[/dropcap]uch was Marley's busy schedule between managing Everton and taking charge of the England youth teams, she didn't even get to enjoy the celebrations on the way home, showing just how committed she was to the overall development of the women's game in England.
It would be just five weeks later that Marley led out another team in the final as England lost 1–2 to France in the Under-19 European Championships in Macedonia, with a team that included Arsenal's Flaherty, plus the likes of Duggan, Jordan Nobbs, Izzy Christiansen, Gemma Bonner, and Lucy Bronze.
"I'm glad you mentioned that," she laughed. "That's how sad I am, I left the stadium to go straight to Macedonia. The Euros were three weeks away and we had to go for a look at the facilities. I literally picked the trophy up on the pitch and left for Macedonia, so I can't comment on any of the celebrations!"
Dowie certainly remembers them though.
"I think most of us threw on our training kit and just got on the bus. We stopped halfway up to Liverpool for all the refreshments and beverages," she laughed.
"We had the time of our lives. We literally hit the town as soon as we got off the coach in our Everton tracksuits and had a very long, late night. I remember doing an interview at about 6 a.m. the next morning and I'd only just got in. It was a great night and a great time, unbelievable."