When the FA launched its early bird ticket offer for this summer's Women's FA Cup final at the start of the 2019/20 season, Ipswich Town's young array of stars didn't rush out to buy them.
Focused instead on trying to make their own bit of history, the Tier 4 side have now seen off six teams — including three in the division above them — leading to a draw against holders and giants Manchester City at the City Academy this weekend.
Facing up to an elite side with seasoned internationals but known for their development of young players, it will be a meeting of both minds and philosophies when Joe Sheehan takes to the opposition dugout on Sunday.
With East Anglia never having been a hotbed for top women's teams despite developing players such as Lauren Hemp, who Ipswich could face on Sunday, and Aimee Palmer, Ipswich have put a long-term plan in place to use the best young players in the area, which means as many as seven or eight of the starting players aagainst Man City could be teenagers.
"People who know what we put in place two years ago won't be surprised by what's happening now," said Sheehan.
"When I joined two years ago, the initiative was set up, the FA set it up, ironically, off the back of Lauren Hemp leaving to go to Bristol. It meant the FA could offer players something in the region. The club were awarded the partnership and I've been here two years developing that."
The initiative saw no one specific team represent the area in FA competitions, but an East Anglia FA side that was taken in-house by Ipswich last summer and merged with the first team. The merger lead to a youthful and inexperienced but exciting first team that now sits top of their league.
"That's where it's all stemmed from really. The senior team has lingered around Tier 4 for a few years and this year we felt we could have a right go. The players are getting academy football on a Wednesday and first-team football on a Sunday, they're learning so much."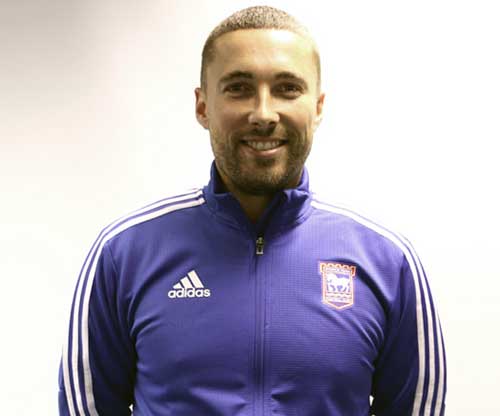 Sunday's game is just three days out from Sheehan's one-year anniversary as Ipswich manager, deemed the perfect man for the role after coaching most of the academy players in either the youth team or during his days leading Essex's Regional Talent Centre, where at least half a dozen of the current Town squad were coached by Sheehan as kids.
In the last round away at Tier 3 Huddersfield Town, a side that included seven teenagers in the starting lineup blitzed their opponents, with 16-year-old Maddie Biggs bagging a hat trick to book their dream tie away at Man City.
"Of the players we've got, eight or nine are capped somewhere in the England youth teams," added Sheehan. "We know we've got a good core of young players and they've complemented the older one we've kept on.
"We knew we'd win a lot of games, we knew we'd make a bit of a statement so it's no surprise to us that we are where we are."
Club Model
What's equally impressive is the club's model. Both Sheehan and his assistant Paige Shorten are full-time with the club based on their dual roles with the first team and the academy, while the team probably train more and are looked after better than some sides within the FA Women's Super League and FA Women's Championship.
Since Christmas, the academy and first team now train together, meaning the club trains on a Tuesday evening, the players are then accommodated on Tuesday night before a full day's training on Wednesday, unless there's an academy match, and another session on a Friday night.
The club has also forged an education partnership with a local private school in Ipswich that offers scholarships to any players at the club.
There are also financial benefits to the club's model. Due to the fact the majority of the academy players are also first-team players, the money the club receives from the FA due to their academy status is automatically filtered into the first team.
From the outside, it would be easy to assume Sunday will be the last anyone will hear of Ipswich Town in the women's game for a while, but Sheehan believes the club's model will mean exactly the opposite.
"We think we can progress and be in the FA WSL in four or five years," he claimed. "What a story for these players to stick with us and create their own journey over the next few years.
"We get emails from clubs in the FA WSL and FA WC all the time, sniffing around our players regularly to be honest. We know we have players who can play at that level but they're happy to commit to us because of what we offer and the team we play on Sunday will largely be the group we want to stick with over the next two years.
"We want to be operating like a Championship club in 18 months. We have a meeting with the owner next month. What we don't want to do is progress up the pyramid and then it be a big surprise in terms of what we have to do and how we operate."
For many teams, the prospect of going against a team like Manchester City with a squad full of teenagers would either be daunting, terrifying, or brought upon by bad luck and likely a whole host of injuries.
But for Ipswich it's the opposite, it's their model and their choice. Hat trick hero Biggs at 16 will be the youngest in the squad, while Paige Peake, Blue Wilson, and Eloise King have all progressed as far as the England Under-18 side.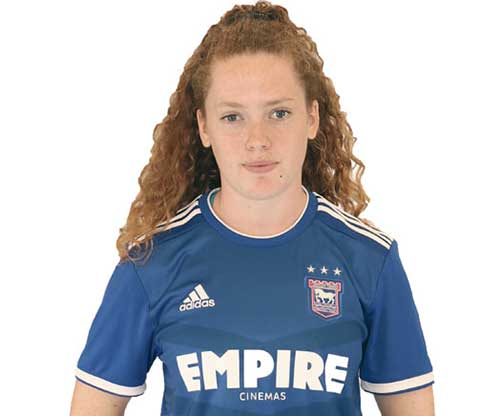 Others have been involved at the U-15s, U-16s, and U-17s levels, but it will be a special day in particular for defender Wilson who spent the 2018–2019 season in Manchester City's academy and trained alongside many of the first-team stars she'll face on Sunday.
"As soon as the draw started I was really hoping we got them," said Wilson. "When I signed I wasn't expecting anything like this. We were hoping for a cup run but it was always a bonus and now we're playing one of the best clubs in the world.
"I had a few sessions with the first team and around them a lot in the gym. I watched a lot of them out in France during the World Cup so it's kind of crazy going from that to now playing against them on Sunday. I was living away from home for the first time but I found that okay. It was a big learning curve but I wouldn't change it, I'd still choose Man City now if I had the decision again."
Wilson and some of her teammates were in Nice to see City stars such as Steph Houghton, Jill Scott, Ellen White and Co. beat Japan 2–0 and were in Lyon a few weeks later to see them face eventual champions USA in the semifinal.
White was among the goals in both games but Wilson admits one of her family members may have dual interest when the teams kick off on Sunday.
"My sister is 10 and she's a massive Ellen White fan," she laughed. "I'm hoping I get to play against her as it would be a pretty proud moment. I've told my sister she can wear her Ellen White shirt if she wants but she'll be cheering on Ipswich!"
Like all the other teenagers in the Ipswich squad, there will be moments in which Sunday's fixture proves daunting, but Sheehan is doing a good job of keeping his players focused on the job in hand as game day looms.
"The first thing Joe said to us after the draw was that, yes, it was going to be a great occasion and, yes, we were going to enjoy it, but ultimately we are going to go to Man City and try to win it. Why not? We've got absolutely nothing to lose.
"I'll allow myself the first minute walking out on the pitch to be like, 'Wow,' and then it's go into game mode where we'll try and win it."
Aside from Wilson, it's also striking just how many players only made their senior debuts this season. Peake made hers in August and has 7 goals in 14 games from defense, 17-year-old Sophie Peskett, a live wire out wide with 10 goals in 15 games also made her debut at the start of the season.
Anna Grey made hers in September while Biggs also progressed into the first-team squad after 24 goals in 20 games for the academy last season.
"Joe is a great coach, probably the best I've had," said Wilson. "He's very passionate about the journey we're on and where we're going to get to. With the academy program, it means I can get two games a week sometimes."
Wilson juggles her football commitments with studying for her A-levels at St. Joseph's College in Ipswich where she studies math, psychology, and business, but for her and many others in the team, education is at the back of their minds for the moment!
It would be cliché to say the players are just going to Manchester to enjoy it, and Wilson clearly knows that is not the case, but it's not disrespectful to admit the task in front of them possibly doesn't come close to David versus Goliath, and Sheehan describes his side as "fearless."
"What's so refreshing is the players don't have the attitude of just going to enjoy it," he said. "They want to get through and that's testament to them because they know the gulf and they know the challenge ahead is huge, but to them it's just another game.
"We joked at the start of the season when I said we could get to the quarterfinals if the draw was kind. I felt we'd beat any team on our day around us and in Tier 3 and I think we'd give teams in the bottom half of the Championship a good game. We beat Portsmouth, Chichester, and Huddersfield to get here but drawing one of the big guns might just hinder things a little bit!"
Calling on Senior Players
If Ipswich is to pull off what Sheehan describes as the "biggest upset ever," they will at least have to call upon their handful of senior players to help the youngsters through the occasion.
One of them, defender Lindsey Cooper, is quite literally Mrs. Ipswich Town, having joined the club as an 11-year-old in 2001, almost two full decades ago.
Cooper, who has only taken a couple of brief breaks from football to give birth to her two sons, one nine and one four, has been at Ipswich Town all her life and has seen the club change beyond recognition.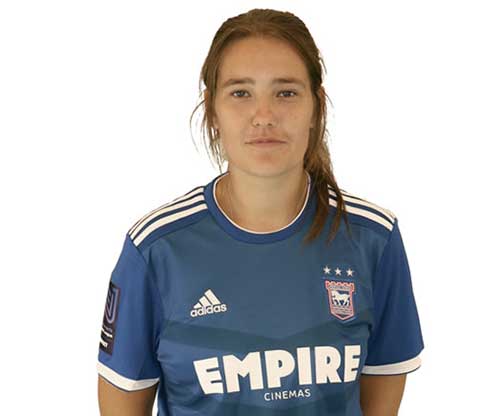 "It's different," laughed the 30-year-old, the only player 30 or over alongside captain Amanda Crump. "It hasn't really sunk in. We're preparing like a normal game, just doing the things we do.
"Joe is a big part of that and he gives us massive belief. It's the FA Cup, who knows? The young girls are fearless. They're phenomenal players and they've got nothing to lose, it will be nice to know that really because every league game we've had something to lose. We're all fearless, we're just going to do what we can do and see what happens."
Cooper will be making her 196th Ipswich appearance this weekend, 15 years after her first-team debut back in 2005.
Her two boys, husband, and mum will be in attendance on Sunday before Cooper returns to her part-time office job at the start of next week.
"When I started it was nothing like we're doing now," she recalled. "When I arrived, it wasn't regional so we were going away to places like Cardiff and getting up at 6 a.m., we didn't have the funding to stay overnight. We did two two-hour sessions a week and that was it."
Like many others, Cooper has seen the game grow overall over the past decade, in part thanks to the success of many of the Man City England internationals, who Cooper admits it will be surreal to come up against on Sunday.
"That will be the moment where we say, 'Oh, here we go.' If we share a pitch with those players it will be amazing and I think it will probably only sink in when we see the team sheet."
[dropcap]W[/dropcap]hatever happens, Sheehan and his players will have the support of the whole club when the teams kick off.
Sheehan has done all the homework he can, even doing a lengthy round-trip on Wednesday night to see the holders play Bristol City in the FA WSL, leaving his side's academy match at halftime as Ipswich U-21s beat Reading 5–1 in the afternoon.
More than 400 fans will be on a coach up to Manchester for the game, more support than some FA WSL sides, while a staff meeting on Sunday has been postponed so the club's support staff can also come and watch.
"My line manager was the academy manager and he's gone to be what you'd call the Director of Football," said Sheehan. "He's the link between Paul Lambert and the owner and he'll be at the game on Sunday.
"Bryan Klug, the head of coaching, came up to Huddersfield and came down to the dugout a couple of times to offer some advice. When we play our academy games, Paul has been to watch us four or five times this season, he knows the players by their first names, and when he sat down and told the staff how the team would play he used our girls as an example.
"When we played Norwich in front of 1,000 fans in September, he was there, six or seven first-team players were there, and that support is fantastic."