We grew up with doubts about ourselves and other people doubting us because of where we came from.
Lais Araujo
Y
ou may not have of Lais Araujo, but you probably soon will. On the surface, there is nothing out of the ordinary. The 24-year-old plays for Apollon Limassol, the dominant women's side in Cyprus and will face Swansea City in Wednesday's UEFA Champions League qualifier.
Last month, Araujo was called up to the Brazil senior national team for the first time for a camp and  trained alongside the likes of Marta and Formiga.
But Araujo has an incredible story, one that has taken her from a favela in Brazil to the national team. Now, she is telling her story in a documentary in collaboration with director Kely Nascimento, daughter of Brazilian legend Pele, that will be released in the next few months.
"The documentary shows a little bit about my story," said Araujo. "We grew up with doubts about ourselves and other people doubting us because of where we came from. I went down a different road to a lot of players.
"It's about the struggles and the good sides and the bad sides of women's soccer today. It's the most important thing to show the girls that you can come from nowhere and make it as a player, that it's a dream other young girls can have and do the same, no matter what happens. I hope it can inspire others to either start playing or keep playing."
Favela to First Call-up
Playing professional soccer and getting to train alongside her idols likely felt a long way away when growing up in a favela close to where she was born in Salvador, but last month it became a reality when Pia Sundhage brought her into the national team for the first time after impressing the head coach at the club level and in the national youth teams.
"I got an email from my coach here in Cyprus," she recalled. "He sent me a picture of the letter they sent the club. We'd just finished a league game, we'd won, everyone was happy. I just got home and he sent me this picture and I just started crying. I wasn't expecting it at all."
While growing up through difficult times, it was Marta, like for many, who inspired Araujo to follow her dream of playing soccer and not go down the route that would sadly see many of her friends die in the crime-infested world of the favela.
"I remember watching the 2007 World Cup, the year Brazil went to the final. But what I always remember is when Marta scored that beautiful goal against the USA, the one everyone went crazy about.
"I was in school and in Brazil whenever it was a major tournament they'd put a little TV out at lunchtime for us to watch. I remember watching, going crazy, that was my first real memory of women's soccer and it had a huge impact on me. I remember trying to recreate the goal in my little porch. I used to do the same, I'd throw the ball against the wall, fake the left foot shot and then shoot with my right!"
Araujo was 11 when Marta scored what was probably the best goal of a glittering career, and both her and veteran Formiga play a role in the documentary about Araujo, titled Warriors of a Beautiful Game.
Thirteen years on, Araujo got the opportunity to train alongside both and gets to call both of them her teammates after her first senior team camp in Portugal.
"It was crazy, insane. I grew up watching them but never had a chance to play with them, it's crazy they knew me and my story. To learn off someone like Formiga in midfield, I mean, everyone's nervous on their first camp, but to have someone like her on my side giving me advice, that was very special for me."
As well as Marta and Formiga, the documentary will also include Neymar, plus U.S. Women's National Team stars Alex Morgan and Abby Wambach, but the main purpose for Araujo is she hopes she can lead young girls growing up the way she did down the right path and make them believe soccer is a realistic possibility.
While Araujo, with her own self-determination and perseverance, was helped along the way, she's also lost many friends along the way.
"My story is no different from any other talented, hard-working player," she said. "There are a lot of ups and downs in this world and a lot of people have worked hard so I could play. Without Marta, I wouldn't have even been able to see women's soccer on the TV.
"It's difficult growing up like that, but I'm grateful at the same time. There was crime, like crazy crime; you're exposed to all the bad stuff. Kids walking around with guns, robbing people, selling drugs for nothing. Soccer was always a way of making me dream and giving me hope that I wouldn't be a part of that."
Araujo is so determined to ensure others don't go down the same route that she still returns home when she can, taking back shirts, boots, footballs, anything she can to make sure they have something to keep them away from the crime, the same help she got as a youngster.
But even recently, after returning home before joining Apollon Limassol in Cyprus this summer, another of her friends she played with has died in the months since.
"Many of my friends unfortunately died and they can't see what I'm doing now," she said. "We grew up with a lot of good soccer players who aren't here now. It's a matter of how much you want it or do you want to be on the streets wondering what your life is going to be? Police just turn up and start shooting and you never know who is going to be in the middle.
"I went back home before coming here and I was kicking the ball around with some friends. They were congratulating me, wishing me luck, telling me they were proud of me and now even since I've come back here one more of the guys has already died. Now, he can't even see that I've made the national team. It really makes you appreciate you had the opportunity to get out of there. It's sad many didn't get the chance I did, so I want to keep working hard and I want people to know they can do what I did."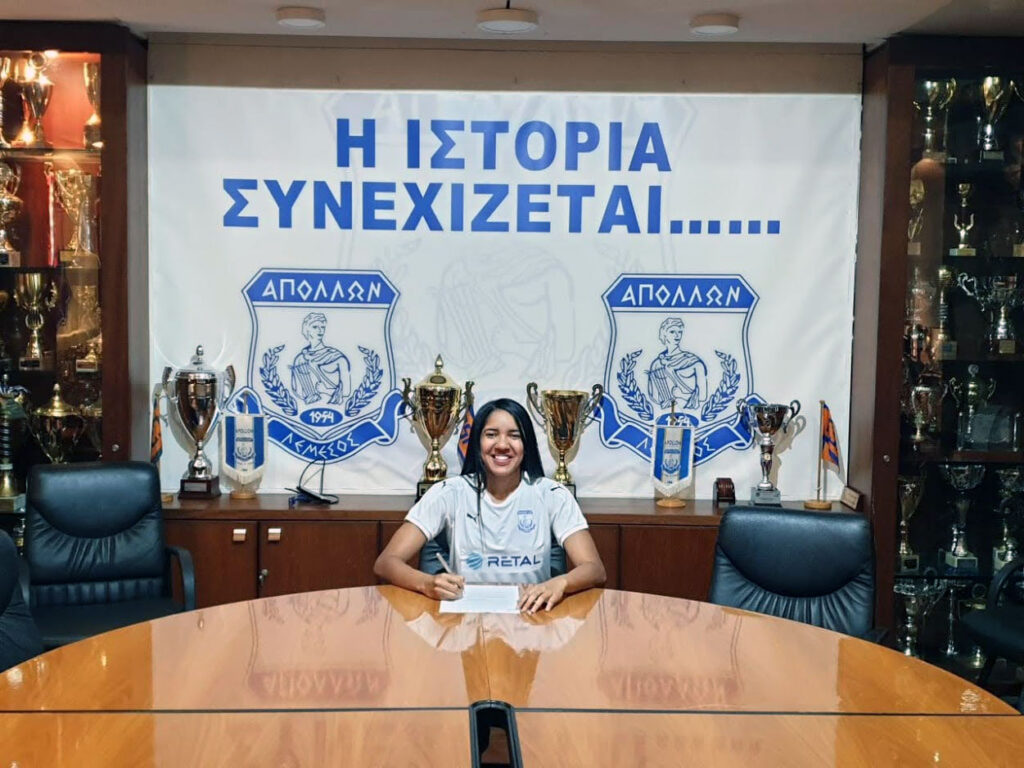 A Life Changed
Araujo's life changed for the better when she spotted by a coach who had brought his team to play against some of the community where the midfielder was growing up several years ago.
The coach, a man named Wilson, had his own project to help girls in the favela and Araujo turned out to be his first project, which offered her the opportunity to take on a full scholarship in the U.S. at the University of Florida.
"He used to bring his players and they'd bring food and clothes and football gear when they played teams in the community, and I was in one of those teams," she recalled.
"I was the only girl playing against boys, but all the families would come and watch. I played really well and we kept in touch, Wilson contacted me, and he spoke to Kely about me too."
Soon, Wilson and the families of some of the players got together to raise the money for a college scholarship for Araujo.
They raised money on top of that for flights, a visa, and even money to help with cold-weather clothing, which Araujo had rarely experienced in Salvador.
Araujo became the first project of what has now become "Wilson's Favela Project," a non-profit organization to help other youngsters in the same position Araujo was, and it has also inspired the 24-year-old to do the same: "If we can change one girl's life, maybe we can change other girls' lives too."
Araujo admits getting her education in the U.S. was also a big influence so she has a backup plan should she ever get seriously injured and have to stop playing.
After college, she spent time in Norway with Arna-Bjørnar and Australia earlier this year with Adelaide United, before joining Apollon this summer in pursuit of Champions League football.
An impressive start to the league season led to her national team call-up, and now she's determined to play well and ensure she maintains her place in order to make her official Brazil debut in the near future.
"We have no idea if it's actually going to happen. We have to keep that fire in our hearts — once you get that little fire you can keep going.
"Coming from where I come from, I had to keep that fire, because I couldn't go back to that, I had to change my life and my family's life."
A
raujo admits it is her dream to play in the Olympics next year but her focus is also now on off-the-field matters and ensuring others choose the right path and can succeed in the way she herself has succeeded: coming from nowhere to fulfilling her dreams.
"There was always a perseverance inside of me," she said. "I could have got involved in the bad stuff but never did, but I can't afford to think everyone else can be the same. What can we do for the ones coming through now to make sure they don't fall into the same trap?
"Whenever I go home I try and take some boots, some shirts, new footballs; whenever I leave, I leave things behind because I want people to know soccer can be a life-changer. I don't have a real project to help, maybe one day, I wish I could do more."