The clubs are getting bigger and closer to Barcelona, they have shown us the level and standard of where we need to go.
Natalia Arroyo
I
t's a week like no other for Real Sociedad head coach Natalia Arroyo. Such is her hectic schedule before her team hosts German giants Bayern Munich in a Champions League qualifier on Tuesday, she misses our arranged Zoom call, but kindly rearranges for 24 hours later, as she had to attend a prompt UEFA call to discuss arrangements for the two-legged fixture.
It's a new experience for both Arroyo, who at 36 is one of the youngest top-level coaches in both the Spanish Liga F and Europe's premier competition, and one in which she has certainly earned.
Arroyo's journey to the top has been far from conventional. After a lengthy stint in the Barcelona youth team system, injury forced her to retire at just 22, and like many she fell back on coaching but not "just" coaching.
Amazingly, up until a little more than two years ago, Arroyo hadn't coached in a league but was solely coaching the Catalonia national team and its youth teams while primarily working as a journalist and analyzing the teams she would go on to both manage and face off against.
Arroyo became a lead analyst and pundit for the likes of BeIN Sports, Gol, and Movistar, and now two years on from packing away the pen and paper, she is preparing for the game of her life so far as Real Sociedad looks to topple Bayern and reach the Champions League group stage for the first time.
"It's new feelings, new emotions, something to think about you don't have in your normal week," she said from her office at the club's training ground. "We know it will be a tough game, it's a hard opponent, but we have our options and it's a good thing for us to keep improving as a team, because we are a young team.
"It will help us continue growing as a club too. But, I don't want to just enjoy it, I think we have our chance if we are able to do good things. Bayern has more experience, but also more pressure."
Perhaps, unsurprisingly, given her time working with youth teams in Catalonia, Arroyo has assembled an exciting young squad in Sociedad, with four players just coming off winning the Under-20 World Cup this summer in Costa Rica.
Amaiur Sarriegi and Nerea Eizagirre have both been part of Jorge Vilda's senior squad, and Arroyo admits her time as a journalist has allowed her to learn about the game, its players, and her opponents now on a weekly basis.
"Between working with the Catalonia national team and being a journalist, both these things gave me the opportunity to learn about the game and gather all the information you need to be a coach.
"It was difficult to have a fully professional job in women's football in Spain 10 years ago, so I wasn't in a club on a day-to-day basis. As a journalist, I was a voice in the women's game. I was on TV, analyzing, so the teams, clubs and players knew about me because I was there on the TV, and beside that, I was getting good results with a young national team."
When the club parted ways with Gonzalo Arconada at the end of the 2019–2020 season, a young coach primarily known as a TV journalist may not have been top of many people's lists to take on the job, and even Arroyo herself admits it was a "brave" decision by the club to put their faith in her abilities.
"They knew I had no experience in this reality, the professional game," she said. "In a club where I would be every day from Monday to Sunday. They believed I had the ideas, the style, because in Catalonia I played the same way I do here.
"They were brave because I was a journalist, but I knew about the players, the competition, everything, but only from the outside. But, they wanted me. Maybe because I was a woman, or because I was young, I was fresh, but they wanted something different and they felt ready to give me the opportunity."
Arroyo recalls she didn't particularly need to sell herself to the club, despite her relative lack of experience, and instead was open and honest in her interview, even going as far to admit she would accept help settling in but also acknowledged that even if she was more experienced, she is not the kind of coach to take full control of every situation anyway.
"I tried to do what I always do, be as natural and as honest as I can. They knew I had no experience. I told them I think I can do it, even though I'd never done it before. But, I had my ideas and I knew and the club knew I'd be very open to get help.
"In my first year, I had that from the staff to help me with things with the day-by-day reality, to be close to the players, to prepare this or that, the little things of planning ahead for a week or for a month.
"I'm not the kind of coach who controls everything," Arroyo added. "I try to be surrounded by specialists in all the areas I don't know. That gave me the opportunity to be a fresh leader, someone who knew the game and the league.
"My weaknesses were very clear in the first call I had with them and I was very open to take help from other people. In the first year, I did a lot of mistakes, I tried to learn and in the second year, I had a squad more in my style of play and in this third season, I have the trust that the players are the players who can play the way I want and the staff know me better — they're my staff. The club and I are always on the same wavelength, I'm not new anymore, they know what I need."
Arroyo's present-day confidence has rubbed off on her team, but her honesty is equally refreshing — admitting she made mistakes, had to learn, had to lean on others, and take one step backward to take two steps forward.
After all, she had only just turned 34 when she took her first professional league job and had been used to sitting in a studio rather than standing on the touchline.
When I press her on what those mistakes entailed, she's thoughtful about the changes she's made over the past two years.
"It's an interesting question. I've thought about that a lot. I had no experience in the physical side of things, the running, the strength, and conditioning et cetera, but I had experience of being a coach. From my journalist life, I knew about formations and tactics, the players, but in my first day, they had no idea about me as a coach. They'd seen me and heard me, so they knew I knew about them.
"I did a month of observation, always watching. I'm young enough to be close to them, to relate to them. I was there before them as a player and I've seen the evolution and I think that helped me. I could say to them, 'I saw this big win or this big defeat.' I'd analyzed their games and could see what might need to change and I think the players knew I knew about them as players. Between the first year and second year, that information helped me, because I knew the players we needed to change things and how to recruit to improve the team. The players from Deportivo we signed, they went down, but we were able to put two good players into our team because we looked with a longer-term vision, not based on the last month or the last year."
The 36-year-old is, in many ways, the epitome of the modern-day coach: tactically astute, adept to a high press style of play, and fresh and exciting ideas on the pitch, but a people person off it and a confidant for her young stars.
"You don't need to give explanations, but you need to be close to them. Not to talk too much, sometimes talk less, sometimes talk more. Tell them they are doing well, tell them what they are not doing well, try to understand players and people a bit more. Try to confront situations where players want to play more, make it clear what you want from them.
"Sometimes maybe I gave explanations more than what was needed and sometimes I avoided these conversations. The players always want to play, you have to accept that, you have to be a little bit cold sometimes and maybe I was trying too hard to explain everything to everyone. Everybody wants minutes, but now it's easy, if someone isn't playing, I just tell them to keep working, keep doing well, because if the team is playing well I don't know when I can give you minutes."
Real Sociedad had enjoyed cup success not long before Arroyo arrived, but the end was nigh for Arconada when his side was beaten 1–10 by a Barcelona team starting to dominate the skyline of Spanish women's football.
Coming into a squad that needed a pick-me-up as well as challenged, what did Arroyo do to turn things around so quickly?
"I was really lucky to be honest," she admitted. "Being a journalist and to train somewhere like Catalonia, where I had good players where I could play an offensive style of play, I came in with that idea to be aggressive, to press high. I had my fantasies and my dreams to get that opportunity in a special club and Real Sociedad wanted that style. The ideas they had worked well with my ideas, so I haven't had to change that much.
"Yes, they had a big defeat, but the year before they won the cup and I think that was the turning point for the women's team here. The club and the city and the country was reminded we have a good women's team, good enough to play big finals and to win them. There was a big win and a big defeat, but they always had the competitiveness, they just wanted something fresh to go to the next level."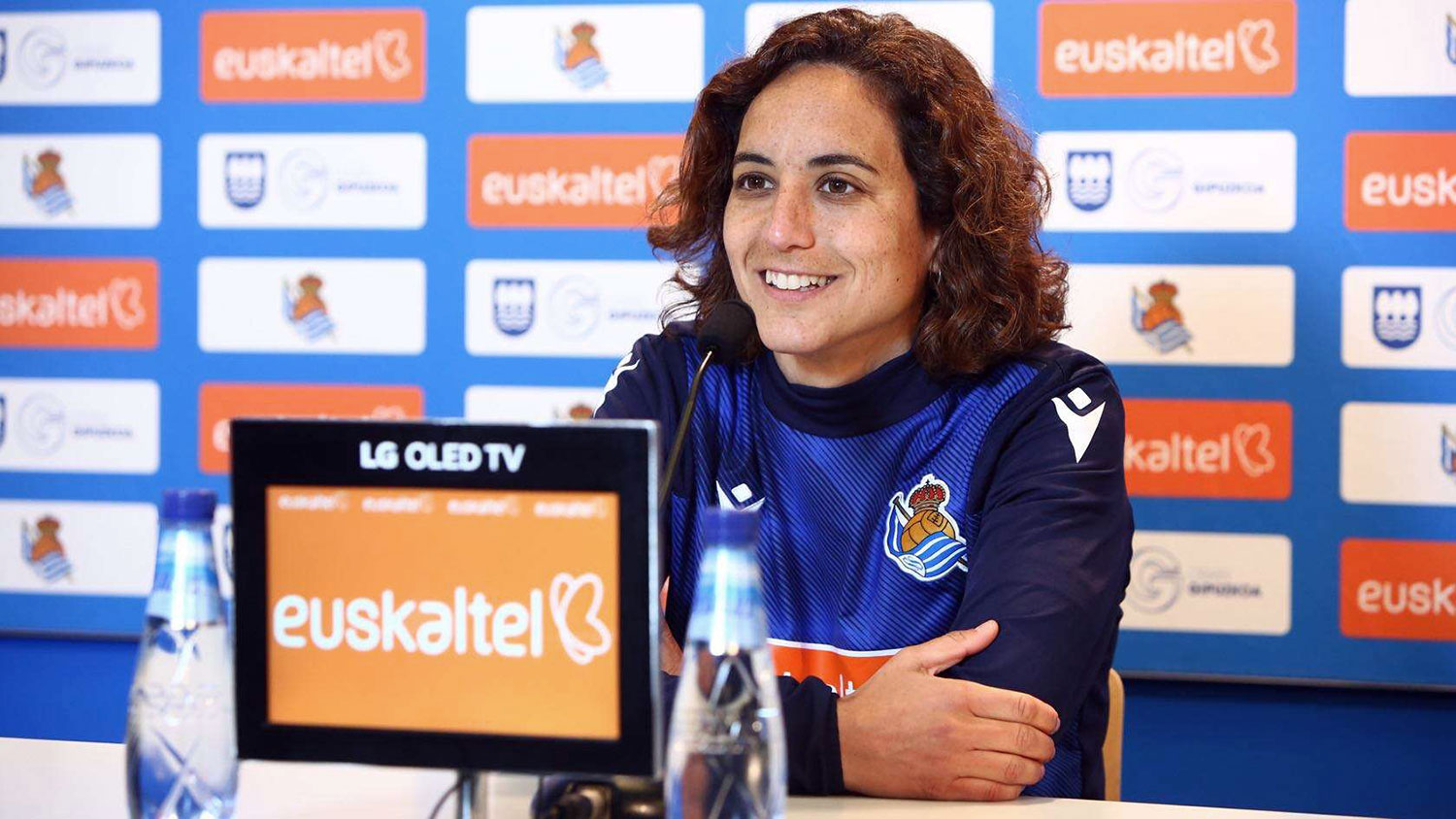 At the end of Arroyo's first season in charge, Real Sociedad finished a solid sixth in the league, but lost several key players to rivals above them in the table.
Star forward Nahikari García left for Real Madrid, Maitane López and Bárbara Latorre headed to Atlético, and Núria Mendoza and Leira Baños went to Levante, among others.
It would have been no shock if Arroyo and her side slipped down the table. Instead, they did the opposite, finishing best of the rest behind dominant champions Barcelona.
Arroyo's exciting brand of high-energy football combined with a team of young talent took Spain by storm and now has them in a position where they will walk out for their first Champions League game on Tuesday night at the club's Anoeta Stadium.
To many on the outside, it came as a surprise to see Real Sociedad above Real Madrid, Atlético Madrid, and others, but not to the now highly respected and coveted head coach at the helm of the fairy tale.
"I understand that for people on the outside, they don't know the players we are signing. They might think, 'What is happening? Ten players are going out, the new ones are not big names,' but we know the capacity of our players and we were very clear on what we needed, the keys, and the characteristics our players needed to have.
"We had bad luck with injuries, but we had a cocktail where we had fresh new energy, we had players who had a bad year the year before and they were so hungry to have a good year. We had a good start, that gave us a good dynamic and confidence. We did a lot of work with psychologists, the staff made our goals clear, we made it clear we thought it was realistic and we did such a good job as a group. We always felt we were capable to win the games we did. Win, win, win, and to keep the positive energy. The new, young players are really, really good. Sometimes they don't have the experience, but they feel they can beat anybody and that's important because it doesn't make you feel crazy as a coach when you are saying what you think we can do as a team and the games we think we can win!"
Alongside the likes of Sarriegi and Eizagirre, Adriana Nanclares, Ana Tejada, Mirari Uria, and Izarne Sarasola are all exciting young talents within the squad, having been a part of the U-20 Spain team to win the World Cup over the summer.
Arroyo has again had to deal with losses, with Nuria Rábano joining Barcelona, while Emma Ramírez has also returned to the Catalan side after a loan spell, but a solid core of last season's team is in place, with a few additions, and ready to go again this season.
With several of them now having gained key winning experience over the summer, Arroyo believes that will only aid her in her target to keep Real Sociedad at the top of the game, mixed with her own knowledge of coaching young players and playing to her own strengths.
"I try to know myself as well as I can," she said. "I know the young players sometimes just need to feel free, do the things you need to do, make the mistakes you need to make and I will be there to help you. They are open-minded, they are getting opportunities and where the women's game is now they have good coaching too before they come to the first team, so they come to us ready.
"Maybe the players who are 26 or 27 weren't prepared like that. We have four players in the squad who just won the Under-20 World Cup, so they have played big games, big finals, they have been in a penalty shootout, and winning them, this is really, really important, because now they are used to it and feel they can win. But they make me better too. I am not the best one at everything, I learn from them. Sometimes I just watch, I don't say anything, I watch and learn from them. That was strange sometimes for me in my first season, but it's not just me, the new style of coaching is to be more in the managing role and I get satisfaction from not always being there. Sometimes I am analyzing, watching the videos, sometimes I coach, sometimes it's the second coach, sometimes it's the analyst."
As our time draws to a close, attention turns to some of the topics dominating the women's football news at the moment, including the first weekend of the new Liga F season being postponed because officials went on strike over pay.
Thankfully, the issue was resolved, for now, and Sociedad got off to a winning start with a 2–0 win over Villarreal at the weekend, but Arroyo hopes the negative attention that came with the story not just in Spain, but around Europe, makes people sit up and pay attention to where the women's game is going in Spain, with a generation filled with talented players ready to step up and succeed if the support allows them to.
"I was always interested to know what the organization was like in women's football in other countries. The USA, how they run their leagues, the investment to the national team, how in England they tried to compete with it and it's about thinking what we have to do in this period in Spain. I feel some envy to this process, thinking to the future. How many players are playing? What are the facilities like? To look at the picture as it is now and analyae what we need to do in the next four or five years.
"I feel sad now because I think we have really, really good players, really good young players who are crazily good. They are the best in Europe and in the world, as shown this summer. Clubs are getting a social and economic benefit, but it's not just a losing money process. Now this war between the organizations makes me sad, because we are close, so close. We have the public, the fans are there, the interest is there, they want to come to the stadiums and we as a women's game are now putting a lot of big crowds on.
"We are in this moment, but we are in this war where there is money and politics and this makes me sad a little bit," Arroyo continued. "I think here there are great opportunities to keep saying to the big players, 'Come and play here for big clubs, in big stadiums.' Barcelona is a little far away, but we have a league which is really good and it's a good moment, but hopefully everything with the referees gets better. Sometimes, I do feel it will be difficult, but for the clubs, the coaches and the players, we do really well, we have a good tactical level, a good physical level, and the football on the pitch is really good."
A
dmitting Barcelona is a "little far ahead" brings us to our final talking point, bridging the gap and whether the club's dominance of Spanish football is a good thing or a bad thing for the Spanish game.
Unfairly, their dominance has led to accusations the league is less competitive, when in reality Barcelona has become one of the best club sides the women's game has seen, with success alongside it, to the extent they were the team to finally end Lyon's stranglehold on European football.
But, it has left others trailing. Real Sociedad finished 24 points behind Barcelona last season, with Jonatan Giráldez's side winning all 30 of their games, scoring 159 goals and conceding just 11. Almost unbelievable statistics. The season before, they won 33 of their 34 games, scoring 167 goals in the process and were 25 points clear of Real Madrid.
With the expectation that a similar reality may occur again this season, Arroyo believes it can be both good and bad for the game, but mainly sees the positives to the attention Barcelona's success has brought the women's game in Spain.
"I would say it's somewhere in between. We existed before Barcelona, in Catalunya we always talked about how for a long time Espanyol was better than Barcelona many years ago. People now maybe don't know the history, but it's good because I know as an ex-journalist, the media is good with their clubs winning. People get connected to that, they need someone to win, and that's Barcelona; winning the Champions League, individual players winning awards and becoming role models for kids, that's been really helpful.
"On the other hand, you have a lot of results where Barcelona are winning easily and winning the league easily. But, we have Real Madrid now too, that helps, because they're another big club and in parallel the smaller clubs tell the other side of the stories, the workers' stories, that you can be there no matter what the bigger clubs do. The clubs are getting bigger and closer to Barcelona, they have shown us the level and standard of where we need to go. I don't agree that here in Spain everyone is bad and Barcelona are good, it's not like this. They are really, really good, they are thinking to win the Champions League and we are thinking to be better year on year, everyone is in a different place and season by season we want to win more games, and more games against Barça, whether that's this year or in the future."