The Magic of the Cup. We've all heard about it, this phenomenon which allows a team with little right to even challenge the big boys the opportunity to beat them over a mere 90 minutes.
From Wimbledon beating Liverpool to Hereford beating Newcastle to Bradford beating Chelsea, there's nothing quite like a David versus Goliath.
The Women's FA Cup has had its fair share of romance, too, and this weekend sees fourth-tier Crawley Wasps face 14-time winners Arsenal.
An Arsenal that has record-breaking Vivianne Miedema, the world-class Kim Little, the composed young defender Leah Williamson, and a host of internationals and top young talents to boot.
The Wasps were formed 27 years ago and have only ever been a women's football club. It's a name which the locals hold dear, a brand which has become synonymous with the side, noticeable in their black-and-yellow striped shirts.
Last year they were as low as the fifth tier of English football before earning promotion and the side has a good chance of back-to-back promotions, largely thanks to the efforts of committed manager/chairman Paul Walker.
Walker has been involved with the club for a decade after his daughter Holly expressed an interest in playing football.
Thirteen at the time, Holly is now 23 and made her way through the ranks into the first team, taking the same path on the field as her dad did off it.
"I played semiprofessional footballer so I had some experience," said Walker senior. "I got involved with the young teams when Holly began playing and when she moved up, so did I. I coached the reserve team, became assistant manager, and now first-team manager and chairman."
Unfortunately, a recurrence of a previous ACL injury has ensured his daughter has endured a lengthy spell on the sidelines but the Wasps' modest approach and determination has allowed them to build a good squad for the resources the club survives on.
Pivotal to that was the signing of former Chelsea, Millwall, and England Under-23 international Naomi Cole, a player who also missed a lot of football due to serious injury and combining football with her university studies.
Another former Chelsea player in the squad is former Wales international Emma Plewa, who played in the first FA Women's Super League match in 2011 against this weekend's opponents Arsenal.
Plewa's chances of being involved this weekend hang in the balance after complications from an ankle sprain delayed her progress but she believes the squad have a special belief because of the challenges they've faced.
"Our players have played at a good standard but maybe not had the break" said Plewa. "Some gave up and came back, some had had enough before Paul reached out. A lot of the girls have been in the same situation."
Plewa, who joined Crawley at the start of the season after some time away from the game, juggles her football with her role as a personal trainer and credits her manager with the side's rapid rise up the women's football pyramid.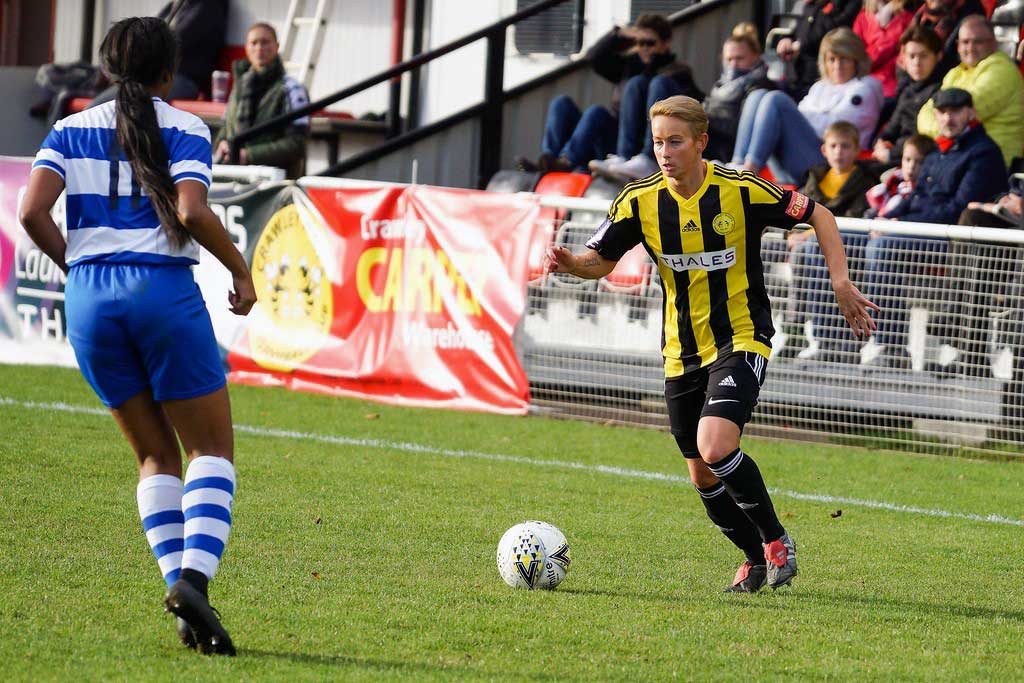 "Paul is fantastic, one of the best managers I've played under. He's fair, but he's realistic. I've played at clubs where managers don't care about you or your life but he understands the girls. The work patterns, the girls who have kids, he understands your needs as a person. Some girls can't always be at training but he's not one of those managers to say, 'You haven't trained so you don't play.'"
Walker, though, is not just a manager. For the past few years he's also acted as chairman of the club and has put in a lot of his own money to ensure the club can't just survive, but thrive.
"I run my own management consultancy so we started to sponsor the team and we put money in to purchase kit and equipment and we've done that for a number of years. But the club are now very well-funded by other sponsors and that's been great."
It's a nice little arrangement the Wasps enjoy with local business and sponsors. Their task is laid bare by the fact they train on the pitch just once a week, one single 90-minute session and one strength and conditioning session on a Thursday night, but both Plewa and Walker admit not every player can always attend due to work commitments.
When you consider Arsenal's squad strength and the fact they train every day, it's an achievement in and of itself just to see the sides on the same pitch as each other come Sunday's kickoff.
The club currently rents its home at Oakwood FC and none of the team get paid or receive expenses. The training ground is leased from the local council but the club enjoys dedicated use of the playing areas and the two pitches.
In winter, they train at a 3G facility next to Crawley Town's stadium and in recent years they've enjoyed a prosperous partnership with nearby Cottesmore Golf and Country Club.
The club receives access to its gym facilities for their strength and conditioning sessions and the first-team players enjoy corporate memberships so they can access and use the facilities 24/7.
There was a setback late last year when there was a fire at the property, just one of many difficult situations a club at Crawley's level can end up in with limited facilities available.
While it would mean little to some clubs, the £2,000 fee for winning a fourth-round match would mean the world to the Wasps who have already gained around £4,000 from their run so far.
But Walker is optimistic about Crawley's future and where the club can go but similarly realistic about what it would take to go even further.
"If you're a club not linked to a men's professional side then it's difficult," he said. "Crystal Palace are an excellent example because they've really embraced their women's side. They won the regional league we were in a few years ago and they paraded their trophy around Selhurst Park.
"We've been hugely active in trying to build our brand. We've recruited players who have played at that level but whose work commitments mean they're comfortable playing at a slightly lower level. I think we can go to tier three but I think any higher would require a different business model."
While Plewa may end up playing little part in this weekend's game, it's not lost on her what the game means to both the club and Crawley itself despite her short time at the club.
"The girls are buzzing, the staff are buzzing," she said. "We get maybe 40 or 50 fans who are mainly friends and family whereas now I know all the girls have got work colleagues coming, I've got clients who want to come."
They haven't done it the easy way either. Wasps had to win two qualifying matches just to make it into the first round, before beating QPR, Chichester, and Coventry to make it to round four, the latter two teams both high-flying in the tier above Crawley.
"It's come down to the girls putting everything on the line," added Plewa. "We have a number of players who could play in the league above and that's our drive. But we want to go up together and stay together, not to do it with other teams."
The club is said to be potentially expecting more than 1,000 fans at Sunday's game, a combination of the major interest in facing Arsenal and the arrangement of a double-header with Brighton versus Manchester United that kicks off around the corner before Crawley's game.
Who knows? Crawley may come out on the wrong end of a thrashing, but nobody could or would hold it against them given the major gap both on and off the field between the sides, and it doesn't seem to be putting anybody off.
"What a nice problem to have," said Walker, on facing Arsenal's star-studded squad. "It's what the FA Cup is made of. It creates dreams and creates memories and every now and again, it creates upsets.
"It's the biggest day in our history, the pinnacle of what we've achieved to date and a recognition for the hard work the players have put in, the staff and all our volunteers have put in."
It's almost exactly eight years since the town's men side went on its own cup run, ending in a valiant 1-0 defeat to Manchester United at Old Trafford when the team were still a non-league side.
"The town is very proud of its men's side," admitted Walker. "They offered us the stadium to host this game but they have the Brighton game there. They offered to stage it on Friday night, too. I remember when they went to Manchester United — wow, was the town proud of them then, it was fever pitch. I hope we can emulate what they did."
Around the same time, Plewa was preparing for life in the first FA WSL season as a Chelsea player, and came on in the dying minutes of the very first league match, her Chelsea side going down, 0-1, to an Arsenal side which still included current squad members Kim Little and Jordan Nobbs.
"We were knocking on the door, Manchester City weren't around, and looking at it back then to where it is now, it's so different," said Plewa. "The money and how good the facilities are. We used to train twice a week on a Tuesday and a Thursday and I drove from Cardiff and back three times a week just to train and play.
"I'd be on expenses and a match fee and now for them it's their full-time job, it's fantastic to see the progress. It's weird because people always used to tell me to work hard because you'd never be a footballer. I thought, 'You know what, they might be right,' but I thought if I could be a part of it then it would speak volumes, and I was."
It's clear this is a club built on hard work, determination, and an abundance of spirit, and as Plewa added, "A lot of heart and desire" too.
It is a club that nobody expects to be in the hat for the draw on Monday night, but a club which is undoubtedly on the up and can be classed as one of the more unknown yet special women's football stories, now brought to the fore by this weekend's clash against Joe Montemurro's side.
Or as Walker puts it, "We're on a journey, and long may it continue…"