A recap of action in the National Women's Soccer League (NWSL) and a look ahead of the upcoming week's matchups. Not takes on purpose.

Gifcaps
Relive NWSL Week 3 action in gif form:
NWSL Re/Preview
It's still early in the season. Chill, Orlando and Portland fans. A lack of finishing in the final third is still plaguing several teams.
Portland Thorns FC 1–0 Chicago Red Stars
The game's lone goal came off a penalty kick in the 27th minute. It was a testy affair with the Thorns conceding 14 fouls to the Red Stars' 16. In the first half, Portland held roughly 63% of the possession; that number dropped to roughly 53% as Chicago pressed for an equalizer. Portland was without Tobin Heath, Meghan Klingenberg, and Dagný Brynjarsdóttir while Chicago was at full strength. This was a probably semifinal matchup but felt like anything but one as both teams failed to find a rhythm. Portland, despite its 2-1-0 record, has yet to live up to the potential its roster promises, and Chicago, now sitting at 1-2-0, has yet to display the form that had the Red Stars at the top of many preseason polls. The Thorns should worry that only one of its goals has come from the run of play, a troubling sign given the quality the team has without the injured Heath, Klingenberg, and Brynjarsdóttir. The Red Stars, despite head coach Rory Dames moving Julie Ertz to an attacking role in the midfield, have yet to generate a full 90-minute performance from a team that returns a nucleus that should be well-acquainted with one another. The good news? Heath and Co. will be back for Portland and there's still a long way to go in the season for both teams.
Week 4 Preview
Portland hosts Seattle in a matchup that is always intense. Both teams have had less than stellar starts to the season. Heath, Brynjarsdóttir, Mana Shim, and Katherine Reynolds have been ruled out according to The Oregonian's Jamie Goldberg. Despite the injuries, the Thorns still have Allie Long, Amandine Henry, Nadia Nadim, Lindsey Horan, and Christine Sinclair — an embarrassment of riches that should be able to generate goals from the run of play. Defense has been shaky for the Thorns and the line has been slow to find its form in games; with the lack of offense, Portland will need its defense to be sharper and that might be a problem against a Seattle team that features a 90-minute pest in Jess Fishlock.
Chicago returns home to face the Houston Dash, winners over Washington in week three. For whatever reason — a lack of finishing the major one — Chicago has not been able to get it in gear. A Dash team full of confidence can present problems for the Red Stars but Chicago should have the edge in the midfield and must stay organized against a Houston team that is fast on the counter and has young talent in Kealia Ohai, Rachel Daly, and Janine Beckie unafraid to make or take shots.
North Carolina Courage 3–1 Orlando Pride
The Courage improved to 3-0-0 after defeating the Pride at WakeMed Soccer Park. The Courage look okay now and are winning games, but here's the thing: they will get better as Debinha and Sam Mewis become more comfortable working together. Head coach Paul Riley used a 3-5-2 to control the midfield and take away service to Marta. Orlando has the pieces but right now lack the finishing. If Marta is creating, her teammates must finish and that wasn't the case against the Courage. There's no shame in playing directly, and might be an option to get the ball forward and avoid a midfield that can get caught out in transition.
Week 4 Preview
North Carolina heads to meet a Boston team that looks like it's starting to put the pieces together. Expect a physical match in the midfield. The Courage front runners have a speed advantage against the Boston defense. (When don't Lynn Williams and Jess McDonald have a speed advantage? Against Christie Pearce? Who else?) And when Mewis and Debinha find that comfort spot, it's going to be fun to watch. Defender Yuri Kawamuri has been good and settling into the pace and physicality of the league and helps shore up, maybe, the Courage's weakest link.
Orlando travels to Kansas City to meet a Blues team coming off a 0-1 loss at Sky Blue. The Pride are in need of a win and might get one against Kansas City. There were flashes of attack against the Courage but finishing is a problem. The Pride defense is surprisingly shaky and needs cover from its midfield. Absorbing attack after attack is a numbers game and eventually a goal is going to get through. Dani Weatherholt might be the key in front of the back line. Her work rate and fitness is high but whether she is a consistent 90-minute player is yet to be seen. Give her a go and see if she can sit in front of the defense and disrupt opposing offenses, and push Kristen Edmonds higher.
Don't fret about Orlando though. There's too much quality in the side for wins not to start coming. Alex Morgan is expected back in June but will presumably be gone for U.S. Women's National Team duty at some point as well so it's crucial the Pride don't get in too large of a hole while Morgan is away: win at home and try to split road games until the full squad is available. Those who thought the signing of Marta meant the Pride would waltz through the league and bring home a World Cup underestimate the competitiveness of the league.
Boston 3–0 Seattle Reign FC
It's really BOSSton, amirite? The Breakers won their second in a row with goals from Rose Lavelle (her first professional goal), Natasha Dowie, and Adriana Leon. Leon, in particular, was a handful all match, and has been tough and diligent all season. Goalkeeper Abby Smith had six saves on the day.
What's different about Boston? They have bite. Rosie White has been a contributor in that area but also Leon and Allysha Chapman, and it's spreading to the rest of the team. Don't pencil the Breakers in the semifinals just yet but this is a different team we're seeing. There's a confidence there.
For Seattle, this is a game to forget. Teams have these types of games but the key is to make sure it doesn't become a habit.
Week 4 Preview
Boston gets a big test hosting North Carolina on Sunday. The Breakers' defense must be focused and not let the Courage's formidable duo of Williams and McDonald get in behind the line. The Breaker midfield will have its hands full keeping the Courage's Mewis and Debinha from the ball. Boston has to make North Carolina play defense and convert on any chances its creates.
Seattle heads to Portland in the league's best rivalry. Both teams are coming into the match looking to establish an offensive rhythm that has eluded both squads. Throw records and past results out of the window when these two teams meet.
Washington Spirit 0–1 Houston Dash
Kealia Ohai scored her 13th goal in the last 13 games to lift Houston over Washington for the Dash's first road win against the Spirit. The Dash improved to 2-1-0 while the Spirit fell to 0-2-1. The Dash dominated possession in the first half while the Spirit were unable to get a shot off in the half. A rejuvenated Spirit came out in the second half and grabbed roughly 63% of possession and 10 total shots but only one on frame. Spirit head coach Jim Gabarra opened the match in a 3-5-2 formation but switched to a 4-3-3 after Ohai's goal. The Dash were helped by having Janine Beckie in the midfield to add pace and attacking options. Cami Levin is a complete steal from Orlando and provided solid defense on the left while completing 80% of her passes. Washington's Steph Labbé was Steph Labbé and she'll need to be Labbé for the rest of the season. The Spirit are in desperate need of offense. The chances created must be converted since the Spirit are going to be operating on the thinnest of offensive margins this season.
Week 4 Preview
Washington stays home to face Sky Blue FC. Can the Spirit create chances and then finish in the final third? That's the ongoing question and an answer isn't forthcoming until the Spirit get as close as possible to full strength. Good news is on the horizon as Cali Farquharson will resume training and Caprice Dydasco has been cleared to train. Stengel is recovering from a bone bruise as well. Until then, it's absorb pressure, defend, and counter for the Spirit.
Houston heads north to face a Chicago team coming off a 0-1 loss at Portland. The Dash midfield will meet a formidable one in Chicago and be forced to defend. If they get stretched too far between their lines and gives Christen Press too much time and space, it will be a long night.
Sky Blue FC 1–0 FC Kansas City
A Raquel Rodriguez goal in the 83rd minute was enough for Sky Blue FC to take maximum points from Kansas City. Sky Blue goalkeeper Kailen Sheridan earned her first career shutout. Kansas City needs help for Sydney Leroux up top; Shea Groom, who is recovering from a broken rib, was out for the match.
Week 4 Preview
Sky Blue heads to Washington. This looks to be a battle of the midfields. Kelley O'Hara in the attack and Rodriguez and Daphne Corboz free to stay high and attack will overload Washington's defense. As of this writing, an injury report hasn't been released but if Sky Blue is again without Christie Pearce, they will need to be careful not to get caught out on a Washington counter. Leah Galton was limited to 24 minutes against Kansas City as she recovers from an ankle sprain. Galton's pace can cause problems for the Spirit whether she comes on as a substitute or starts.
FC Kansas City hosts the Orlando Pride. This isn't a bad matchup for Kansas City but Orlando is in need of a win and will be (should be) coming out swinging and determined. Kansas City hasn't been Kansas City and will need to figure out how to score. Leroux is rounding into match shape but will need a consistent strike partner. Kansas City has the defense and Desiree Scott is back in the midfield; the missing piece is up top. Unfortunately, the Blues are running into a Pride team that might be looking to prove up to the hype surrounding Marta's arrival. A Becky Sauerbrunn/Marta matchup is going to be good.
Randoms
Shout-out to Estelle Johnson's old school cleats.
Orlando Pride goalkeeper Ashlyn Harris said some things postgame. She wasn't wrong about the team performance. In light of her poor clearance that led to a goal and the way in which her comments were delivered, I raised an eyebrow. Should some of it been kept in the locker room? Yep. Is it going to be a big deal? Only to everyone but the Pride, and it's not a stretch to assume Harris might have a longer leash to work with than others. Once the team earns a few wins, this will be forgotten. Winning has a way of making every thing all better.
Stephanie McCaffrey wrote about swearing in women's sports that ties into how we perceive female athletes. It is worth your time.
Awards Season
Player of the Week
The NWSL Player of the Week is Adriana Leon.
My Player of the Week vote:
Adriana Leon, Boston Breakers
Lynn Williams, North Carolina Courage
Kealia Ohai, Houston Dash
Other players who get a shout-out: Estelle Johnson, Cami Levin, Debinha, Camila, Rosie White.
Player of the Month
The NWSL Player of the Month is Rose Lavelle.
My Player of the Month vote:
Kealia Ohai, Houston Dash
Debinha, North Carolina Courage
Natasha Dowie, Boston Breakers
NWSL Best XI for April
Our #NWSL best XI for April, based on all 3 weeks of voting + POTM voting: pic.twitter.com/qdJFUSY5qR

— NWSL Media (@NWSLmedia) May 4, 2017
go90
Problems continue. We're heading into week four.
Feeds continue to be of lower quality for international users. Again, the league boasts internationals and fans of those players want to follow these players, not to mention the new supporters the NWSL can be missing out on. Domestically, stream quality continues to be hit or miss for many viewers with poor audio quality and technical difficulties.
Starting formation and lineup graphics are often wrong. Did I mention we're heading into week four?
Attendance
Portland Thorns FC vs. Chicago Red Stars: 14,471
North Carolina Courage vs. Orlando Pride: 4,586
Boston Breakers vs. Seattle Reign FC: 2,315
Washington Spirit vs. Houston Dash: 3,154
Sky Blue FC vs. FC Kansas City: 2,562
I'll say it again for the people in the back: Early start times are hurting attendance.
Celebration Watch
This week goes to Camila and the Orlando Pride. It takes a lot of trust to leap into someone's arms like that. It's a trust I don't have in the unlikely event I ever score a goal in my rec league.
Props to Ali Krieger for holding on while Monica comes in for the chest bump.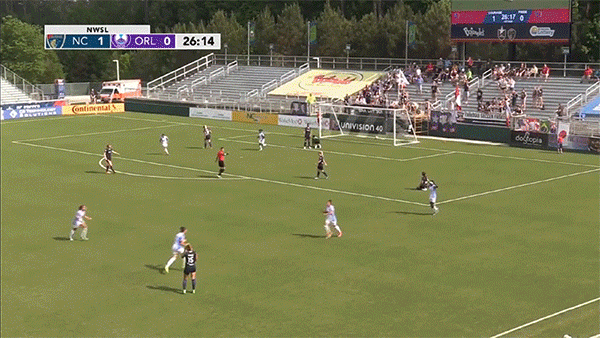 On the Socials
Your Must Follow
Sydney Leroux on Instagram. Leroux has been filming her son Cassius waking up in the morning. Cassius is always happy and if watching his joy doesn't make you happy, you have no soul.
The Gif that Keeps on Giving
The look back.