The Portland Thorns improved to 2-1-0 in the National Women's Soccer League (NWSL) after defeating the Chicago Red Stars, 1-0, at Providence Park in Portland, Oregon.
Adrianna Franch was called into action early. In the 3rd minute, Christen Press was played through but her shot was underwhelming to beat Franch who was well off her line to cut down the angle and made the save.
In the 21st minute, Casey Short sent in a cross from the left that found a leaping Press but Franch came off her line again to block the ball, taking Press down with her. No foul was called.
The game's only goal came in the 26th minute after Nadia Nadim converted from the penalty spot to put the Thorns up, 1-0, after the Red Stars' Press was whistled for a handball in the box.
Nadim converts. Portland up, 1-0. #PORvCHI pic.twitter.com/J4oCDqVejS

— Our Game Magazine (@OurGameMagazine) April 29, 2017
In the 41st minute, Press made space for herself at the top of the box and found Sofia Huerta in the box but Huerta's left-footed shot was well over the crossbar.
In the 57th minute, Chicago almost equalized were it not for a Franch save. Arin Gilliland beat her defender at the end line, cut back in, and sent in a cross that deflected off a Thorn and forced Franch to make a punch while falling backward at the goal line.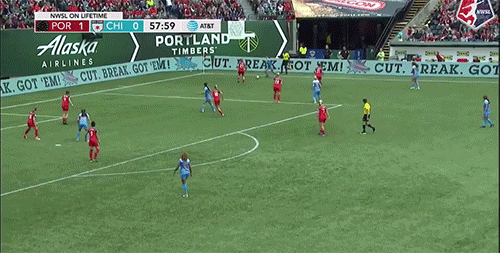 Christine Sinclair almost doubled the lead in the 59th minute after taking a misclearance in the box but her far-post shot was just wide.
Chicago's Alyssa Naeher made a crucial stop in the 68th minute when she came off her line to intercept a pass for Lindsey Horan that would have put Horan in on goal and kept the deficit at one.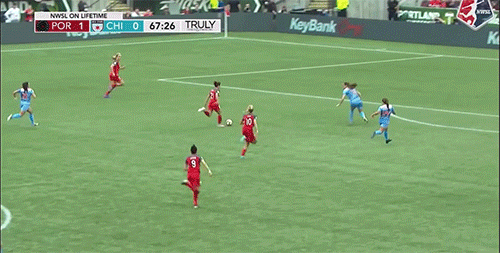 Of note, Julie Ertz made her second start in the midfield for Chicago.
With the win, Portland moves to 2-1-0. The loss puts Chicago at 1-2-0 on the season.
Portland faces Seattle in the first Cascadia Clash of the season while Chicago welcomes Houston.
Attendance: 14,471
Lineups
Portland Thorns FC
24-Adrianna Franch; 27-Meghan Cox; 4-Emily Menges; 16- Emily Sonnett; 30-Celeste Boureille; 10-Allie Long; 7-Lindsey Horan (15-Kendall Johnson, 91′); 28-Amandine Henry; 21-Hayley Raso; 12-Christine Sinclair; 9-Nadia Nadim (26-Mallory Weber, 76′)
Chicago Red Stars
1-Alyssa Naeher; 6-Casey Short; 16-Samantha Johnson; 5-Kathleen Naughton (7-Taylor Comeau, 64′); 3-Arin Gilliland (9-Stephanie McCaffrey, 74′); 24-Danielle Colaprico; 10-Vanessa DiBernardo; 11-Sofia Huerta; 8-Julie Ertz; 23-Christen Press; 2-Jennifer Hoy (4-Alyssa Mautz, 66′)
Discipline
Portland Thorns FC
Yellow Cards:
Emily Sonnett, 51′
Celeste Boureille, 67′
Chicago Red Stars
Yellow Cards:
Julie Ertz, 65′
Christen Press, 92′