We qualified twice but are we anywhere near the best we could be? Absolutely not, I think that was a huge awakening for the Thai Federation.
Miranda Nild
[dropcap]W[/dropcap]e expected the USA to be very good, but I don't think we processed just how good," reflected Thailand striker Miranda Nild, one year later from her nation's 13–0 World Cup defeat to the eventual champions.
The U.S.-born 23-year-old was representing her country at a tournament for the first time after Thailand reached their first World Cup in 2015, and their 13-goal defeat was one of the biggest talking points of last summer's tournament.
"I knew when we drew them it was going to be incredibly difficult. In the last World Cup, Thailand played Germany and didn't lose too bad; I think they were expecting similar against the U.S.
"It shook a lot of the older players because I don't think they'd realized how much teams had developed. It was hard to pick up the morale, the training the days after that was very difficult, I think the coaches didn't know whether to let us mourn the loss or just focus on the next game, that was a difficult decision on their part. Even against Sweden we were still very down, I think you can tell that by the way we played Sweden and even against Chile."
U.S. Beginnings
For Nild, the journey to France started a long way away from Thailand, having been born in the Castro Valley in California. Having started playing as a child, Nild worked her way up to the stage where she represented the California Golden Bears in college — U.S. Women's National Team forward Alex Morgan's alma mater.
"I have an older brother, we did everything together," Nild recalled. "If he tried a sport, I tried a sport, and that's how I got into soccer. We did baseball, basketball, golf, but soccer was the one we stuck with."
It wasn't long before the opportunity came up to represent Thailand, who Nild watched take part in their first World Cup that summer. Born to a U.S. mother but a Thai father, her first call-up came less than two years later as the country prepared for the qualification rounds for the 2019 tournament.
"I was always trained by my personal trainer. He was Thai and when I got to college they were at the World Cup for the first time. I didn't even realize they were at that level. He got in contact with some of his friends because he used to play for the national team and he asked if they wanted to look at me. I was a little different, a bit taller, a bit more physical to their usual players.
"One of his friends randomly came to visit the U.S., he saw me and the national coach wanted me to send some videos. I sent some university videos over and they were very interested. I was excited at the chance to play but also about entering a World Cup in the future — that was definitely one of the reasons because it was a crazy goal I would never even have dreamed of before it was presented to me."
Her debut came in a 6–0 win against Palestine, in which Nild found the net, following it up with the single goal in a 1—0 win against Chinese Taipei four days later.
"I think that helped me a lot!" she laughed.
"Luckily for me I spoke Thai. I think it would have been crazily hard if I didn't. At uni I didn't have as much contact with family so when I got to camp my Thai was very rusty. I could understand it but not speak it as quickly as I would have wanted to, that caused a few difficult situations!
"There's a language barrier but a cultural barrier too, but I understood it because my dad was very big on making me understand it. The culture there is very much one of respect, that's very big. I think because I respected them it helped me a lot. I think in the past they haven't been as open to receiving players from outside Thailand but because I embraced it."
Born in America, Nild was given a more conventional western name, but when applying for her Thai dual citizenship she registered with her Thai name — Suchawadee Nildhamrong.
"I'm not really sure why I didn't just have a Thai name, maybe it would just be difficult for Americans to announce," she laughed. "My brother's Thai name is his middle name and I think they wanted to do that with me, so when I made my dual citizenship they used my Thai name, so I have two separate names and I think it's very hilarious. I have a different name in America and a different name in Thailand!"
Making it to France
When Nild linked up with her country again a year later for the 2018 Asia Cup, qualification for the World Cup was at stake. Should Thailand finish in the top two of a group comprising of China, Jordan, and the Philippines, Nild would find herself on the plane to France just two years after first representing the country.
Nild scored two in their opening win against Jordan before defeat against giants China set up a winner-takes-all match against the Philippines. Nild played a role in all three goals as Thailand ran out 3–1 winners, booking their spot in the tournament.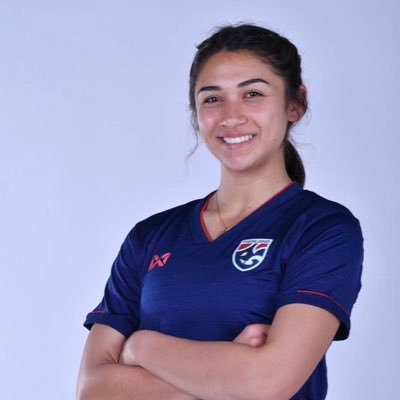 "For me it was an intense tournament," she said. "I had nerves from the moment I landed to the very last minute of the last game. It was about keeping my focus — there are times when you just think you have to win to go to the World Cup, that was before our game against the Philippines. That was very unique for me, it's a very weird mindset to think about. I had to really bust my ass to set myself up and my teammates up for as many shooting opportunities. That pressure was a really good learning opportunity for me, that mindset created of just sacrificing everything to get there.
"It was really cool that I scored. I scored in the first 20 seconds against Jordan but it was amusing for me, it was just a cool experience. Even after we qualified it felt surreal, all the way from when we qualified to the tournament, it just didn't feel like it was happening to me, it was all so quick and all so emotional."
Come December's draw, Thailand was placed in one of the toughest groups possible alongside Chile, European giants Sweden, and the world champions — and Nild's country of birth — the United States.
"It was the definition of mixed emotions," she said. "I was so excited but it was also super ironic, but looking at the caliber of the U.S., I was like, 'This couldn't have gone any worse.' The emotions kind of took over leading all the way up to that game."
Support Needed
During the buildup to the tournament at home, Nild says Thailand as a country gradually got behind the team and women's football, but she believes the 0–13 defeat was a "huge awakening" for the Thai federation in terms of the support needed moving forward.
"I can't speak for what it was like in 2015, but over the past few years there has been a small growth," she said. "When I first got there, there were no posters of us; by the World Cup there were some. It's definitely there but in other countries the men are idolized more and I think in Thailand we're a bit behind.
"The World Cup did and didn't help. I think there should be more attention now we've qualified twice but the men have a huge support system. I think us losing that drastically was a slap in the face to the federation, that [they] need to invest more money. We qualified twice but are we anywhere near the best we could be? Absolutely not, I think that was a huge awakening for the Thai Federation."
Part of the reason Thailand had become so successful in relative terms over the past decade was the financial support offered by Nualphan Lamsam.
Lamsam is part of one of Thailand's richest families and a local celebrity back home. She is chairwoman of one of the nation's most successful clubs and held the post of General Manager of the women's national team until after last year's World Cup.
The 54-year-old stepped down from her role after the tournament and the federation took over sole responsibility for running the team. Lamsam rose to prominence when TV cameras caught her in tears after the team scored their only goal of the tournament against Sweden, an emotional moment for the whole squad.
"That goal helped us pick morale back up after the USA game," said Nild. "We still lost but we felt that maybe we did belong in this place. I think after the USA game you always doubt that, but it did pick morale up I think."
On Lamsam's backing, Nild adds, "The FA of Thailand doesn't fund much for the girls in terms of the money for camps et cetera. She is essentially a celebrity in Thailand and she really stands up for the girls on the team and to rally other celebrities to donate money to us.
"She is like our sponsor basically. She cares about the girls like mothers care about their children. She was so wrapped up in the team and their success and because she speaks on our behalf, the FA is more willing to listen to the problems that we deal with. She gives our team a bigger platform to be heard on and it's a very incredible thing she did for us very time. Her coming to tears symbolized what she was doing for us I think."
[dropcap]W[/dropcap]ith the Thai federation now in charge of backing the side, the head coach was changed soon after the tournament but results have been unpredictable.
A win and a draw against Myanmar in January was followed by three defeats from three as Thailand failed to qualify for the now rearranged 2020 Olympic Games, losing 0–1 to Chinese Taipei before conceding six against both China and Australia.
Nild herself embarked on a new journey to Lithuania to represent Gintra Universitetas in the UEFA Champions League. Nild is hoping to play in the National Women's Soccer League once the league returns to its normal schedule and missed the team's Olympic qualifiers to have a trial with the Houston Dash.
"It's been a roller-coaster. I had a try-out at Houston Dash but they canceled some of their plans because everything's obviously been pretty crazy, so we'll see where that starts and ends again once things start up again.
"I think I was the only Thai player to play in Europe in general. Lithuania was a small part of that. I was there for the Champions League games but we didn't make it through the qualifiers, so I was hoping to move to the NWSL before everything stopped."
In terms of Thailand, Nild believes and hopes the game is still moving forward and the team can continue to compete in the future, but says the federation is still figuring out how to lead the team without Lamsam's backing.
"The coaching staff which led us to the World Cup are no longer there. The lady that cried, she is no longer with the team, we have a new head coach the Thai Federation have hired. I think Thailand's women's soccer has moved on but not much since the World Cup. They're kind of struggling with that and now she's not there to support the team.
"She picked out the head coach and I think felt to blame when we got back. I think they decided it was better to step back and it would be better if the federation took over. I think they're figuring out it might not be as easy without her support."