The fact we took some points, we have made people a little bit more aware of us. We won these points, we earned them, and we brought a lot of attention to the people here.
Laura Miller
Luxembourg City, Luxembourg's quaint, picturesque capital city, with its tree-lined horizons, plays host to just over 128,000 people, 40,000 more than the amount of people inside Wembley Stadium to watch England win Euro 2022 a month ago against Germany.
It is just one sign of what Dan Santos's side is up against when he brings his women's national team to Stoke on Tuesday night, but it will be with the honor of being the first nation to face the newly crowned champions on home soil since their summer success.
In the reverse fixture, the Lionesses hit Luxembourg, ranked 117 in the world, for 10, and few would be shocked should the same happen again on Tuesday night. Yet, despite what they have to work with, Luxembourg has won three games so far in their first qualification campaign and went close to stealing a point against Northern Ireland over the weekend, a team that also graced last month's tournament.
Cruelly, their top goal scorer, Amy Thompson, will miss the trip to England after being sent off for her celebration after equalizing against Kenny Shiels' side, but with a squad filled with young players, many of whom are now heading abroad to further enhance their talents, this is a modest nation that is very much on the up.
Nine of the players flying to England as part of the squad are teenagers, including all three goalkeepers, twins Mariana and Joana, and 16-year-old Charlotte Schmit, who has already been snapped up by German Bundesliga side SC Freiburg.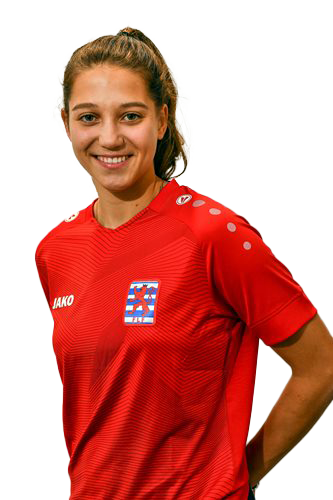 At 20, captain Laura Miller is practically a veteran, and one of the few playing her football outside Luxembourg, having joined Belgian side Standard Liège back in 2019.
Born and raised in the country, Miller's journey to the national team is fairly different to those of her opponents on Tuesday night.
"It started with my brother, but he didn't really actually like football," she said. "He played for six months, the boots were in the garage, so I put them on and took his role. It was like a love story that hasn't ended yet. It's still going."
It's a similar story for most of her teammates too, all of whom either work or study around football. Miller studies in Belgium alongside her playing career, while 18-year-old goalkeeper Lucie Schlimé is still at school back home in Luxembourg, yet has to prepare herself to face an attack that broke the record for goals scored in a single European Championships a month ago.
Schlimé, who plays domestically in Luxembourg, amazingly is the oldest of the three goalkeepers in the squad and will turn 19 later this month, after making her senior debut at just 16 and was in goal for the reverse 0–10 earlier in the group stage.
"I started playing football very late," she said. "Since I could walk, I played football with my cousin in the street. It wasn't possible for me to join a club because of transport problems. I got the chance when I was 12 and we moved to a small club to play football.
"Ever since the beginning, I only played with girls, which I regret today because I wasn't challenged enough from the beginning. I spent the first four years in this club until at 16 I moved to Itzig in the Luxembourg first league. In the national team, I started at 14 with the Under-16s and then made my senior debut at 16."
What Schlimé has access to will be a world away from her opposite number, Manchester United's Mary Earps, on Tuesday night, whether it be Earps or either of Manchester City keepers Ellie Roebuck or Sandy MacIver.
Some of Luxembourg's heavy defeats would be tough for any teenage goalkeeper to take, but Schlimé admits she takes positives from every game and has had to deal with the pressure of making her senior debut so young.
"They threw me in at the deep end when I was 16," she recalled. "I played my first game against Kosovo and we lost  0–5. I was still very insecure and lacked presence in goal. The coaches trusted me though and didn't put any pressure on me.
"I viewed it as a test match and I was and am very proud to wear the jersey. A lot has happened in those two years. There's been more better days than bad days, but I would say the trust of my coaches has made me what I am today."
Schlimé believes she was "unlucky" growing up in that not playing for one of the top domestic sides, she missed on dedicated goalkeeper coaching, even having to resort to playing outfield just to be involved in sessions, but that is now improving and she can't wait to come up against someone like Earps, who she admits to admiring a lot, ahead of Tuesday night's game.
"There were months when I had a goalkeeper coach and there were months when I played outfield. The FLF now provides me every week with goalkeeper training and for two years now it's also been regulated that clubs have to provide regular goalkeeper training.
"The biggest honor for me is to play against Mary Earps, who I have been following for years. In my opinion, I can only win in these types of games. Not only as a team, but also individually, I can only develop through such games by gaining experience."
Schlimé added: "I think everyone would like to be so lucky to play against such an opponent like England. I take it as a chance to prove myself against professionals. I'm still in the beginning stages of my development."
Roughly 70 percent f Luxembourg City's modest population is made up of foreigners who have settled in the country.
Eighteen-year-old twins Mariana and Joana Lourenco, the latter of whom is already on seven goals in just 11 caps, were born in the country after their parents relocated there from Portugal, and have made Luxembourg, and football there, their home.
Joana also never played with the boys, and like her teammates had her pathway to the senior national team fast-tracked.
"I played with my cousins and I started at club level when I was only 10 or 11," said Lourenco. "I didn't play with the boys, straight into the Under-14s category and then into the first team. I first started in the national team pathway when I was 12."
Like many twins, Joana and Mariana are practically inseparable, and "very funny" according to national team head coach Santos.
"I've always played with my sister, so it's normal for me, it would be weird if I didn't play with her! My mother always comes to see us and my father and cousins sometimes too."
All three will be on the plane to England to face the Lionesses on Tuesday, and all of them are in no doubt about the task that lays ahead.
There are though some positives. Schlimé says the nature of Luxembourg being such a small country means the team can meet up more often, while Miller says more emphasis is now being put into developing young players — hence, why it is the younger members of the squad, herself included, forging a path by going and playing outside Luxembourg.
But with three wins and a respectable opening campaign behind them whatever happens in Stoke, there is a belief that while they will always be limited in what they can do, there is a bright future for young girls growing up in Luxembourg.
"I think in Luxembourg, we are only in the beginning," says goalkeeper Schlimé. "Our country is small, so we don't have as much choice as other nations. For clubs, it's almost still like a hobby. But I've noticed there are better and better infrastructures for women now.
"However, in order for us to take one or two steps forward, we as players have to take the step and go abroad. For me, I'm waiting to finish school and then look to go and play abroad."
"Financially, we don't have a huge amount of money," Captain Miller added, "but to put it into women's football is another point. If we can reach a point where we are treated the same, there would be no problem.
"I think we will see more players go abroad. The federation is starting to put a lot of effort into younger players, which we didn't have growing up. I had to do everything on my own; today, they have a lot more support from the federation."
Miller also says there is a sense of pride in how her team has performed, beating North Macedonia twice, plus another win against Latvia, followed by the narrow loss against Northern Ireland.
"Everybody I think was surprised when they saw we had nine points, we were also surprised! It's our first qualification campaign, so we didn't have too many hopes really, we didn't expect to win three games, just one would have been good.
"North Macedonia and Latvia have both competed in qualifiers before, we didn't have that experience. It's been an emotional journey to win these games, to win three has been amazing."
S
chlimé and Miller were both in the starting eleven that faced England in front of a modest 1,262 supporters in the capital back in September, and despite coming out on the wrong end of a 0–10 score line, they both believe they as individuals and as a team learn things from even their heaviest defeats.
"You always learn," said Miller. "For example, we lost a lot of goals in the last few minutes, three in stoppage time, that's something we want to change. We don't want to concede four goals in the last 10 minutes, that was something we can hopefully learn from."
Schlimé added: "We knew this would be the most difficult game of the campaign. We prepared for it. We were very defensive and just tried to learn from such a game and learn from professional players."
It will be a different occasion this time around with a sellout expected at the Bet 365 Stadium as the Lionesses play on home soil for the first time since their historic Wembley success, and Miller can't wait for the opportunity of a lifetime, whatever the score.
"It will be an experience we will never forget. To play in a stadium full of people, that's so exciting, and the respect we have for this team, they are European champions, it will be an honor for us to be there."
It will be Miller who gets to line up alongside England captain Leah Williamson in the tunnel to lead her nation out in front of a full stadium, and at just 20, the midfielder has had to learn as she's been growing up throughout her teenage years, all while moving abroad and studying for her future outside of football too.
"It's a small country. Because of that, it's a pride to play abroad and it's a pride to be our captain, it's a pride to be here and be in this position.
"Younger players now are getting opportunities, going abroad and developing. I think that's why there are so many young players in the first team, because they're the ones getting the chances to develop abroad now, they've had access to a lot more."
Miller hopes this qualification campaign will also ensure people take more interest in women's football back home.
"The fact we took some points, we have made people a little bit more aware of us. We won these points, we earned them, and we brought a lot of attention to the people here."