As another round of 2023 Women's World Cup qualifiers approach, so with them likely a debate about the qualifying format and what appears to be a never-decreasing gap between those at the top and those at the bottom.
With nations around Europe only a handful of matches into their quests to reach the tournament to be held in Australia and New Zealand in little more than 18 months, there has already been a scattering of heavy defeats for some of the smaller nations, with six games already ending in double-figure victories for some of the pot-one UEFA nations.
Mind the Gap
Spain has beaten Faroe Islands, 10–0, and Norway beat Armenia by the same score, while Sarina Wiegman's England has won by 10 twice in their opening games, both away from home against Luxembourg and then Latvia.
France went one better with a 10–0 win against Greece, followed up by an 11–0 win against Estonia, and the gap between top and bottom is stark when you look further into the statistics behind the overall results so far.
The nine teams in pot one of the qualification competition have scored 184 goals between them in just the opening three or four matches, conceding just five, with five of the nine teams having yet to concede to date, with an amassed 98 points between them.
The comparison to pot five, the lowest pot with the same number of teams, is stark. The nine teams have just 15 goals between them, 139 conceded, and just 12 points; Turkey, Malta, and Kosovo are responsible for all of the points with four points each.
Pot six is harder to compare given it only holds six teams, the lowest six by UEFA coefficient, with those nations having a respectable 10 goals for, 95 against, and nine points. Montenegro has been the surprise package and is responsible for six of the goals and six of the points, with only Luxembourg picking up points with a 3–2 win against North Macedonia.
To play devil's advocate, a similar gap still exists in the men's game too, a sport which is decades ahead of the women's equivalent in terms of development, but the results have continuously sparked debate about whether there is a need for a potential format change, possibly to a UEFA Nations League style competition which is yet to make its debut in the women's game at senior level though Under-19 and Under-17 age groups are currently using the Nations League system for the first time for their qualification campaigns.
The Case against Pre-qualifiers
Some have suggested a potential return to pre-qualifiers so only the best of the so-called "smaller" nations make it to the stage where they will have to face Netherlands, Germany, England, France, Spain, Sweden, Norway, Italy, and Denmark, the current nine pot one nations, but that's what the system was until this round of qualification, which is the first time qualifying has been completely open to every nation.
Jarmo Matikainen, head coach of Estonia, currently the side with the heaviest defeat in qualifying so far, believes there are valid questions against the current system but that nations like Estonia need these games in order to develop.
"We can always look at the results, but for me the context is it's part of the development and we want the small nations to develop, and in order to develop they need the opportunities to play against the top teams or they will never know what the benchmark is.
"We have the record result against France, but there are a few big results in this open qualification and I tried to look at which pots those teams on the receiving end are. In our group, Greece are even pot four and had big defeats, there are even teams in pot three like Hungary and Albania that have lost by seven or eight goals."
Neighbors Latvia has found it equally tough as they enter this week's qualifiers off the back of a 0–10 home defeat against England and face the Lionesses again away from home next week, but Friday's match at home to Luxembourg offers a glimmer of hope of getting a result on the board, with their visitors also losing 10–0 to England in qualification earlier this year.
Like Matikainen, Latvia head coach Romāns Kvaĉovs also believes the current new system is a big step forward in helping nations develop long-term, even if short-term results may be painful to take.
"I think it's a major step towards adding to the growth of the women's game across Europe," he said. "Home and away matches spread through the year help the teams and players to become more professional and improve their qualities.
"It is especially essentially for nations like ourselves where the majority of players are semiprofessional and those playing in local clubs have only a few matches of the highest calibre during the year. The previous format with mini qualification groups didn't give us the desired amount of international football. Every international match and opportunity to train together helps the players to become more and more capable."
The mention of semiprofessionalism is an important one and offers context to some of the results seen so far.
While part-time players are spoken about a lot at club level, it's easy to forget that in some nations that therefore translates to the national team, as Matikainen found out when preparing his side for their match against France last month.
"It's about what can we do now to help like countries like ourselves? I can't speak for other nations but the situation is quite complex. If you look at our lineup against France compared to when we played Wales and Slovenia, we were missing eight players from that team against France, which is obviously an incredible amount.
"That puts this one result into context. Why we didn't have them is another issue, but it's a fact. If I take eight players out of France's team, they have a larger player pool and fully professional players. If I take eight players from Slovenia or Wales, it would affect them. We should be able to have those players available like the top nations do. I don't know for sure but I think other pot-five or pot-six teams have similar issues with player availability."
The big question many ask is do these results give any benefit to either the nations, the coaches involved, or the players out on the pitch? Is it possible to take positives from a 10–0 defeat?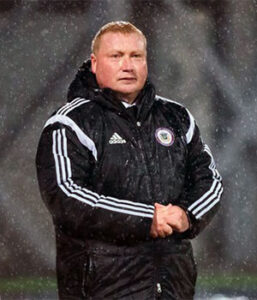 Having conceded 26 goals in just four games and the promise of another tough match against England next week, Kvaĉovs says his nation always has to look for the long-term positives no matter what the result.
"We clearly understand that at this moment we can't be entirely competitive in matches against the top teams," he admitted. "But such experiences provide wider long-term benefits to the players, as they can witness competing against the best and push their skills to new levels.
"The scores of such matches might be difficult to understand for people not aware of the gap between the opponents, but we have to look at everything."
Another nation who has experienced a difficult start to qualifying is Cyprus. A 1–4 defeat at Belarus has been followed up by consecutive 0–8 defeats against the Czech Republic and the Netherlands, leaving the island rooted to the bottom of their group after four games.
But like Kvacovs, head coach Angelos Tsolakis also believes there are benefits to be taken in every result and performance as his side also looks to continue developing toward future qualifying campaigns.
"Of course, nobody likes to receive heavy defeats, but from my point of view there are always benefits when we play against top nations, especially regarding the experiences the players get playing against top-class professional players.
"Most of our players here in Cyprus are amateur and it's a very big challenge for them to play against Netherlands et cetera."
Matikainen also echoes such opinions.
"You have to. You have to look beyond the result and look at the development, the performance of every individual, even if it at times it's very, very painful."
The Estonia head coach is as well placed as anyone to give a thoughtful answer to the current situation given his two decades working in the women's game across Estonia, Wales, and also both Finland and Canada, as well as working for UEFA as an observer and instructor.
"From when I started 20 years ago, it has grown so much," he said. "But, there's always that element of if we don't have those support mechanisms it can become polarized. We are in a positive trend with the women's game, but we have to keep the development in mind."
Another issue for nations such as Estonia and Latvia is their domestic seasons run through the summer, meaning now not only are they contending to face top nations with part-time or amateur players but players who also haven't played competitive league football for well over a month.
"Our season here ends in October and at the end of November we are still playing qualifiers," questioned Matikainen. "Some of our players haven't played regular football for two months. Every result people see is about context, we just have to keep working on how we can support these associations and their leagues."
Solutions
So, what's the answer? As in any sport, there has to be an acceptance to some extent there will always be a gap between the haves and the have-nots. There will always be a gap between the fastest Formula 1 car and the slowest, a gap between Novak Djokovic and a player ranked 100 places below him; that is sport in its purest and simplest form, there will always be a best and a worst and those who fall in between.
"It's a fair and realistic summary," said Matikainen. "There is always going to be a gap, but if we try and make it a more even playing field, if we get more help, we can at least try and compete a little bit more. I understand that whatever we do, there will always be a gap, always."
There appears to be a definite reluctance among the coaches to return to the previous style of pre-qualifying due to the lack of competitive games it offers to those who don't make it through and the development benefits of facing the top nations, even if results will remain one-sided for the near future.
"UEFA and FIFA should decide if they want to change the format of their competitions," said Tsolakis. "Pre-qualifying would affect the number of games which smaller nations will play.
"Some teams will finish their appearance in international competitions early and this wouldn't be helpful for their efforts to increase their quality of play moving forwards."
Daniel Santos, head coach of the Luxembourg team that will take on Latvia this week and has also experienced a 0–10 defeat to England this year, is also against the idea of a return to pre-qualifying.
"I am against it because despite the heavy defeats, the teams must look at other smaller nations developing, like Malta for example, who now do well even against some of the biggest nations and are getting good results.
"Pre-qualifying doesn't exist in the men's game, so why do it in the women's game?"
There is, though, much more support for the potential for a Nations League style qualifying system, which would still offer plenty of games, an opportunity to really compete for the wins, and the prize of moving up the rankings to face tougher teams when ready.
"Adding a Nations League would give us more matches," said Santos. "it would help advance the smaller countries, that's how I see things, so I wouldn't be against it."
Both Kvaĉovs and Tsolakis also admit they would be open to a UEFA Nations League competition coming into the women's game moving forward.
"A UEFA Nations League-style tournament would be a good idea for us," said the Cyprus head coach. "There will be more competitive matches and our players will have the chance to not only enjoy more football but have the chance to experience winning games too."
"I think women's football might benefit from implementing a similar format — a high number of international matches both home and away, but with opponents of a similar strength," Kvaĉovs added.
"But saying that, I want to stress that we are very happy with the chance to take part in a proper qualification campaign regardless. We as coaches see the positive effect both in the players and in the growing interest from the public when we play the top nations."
Matikainen admits he "hopes" UEFA continues with open qualification to give the smaller nations every chance to develop, with ongoing support for the nations in question, and points to the new UEFA Champions League group stage brought in this year to prove that pre-qualifying doesn't put a stop to heavy results.
"I've done UEFA work for six years and in the Champions League there are still some indications also of do we have that understanding that the game is still in the development stage? It happens quicker in some countries and in some leagues and if we want the game to keep growing everywhere we have to be aware of that.
"The new group stage bears a clear resemblance to this qualifying campaign. They had pre-qualifying and in the group stage there are still heavy results. Almost 35 countries were knocked out completely in pre-qualifying. In the men's game we have the Europa League and now the Conference League to bridge that gap."
He added: "This new format is really helping the top countries who invest in their league, they can get two or even three teams into the group stage, but that leaves so many countries without a team and that will have a knock-on effect with national teams.
"There's been one 7–0, five 5–0s, five 4–0s or 5–1s, that's 11 games out of just 24 in a very selected group. That's teams that have been through pre-qualifying."