Two years of work comes to an end in 90 minutes, it's mentally an incredibly strange thing to wrap your head around.
[dropcap]I[/dropcap] always think getting to cover your country in a major final would (hopefully will) be the highlight of a writer's career. It was amusing therefore to be sat in the middle of the United States media core when the world champions met Phil Neville's Lionesses on this day in the World Cup semifinal last year.
Working for an American outlet, for once I wasn't sat with my UK colleagues but next to my editor and around the likes of Grant Wahl and Meg Linehan, the great and the good of U.S. women's football writing.
To us, it was the be-all and end-all; to them, it almost felt like it was expected, in a good way. It was funny to have conversations about how they weren't confident and didn't feel the U.S. were playing well, while I put forward the view everyone else viewed the U.S. as far superior.
I'd arrived in Lyon for the final 11 days or so of the tournament on June 28, four days before the game, safe in the knowledge I had no more traveling to do. I loved Nice, where we'd been twice, and loved Le Havre and Valenciennes too, but over the course of four long and hot weeks, it's the traveling that does it for you.
Working for a U.S. outlet, I would be staying in Lyon for the final whoever made the country, whether it was my own or the country I was working for. I'd not had a day off all tournament and the night before as England breezed past Norway I'd felt it catch up with me. I should have been excited to be heading to Lyon, but the tiredness was taking over.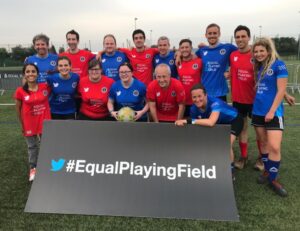 Everyone else, literally everyone else, had headed to Paris for France versus the U.S., but I hit the train for Lyon first thing the next morning knowing I could have a quiet day. One tip, always give yourself some rest time during a tournament. I stocked up on food and drink, cracked the air con on full blast (it was 42 degrees in Lyon!) and enjoyed an easy evening watching the game in my hotel room.
It was the best thing I ever did. The next morning I headed into Lyon's quaint center, both mentally and physically refreshed. It turns out there's not a lot you want to do on a day off, especially when it's that hot, so I did what any good English person does abroad and headed off with my laptop to the nearest Starbucks!
Once you reach the semifinal stage, the press conferences are no longer the day before the game, or MD-1 as you come to live by, they're two days before the game, so MD-2, which meant we would soon be back in action.
Press conferences are an interesting thing to be at, especially by that stage. The media room at Lyon is huge and well underneath the stadium, the press conference room itself up several flights of stairs and around several corners, and huge in itself.
When you're about to be faced with Phil Neville and then U.S. head coach Jill Ellis, you can prepare all you want but there are more than a hundred people in the room, you know you may not get a question or someone else may get there first.
We were thrown a curve ball about an hour before Neville was up when we found out the U.S. had been accused of looking around England's team hotel while the England team itself was out of the building.
Personally, it seemed like a bit of a nothing story, the U.S. would be moving into the hotel should they win and their reps had gone for a look-around, likely hoping to avoid the awkwardness of bumping into anyone from the rival camp.
Anyway, it suddenly dominated the news lines and the back pages. We'd arranged to play our part in the Equal Playing Fields game at Lyon's academy that evening, creating our own little piece of history, so deadlines were even tighter alongside everything else that came out of both press conferences.
Within minutes of leaving the stadium, we were in two cars that had been sent to take us from the stadium to the training ground, where we changed into our kit and realized we were about to play football in what must have been at least 99% humidity.
As if that wasn't enough, the opening day FA Women's Super League fixtures were being announced the next morning, throwing up the tantalizing prospect of a first WSL Manchester derby between City and United.
After that it was straight off to England's designated media hotel in Lyon. All media is done at a different hotel to where the team is staying in each city. In Nice, it was a good hour in an Uber away from Nice itself!
Lucy Bronze and Millie Bright were up and had to split between rooms because there were so many people in each room, so much so some were stood in the corners and down the sides of the seating area — so much for nobody caring about women's football!
To prove how tired we were by this stage, one of my colleagues — who shall remain unnamed — accidentally picked up their medal from the previous night's game instead of their accreditation while hastily leaving their hotel for the media session!
Sat in my hotel room that night scribbling up what Bronze and Bright had said, the intense heat gave way to thunder and lightning, perhaps a sign of what was to come 24 hours later. As I sat there once again knee-deep in transcribing, I realized I was about to publish my 53rd article in just 26 days.
Day 27 meant game day, the one we'd all been waiting for, and it was hot — again. For some reason we always jump to the conclusion hot conditions will never benefit an English team, maybe we were just paranoid.
Game days are hard, horrible, and long. Most games in France weren't kicking off until 9 p.m., so it was a mega-long wait. No media sessions, no press conferences, just sitting around waiting for the game. I always go to the stadium as early as possible, which is three hours before.
One, there's nothing better to do and you don't get to cover a World Cup semifinal every day. Two, you get to chitchat with people you've never met, share a bit of gossip and make contact, and knowing there'll be plenty of food available is also a bonus before everyone else turns up!
On the tram to the stadium, it was U.S. shirts everywhere, literally everywhere. It must have been weighted at least 80–20 in U.S. shirts compared to England.
Once you're in and sat down, and it was packed when I arrived just under three hours before kickoff, it's team news time. Weirdly, I always get nervous before the team news comes out. It's the anticipation — which way is your head coach going to go?
Well, talk about a surprise. Karen Bardsley was out injured, Carly Telford was in. So was Rachel Daly and it seemed we'd been thrown up a 4-4-2, something we'd not seen all tournament.
We were so engrossed in letting the world know what England were doing, it took us a good 10 minutes to realize Megan Rapinoe was not starting for the U.S. It was actually me who noticed, cue hurried phone calls from my colleagues to desks back home, Rapinoe not starting was almost a bigger story than the game itself.
The game is somewhat of a blur, it always is. I've never watched it back bar the odd highlight but you are so buried in your work, writing tweets, filing pieces you don't often see what is going on, and boy, was the press box in Lyon high up in the heavens!
Many of us were filing what are called "runners," where you submit bits of your report at various times. So if you're given 800 words, you file 400 at halftime and 400 at fulltime, but the problem with that is if you have an incredibly eventful second half you only have 400 words to make it work, and the second half of U.S. versus England was indeed eventful!
That generally means filing what you can while also trying to rush down six flights of stairs to the mixed zone. FIFA changed the protocols around mixed zones for this tournament, meaning players would come straight off the pitch and into the mixed zone before even going back to the changing rooms.
I didn't really like it. It was a rush for us, often meant you'd miss the press conferences and while players are only too happy to stop after a win, after a defeat you wouldn't blame them for wanting to go and compose themselves before speaking to us.
While all that's going on, you've probably got a report to re-write. Runners are hard to nail so if the game is a bit crazy, you'll likely be asked to write a second report soon after to space everything out a bit more, there's an incredible amount of things going on at once and it's nearly midnight by this point too.
We all know what happened. England lost. Steph Houghton missed a penalty. Ellen White was denied by VAR. Millie Bright was sent off and Alex Morgan pretended to sip some tea.
How much of it did we see? Little. We were still reacting to the penalty when Bright was sent off, I didn't even see the foul. I didn't see who set up Ellen White's goal, either the allowed or the disallowed one. It's a good job we have a media WhatsApp group because it's very handy for those of us who see about 50% of the match while heads are buried in phones and laptops.
It was an incredibly strange feeling. I'm not patriotic and I certainly try and keep it out of my work. I want England to do well but I don't celebrate their goals, we're there to do a job, but everyone's different.
But it's a sinking feeling. You realize just how much has gone into it, and that's just us, so God knows how the players felt. I was at Mark Sampson's last press conference before he was sacked the day after England's first World Cup qualifier. I was cramped into a Newport press box the night England qualified. I fought around the edges of the Paris riots to go to the draw in December and I'd gone to every friendly, every media session and traveled around France for a month just to see another semifinal defeat.
Two years of work comes to an end in 90 minutes, it's mentally an incredibly strange thing to wrap your head around.
It was awful seeing the players come through the mixed zone. Nobody really wanted to talk, you feel bad for even stopping them, let alone question them. You can ask what went wrong, but how do they answer? They haven't seen it back, they haven't had time to gather their thoughts, it's just pure emotion.
Take Leah Williamson as a good example. I met Leah in 2015 before the World Cup in Canada. She was 17, had made the longlist for the tournament but was never likely to go. I've had a good relationship with her since and sat down with her again four years on at Arsenal's training ground, five hours after she'd had the email to say she was on the plane to France.
That was a nice moment. I like to see the young players I've met succeed and I'd followed Leah's journey closely. When she came through the mixed zone, she shook my hand with her eyes filled with tears, it's those moments you realize the journey they've all been on and what must be going through their heads when it all comes collapsing down on them.
We must have been in the stadium for I don't even know how long after. I remember tweeting a picture of the media room at 12:30 a.m., it was still full, and we'd just seen Ellie Roebuck on the TV getting on the coach on crutches. More questions.
It was 2:30 a.m. when I got back to my hotel room and we'd all got accreditation for the other semifinal the night after before most of my colleagues headed back to Nice for the third-place playoff.
[dropcap]T[/dropcap]he next day was hollow, but work carries on. We had our first signing to announce at Sheffield United, so I was involved in that from afar. Stories had come out about Keira Walsh wanting to leave Man City, so that was more phone calls to make.
I went for a solemn lunch in the centre with a colleague, I don't even remember that being the day after the game, but apparently it was. Amandine Henry was in the café opposite, although on a small cobbled street she may as well have been sat at my table.
Then it was back to the stadium for another night of reports, second reports. and press conferences, though it felt a lot more relaxed knowing it wasn't England and we weren't waiting to find out who they'd face in the final.
All in all, a pretty mental 72 hours or so. World Cups.