This is the second part of an exclusive behind-the-scenes look at what went into the season for 2018 Damallsvenskan champions Piteå IF. The first part details the beginnings of the journey, including the fast start to the season and the mounting pressure the team faced.
[dropcap]I[/dropcap]n the 65th minute at home to Göteborg FC, Piteå IF are trailing, 1–3. Their hopes of a first Damallsvenskan title are slipping away after goals from Julia Zigiotti-Olme, Olivia Schough, and Elin Rubensson put their rivals in control.
Nina Jakobsson scores her second of the game to set up a tense finale with 25 minutes remaining.
"If you look at one game, look at Göteborg at home," said manager Stellan Carlsson. "That was between two O.K. Corral shooters. We were 3–1 down, they were a team playing on the speed of their attack, but so were we."
In the 72nd minute, star of the season Julia Karlenäs equalized to make it 3–3. Five minutes from the end, Karlenäs struck ahead to seal a remarkable comeback and one which, in the end, would prove a massive step to Piteå beating their rivals to the title a few months down the line.
"When we went 1–0 down to Linköping, we equalized and the players just wanted to get the ball. Both of these matches showed the character of our players, we were going to win, and in both those games we did, and in both we scored right at the end of the game."
Karlenäs had only set herself a target of five goals at the start of the season and with plenty of games to go, the 24-year-old was already approaching double figures and her goals were proving hugely influential in Piteå's title charge.
"It's fun when you hit your potential," she laughed. "But it doesn't happen a lot. It's hard to maintain. My goal was five goals, but there was a lot more!"
Three-Way Battle for the Title
Goalkeeper Cajsa Andersson is no stranger to Damallsvenskan success after winning the league twice with Linköping, and both she and defender Emelie Lövgren admit the win against Göteborg gave them huge belief for the remaining nine games of the season.
"After games it's easy to say we knew we're going to win but you don't know where that comes from," said Andersson. "When you beat Linköping and Göteborg in the last minutes you have that feeling of 'Well, we can do it again.' It's interesting — the mental side of it."
Lövgren added, "We'd done that before in previous seasons. We'd be down a goal, two goals, and for some reason in some games we'd up winning. That made us believe in ourselves a lot of course. We really want to win games, there's a lot of competitive people in this team."
But Piteå stumbled once more, losing their next two games, amazingly once again against Kristianstad and Vittsjö, who had beaten them just before the summer break.
Five consecutive wins followed, including a 4–2 victory against Linköping which saw Karlenäs add another two goals to her tally and take her into double figures for the season.
A nervy 2–1 win away at Kalmar next up meant Piteå went to title rivals Rosengård knowing a win would seal their first title.
Piteå led the way on 45 points, three points clear of Rosengård but with an inferior goal difference. Göteborg sat a point behind Rosengård and Piteå's two rivals would face each other on the final day.
The first part of the drama unfolded in Malmö as nearly 2,000 people watched Anja Mittag's sole goal for Rosengård ensure the title would go down to the final day in a three-way battle with Göteborg also picking up three points.
Nerves had got to Piteå, who now months later can admit they weren't necessarily prepared for what was expected of them that day in Malmö.
"We were not ourselves in the first half, we were too tense," admitted Carlsson. "We had talked about the media pressure and the atmosphere around the players. We knew if we won that game, it was over.
"We tried to give everyone that picture, but we were not fully understanding what it really meant. We came to training and there were already two TV crews on the pitch, every reporter in Sweden was interested, it became massive."
Karlenäs said, "I remember after that match I was quite disappointed because we were almost afraid. I think everyone in the team felt like that and in the last game we knew it was our last chance."
Piteå had actually fought back in the second half and played well against Rosengård, but it wasn't enough to get them a point, let alone three.
Carlsson admits he was "angry" they hadn't played their game but the shackles had been released, the title was no longer in Piteå's hands after slipping to second on goal difference; the pressure was back on the Swedish giants down south.
The Rosengård match had been held on the Monday night with the season finale to come on the following Saturday. A tired Rosengård team, who were in the midst of a Champions League campaign, had to go to Göteborg, who were also trying to win the league and earn a rare spot in Europe.
Piteå were at home to lowly Växjö DFF, a game they should win — a game they had to win — and let destiny do the rest.
Part-Time Footballers and Media Hype
But with players working throughout the week, it wasn't easy to escape the hype around the situation as the team looked for some way to relax ahead of the biggest game of their lives.
"Everyone at work wanted to talk about it," said Andersson, who works in a chemical factory and educated at the Royal Institute of Technology.
"Every coffee break, people are asking what you think about it, what do you have to do to win it. I sort of learned it's okay to think about it, if you try not to, then you get more stressed and it's the stress that harms you, not the game itself."
Nigerian international Faith Ikidi works in a local church and her undying faith played a role in her preparation for the title-decider.
"Against Rosengård, we were nervous," she recalled "The journalists, the TV crews, everyone said this was the game that would determine the winner.
"It wasn't a bad game. The first half was a bit shaky but the second half we took over. At the church, people liked to ask questions but they encourage us, they encouraged me and the team. I always talked with my husband and I always apply faith in whatever I do, even if it doesn't work. It meant a lot to us, we were going to make history."
Personal trainer Lövgren admits the pressure was now off. Even a win might not secure them the title but they were relying on a favor from Göteborg in order to win the league.
"I just felt football-wise the pressure was a little bit off," she said. "We felt we'd blown it a little bit so we just wanted to end the season on a high with a good performance. I've ended seasons on a bad performance and it's the worst feeling to end on bad terms.
"The result didn't matter, we just had to do a good game. At work, people were always asking about it and I think that got to us a little bit. You're bumping into people all the time, walking around town, in the supermarket, everyone wants to talk to you about it.
"As a player, you want to be polite but you don't want to get dragged into their emotions and their thoughts. It affects you, you don't want it to, but it does to a certain point. But you can't just lock yourself up at home for the last month of the season."
Carlsson had the tough task of keeping his side not only fresh after playing on the Monday night, but calm.
The fact Göteborg and Rosengård were playing each other meant a win would at least guarantee them Champions League football for the first time.
On one of the evenings he managed to get his team together around their work commitments, he showed them a clip of the final day of the English football league in 1989, when a last-minute Michael Thomas goal for Arsenal took the title away from opponents and title rivals Liverpool in dramatic fashion, a moment still remembered in England 30 years on.
"We were prepared for the Växjö game," said Carlsson. "Still, nobody thought we were going to win it, but we knew we could do it. Rosengård had looked tired, I told the players it wasn't over. We tried to relax them, find a good atmosphere, we had a packed stadium of supporters."
Andersson added, "At Rosengård, we were paralyzed a little and it affected a lot of players who hadn't been in that situation before. But then it felt like we were the underdogs again. On the last game we went out more relaxed, we felt we had everything to gain and Rosengård had more to lose."
Date with Destiny
While the title could have already been won and it might still slip away, it seems the defeat to their nearest rivals had in fact helped Piteå prepare for their day with destiny.
"We got everything out of us," said Karlenäs. "We weren't scared and we believed we could win, we knew Rosengård had a tough game.
"I thought about it a lot building up to it but on the day, I think we were very good and not thinking about it. We just had to do our best."
Ikidi recalled, "We said, 'This is everything.' We didn't want to know what was happening in Göteborg. Some did, but not everyone. We knew Göteborg wanted to win, we had nothing more to lose."
Piteå led 2–1 at halftime. Two goals from Madelen Janogy put them in control but a goal just before halftime from Anne Anvegard ensured a nervy second half, for a while.
But elsewhere, Göteborg were beating Rosengård 2–0 and barring a huge turnaround, Piteå suddenly found themselves on the verge of glory.
"We decided to know the result from that game," said Carlsson. "We understood today with technology that all the fans would be on their phones anyway. It wasn't hard for us to coach the match, we just had to win and hope. We knew a win would put us in the Champions League at least."
Not every player wanted to know what was going on, but Karlenäs was one of those keeping a close eye on proceedings.
Just seven minutes into the second half and Rosengård had scored two goals to make it 2–2, leaving the title in the balance. A goal for them would take the title away from Piteå, a goal for Göteborg would leave Rosengård without even so much as Champions League football.
"I heard at halftime they were 2–0 down, I knew what was going on," said Karlenäs. "I knew it was 2–2 and then I didn't think about it anymore. I was quite good at keeping myself in the game."
Piteå saw out their game with ease. Four more goals saw the game end 6–1, and with the fear of an impending pitch invasion from the 3,778 supporters crammed into the LF Arena, the referee ended the game on 90 minutes, meaning Piteå had finished before their rivals.
"It was a bit of a shock to see it go to 2–2 so quickly," recalled the manager. "I was very aware throughout of what was going on. Our game finished earlier, our players were standing on the pitch waiting for news."
Andersson, Lövgren, and Ikidi were three of the players who didn't want to know the score, but when Rosengård went all-out attack and Göteborg scored a third in the 90th minute, the noise from their supporters said it all.
"It was so weird," said Lövgren. "Our game was done, nothing was happening, and all of a sudden I heard one man to my left screaming his lungs out. I was like 'What's happening?!' Then another one to my right and suddenly the whole arena was up screaming, I knew something had happened. Some of the players were crying, I think it was me and one or two others who grabbed everyone and shouted, 'It's not over yet,, we wanted to stay in the moment."
Andersson added, "I didn't know the result. I know other players knew but it felt good for me to not know. The crowd started to cheer a lot, they were chanting we were the champions so I understood Göteborg were leading but I didn't know the score. We gathered in a circle in the center of the pitch and somebody said it was 4–2, it just went crazy.
"It was kind of confusing, nobody had a phone, I don't understand why nobody had a phone!" she laughed.
With Rosengård demoralized, Göteborg added a fourth on 96 minutes and it was all over. Piteå IF, a town of 23,000 people and a team full of part-time footballers had shocked not only Sweden, but the rest of Europe.
For long-term servant to the club Lövgren, it was a moment she'll never forget. "It's the most special moment of my life. To do it in your hometown in front of your friends and family, the club that has been your club for over 10 years, I can't describe that feeling and I will remember it forever."
Ikidi added, "I had a t-shirt inside my jersey which said, 'To God Be All The Glory.' No matter what, I knew he was with us from the beginning. From the tough times in preseason, every request I made, we stayed on top."
As surreal as the occasion was, the players didn't have much time to either celebrate nor dwell on their achievements.
"The two weeks after were so weird," smiled Lövgren. "You're going back and forth from training, working, ceremonies, dinners — it was crazy."
Andersson added, "It was a strange week. There were a lot of celebrations, it was big for Piteå, and the whole northern region because nobody up there had ever won anything. You celebrate, go to bed, and then get up to go to work. It was business as usual."
Karlenäs, who added to her goal tally on the final and took most of the acclaim for her performances throughout the season, admits it's "hard" to juggle work and football as the club remains part-time for the 2019 season, which gets underway with a home game against Djurgården this weekend.
"I guess I've never been fully professional so when you're used to it, it's quite natural. If you've had an away game, you arrive home at 2 a.m. and you have to get up for work — it's not easy, it's not the best way to recover. It's tough but I love football so much I make it work. It's surreal going into work after you've won the league [Karlenäs works at a bank in Piteå] and I wish I could change it but women's football is changing quickly and it makes me happy for the future."
Andersson, who is now searching for a fourth straight domestic title, also wonders what could be achieved if the club moved into full-time operations.
"If we could work full-time it would be better because there's so much more you want to do," she said. "You want to work more on your strength, your analysis; you can't watch the games together with your team, you just don't have the time or energy.
"It's sad in a way, not to be able to fulfill your whole potential but when you find a balance, it's also very rewarding. I don't know if I want to go home and just do nothing all day and then play football. I think that's the hard part."
The players get all the support they need from both their employers and the club in order to juggle commitments with Piteå with their work outside of football.
Elsewhere in the squad, Lena Blomqvist works as a clerk at another club in the local community, Josefin Johansson, the captain, is a hairdresser, a former national team player, and had a baby in August last year, meaning she missed the whole campaign.
Madelen Janogy works in the same bank as her teammate Karlenäs and all will continue to do so in 2019, but the absence of their captain makes their feat even more impressive.
For Carlsson, he's the man who takes most of the plaudits for the team's achievements. From missing most of preseason, he led them to an unprecedented title when you take into account the commitment needed from his players, and now he's aiming for more.
"We work together very hard with the sporting director and the board and the players' employers so everyone gets the best situation for the players. We'd like to have them full-time but that's the situation and it's up to us to try and make the best of it and give them the best life they possibly can have.
"Not much has changed. We still don't have the capacity to make the players go full-time. The challenge now for us will be going into the Champions League, it will mean more games towards the end of the season and a difficult situation for the players."
Looking Forward
Carlsson, though, has managed to keep hold of his key players. Despite being part-time and now getting recognition from around the world, as well as caps for their national teams, the likes of Karlenäs, Ikidi, Andersson, and Lövgren will line up for Piteå again in 2019.
"We haven't ever been more than two goalkeepers and 18 players, now we're two goalkeepers and 20 players. I have a new coaching colleague who worked very successfully with Sweden's youth teams and she's coming in with good ideas, international experience, and, in my mind, a very good leader. If you're the champions, how do you go forward and find a new challenge? That's what we need to do."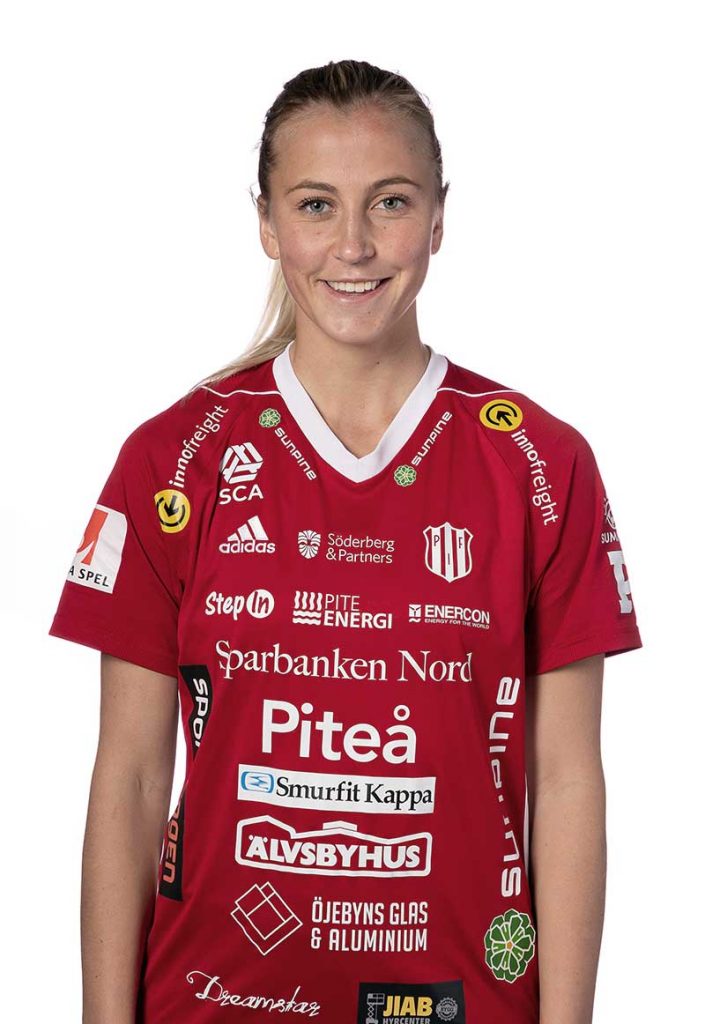 Karlenäs and Andersson's performances ensured they both made their Sweden debuts thanks to their success. Karlenäs last year and Andersson earned her first start at the beginning of this year, while Janogy also made her Sweden debut.
All three could now go to the World Cup this summer to cap off a sensational 18 months, but none of them have yet to really take in what they've achieved.
"I'm looking forward to this year so much," said Karlenäs. "All those dreams as a kid. Winning the league, winning awards, playing for Sweden, those goals all came so fast, it's hard to take in, almost unreal. So many dream of playing Champions League, the World Cup, it's crazy."
Andersson added, "Nobody expected us to win, like nobody, not even ourselves. We hoped, but it was more maybe about coming second and the Champions League.
"It's harder now and probably harder than most players realize. We're the champions and everyone will want to beat us. What worked last year might not work last year and we have to have the mentality to keep believing even if we don't start like we did last year."
For Lövgren, her affiliation to the club makes it more surreal than for anyone else in the team. "I don't think I've fully grasped what we've done and how big it is, I think it's only something I'll understand when I quit."
Ikidi has had the least recovery of all. Immediately after the league campaign ended she was on a plane to Africa to represent Nigeria in the Africa Cup of Nations in the hope of securing a World Cup spot, which Nigeria did with a win against South Africa in the final.
A further international tournament in China means as of new year she hasn't even returned to Piteå and her church yet.
"I'm just grateful to God. As a player I want to achieve, the rest will come. I received a lot of nice messages. My pastor tells me everything I need in this world is from God. I want to win, I have to have that mentality, even if we lose we should give thanks. I look in the mirror and think, 'Why are you feeling bad? Be happy.' Look to the next one, don't let the devil take charge of you.
"I come home, I play gospel music, I dance, I go to the changing rooms and sometimes don't say a word, I just pray that we win, and we did."
[dropcap]C[/dropcap]arlsson is already planning for the future. When the team returned to the training ground days after winning the title, their schedule for the whole of 2019 through to November was sitting in their seats.
This season will be harder than ever as Piteå look to go further than anyone believed they could, but Carlsson's not someone to throw in the towel.
"As a coach, you feel so proud. It's great for the team, we've had Cajsa, Madelen, and Julia making their debuts and when they came back it was so nice to see the players acknowledge them and be happy for them.
"That's an important thing for us to embrace, we are together. Don't take it for granted because that's not easy. We have to have a good environment so we can drive each other to be better."