Back in 2014 Fridolina Rolfö's left foot made its presence known for the first time on the international stage. Rolfö scored a hat trick in  Linköping FC's 3–0 win over  Liverpool in the UEFA Women's Champions League. She opened the scoring with what has become one of her main signature moves — a powerful left-footed shot from distance. Rolfö's been healthy and coming off her Tokyo 2020 tournament, primed to strengthen FC Barcelona's attack.

Fridolina Rolfö was born and raised in Kungsbacka, located on Sweden's west coast, just outside Gothenburg. She started her senior football career in the Damallsvenskan, Sweden's topflight women's division, with Jitex BK back in 2011. Ahead of the 2014 season, Rolfö signed with Linköping FC, accompanied by several of Sweden's most promising youth players and upcoming talents.
Linköping's strategy under manager Martin Sjögren, now the head coach of Norway's Women's National Team, was to sign Swedish Under-23 players. Beside Rolfö, Linköping also signed Magdalena Eriksson, Jonna Andersson, and Stina Blackstenius with the long-term goal to win the Swedish top division.
In 2016, Rolfö won the Swedish league title with Linköping FC and in 2017 she signed with FC Bayern München in the Frauen Bundesliga. She played with the Reds for two seasons before she joined their biggest rival, VfL Wolfsburg, with whom she won both the league and the DFB Pokal Cup in Germany in the 2019–2020 season.
Prior to the Tokyo 2020 football tournament, Rolfö signed with Champions League winners FC Barcelona. Ironically, Rolfö was the reason the Spaniards missed out on advancing to the Champions League final in 2020: she scored the only goal in what was the match-winner for Wolfsburg in the semifinal.
If anyone had any doubts about Rolfö's abilities to play for a team like Barcelona, her performances in Japan will have silenced a few critics.
Unlucky with Fitness and Injuries
Rolfö's career has been scarred by injuries so much so that it's hard not to wonder if we would ever see the best version of Rolfö. She left both the Rio 2016 Olympic tournament and the 2019 World Cup in France on crutches. While following Rolfö's career, it's also hard to remember when she last played a full domestic season without battling small injuries that come back to haunt her every time she's fought her way back to the pitch.
Despite this, it's not hard to see the talent Rolfö has shown on both the domestic and international scenes. Upon reaching the gold medal match in Tokyo, she appeared in the starting eleven in five out of the six possible matches, a feature made more remarkable considering her history with injuries in big tournaments hasn't been positive. After picking up injuries in the 2016 Rio Olympics and 2019 World Cup, Rolfö celebrated Sweden's respective silver-medal win and bronze-medal wins on crutches.
If it wasn't obvious before, Rolfö is a world-class player who belongs on the biggest stage. In Tokyo, she showed that by combining several important football qualities. Like many of Sweden's national team players, she is tactically flexible, able to play on both wings as well as in a playmaking role evidenced by her stint as the No. 10 in the 2021 Algarve Cup against Austria. As the stats will show, Rolfö is just as important to the team's defense as she is up front. She is strong, tall, and her physical abilities combined with her technical skills make her one of Sweden's most dangerous weapons.
In addition to her technical and physical skills, Rolfo is an intelligent decision-maker on the pitch. She excels when it comes to knowing when a shot from distance seems to fit the purpose or when dribbling could be attempted with success. Left-footed players are a rare commodity in football and more so players with the Barcelona forward's technical ability. She causes the opponent trouble when she's allowed to carry the ball on either wing, making crosses or cutting in to create opportunities to shoot from distance. In Tokyo, Rolfö operated as a left winger in four of the five games she appeared. In the final against Canada, she switched sides with Sofia Jakobsson and played on the right. Rolfö's left foot might be the secret weapon, but she masters her right one almost equally well.
But it's not just these abilities that make Rolfö a key player for her country and club team.
*From Wyscout:
Every shot assist is guaranteed to have one (and just one) correlated shot. However, not all shots are assisted.
The player doesn't have to have a clear intention to make an assist.
Rolfö's general statistical numbers from Japan tell us the story of how well the Swedish winger performed. Her xG on average per game was 0.25. In total across all games, she attempted 12 shots, with 50% on target. She scored 3 goals, made 2 assists, and 7 shot assists.*
Her passing accuracy was 72.2% and what is absolutely brilliant and stands out is her defensive work rate in numbers. Rolfö had a 74.1% success rate in a total of 27 defensive duels. Her heat map from the tournament gives us a proper view of where she operated on the pitch.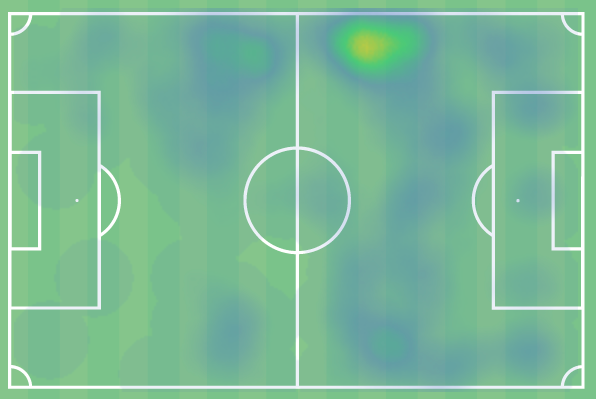 Rolfö seemed to enjoy the moment in Japan. It showed in her performances, especially in her dribbling.
Rolfö's dribbling skill makes her very useful in the way both her club team and Sweden attack, whether it's about drawing opponents out wide to create space for her teammates inside the box or opening up channels for other players to move into when she cuts inside with the ball causing defenders to follow.  According to Wyscout, she averaged 4.9 dribbles per 90 minutes in the Olympic tournament and had a success rate of 66.7%. In total, Rolfö attempted 24 dribbles across all games. It didn't matter what kind of opposition she faced — skilled technical players in Japan or Canada's composed defence: against Japan, Rolfö attempted 3 dribbles and was 100% successful while in the gold medal match against Canada the same numbers were 6 successful dribbles with a 75% success rate.
Looking Closer at Rolfö's Attributes
First, what is a dribble? According to WyScout, a dribble is when the player who has possession of the ball is using their ability to attempt to move past the opposition player or to find a free zone for the next action.
A dribble is considered successful if the
next action following the duel is by the same offensive player and that action is closer to the opponent's goal, or
duel was a dribble and it's followed by a touch of an attacking teammate closer to the opponent's goal (a successful forward pass for the attacking player from a dribble, for example).
In the quarterfinal, Rolfö's first attempted dribble ended with a delicious assist coming from a well-placed cross, which was taken care of perfectly by Eriksson who headed the ball into the back of the net. The image below further illustrates the play. Rolfö is inside the box on the left-hand side, dribbling past Japan's defenders before crossing the ball where Eriksson waits.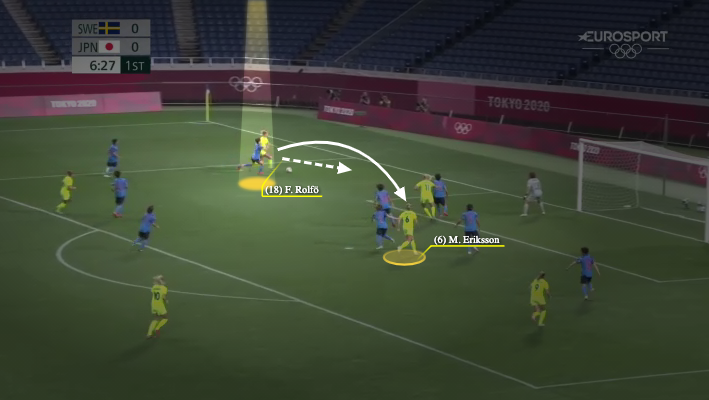 While Sweden's fairy tale didn't get the happy ending many might have predicted, Rolfö's story should be told over and over again. When she aimed and fired away with her left foot in the group-stage game against Australia, it felt like Rolfö had risen, once again, from injury's ashes. Coming off a season with Wolfsburg in which she came away unlucky in the Champions League quarterfinal against Chelsea after several shots hit the woodwork, Rolfö raised the bar and outsmarted it in Japan.
Her goal against the Matildas was an absolute rocket, and one that will be remembered for a long time. The image below shows how far from the box Rolfö teed up the shot, ending up completely out of reach for Teagan Micah, Australia's goalkeeper. The xG value? 0.02…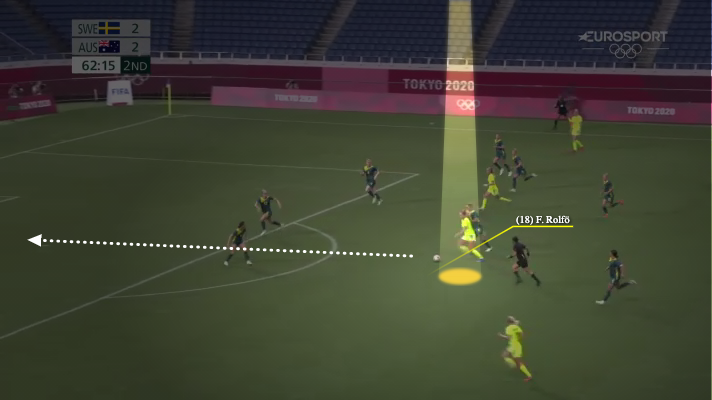 Rolfö in Barcelona
In Spain, Rolfö will compete for a spot in Barcelona's eleven against Netherlands international Lieke Martens out on the left wing and Norway international Caroline Graham Hansen on the right.
Will it be an easy task for Rolfö? Certainly not. Another player Rolfö will have competition from is Mariona. The Spanish international has been chosen as a starter over Martens on the left from time to time. Rolfö's tactical flexibility will be tested from the start with striker Jenni Hermoso out for two months due to an injury. This could leave an opportunity for Rolfö to potentially be used at the central striker, interchanging positions with the other wingers. With Hermoso also being a left-footer, the Swedish winger could be a natural option for that position.
Somehow, Barcelona could end up being the best decision Rolfö's ever made club-wise. Her body and her fitness might have been working against her in the past for reasons one only can guess. But in this star-studded Primera Iberdrola side, Rolfö might not have to play every single game of the season, which could actually help her perform at a high level when needed. Tokyo 2020 was just the beginning of an era. That is, the Fridolina-Rolfö-on-the-biggest-stage-there-to stay era.