Sweden isn't always one of the first names mentioned when it comes to tournament favorites, but that has changed as Euro 2022 enters its second week.
Off the back of a bronze medal at the 2019 World Cup and a silver medal at last summer's Tokyo Olympics, Peter Gerhardsson's side have been hotly tipped to go the distance this summer despite only drawing in their opening game after defending champions Netherlands came from a goal down to draw 1–1.
While in the past the Swedes have enjoyed the underdog tag, it appears they are embracing the fact people are realizing what they have to offer ahead of their second match against Switzerland at Bramall Lane on Wednesday.
"I've seen some of it," said Fridolina Rolfö. "We know how good we are, we have been performing in the last few tournaments. We can see it in the both World Cup and the Olympics where we got a medal in both, so we have to be proud of that and we have to work really hard to reach the top. We want to win the tournament, but we know we have to work."
Rolfö may be part of an attack that is capable of giving even the best teams a tough day at the office, but she's also well aware of their threats and strengths in other areas of the pitch too.
What makes Sweden so strong is they have top-class depth in every area of the pitch the FC Barcelona star explains.
"There's a few reasons [Sweden are one of the favorites], but the main one is we have a really good defense. We have many fast players too, so we can use counterattacks to score goals. We're strong on set pieces too, so there's a few things we are really good at."
Sweden showed the strength they have in reserve in the fact the likes of Stina Blackstenius, Sofia Jakobsson, Hanna Bennison, and company were all on the bench against the Netherlands, as was exciting winger Johanna Rytting Kaneryd.
The latter came on after impressing domestically back in Sweden and in the warm-up games for her nation, and she too is enjoying the challenge that comes with being one of the favorites, as well as embracing her first major tournament and admitting things could be done better than in their opening game.
"I really like the challenge and I'm really happy I can be a part of it," says the BK Håcken player. "I'm really happy I can be a part of it. As you say, it's my first one, so I'm really excited and it was great to come in against Netherlands and see how good it is to be in a tournament.
"We played against a really good team, but for sure we are aggressive and we can win a lot of duels. When we transition, we can attack with a lot of speed, so I think that's what we took away from the game. Maybe we didn't find as much offensively, we took a little bit too long, one touch too much. It wasn't there 100 percent, so we have work on that."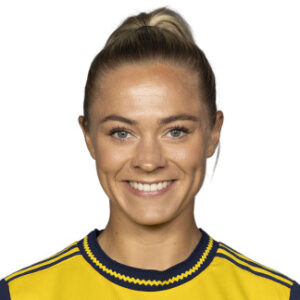 At 25, Rytting Kaneryd is still one of the youngest players in one of the most experienced squads in the tournament.
Such is the consistency in selection, Bennison is the only player under the age of 23 in the squad, but Rytting Kaneryd is one of a handful of new faces that Rolfö believes are adding a different dynamic to the team.
"There's some players who are a bit different who can make an impact," she said. "Maybe now we have more technical players. Skillful, with fast movement. I think perhaps that is something we have added to the squad."
While the tricky winger would love to start on Wednesday against Switzerland, there is an appreciation of both the quality and experience in front of her in the Sweden attacking options.
Despite that, though, Rolfö believes coming off the bench, whoever it is, can be a good thing for her team with the strength in depth on show.
"It's extremely important," she said. "If you look at our bench, it's class players everywhere. It's something that is really, really good for us and we know that when we put them in, something will happen and that's a nice feeling to have."
Rolfö, on the flip side at 28, is at the peak of her career and a key component of the Sweden team. After a spell of success in Germany with Wolfsburg, Rolfö switched to the dominant European side FC Barcelona 12 months ago, where she has taken her to another level.
But while she has enjoyed success domestically, the main prize has eluded her on an international stage, coming painfully close to Olympic gold last summer but denied only on penalties by Canada.
"We've learned a lot. We have to bring that experience we have. We know what it feels like to lose games and we know we don't want to have that feeling again. But also, we are even better now, we have a really strong squad and can use so many things in our squad and that's really important for us.
"It's a completely different tournament. We know in the Olympics, there are no real rest days, here you have a day or two, but our physicality is one of our strengths and we have to use that. I would say that's just the difference, shorter time in between and more players here too than the 18."
She doesn't believe that success at club level has helped her deal with the expectations placed on Sweden any differently now that she has got so used to it, whether it be in Germany or in Spain.
"No, not really. When I play for Barcelona I have one feeling, there it is like we have to win every game, here it is a little bit different because there are so many good teams and it's a short tournament. We are not the only team, I'm not saying it's like that at Barcelona, but it's a little bit different."
Up next it's Switzerland, who threw away a two-goal lead to late entrants Portugal in their first game and have been affected by a sickness bug which left eight players and 11 staff members in isolation.
All but one player has traveled to Sheffield for the match, and Rytting Kaneryd admitted it is "sad" to see teams affected by illness and those who are experiencing COVID-19 cases, including past opponents Netherlands, but both are fully focused on the job in hand.
"Switzerland are a good team," says Rytting Kaneryd. "They have good players, they played a lot of games against good opponents. I think if we do what we are good at, we have a good chance to win the game.
"We always approach every game to win, to attack the ball and I think of course when you play against players like Miedema, you have to be aware of her, but Switzerland have good players too, but we have our strategy."
"We have to prepare ourselves," Rolfö added. "We know how good Switzerland are, they have good players. Ramona Bachmann can make the difference and we have to be aware of that.
"We would like to keep the ball as a team more, that's something we are good at. We will see, it will depend on their game plan, how they pressure us, but we aim to have the ball."