England forward Alessia Russo says the late goal conceded against Brazil, which leaves England trailing Sunday's opponents Mexico, hasn't affected their mind-set ahead of the final Group B game in the 2018 Under-20 World Cup.
The young Lionesses looked all set to record back-to-back wins when Georgia Stanway's penalty gave England an early lead, but a 92nd-minute equalizer from the South Americans means any of the four teams can still qualify come the conclusion of Sunday's matches.
Russo and her teammates have enjoyed a slightly longer break between games than last time, spending time with family and friends as well as moving bases from Rennes to Dinan, where the team played their first two games.
"It's been good," said the 19-year-old. "It's lovely down by the canal, it breaks the trip up a little bit with a change of scenery.
"We've just been recovering really and getting our heads on Mexico. We've trained, today is matchday -1 and now we've just got to rest tonight and go tomorrow."
Regarding the Brazil result, Russo says that despite ultimate disappointment at conceding the late goal on Wednesday, the team now reflects upon the result in a different light after reviewing the performance in the days since the game.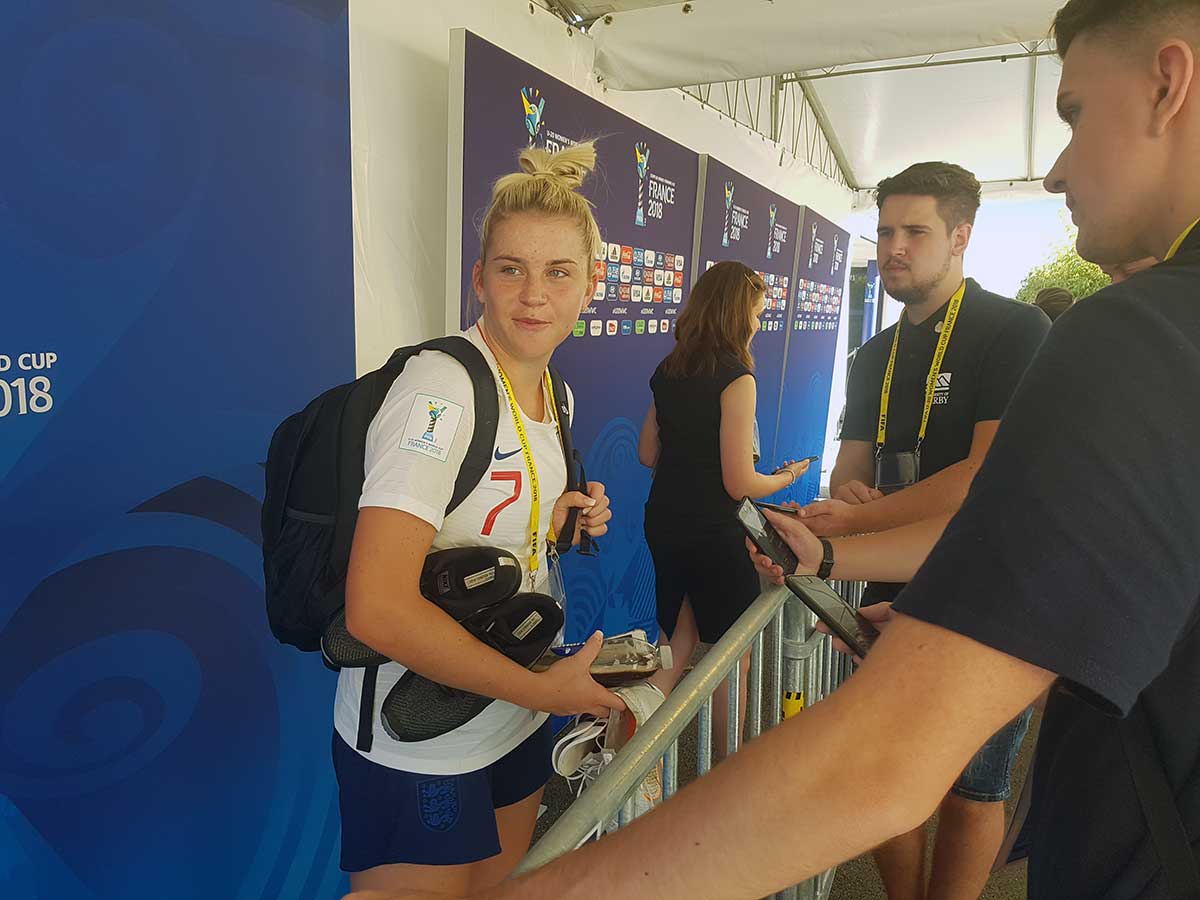 "We were a bit gutted to concede in the last minute but we weren't disappointed with the performance, especially after we sat down and reviewed it," she said.
"There are things we need to get right but it definitely wasn't as bad as we initially thought. There were a lot of good things to take from it and we'll take those and put them into Mexico."
After a backs-to-the-wall performance against Brazil, which very nearly saw England walk away with the three points, Russo admits the team has talked about how to see games out better but there won't be any major changes come Sunday.
England will qualify for the quarterfinals with any positive result in Saint-Malo and a win would also guarantee the team the top spot. Even defeat would leave the young Lionesses with a chance of qualifying but they'd be relying on a favorable result in the other match between Brazil and Korea DPR.
"We've spoken a lot about new tactics, how to manage the game better, and we know that. Now it's about how we go into this game, nothing's changed."
She added: "We haven't qualified but the mind-set hasn't changed, it's still about going out and winning the game. We wouldn't like to rely on anyone else, we will focus on our own performance and after tomorrow hopefully we're going into the quarterfinals."
While the perception pre-tournament was England's toughest tests were going to come against the teams they've already played, Russo is under no illusions as to the challenge they face in Mexico.
"Every team in this World Cup is going to be a challenge. Every team is different and offers something different, but as long as we get our game plan right and put it into practice we should be fine."
Should England qualify, Russo is one of four players in the first team a caution away from missing any potential quarterfinal, along with Georgia Stanway, Mollie Rouse, and Megan Finnigan.
"We're all aware we're on yellows, we have to be smart. It's down to us, we're all aware and we'll react to it."
And after two goals against Korea DPR last Sunday, Russo had some good news at domestic level earlier this week too with the news she's been placed on the watch list for the 2018 MAC Hermann Trophy, alongside England teammate Grace Fisk.
It's not a huge surprise given how impressive her freshman year working with Anson Dorrance at the University of North Carolina was and she's in good company with the likes of Tierna Davidson, Jessie Fleming, and Deyna Castellanos also nominated.
But Russo admits she's been too busy on camp to give the accolade too much thought, but is looking forward to renewing her USA adventure after the tournament.
"It's great," she said. "I haven't looked at it too much because we're so busy but it's nice. It will be nice when this is done to go back and carry on playing over there."