Sky Blue FC defeated FC Kansas City, 1-0, at its home opener at Yurcak Field in Piscataway, New Jersey.
Both teams were missing crucial players, including Christie Pearce (concussion) and Sam Kerr for Sky Blue and Shea Groom (broker rib) for FC Kansas City.
FC Kansas City's Sydney Leroux had a look in the 7th minute when she found herself unmarked in the box but her shot didn't have enough to beat Kailen Shreridan.
In the 36th minute, Brittany Ratcliffe made a run from midfield and collected a through ball from Maegan Kelly but Sheridan was quick off her line to make the save.
Sky Blue had a look after some tidy give-and-go play between Kelley O'Hara and Daphne Corboz in the 78th minute but Nicole Barnhart made the save and recovered the rebound.
The game-winner came in the 83rd minute. An O'Hara corner kick went loose in the box and bounced to Mandy Freeman, who sent it to Raquel Rodriguez. Rodriguez's sliding reach was enough to slot the ball past Barnhart.
Rodriguez scores to put Sky Blue FC up, 1-0. #NJvKC pic.twitter.com/flCIeeffVx

— Our Game Magazine (@OurGameMagazine) April 30, 2017
FC Kansas City thought it had the equalizer in the 88th minute when Christina Gibbons sent a ball in that found Ratcliffe, who headed it past Sheridan. However, it was ruled offside.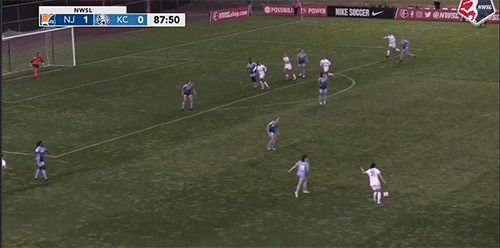 Sky Blue will travel to face Washington at the SoccerPlex and face a Spirit team looking for its first win of the season after losing to Houston, 0-1, at home. FC Kansas City returns home to face an Orlando Pride team coming off a 1-3 loss to North Carolina.
Attendance: 2,562
Lineups
Sky Blue FC
1-Kailen Sheridan; 33-Erin Simon; 8-Erica Skroski; 22-Mandy Freeman; 15-Kayla Mills; 16-Sarah Killion; 5-Maya Hayes (73-Madison Tiernan, 70′) ; 11-Raquel Rodriguez; 6-Taylor Lytle (21-Leah Galton, 66′); 10-Daphne Corboz (2-McKenzie Meehan, 80′); 19-Kelley O'Hara
FC Kansas City
18-Nicole Barnhart; 31-Christina Gibbons; 10-Yael Averbuch; 4-Becky Sauerbrunn; 13-Brittany Taylor; 11-Desiree Scott; 9-Lo'eau LaBonta; 25-Brittany Ratcliffe (15-Erika Tymrak, 89′); 44-Maegan Kelly (88-Alexa Newfield, 81′); 6-Katie Bowen (21-Caroline Flynn, 64′); 14-Sydney Leroux
Discipline
Sky Blue FC
Yellow Cards:
Raquel Rodriguez, 73′
Madison Tiernan, 91′