A recap of action in the National Women's Soccer League (NWSL) and a look ahead of the upcoming week's matchups. Not takes on purpose.

NWSL Re/Preview
All teams in the National Women's Soccer League (NWSL) were back in action this past weekend. Here's what stood out and a brief preview of the upcoming weekend's matches.
Chicago Red Stars 1–0 FC Kansas City
The talk was about Julie Ertz as an attacking midfielder, a move made by head coach Rory Dames that paid off when Ertz score what was the game-winner in the 41st minute. However, if you had a chance to watch Ertz (then Johnston) at Santa Clara, you'll know she was an excellent defensive midfielder so this wasn't a huge adjustment for her. Whether this formation change will continue and be effective remains to be seen. FC Kansas City edged Chicago in total possession but managed three shots on target. Losing Amy Rodriguez is a big loss and it didn't look like the Blues have figured out the attack. Shea Groom, in particular, has been quiet. Rookie Christina Gibbons, good last week, had a rookie day on the left side of the Kansas City defense all match, including being beat for pace by Sofia Huerta on the Red Stars' goal.
Week 3 Preview
Chicago heads to Portland in the Lifetime Game of the Week, and offers a preview of what could be a potential championship matchup. Portland is coming off a testy 0-1 loss to North Carolina Courage. Will Dames start Ertz in midfield against one of the league's stronger midfields? If Ertz plays like she did against Kansas City, this might be a semi-permanent change that adds to the attack and opens up more space for Christen Press, who needs to get going after missing a penalty and hitting the post last week. Look for Gibbons to bounce back — she's a smart player and she'll need to learn how to in a league that is tough week in and week out.
FC Kansas City heads to Piscataway, New Jersey, to face Sky Blue FC in its home opener. Sky Blue is also coming off a 0-1 loss. Where is the offense for Kansas City? Sydney Leroux and Groom have yet to click. Kansas City is good in possession but was lacking in the final third against Chicago.
Orlando Pride 1–1 Washington Spirit
So, Marta is here, in case you didn't know. The Brazilian entered the game in the 59th minute and Washington scored seconds later off a Line Sigvardsen-Jensen looping header after an Ashlyn Harris punch popped up but not quite out far enough. It wasn't Marta who scored but rookie Danica Evans who equalized in the 86th minute after a smooth backheel nutmeg that garnered Goal of the Week honors. Washington weathered the emotional storm of the Pride home opener and facing former team captain Ali Krieger well and almost got on the board in the 23rd minute if not for Harris cutting down the angle on a Lindsay Agnew shot after a Pride giveaway. Both teams were wasteful in the final third but that will change for Orlando once Marta has her legs under her and becomes better acquainted with her teammates. Washington isn't bad and didn't get run out of the stadium but can't continue to squander opportunities in front of the goal. The Spirit showed signs of the possession-based game it displayed last season and received good news later in the week that Katie Stengel's injury isn't ACL-related and will be back in a couple of weeks.
Week 3 Preview
Washington returns home to face the Houston Dash, who were blown out by Seattle, 1-5, on the road. The Spirit's midfield will face a test in containing Kealia Ohai and Rachel Daly and an attack that, when running on all cylinders, is formidable. The Spirit were too narrow against the Pride, making it easier for Orlando to defend, but better in the attack going forward. Tori Huster continues to be quietly underrated and will need to continue to bring her awesome work rate against Houston to bridge the offensive and defensive lines.
Orlando heads to North Carolina to take on the Courage, winners last week against Portland. Through two matches, the Pride look surprisingly vulnerable in the defense. Head coach Tom Sermanni inserted Laura Alleway into the center back position and pushed Krieger to right back and both the team and Krieger instantly looked more comfortable. With Krieger's ability to get forward on the right and provide crosses to Marta on the left, it's a wonder how long Krieger will stay central. The Courage have speed up top and a strong midfield that can overpower the Pride's so to counter that, Orlando has to make them play defense. It's another Brazilian who is key here: Camila. She was good on Saturday and has the creativity and confidence to go at the Courage. She'll be crucial going forward to the Pride's success.
North Carolina Courage 1–0 Portland Thorns FC
The Courage debuted at home and treated the crowd to a win. It was a contentious affair, especially in the midfield. Marta is the Brazilian garnering all of the buzz but the Brazilian to make the most impact in the league might be North Carolina's Debinha. It was Debinha's 81st minute header that proved to be the game-winner but it was her work rate and creativity that caused problems for Portland all match. Courage head coach Paul Riley opted for a 3-5-2, and that extra midfield clogged the middle and kept the Thorns' midfield busy. Portland was without Tobin Heath and Dagný Brynjarsdóttir but still has the personnel with the ability to garner more than three total shots and 44.4% of possession. It was a physical affair, with the teams combining for 23 fouls.
Week 3 Preview
North Carolina hosts Orlando, and it will be interesting to see if Riley sticks with the 3-5-2 to over run the Pride midfield and keep service from Marta. The Courage defense has yet to be really tested but will need to keep tabs not only on Marta but also Camila, Kristen Edmonds, and Jasmyne Spencer. Set pieces will be crucial; the Pride have vertically challenged attackers but have height in defense so both teams should try to use that to their advantage. The Makenzy Doniak/Steph Catley matchup will be a good one. The key for the Courage is in its midfield and its ability to control and possess; if it does that, and goes straight at the Pride defense, North Carolina will be in position to stay undefeated.
Portland welcomes Chicago in what could be a preview of a semifinal or final matchup. I expect this to be either another slug fest or a wide-open game. There seems to be no middle ground with either team. The Thorns should have Heath and Brynjarsdóttir back.
Update on 04/28/2017: Heath and Brynjarsdóttir are out according to the league's injury report.
Seattle Reign FC 5–1 Houston Dash
After a noncommittal week one draw with Sky Blue FC, Seattle bounced back against Houston. The Reign displayed more purpose in getting forward and were rewarded with five goals. Jessica Fishlock was the catalyst for Seattle and her work rate continues to amaze me. Houston head coach Randy Waldrum (inexplicably?) started rookie goalkeeper Jane Campbell and she was busy all match. The bright spot for the Dash, other than the Poliana goal in the 84th minute was newly acquired Cami Levin, but the attack of Kealia Ohai and Rachel Daly was negated by Seattle's personnel. This is just a bad matchup for the Dash.
Week 3 Preview
Seattle takes to the road for the first time this season to face Boston. Seattle's lineup against Houston was energized by Rumi Utsugi. Utsugi's insertion lets Fishlock get forward more and find the seams in opposing defenses, something she's so good at doing. Someone will have to defend Boston's Rose Lavelle; leave her with space at your peril.
Houston heads to face Washington and in desperate need of righting the ship. The starting keeper choice will be interesting as well as how the Dash respond. Washington is a hard-working team and look to counter so the Dash can't be sloppy with possession. The pace of Ohai and Daly can give the Spirit's defense some trouble.
Boston Breakers 1–0 Sky Blue FC
Breakers win! Breakers win! Breakers win! Let's all just enjoy it. It's good for the league to have every team be competitive and make progress, and this is what this win was.
Week 3 Preview
Boston hosts Seattle in what will be a real test for its midfield. The Breakers must disrupt the Reign's possession game and have its defense focused or it will be a long night for goalkeeper Abby Smith. Margaret Purce in her brief appearance on Sunday earned more playing time and her pace could give Seattle some trouble.
Sky Blue hosts FC Kansas City in its home opener. Head coach Christy Holly should go bold and start a midfield of Sarah Killion, Raquel Rodriguez, and Daphne Corboz. You get the feeling that Sky Blue is on the verge of putting the pieces together; the missing piece might be Corboz.
NWSL Championship
During halftime of the Orlando-Washington game, the league announced that Orlando would host the NWSL Championship Match on Saturday, October 14. Time is still to be announced, but for attendance reasons it has to be a 7pm ET start. No pressure to make it to the final, Orlando.
The semifinals will be the weekend of October 7-8.
Randoms
Christie Pearce is still really good. Rampone retired from the U.S. Women's National Team but maybe Pearcie can still get a call-up?
Tori Huster's hair is long. I said this last weekend but she told me after the game that she's now wearing it in a ponytail so we're seeing it down. This is important #content.
Yael Averbuch's transition to defense has been interesting to watch. She's paired with Becky Sauerbrunn so 1) She's fortunate to learn from one of the best, and 2) She can make mistakes knowing Sauerbrunn will more than likely be there to clean them up. What she might lack for in speed, Averbuch makes up for in smarts and work ethic. Plus, she can deliver a ball on a dime from a deep-lying position: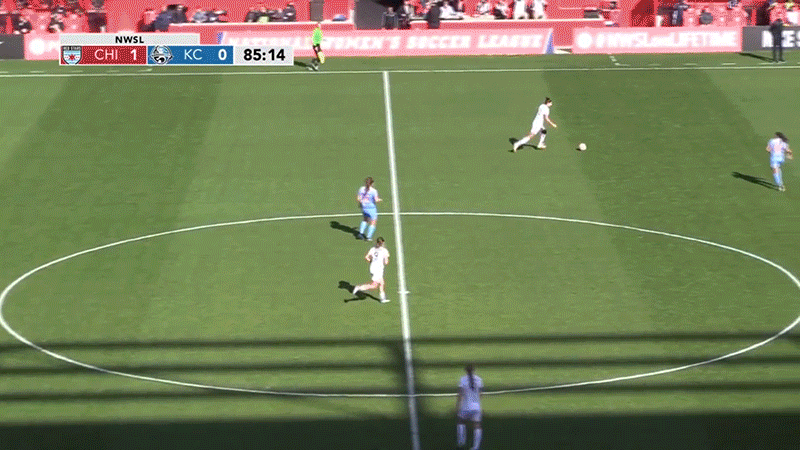 Orlando City Stadium
I was there for the Pride's home opener. Special thanks to the Pride communications staff for giving me a longer leash and an impromptu tour before the game. Here are some shots from each corner of the stadium:
First Goals
Debinha, Danica Evans (rookie), Katie Johnson (rookie), Kristen McNabb (rookie), and Line Sigvardsen Jensen all recorded their first goals of the season.
Tifo Game
Tifo game strong this week.
#doitforWilma #BreakersFamily pic.twitter.com/d8kxPPamEa

— thrace (@thrace) April 23, 2017
????Hashtag blessed???? #FilledWithPride pic.twitter.com/1kE74soayP

— Orlando Pride (@ORLPride) April 24, 2017
Player of the Week Vote
Jessica Fishlock won this week and  This week was difficult because a single player didn't completely stand out.
My vote:
Debinha
Julie Ertz
Camila
Players who put in the work and get a shout-out in no particular order: Brittany Taylor, Becky Sauerbrunn, Abby Erceg, McCall Zerboni, Makenzy Doniak, Lauren Barnes, Jessica Fishlock, Tori Huster, Sarah Killion, Rosie White, Rose Lavelle, Angela Salem.
go90 and Lifetime
So go90 debuted desktop streaming at go90.com, and all the pomp and circumstance surrounding it led to the site crashing. Oh, you didn't know? It's another public relations misfire because there was no official release about it (and I still haven't seen one).
There were some hiccups on the streaming; the Seattle stream was unwatchable at times and the audio for the North Carolina game evened out after a choppy beginning. The season is still young and the kinks are still being worked out but come week five, these issues need to be resolved.
The play-by-play and color teams were terrific. Jordan Angeli was good and offered a balance of experienced commentary and analysis.
Lifetime production and promotion continues to be terrific. The video promos on twitter in particular are excellent. However, the Boston game was unwatchable with bad camera angels and glare from the sun. It's clear why Boston home games aren't going to be featured as the Game of the Week.
Attendance
Week 2 attendance numbers:
Orlando Pride vs. Washington Spirit: 14,452
North Carolina Courage vs. Portland Thorns FC: 6,298
Seattle Reign FC vs. Houston Dash: 2,727
Boston Breakers vs. Sky Blue FC: 2,329
Chicago Red Stars vs. FC Kansas City: 2,153
I have a theory that I will beat to death: The early start times are affecting attendance.
Marketing
#fillthebowl didn't work. I've heard some reasons for it. Orlando is doing the most for the Pride and it should give other teams more than a moment of pause but outreach beyond social platforms is necessary, and not just for the Pride. My short trip down there and my admittedly unscientific small-sample-sized survey of Uber drivers tells me this. Not one knew of the Pride but all knew Orlando City (and one was a season ticket holder), and only one driver knew a player by name and it wasn't central Florida native Ashlyn Harris, but Marta.
But, the positives outweigh anything. People tailgating and walking around in Pride jerseys hours before the game shows there's massive support and a growth market there; just need to widen it beyond a hashtag. It will come together for the Pride, on and off the field.
#MartaWatch
This was fun. It's not a proper league until Marta shows up. The NWSL needs heroes and villans, and Marta is both depending on your vantage point.
I'm keeping #MartaWatch going: How many times a match will Marta, hands on hips, be visibly frustrated with her teammates? This is in good fun, mind. Marta's a competitor and has done a lot for the game but she's never been able to hide her frustrations well.
Celebration Watch
Lots of good ones this week but I'm going unconventional with Merritt Mathias. It's not a celebration per se but never have I ever seen so many smiles after a head injury. She's okay, by the way.
On the Socials
NWSL coaches getting in on the social media action is fun and a view into the people on the sidelines we often don't know a lot about. Seattle's Laura Harvey and Sky Blue's Christy Holly have joined in on the bitmoji fun.
It's Gameday. Let's make it Reign #tryingtocompetewithtommy #gottotry #heiscoolerthanme #butiamcoolerthanmark pic.twitter.com/92LLelzG0e

— Laura Harvey (@LH1505) April 22, 2017
Is this what all the cool kids are doing? @SkyBlueFC game day in Boston! #StrongAsOne pic.twitter.com/oyhET9z7NE

— Christy Holly (@christyeholly) April 23, 2017
Washington's Stengel is a good, albeit underrated, Twitter follow. Sample:
For once the thunder thighs came in handy! Gotta love em, band work, and a heck of a lot of luck. Good news! Thank y'all for all the prayers

— Katie Stengel (@ksteng12) April 25, 2017