It was an entertaining gold medal match to conclude the women's Olympic soccer tournament on Friday at the famed Maracanã in Rio de Janeiro. Germany and Sweden showcased expansive, free-flowing soccer over 90 minutes and it was the Germans, backed by a pair of second-half goals, who took home their first gold medal in women's soccer with a 2-1 victory.
The form of both sides could not be any more contrasting leading up to this match. Germany, despite falling to Canada in their final group-stage match, had scored the most goals in the tournament with 12. Sweden, on the other hand, scored one goal in their previous three matches and relied on disciplined and organized defense in the quarterfinal and semifinal rounds in addition to winning a pair of penalty kick shootouts.
There were other subplots in the final as well. Friday's match was Silvia Neid's last game in charge of the German team, a post she has held since 2005 and in which she led her team to a 2007 World Cup title, 2008 bronze medal,  and the last two 2009 and 2013 European Championships. This was also the first major final featuring two female head coaches since the 2003 World Cup when Sweden was led by Marika Domanski-Lyfors and Germany was led by Tina Theune. And finally, it was a chance for Sweden's head coach Pia Sundhage to win her third consecutive Olympic title after guiding the United States to gold medal finishes in Beijing 2008 and London 2012.
It was a back-and-forth first half with chances coming fast and furious. Sweden deployed a slightly more attacking look in the opening few minutes than its previous matches. They nearly scored the opener in the 10th minute when Olivia Schough couldn't find the right connection on the low cross.
After weathering the first few minutes, Germany organized its back four and used a high defensive line to cause several Swedish forwards to venture offside. With Sweden committing more bodies forward, Germany used the pace of their outside backs to their advantage
The first scoring chance came in the 20th minute when Melanie Leupolz got a head on Tabea Kemme's cross but skied her header. Leonie Maier let one fly from well outside the box five minutes later and Sweden's goalkeeper Hedvig Lindahl left a loose rebound in front of the goalmouth but Anja Mittag, who couldn't find her scoring touch this tournament, sliced the chance wide and let Sweden off the hook.
After a scoreless first 45 minutes, Germany grabbed the lead three minutes into the second half. Dzsenifer Marozsán had a rather quiet tournament until the final and rarely created chances directed at goal. But she found a cross from the right flank deflect in her direction at the top of the 18 and after a composed touch, curled her effort into the upper corner past Lindahl.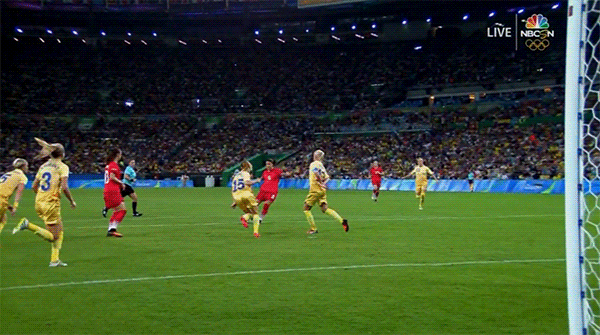 Germany doubled their advantage in the 62nd minute after Linda Sembrant sliced a clearance into her own net after Marozsán's free kick hit the post.
Sweden didn't let the own goal deter them, however, as they cut the deficit in half five minutes later. On a swift counter attack, second-half substitute Stina Blackstenius got in behind the German defense and connected on Schough's driven cross to slot it past Almuth Schult.
The match opened up on both ends as Sweden started to press for an equalizer. With Sweden pressing and not getting too many chances on target, it allowed Germany to hit on the counter attack and both Alexandra Popp and Leupolz nearly converted on good scoring chances.
Sweden had one last glorious goal scoring chance in the 87th minute as Lotta Schelin got herself free down the left flank and hit a centering ball to Caroline Seger. The Swedish captain could only connect on the second effort after missing the first, which gave the defense enough time to charge down the shot and clear it away.
Jubilation came at the final whistle for the Germans, who finished off the tournament with 14 goals and saw Melanie Behringer lead all scorers with five tallies. Offense ruled the day as the victors poured in 24 shots with 10 on target and had numerous set-piece opportunities as well. Sweden had their chances as well with nine corner kicks but just couldn't find the final end product over the last few minutes. The Swedes with a silver medal, their best finish at the Olympics in women's soccer.
The result gives Neid her fourth major title and sees her coaching career come to a conclusion. She will occupy a scouting position within the German women's program and leaves her post with the most wins in team history, winning 125 of a possible 169 matches and drawing another 22 for a 74% winning percentage.
And after five Olympic appearances and three bronze medals, Germany earned its first gold medal in women's soccer.