I expected the game to be fast-paced but experiencing it in real-time was a whole other ball game. Everything was harder, better, faster, and stronger: decision-making, passes, movements off the ball, and even the tackles.
Victoria Pickett
My name is Victoria Pickett and I'm a professional soccer player for Kansas City in the National Women's Soccer League.
Damn… that's got a nice ring to it!
To finally be able to express that statement as factual rather than just a hopeful thought…. what a surreal realization! Since I was a little girl, I had become so accustomed to writing my dreams, thoughts, and goals down in my private journal, so to finally have those words come to life is truly something else.
Although later than anticipated, I've been fortunate in achieving one of my lifelong dreams at the age of 24. When I started playing college soccer for UW Madison, I was on a roll and solidifying my plans to make it as a pro. I was gaining incredible recognition, success, and above all else, a great sense of confidence. All this accomplishment came crashing down in one brief moment during a spring game in April 2019.
To say that I was devastated and became increasingly depressed is a serious understatement: I was convinced that my soccer career and dreams were over. During this down time, I would not have believed you if you had told me that my childhood dream would still become a reality, especially since my accident was quite traumatic in not just the mental sense but also physically.
My doctor informed me that I had torn five ligaments in my knee and sustained a bone impact fracture (she compared it to being in a serious car accident). When I put my name in the 2021 NWSL College Draft, I honestly thought coaches wouldn't consider me due to my extensive injury and the fact that I hadn't played in a competitive 90-minute match since April 2019.
So when my name was called in the second round as the 15th overall pick, I couldn't believe what I was hearing. I was so elated but simultaneously overwhelmed by fear and nerves: What if I wasn't ready for the professional life? Will my body be able to handle the physical demands? Am I prepared for the mental side of the game? What are my coaches expecting of me?
My feelings and thoughts fluctuated over the next few days and I was trying to navigate through this conflicting spectrum of emotion. I was eagerly anticipating being given the unbelievable opportunity to write a brand-new chapter of my life, yet scared to death to actually write it since there were still so many unknowns.
After recognizing and dealing with my fears and doubts, I came to embrace my life-changing news. I had nine days to pack up my life and head down to a new state, a new city, and a new home. Because of the COVID-19 pandemic, I had only seen my family once in the past year and it felt like I wasn't completely ready to say bye to them after being together for such a short period of time.
But I guess that was my first taste of the professional life — having to sacrifice other aspects of my life, like time with family, in order to keep chasing my dreams, something that has always been supported by them, but nonetheless extremely difficult.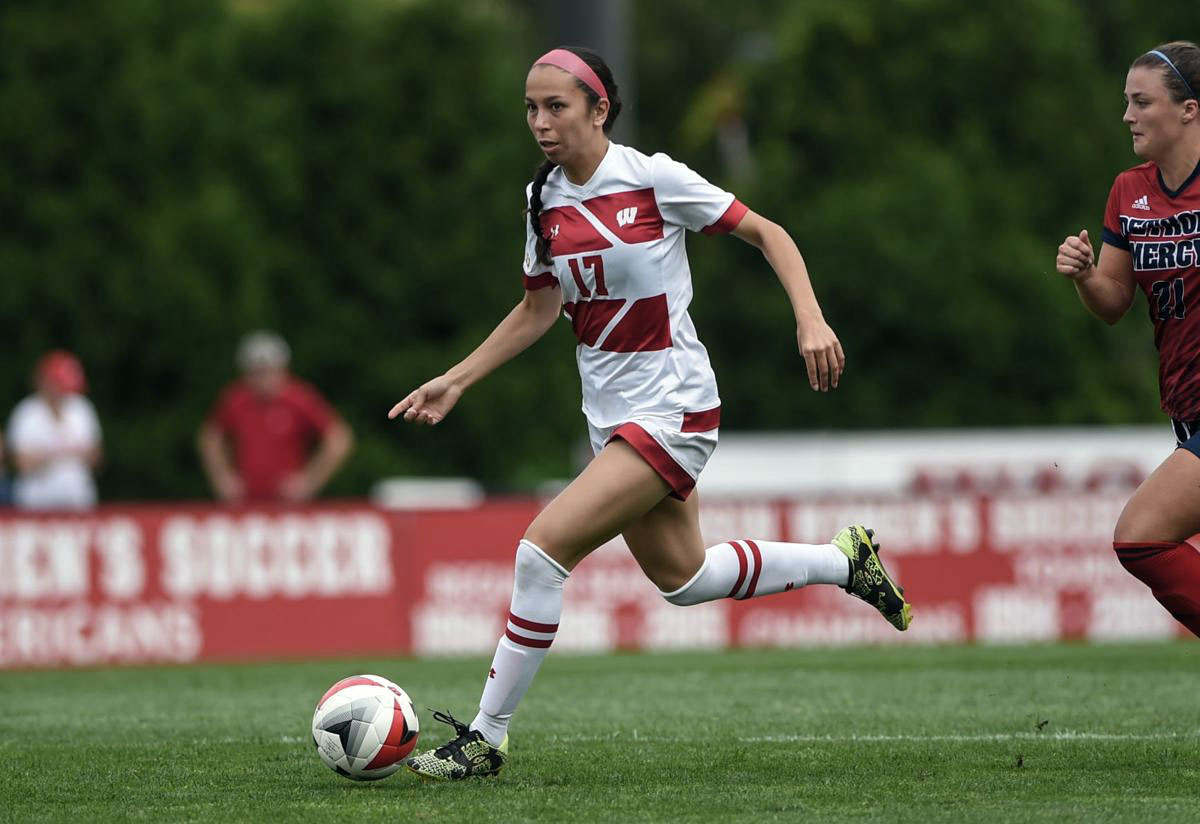 New Places and Friendly Faces
Even though this was a new experience for me, it also was for my teammates too. Having the former Utah Royals move to a new location, under new ownership with a new coaching staff, made it easier for me to integrate myself with them than I expected. I had this preconceived notion that "fitting in" would be more difficult, partially because I was an inexperienced player at the pro level, and because it was so apparent that I was competing against my own teammates for, possibly, their positions/jobs.
With this in mind, I honestly assumed my Kansas City teammates wouldn't be as welcoming as my college teammates. Being a part of a college team was easy and relaxing since everyone, more or less, carried the same responsibilities and shared a similar lifestyle — athletics, academics, and managing the time to hangout with friends.
Now I was entering this new arena, fresh out of college, surrounded by incredible and accomplished athletes, with many of them having a wealth of experience and some with the added pressures of "adult-like" responsibilities, like caring for their own children.
I was presumptuous in fearing that I wouldn't be welcomed with open arms.
I've hit the jackpot with my team. I truly believe that the people you surround yourself with can really make or break an experience, so I feel extremely lucky to having been welcomed and embraced by my fellow teammates, the coaching staff, and the Kansas City community. Everyone has made me feel so at home from the get-go.
Harder, Better, Faster, Stronger
My first professional match was an away game against the Portland Thorns, one of the stronger teams in the NWSL, known for their experienced and skillful players and exciting atmosphere. Not only was I given the opportunity to start in that match but was also able to record my first professional game as well.
I remember physically shaking while I stood in the tunnel, and those nerves remained with me until I arrived on the pitch. I remember looking across the field and soaking in my opposition — Rocky Rodriguez, Meghan Klingenberg, and Adrianna Franch, just to name a few — and thinking, "damn, I've watched and followed you guys on TV!" Seeing my opposition up close and personal, certainly didn't settle my already heightened nerves!
But then I refocused on my own side and saw Amy Rodriguez, Rachel Corsie, Kristen Edmonds, and all my other incredible teammates, and knew I was going to be just fine with them in my corner.
Practices are always intense but actually competing against an opposing team, without a doubt, raises that intensity level. I expected the game to be fast-paced but experiencing it in real-time was a whole other ball game. Everything was harder, better, faster, and stronger: decision-making, passes, movements off the ball, and even the tackles.
It was an exciting game to be a part of and I can still recreate that buzz when I revisit the experience in my head. Unfortunately, we ended up losing 1-2 but I was happy with the team's effort and getting my first professional assist (but maybe not my yellow card).
Dream Chasing ≠ Money Chasing 
When I get asked "What do you do for a living?" and I hear myself say the words, "I play soccer," I'm just as astonished as they are. Maybe it's because "playing soccer" is very much a non-traditional job or it might mean that I'm finally living the dream I've dreamt about since I was four years old. Either way, I'm trying to get used to the fact that I get paid for my love of kicking a ball around.
And even though I've worked almost most of my life to be in the position that I'm now in, I would be lying if I said that it didn't come with some downfalls. As ecstatic as I am having soccer as my career, the current financial pay structure, especially when I compare my pay to my male counterparts, is disheartening.
I remember reading a tweet that said, "If money didn't exist would you chase the same dream?"
Rhian Wilkinson, a Canadian soccer legend, quote-tweeted and responded, "You've just described every female athlete."
In reading and living that, I can say it's apparent that female athletes play for the love of the game. I'm beyond thankful to play soccer professionally and I am so grateful for the women before me who have paved the way for me, but I'm well aware that there's still a lot of work to be done for the women's game.
Because the amount I'm earning each month isn't as much as other jobs, it's forced me to become frugal. I've learned to stick to a budget so that I don't spend my money carelessly now that I have a consistent income. I've looked further into investments because, even though I just started my life out as a professional, I know this lifestyle can only be sustained for so long due to the physical demands of the game. By having this budget, I've learned to become more organized and it's helped me in structuring my spending habits.
What's Next? 
Now that I've attained my dream, what next?
Well, I know I want to continue down this glorious path that I'm so lucky to be travelling on, for as long as I can. Even though I've attained one of my greatest life goals, it doesn't mean I stop reaching for new goals since I like to think of myself as a lifelong student of the game. I want Kansas City to win the regular season, I want to become the Rookie of the Year, and I want people to realize women's soccer is just as popular, worth of investment, and entertaining as on the male side.
Although there is a lot of work to be done, both personally and professionally, I believe that I'm in the best spot that I could be in to continue living out my dreams and hope my story will inspire other little girls to believe and commit to theirs.