Victoria Pelova and Damaris Egurrola have had wildly different paths to get to where they are now — the Netherlands senior squad for Euro 2022.
While Pelova is a product of the KNVB system, coming through the youth teams and starring so frequently at ADO Den Haag that she earned a move to giants of the game Ajax.
Damaris, on the other hand, was born in the United States, has played for the Spanish national team, and already played her club football in both England for Everton, and now France for European champions Lyon.
Despite all that reading like the latter would be the more experienced of the pair, she is actually younger than Pelova by a year, but both are two of the brightest young talents available to Englishman Mark Parsons, the man tasked with retaining the trophy won by Sarina Wiegman five years ago.
They also have differing personalities. While Damaris is more reserved and thoughtful when speaking to the media, Pelova is full of enthusiasm and the excitement of a kid on Christmas Eve, right from the fist bump to introduce herself.
One thing they do have in common though is they were in the stands five years ago watching Netherlands win the Euros on home turf, albeit supporting different sides.
"It will be my first experience with the Dutch fans. I have seen and heard about them and I can't wait to see the march on Saturday," said Damaris. "I watched the tournament in 2017, but I was supporting Spain because I was playing for Spain back then, but I was in the stadium for the final and I always remember how they celebrated for the next few days, the streets were orange.
"It was strange, because I was there as a fan, now I'm here with the team."
While Damaris was an Under-19 international with Spain at the time, Pelova was in the same stage of her career with the Netherlands, and her memories are even more surreal given it was only a year after watching her nation win the tournament that she was in the squad herself, under the guidance of Wiegman.
"It was crazy," she laughed, as her eyes widen at the memory. "I watched in 2017, I would have been 16 or 17 and I was like, 'Woah, Lieke Martens,' and then soon after I come in and trained with them and it was so strange because it happened so quick.
"I was literally there as a fan, I was in the stands watching the games. I remember my first camp Lieke came up to me and said, 'Hi, I'm Lieke' and I'm like, 'Yeah… I know!'"
Pelova quickly had to snap out of fan mode though, as she was selected just a year later for the 2019 World Cup, where Netherlands again reached the final, this time coming up one short with defeat to the U.S. in Lyon.
"When I went to the World Cup, I found that switch a bit hard at first," the 23-year-old admitted. "In the Olympics, it got better, and now I just go, 'Oh, it's Lieke, she's my teammate!'"
Pelova became a regular at the Olympics under Wiegman and to this date her sole two goals in 27 caps came in that tournament, against Zambia and China in what was a breakout tournament for a classy attacking midfielder.
"I've experienced two tournaments now, which for me has been great. In the World Cup I didn't play, I just watched, I was 18. Then in the Olympics, I played every game, I got into the team and now this is my third tournament and I want to give more for the team. For some, it is their first tournament, so maybe I am a bit more senior now."
For Damaris, she only has five caps after switching nationality after a lengthy battle earlier this year as Spain tried desperately to keep hold of a player who had made one senior cap under head coach Jorge Vilda.
But with the bond of having a mother from the Netherlands, Damaris admits she always had a "thing" for the Dutch team and Dutch football, and the pull of Parsons was a particular lure in how much he wanted her involved in his team.
"Talking with Mark and the girls, I spoke to Dan [Van de Donk] a lot at Lyon, about how they see me in the team, it was really useful to have some feedback and they really pushed me to make this decision.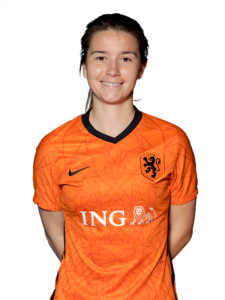 "I'm really happy because I think it's the right decision. It was really easy for me to come into this group, it's difficult for someone in my situation who doesn't speak the language, but everyone's been brilliant.
"He was thinking about me," Damaris said about Parsons' influence, "How could I fit into this team? My profile, told me to focus on being myself and I wanted that confidence from someone to bring me into the national team and both he and the Dutch national team really pushed for me, that was a big thing for me."
The 22-year-old admits it's nice to be "settled" too after a couple of years that has seen her move around at both national and international level.
In demand when leaving Spain, the midfielder joined Everton, but six months later was snapped up by Lyon and moved her life again, all while going through a battle at international level as both Spain and Netherlands vied for her services.
"It's been two years of moving around, but I'm really happy now to be here, to be settled in Lyon and I'm particularly happy because I have nothing to regret. I'm happy with the decisions I have made."
She jokes that she hasn't had a chance to recommend places nearby for her teammates to visit given the team is based not far from where Damaris called home for a few months, although she did feel a sense of familiarity as the rain came down as she spoke to the media.
Pelova was more upbeat, citing the improved forecast for Saturday's mouth-watering opener against Sweden, a repeat of the World Cup semifinal three years ago, an Pelova is looking forward to the test, also praising the conditions the team has arrived to at their Manchester base.
"In England, everything is great. The grass, the field is perfect, I love being here. Everything is perfect, in the Netherlands it is not always like this.
"The weather could be better, but I heard the sun is coming out and it will get hotter at the weekend!
"I think Sweden is a really good team," Pelova added. "They have a lot of power, they're a good team, I'm really excited to play that game."
Pelova has worked under Parsons from the day the former Portland Thorns manager took over, and while from the outside it looks like things are still taking time to click, particularly after last month's 1–5 defeat to England at Elland Road, the midfielder admits it has taken some time to adapt to a new head coach, but believes they are on the right track.
"I think maybe we needed that [the defeat]. It's better it happened there because we can move on and learn from it.
"In the beginning, it was a bit difficult. I had Sarina for four years, it takes time, but it's really good now. The language barrier was a bit of a difficult thing at first, but I'm used to it now and I think we are progressing."