Like many girls around the country, football quickly became an obsession for Beth England while growing up in the South Yorkshire town of Barnsley.
A quarter of a century on, England may feature at Wembley Stadium on Saturday for the nation she shares a name with in front of more than 80,000 supporters against Germany after her rise to the top saw her make a long-awaited senior Lionesses debut earlier this year.
Beginnings
Beth, along with twin sister Laura, started playing when a boy they were friends with asked them to play on the team he played for — the Junior Tykes — but also took a keen interest in cross country and badminton before settling on football.
There were only three girls on the team, Beth and Laura being two of them, and despite losing their first game 0–25 to the Sheffield Wednesday Owls, both of them loved the experience, and for Beth at least the path toward a career that would shoot her into the limelight had just begun, even if she didn't know it.
When she was 11 years old, Beth was scouted by a referee during a match who knew coaches at Sheffield United's academy and the young hotshot striker was invited down to trial for a club who would go on to produce several senior internationals.
Both Beth and Laura signed for the Blades and would go into a team that included fellow future England international Millie Bright, as well as other recognizable names such as Meaghan Sargeant and Kasia Lipka, while the likes of Jess Sigsworth and England goalkeeper Ellie Roebuck would also co
me through the academy in the years to come.
Move Up
Such was England's talent during her years with the academy, she was scouted by then Doncaster Rovers Belles manager John Buckley who was looking to add young talent to his team as the FA Women's Super League era kicked off in 2011.
"We never really had money so we always tried to draft really good kids in," said Buckley. "I picked out Millie Bright, Kasia Lipka, and Beth. Even though they were only young they looked very decent. When Beth came in she was probably the best technician, but she struggled a little bit mentally, she was still a baby really.
"Most kids get bedded in but I had to throw them straight in. It must have been hard for them because they were against top players but she kept getting better and better and she progressed really well. I always knew she would be a good player and I'm delighted she's gone on to progress so well."
Twin sister Laura gave up football at the same time as Beth moved to the Belles, and while she struggled to find the net on a regular basis given her age and lack of top-level experience, she would go on to become a regular starter and made close to 100 appearances for the club before moving on at the end of 2015.
"You can watch a player and the good ones don't look unbalanced whether they're on the left foot, right foot, or through the middle," added Buckley. "Beth was like that and nothing really fazed her, it was just the fact she went up against girls who were physically stronger.
"She wasn't an ounce of trouble. She listened to everything you had to say and she developed that mental strength. I look at her social media and it makes me laugh, she's turned into a really confident young woman and I think that was always going to come."
Buckley added, "She'd do two or three things in a game and opposition managers would always say, 'I like your little number nine.' I was throwing them in at an age where it wasn't really fair on them, but we had no money."
Buckley left the club when they were demoted as part of a league restructure at the end of the 2013 season after the club was placed in the new second division FA WSL 2 for 2014, a move that wasn't good for the club or popular among fans, but helped England flourish.
The Belles missed out on promotion at the first time of asking but England's 14 goals in 2015 helped them secure second place behind Reading, which was enough for a return to the top tier of English women's football.
Chelsea and Bouncing Back
Her form had been good enough to catch the eye of FA WSL champions Chelsea. With former Belles coach Paul Green the assistant manager to Emma Hayes, the would-be champions at the time had signed Belles player Millie Bright one year previous and Green played an influential role in England following in her footsteps.
It was the truest sign of her quality that a team who had just won the league, signed a star in Karen Carney, and were looking to sustain a Champions League campaign were keen on signing a player from the second division.
It was the chance of a full-time professional contract with one of the biggest names in English football. Beth worked in a local chip shop alongside football to help fund her career with the Belles, while also doing Christmas shifts at Marks and Spencer — all that would soon be behind her.
She was offered a full-time deal by the Belles who tried to keep her, but the offer didn't do justice to how much she'd helped the club return to the FA WSL.
Chelsea signed her in time for the 2016 season where she would play a squad role as she adapted to full-time football in an attack that included several established internationals such as Eni Aluko, Gemma Davison, and Fran Kirby.
In the 2017 Spring Series she was often played in a wingback position by Hayes, before a loan spell in the summer to Liverpool dented the striker's confidence.
Those close to her speak of a belief that Chelsea no longer wanted her, conversations with a striker in tears who needed picking up and a confidence boost as she looked to get her career back on track.
The Liverpool manager at the time was Scott Rogers, the coach tasked with the job of ensuring England would be in a position to reignite her career with Chelsea.
"From our point of view, we'd had dialogue with Chelsea and they were really good with us," recalled Rogers. "We had Laura Coombs on loan with a view to sign and then Beth on loan too. I spoke to her a few times before she came in and when she came up we sat her down and showed her our plans for her and how playing regularly would leave her destiny in her own hands.
"Chelsea knew they had a talented young player but they couldn't fit her in. We were looking for a No. 9 and the two things married up really well. I knew of Beth from Doncaster Belles and the type of chances we were creating I knew she would fit well with that."
As the striker looked to pick her head up and make the most of the season-long loan spell she'd signed up for, the first half of the season proved difficult, her first goal coming in a league cup tie against second tier Sheffield FC.
But off the pitch, Rogers had been impressed with her work rate and desire as she aimed to not let her worries about whether she would return to Chelsea or not ruin an opportunity to show what she could do.
"We quickly found she was extremely hardworking," he said. "She wanted to do extra sessions, always wanted to review her clips from games. I couldn't speak highly enough of her. We would have wanted to keep her but she did that well Chelsea decided she would fit back into how they were playing and their plans moving forward.
"I don't claim to be a genius. Most people in the league would have said they'd take Beth, but with some coaching and hard work from her she thrived and I don't blame Chelsea for wanting to take her back."
Game and Career Changer
The second half of the season was a potential career changer for England, both for club and country. She scored against Sunderland, Bristol City, and scored four in one game against Yeovil Town as her confidence shot up and everything she hit started turning to goals.
She ended the season with double figures for league goals in just 16 appearances, and the entrance of Phil Neville as England head coach coincided with England's up turn in form and handily for her, the northwest-based Neville was a regular at Liverpool games during England's scoring streak.
"Phil asked about a lot of players," said Rogers. "He liked young players and I was constantly trying to push them forward. England have a luxury with the top forwards they have but what I said to Beth was she could only control the process.
"If she played well for us she'd go back to Chelsea and if she played well for Chelsea she'd play for England. She just had to control that and not worry about anything else and that's what she's gone and done."
Chelsea had made their minds up, though a goal late in the season to beat Manchester City 1–0 and practically hand the title to her parent club probably helped matters, but it showed England was also now ready to perform against the best teams in the country.
"She showed what a threat she was that day," said Rogers, speaking of their win over Man City. "All season she'd done really well. She was always a threat in every game, she was the ideal number nine because she could hold the ball up too and she was the perfect fit for us and we were the perfect fit for her at that moment in time."
Returning to Chelsea for the 2018–2019 season, England showed her confidence was flowing again. While it was a disappointing season for Chelsea in general, England's 12 goals meant she was outscored only by Nikita Parris and Vivianne Miedema.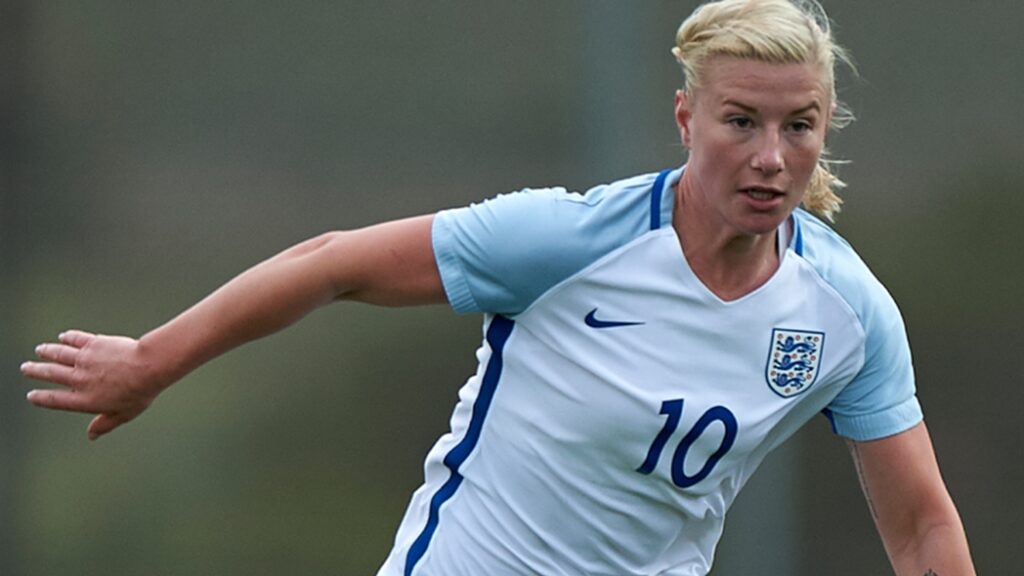 Called Up
She missed out on a World Cup call-up but her form continued into the new season, scoring a superb long range goal on the opening day of this season in front of 25,000 fans at Stamford Bridge to open her account for the new campaign.
England head coach Neville could no longer ignore her form and after years of toil and tears, she made her senior debut in September and went on to score her first England goal against Brazil in Middlesbrough last month.
From the young girl full of self-doubt when it came to her own ability, Beth England has not just turned into a top striker but also a good person too, something former manager John Buckley can attest to.
"She drops me little texts every now and again," he smiled. "I lost my father recently and I got a big long text off her, she's just a really good kid. It's great when it happens and you look at a player and go, 'She deserves it' and it was the same when Millie went into the England team.
"I'm still good friends with Paul Green who keeps me up to date with how she's doing. When they both went to Chelsea, I told them both, 'If you've got any self-doubt then it's not going to help you, you've got to believe you're as good as them, why do you think they want you?' Maybe that was Beth's thing and I don't know why she thought that because her quality can be second to none."
She's looked after herself too, her most serious injury to date coming from a broken toe picked up on a family holiday.
Despite the comforts of a full-time contract at Chelsea, the 25-year-old also has one eye on the future, completing a degree in law when she was at Doncaster Belles.
On Saturday, she may walk out at Wembley to represent her country. She may come off the bench, she may not play at all, but there will certainly be many more big days to come for her in the future.
England was in the stands when Barnsley lost an FA Cup semifinal to Cardiff City in 2008, now 11 years on she could be the star, with her 10 minutes in the 2016 Women's FA Cup final defeat to Arsenal her only game time on the hallowed turf to date, her only other memories those of a teenage school girl cheering on her childhood team from the seats her family will tomorrow possibly get to see their daughter and sister fulfill a lifelong ambition.