Birmingham City captain Kerys Harrop admits it is "daunting" to see so many key players leave the club over the summer, but is still excited about what their new-look team can achieve as she enters her 20th year at the club.
Harrop has been a mainstay of the Birmingham City squad for countless seasons and an ever-present during the FA Women's Super League era, but she has seen what was becoming a familiar squad almost disappear from around her in the offseason.
Gone are the likes of Ellen White, Aoife Mannion, and Hayley Ladd, replaced by several younger players straight out of the U.S. college system, plus new signings such as Abbi Grant, Brianna Visalli, and Claudia Walker, the latter joining permanently after a loan spell from this weekend's opponents Everton.
"It is a bit daunting losing some of our key players from last season, but since the new girls come in it has filled everyone with confidence again that we will again be one of the teams to challenge for the top places," said Harrop.
"Some good quality players have come in. It'll be good for you guys, too, to meet some new faces you've never heard of before because some girls have come over from America; some familiar faces like Brianna Visalli, some of you will know the quality she brings."
Old Timer
Despite the outflux of players as Birmingham still settles into a new era after the departure of popular manager Marc Skinner at the start of the year, Harrop had no doubts about committing to the only club she's ever known.
"I've been at Birmingham a long time," she smiled. "This will be my 20th year since I was a little nine-year-old. Blues is my club, close to my heart, I was always going to stay. I am under contract as well — it is not one of those jobs you can hand your notice in and leave. I am excited for the new season and challenge with Marta [Tejedor] as the manager."
Harrop has lost several of her defensive partners with the highly-rated Mannion moving to Manchester City, while Meaghan Sargeant has joined Bristol City and left back Paige Williams also left the club, leaving Harrop as one of the last remaining first-team defenders from last season.
"It is a bit sad," she admitted. "We all got on so well, we all had a good laugh, but what I have realized over the last few years is change happens all the time in women's football. It is not like the good old days when you bring local players in who just play for Birmingham; clubs are changing all the time. As a player who has been in the game a long time, you have to adapt to that.
"I am excited with the new group who have come in, they are good people, they have a good attitude, hard-working, no trouble, no hassle. I think we will go far this season."
After a thrilling last-minute victory away at Chelsea in Marta Tejedor's first game, Birmingham City's season fizzled out before players began leaving en masse.
The league has yet to see what Tejedor can do with her own squad, but Harrop says the style of football hasn't changed massively from Skinner's time at the club.
"We'll play Spanish football, like Barcelona, I'll be the Messi of the team — only joking," she laughed. "It is not dissimilar from what we have been used to playing. The last few seasons we have become a team which plays football, that is a noticeable change, especially when Marc Skinner was here. We are definitely trying to carry that on.
"Those of us who have been here a few seasons will tell the new girls we want to maintain that possession style of play. But I think there are a lot of teams like that now. It is not the old era when we did the long-ball game. With the quality of players we have in the league, whether English or from abroad, they bring more quality to the league and that'll show over the course of the season."
It's been a difficult summer for the club's loyal following who have had to sit back and witness player after player leave their side while watching announcement after announcement on the club's official social media accounts to see who would be next out of the revolving door.
The connection between players and fans is certainly stronger in the women's game than it's male equivalent, especially at Birmingham, and especially with a player who has been there for two decades.
With a lack of clarity over the situation at the club as players departed on a regular basis and little information on preseason friendlies, which were mostly played behind closed doors, Harrop believes it's important to maintain that connection with the club's supporters, particularly in difficult times.
"Connection with fans is really important," she said. "Some of them have been kicking off a bit saying we don't interact with them. We do, but sometimes they ask questions we can't respond to. We do have to be careful in what we say, but every game we will go and talk to them and interact with them. That's why I want the season to start, I want to speak to them and reassure them everything is fine.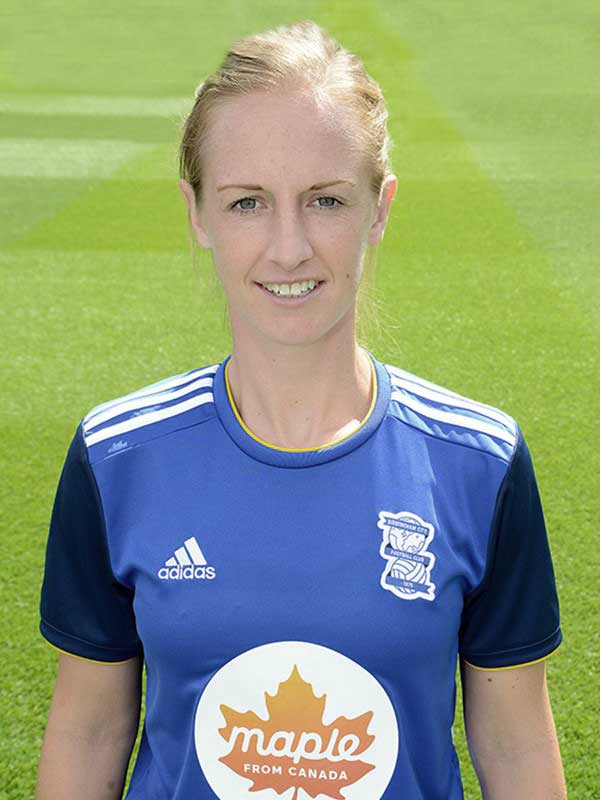 "A lot of our preseason has been behind closed doors so fans have not had the opportunity to see the new girls, so I guess fans would be a bit panicky, but I am not panicking as I know the quality of the girls who have come in. But come the first game, if we put in a good performance against Everton, they will chill out a bit."
On the nature of clubs, not just isolated to Birmingham, hosting friendlies behind closed doors, Harrop added, "My mum and dad can't come — closed door matches — some of our parents couldn't even come and watch a development game. They had to sit in the car park. There's rules and regulations but use your common sense.
"The fans keep the club going, you should want to keep them happy. If you keep everything secretive, fans will kick off. What makes the women's game so different to the men's is fans can get close and interact. I would hate to lose that. I don't think we are getting to the point where we are selling out massive stadiums and can't reach out to fans and sign things. It is important. That's what keeps kids coming, that interaction and being able to meet their idols. I say to my players and the new girls, 'Make the effort to speak to fans.'"
Not Big Three but Still Competing
One major concern has been the club's ability to continue challenging the top sides, something Birmingham has done consistently under both Skinner and previous head coach duo Marcus Bignot and David Parker.
The club beat Chelsea in a thrilling FA Cup final at the start of the FA WSL era and reached the Continental Cup final in 2016, before Skinner took them to Wembley for another FA Cup final in 2017.
Despite their lack of financial power compared to the "big three" of Manchester City, Chelsea, and Arsenal, now joined in the top division by Manchester United, the Blues have continued to fight with the top sides, but Harrop doesn't believe that has to change and has every faith in the club doing things the right way.
"It is hard [competing with better-resourced teams]," Harrop admitted. "In any walk of life, the more money invested in something, the more successful you should be. But that has always been a motivation for me, little old Birmingham, we are going compete with these — they are only so-called bigger teams as they have got more money.
"My motivation is to prove people wrong, that we can still compete. It is like when Leicester men won the league. No one thought they would do it as they were 'little old Leicester,' but it is possible. That is definitely a factor that motivates me. Financial-wise, it can affect teams; those teams [the big three] can go off and buy whoever they want while we have to stick to a budget, but I like the fact we are like that and not just throwing away money to try and win the league, that we are doing it the right way."
Harrop also confirmed the women's side still gets backing from the club as a whole, but her focus is solely on football remaining "fun" as she embraces the upside of now being a full-time professional footballer, which wasn't always the case.
"We do get financial backing from the men. They have been fantastic, we train at their training ground, we do a lot of events at St. Andrews, the awards are now joint with the men, we do get great backing, but I guess we are flying the flag with Reading and Bristol City as non-Premier League sides."
On her own personal feelings ahead of the new season, she added, "I don't see any point in putting pressure on myself. At the end of the day, I'm playing football for a living — what's to worry about? I'm blessed. I'm not sitting in an office in a 9-to-5 job, that is why I try to enjoy every moment as it will not last forever.
"It is hilarious though when you have [Jacques] Maghoma roaring around in his Aston Martin and us in ours, like little Connie Scofield in her Seat."
One further complication for Birmingham has been the improvement of local rivals Aston Villa who have given more backing to their women's side this season, allowing them to sign three players from Birmingham despite sitting in the league below.
Shania Hayles, Marisa Ewers, and Emma Follis have all made the drop down as Villa look to earn promotion to the FA WSL, and it's something Harrop would actually welcome should it happen this season.
"I hope they do get promoted this year as it would be great to play in a local derby; though I shouldn't be wanting Villa to win I want to see them promoted!
"Obviously, I have some old teammates there. I guess it might also put pressure on the Birmingham hierarchy to match them [if they get up], a bit like the Man City and Man United situation.
It's not all change. The club has retained several members of Skinner's coaching staff, including Charlie Baxter, who acts as assistant to Marta Tejedor, and Harrop is still joined at the club by the likes of England's Lucy Staniforth and Scotland's Chloe Arthur.
For the younger players coming through and the new signings coming into the club who perhaps aren't familiar with its history and values, Harrop is the perfect captain to educate them on what it means to be a blue.
"For me [the core values at Birmingham are], just being a hard-working person and having the right attitude. I think especially now the women's game is going with more investment and players can earn a good salary, when 10–15 years ago we would have to have a full-time job as well as training. For the kids coming through I always emphasize work hard, don't act like things are being given to you on a plate, because potentially that could happen. You are given a five-figure salary; stay grounded, work hard, don't expect to be given things because that is not how it was for those of us who have been in the game for a long time.
"It is our full-time job now, any job in any walk of life you should want to work hard and do your best. Everyone has rewards in different ways. Some people like extrinsic rewards or intrinsically. My rewards are intrinsic rewards: I want to win, I want to win trophies, it is not financial for me. Everyone has different motivations but as long as they are all guided towards the goal of winning games, that's the main thing."