If you could list every possible emotion a human can feel and split them down the middle into two columns, it would probably sum up how it felt going into my first World Cup and how it felt 33 days later coming out the other end.
Apprehension, excitement, impatience, a step into the unknown replaced over the course of a month by enjoyment, frustration, sadness, happiness, fear, anger, delight, and much more because you can't really understand what it's like living and traveling in a foreign country with the same group in a micro-world where suddenly you can't even remember what day it is (seriously), all the while working on covering your country in a major tournament.
I admit, I feared burnout if England remained in France for the entirety of the tournament, which they did. I don't like saying no and I was flat out up for anything before the tournament, whether it was podcasts, radio, articles, interviews, previews, or even a bit of TV.
What people reading this might not understand is a World Cup isn't just over the course of single month; it consumes your work every single day from the moment you qualify: from sitting in the press box at Newport last August to watching the draw unfold in front of my own eyes in Paris in December — with riots going on a few miles away!
It does become easier to understand why players get so emotional and why it's so difficult for them. I think each of us realized at a certain point how much of ourselves we'd poured into this tournament through all the buildup, the warm-up friendlies, the press conferences, the media days, the predicted 11s, and so much more.
Planning
The morning after England went out it was a strange, strange feeling. Suddenly, it was all over. All that buildup? For nothing. Months of talk, months of writing, and in a mere 90 minutes, the dream for everyone had ended.
Planning for a World Cup isn't easy. I think we were all a bit pensive about the whole Nice to Le Havre to Nice thing as soon as the draw happened, but at least you can plan for it. What you don't realize once you're in what is a rather large country is how difficult planning becomes, it's all but a blur.
All I booked in advance were my hotels/Airbnbs in Nice, Le Havre, and Nice again, as well as travel to and from the cities and somewhere to stay in Lyon that was cancellable if England exited early — those were the only constants whatever happened.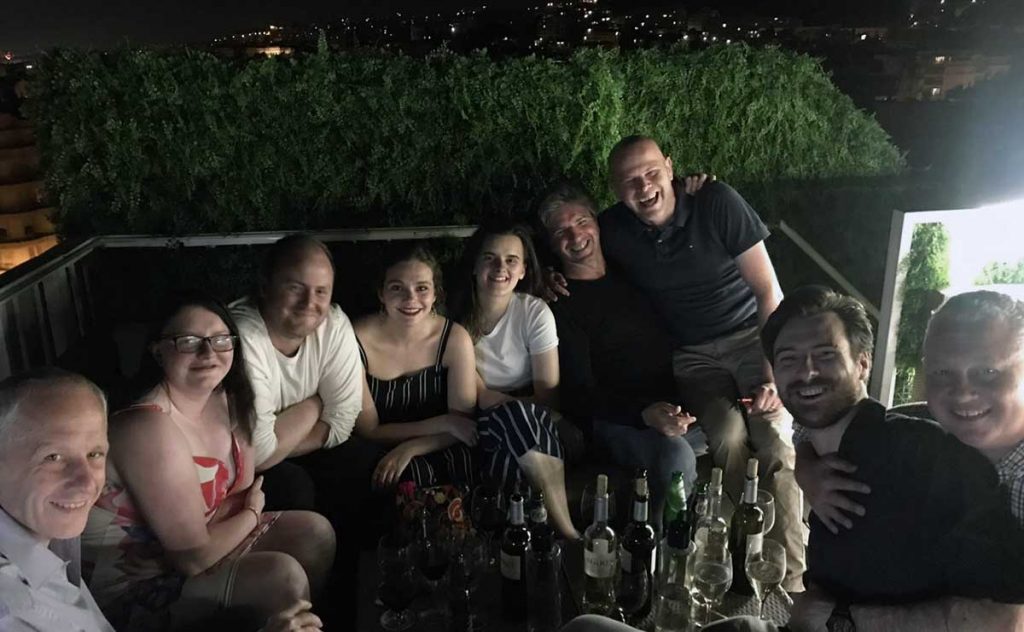 I have to admit I was lucky after listening to some of my colleagues discuss where they were staying. Some had left it down to travel companies and were stuck in the middle of nowhere while others had to endure cancelled trains and flights. Somehow my whole journey went quite smoothly with a delayed train between Paris and Le Havre the only glitch along the way.
On the media side itself, both FIFA and The FA were excellent in keeping you up to date. I can't speak for other football federations but ours was proactive and even got involved in what became semi-regular pool nights and played in the charity football match we became embroiled in — more on that later.
A WhatsApp group, which has now become infamous among those within it, was set up to help us discuss media schedules, ideas, and just general chit-chat that sometimes may or may not have spiraled into inane ramblings and breakdowns as the days wore on, but it's the people who most certainly kept everyone ticking along.
Tournament Mode
There's no such thing as a slow start when it comes to a World Cup and days off are sporadic to say the least, though given the beauty of some of the places we got to go to it's hard to complain. I arrived in Nice on a Thursday night and on Friday morning it was straight into the first media session as we all congregated at an all too glamorous hotel on the Promenade.
Saturday was Matchday-1, otherwise known as press conference day, but you soon learn to live by the terms MD-2, MD-1, MD, and MD+1 once you enter tournament mode. As I said, we often had to ask each other what day it was as it became genuinely irrelevant whether it was Tuesday or Saturday, even England head coach Phil Neville got his days mixed up during press conferences.
I have to be honest, I don't enjoy MD-1 or MD itself. They're long, tedious, and leave little to do. England's first game was a 6 p.m. kickoff local time which wasn't too bad, but the majority after that were 9 p.m. kickoffs, meaning you largely sat twiddling your thumbs until late in the evening when you could head to the stadium.
We soon got our first taste of VAR, less than 15 minutes into the first England game. In reality, though, it would spiral out of control when it came to the Lionesses after the penalty decision against Scotland.
The next challenge was constantly adapting to new surroundings. Just as you'd acclimated to Nice, it was off to Le Havre, a completely different location, completely different feeling, and indeed, a completely different climate at the other end of the country. As soon as you'd just about get used to Le Havre's climate, it was back to the scorching heat of the French Riviera.
What you soon learn is to make the most of the downtime, socialize when you can, even if it does mean staying out until 5 a.m. when there's a match the next day, something certain colleagues of mine did rather more regularly than I did.
The People Make It Worthwhile
On a serious note, I couldn't have wished to spend the month with a better group of people. Some I already knew very well, some I had met a few times, and some I had never met, but within a fortnight it felt like you'd known these people your entire lives so you can imagine how it was on the final night when those of us left in Lyon had to say goodbye after one last meal out in the old town.
Whether it was the wild rides from Le Havre to England's base in Deauville with one of Le Havre's two Uber drivers or meals out for people's birthdays, which seemed to happen more than it should toward the beginning of the trip, the time off become cherished more and more.
But I'd be lying if I said there weren't stresses, breakdowns, and difficult moments. I sat down to give one of my colleagues a pep talk in Valenciennes while others either struggled with the heat, the schedule, the constant traveling, or were generally overwhelmed by the enormity of what they were doing.
I'm fortunate to be generally quite immune to such things but I will admit after England's win against Norway I struggled a little. Part of me had yearned to go home to see family and friends the day after but the reality of another 11 days in the French heatwave became a little more difficult to deal with after three weeks of constantly being on the go, though the feeling soon diminished.
It was really when the group stage ended that things got tough. We didn't know until 11 p.m. the night before traveling if we'd be going to Valenciennes as group winners or to Rennes as group runners-up. You can cancel reservations at most places with 24 hours' notice but the schedule didn't allow for that until, to the relief of everyone, it was announced England would be remaining in Nice for an extra day so we all could too.
It still wasn't easy. People had to book flights and trains on short notice. I'd booked a train from Nice to Paris and simply waited to see where we ended up to book the second part of the journey, but there were many people glued to Airbnb, booking.com, Laterooms, and SkyScanner toward the end of matches and even in post-match press conferences.
I was asked to go on talkSPORT at 3 a.m. French time after the Japan game and we had to be up at 7 a.m. to get to a media session with Phil Neville. That's when things start to take their toll: covering a game in incredible humidity the night before, not leaving the stadium before 1 a.m., staying up until 3 a.m., and then getting up at 7 a.m. to do it all again, though the post-media session table tennis tournament soon blew away the cobwebs.
I'd taken on a lot of work, I admit that looking back now. Bleacher Report asked me pre-tournament to do some power rankings for them and I was all too happy to do it, but as the tournament went on I was asked to do work for the iPaper, The Independent, and the Daily Mirror. When you're asked to do your first running match report on an England knockout game, it's slightly daunting, no matter however long you've been covering the sport.
A running match report essentially means you submit half your report at halftime, the other half shortly before the end and re-write it shortly after the game ends or hope to God nothing dramatic happens toward the end, like a semifinal penalty miss or a late red card, that kind of thing.
Ironically, the one day I spent working for a tabloid newspaper was the one day an actual news story reared its head. You have to prepare to be surprised and take things as they come during a tournament. In the minutes before Neville's semifinal press conference, we were made aware that U.S. Soccer personnel were found touring England's team hotel while the team was out training.
Was a mountain made out of a mole hill? Probably, but we'd been made aware some people weren't happy and national newspapers are all too happy for a juicy story to plaster across the back pages before a big game.
There too was the Cameroon game, which none of us expected. Suddenly, what happened with VAR and the post-match press conferences becomes more important than the game itself. It was slightly surreal sitting feet away from Alain Djeumfa, Cameroon's head coach, as he admitted he felt Cameroon had been harshly done by before Neville entered and flipped the rhetoric entirely.
From there it was back to Le Havre, which I admit now I'd booked in advance being quite confident we'd beat Cameroon. Even if we didn't, the money I'd save going home early would make up for the money lost on travel to Le Havre and a hotel for four nights.
Then it became about booking Lyon. Most of us had somewhere booked for a semifinal but what about beyond that? We knew England wasn't favored to beat the U.S., but fortunately I'd made the commitment to stay in Lyon come what may, while some of my colleagues were left scrambling for travel to Nice and back at short notice, and many carpooled back up on the Sunday morning after England's defeat to Sweden.
Aftermath
The morning of the U.S. game, I'd done two radio interviews before it even hit 8 a.m., not exactly what you need with 13 hours still to go to the game but it comes with the job. It's very strange after a defeat, it's not something you're used to after five straight wins.
The mixed zone had been changed by FIFA for this tournament to benefit the media, which I admit it did. Usually, you'd sit around for half an hour after the game, do the press conferences, and then head to the mixed zone.
This time, the mixed zone was immediately after the game, meaning a mad rush on full time to make it down to the mixed zone before the players had flown through. I'll be honest, it was perfect after a win when players were happy but I knew it would change upon defeat. You've just lost the biggest game of your life and before you can even go to the changing room you have to come and speak to us? We appreciated it but I don't think any of us would have begrudged any player who told FIFA where to go with their new protocol.
It was horrible after the U.S. match. Players either came through in tears or with their heads down, they didn't want to talk to you and you can't blame them. To their credit, every player came through and anyone you asked did stop to talk. It was the realization in that moment for everyone that it's all over and it hit me when Leah Williamson caught my eye. Her eyes were filled with tears as she shook my hand.
I've known Leah a long time. I first interviewed her in 2015 when she was a kid and I did a big sit-down with her before the tournament, the excitement still in her voice speaking to her just hours after she'd found out she was going to the World Cup. Yet, in that one moment of eye contact, we both knew it was all over. When you've all been on the go for four weeks and been building up to it for many months, it's quite a moment when you take in what's just happened and the way that particular game unfolded.
[dropcap]T[/dropcap]he rest of the tournament was odd and it became about cherishing the time you had left. The group split in three as some went home, some dashed off to Nice, and a few of us remained in Lyon. We had some incredible moments. The one that sticks in my mind is the rooftop bar in Nice The FA got for us before the final group game. To sit in one of the most beautiful places in Europe, with a stunning view, with your mates, is quite an experience.
In Lyon, Suzy Wrack from The Guardian roped us into playing in the Equal Playing Field match as they tried to break a world record for the world's longest continuous football match. Despite it being 9 p.m., the humidity was incredible but the memories even more so. A few of us pondered how surreal it was, kitted up, about to play a match at Lyon's academy with each other as part of a world record attempt — these are the moments you'll never get again and you have to grab them.
A few nights before the final, some of us went to the Copa 90 clubhouse in Lyon for a night out. Alex Scott, Ella Masar, and Verónica Boquete were among those who were there and it was very special to meet two players I've previously become very close with through past interviews. I, and others, met journalists from abroad we knew through social media and it was quite incredible just how many people you got to know or got to meet whose name you knew but face you'd never seen.
The final in reality was a formality. Many of us were ready for home but to cover a final was a fantastic experience for us all of us, but I'd be lying to say I wasn't sad it was over. About eight of us went out for a meal on the final night and the hugs that followed showed all of us just how much we'd bonded over the previous four weeks, even if we hadn't noticed it until then.
But, I wouldn't change a single bit of it for the world. I've made friendships that will last a lifetime, covered a major tournament from the very start to the very end, and did some incredible things with incredible people in between.