Arsenal midfielder Daniëlle van de Donk admits she felt "lost" and wasn't enjoying her football before new manager Joe Montemurro arrived just over 12 months ago.
It's little more than 12 months since the Australian took charge of his first Arsenal game and his arrival has sparked an upturn in form in both the team and the Dutch star.
After scoring eight goals in her previous two seasons at Borehamwood combined, Van de Donk has already hit double figures for the new season, becoming one of the key players in Arsenal's FA WSL title charge and she credits her improved form to her new boss.
"Joe is just a very big plus for me," she said. "Before he came in I was a bit lost, I didn't enjoy football that much anymore. I'm a player who needs freedom because that's when I'm at my best and Joe gives me a lot of that."
"If you're not happy, you're not in the right place and you won't perform as you can," she added. "I'm now in the right place, I'm happy, and I appreciate that."
Less than two months into the job and self-confessed Gunners fan Montemurro had his first trophy on the board, a Continental Cup win over Nick Cushing's Manchester City less than a year ago.
The pair meet again this weekend at Bramall Lane for the third final in four years between the two clubs and a match that ensures the cup will remain exclusively between them for an eighth year in succession.
With their first league title since 2012 also a distinct possibility despite a prolonged injury crisis, Montemurro has turned the club's fortunes around but only by doing the basics according to the club's number seven.
"He has his style rules and we're very familiar with them because he keeps repeating it and repeating it," she laughed.
"It's just the basic stuff. It works like a machine a little bit and with everybody doing what he's asking. If someone isn't then a teammate will tell them. We're all involved, we're not too scared to say things to each other."
Saturday will be Van de Donk's fourth cup final at the club as she moves past the three-year anniversary since arriving from Swedish club Göteborg FC.
It's also noticeable in her ever-developing London accent. "It's definitely there," she laughed. "Maybe you can understand me better now!"
Having been on the winning and losing side in two FA Cup finals at Wembley, a win on Saturday would make it three out of four — three out of six overall if you count the two cup finals she was involved in back in her native Netherlands.
"I'm looking forward to it, they're the best games to play," enthused the 27-year-old. "The crowd is always buzzing for everyone. It's the games you play football for, you want the trophy.
"The older you get I think the calmer you get. For me, I was always rushing around when I was younger trying to be on the ball and do something but here I feel the ball is safe with any player on the team. Whoever has it we know we will create something and it makes it easier going into these games. We're not as nervous now, both sides have great qualities, all I do is just enjoy it."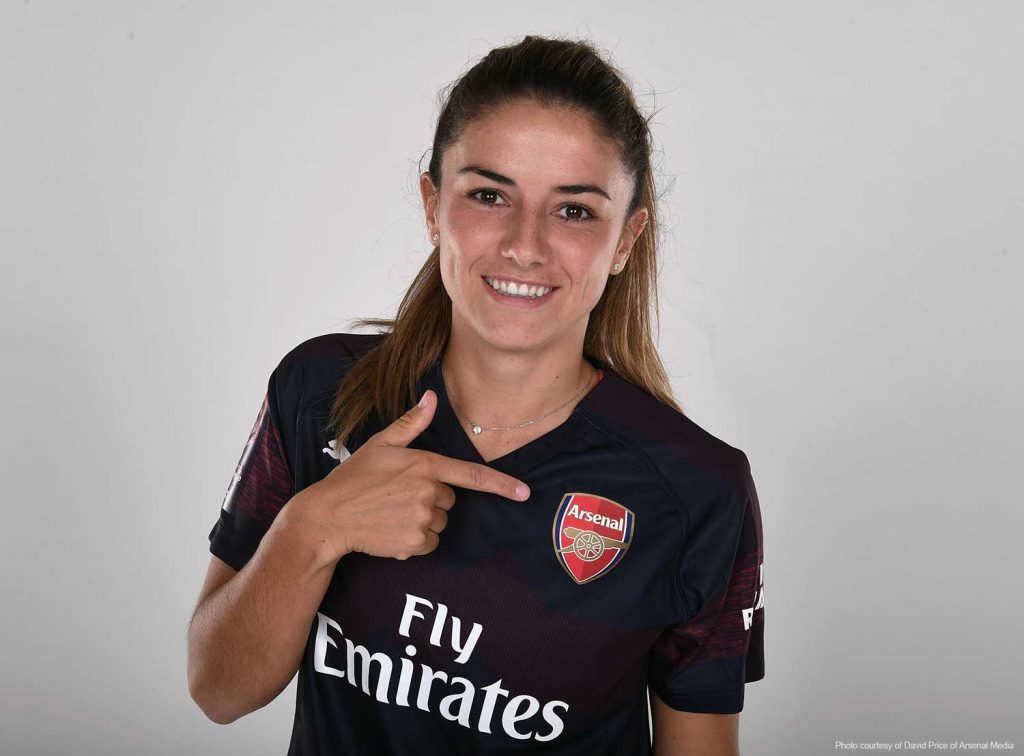 Calmness seems to be a particular trait of Montemurro, one that is clearly rubbing off on the squad given last season's victory against Man City and one they hope will play an advantage again come 12:15 pm local time on Saturday.
"Joe is a calm manager, one of the calmest I know and I really like that, otherwise it's stressful and panicky," she said.
"But we're chilled. We will do what we do, we'll enjoy the game because we know we've got the right players, we just have to trust each other."
Is that calmness and self-confidence the key to Arsenal's recent success? Under Pedro Losa the team were occasionally branded a "cup team" by rivals given their lack of consistency in the FA WSL, but Van de Donk believes it is just down to having the right players and the right staff.
"We've finally got the right balance. Everyone knows their role, their job, and everyone's willing to work for each other. It's growing all the time and I think that's why we're a bit more consistent. We're not too old, we're not too young, we just have a great balance."
It hasn't been an easy road, though, and should Arsenal maintain their Continental Cup trophy and add their first league title in seven years to the trophy cabinet, it will have been done in the toughest of ways.
Injuries have beset the team since even the end of last season when Danielle Carter tore her ACL on the final day of the season.
New signings Viktoria Schnaderbeck and Tabea Kemme are still yet to feature barring a brief cameo for the latter while star player Jordan Nobbs also succumbed to an ACL injury before the winter break.
"Straightaway we had long injuries but we just have to take care of each other," said Van de Donk, who struck up a deadly partnership in midfield with Nobbs. "What's good is we have some players coming back, obviously Jordan will be out but it's part of the game. They [injuries] will always exist, we just have to work hard because we have a great team."
This weekend's opponents are now a familiar entity to Van de Donk, her teammates, and the club as a whole, and there's certainly a familiar feel to the competition, and the Dutch international is pretty blunt when it comes to preparation for the encounter.
"It will be similar to how we were prepare for any game, except at the end there is a trophy for Man City or for Arsenal, that is the only difference," she stated.
"We will look at every detail, all the set pieces, when they make subs and we will get all the information we need. It's up to us what we do with it. Like I said, just enjoy the game, don't freak out."
If Montemurro's side is to win they will likely not just rely on Van de Donk but her Dutch teammate Vivianne Miedema.
The striker scored the winner in last season's final and has already broken the record for most goals in a FA WSL season, and her teammate couldn't be happier about having her in the team.
"She's a great player and also believe whatever team she's in she's going to score, whether it's Arsenal or someone else, but here it's great for her confidence. She's got great players here who are willing to work for her. I know if I get the ball and Viv is in front of goal, I'm going to give it to her because she's going to score."
Van de Donk, more than anyone, knows what it's like now to go from being a loser to a winner. After two cup final defeats earlier in her career, she is on the verge of her third domestic trophy with Arsenal to go on top of her national team success at Euro 2017.
"It becomes a habit. We need to win, we want to win and we know how to do it. In the Netherlands, I always came second and I had a reason, we weren't used to it. If you're in a winning team the environment is different. We know what to do, we know how to handle the pressure."
She added, "I don't think I've ever played in such a good team."