"I have somebody's pants."
And thus concluded the first session of the inaugural Ali Krieger Football Camp for adults. Don't worry, it was an adult camp but not that type of adult camp.
Sports camps and clinics are big business — one industry report estimates total revenue for the sports coaching industry, of which sports camps and clinics fall into, to hit US$9 billion in 2018. The target age group for much of the activity surrounding the industry is 10- to 19-year-olds, leaving adult athletes largely underserved or neglected.
Krieger's AKFC adult camp concept aims to fill that void in the soccer world with a simple goal: provide an intimate experience for adult athletes to learn, train, and have fun while promoting the beautiful game around the world. The adult camp program is an extension of an overall camp concept developed by Krieger and lines up next to youth camps and targeted-skills clinics in AKFC's burgeoning camp portfolio.
Krieger isn't the first athlete to offer clinics for adults — the criminally underrated Keelin Winters (retired Seattle Reign FC midfielder) offered clinics for adults through her Pro Skills Soccer Camp and sports teams have long cashed in by offering fantasy camps (U.S. Soccer has offered fantasy camps for adults in the past, too) — and won't be the last given how much opportunity exists in this space.
ProCamps is a leading provider of player-affiliated camps and offers youth camps as well as high-end fantasy camps (Krieger did a youth ProCamp last year). Those camps can feature more than 500 kids in one camp for popular athletes such as Rob Gronkowski of the New England Patriots.
The AKFC experience is smaller by design and completely independent. The adult camp, in particular, affords more time off of the field for players to get to know Krieger and vice versa.
"We're really trying to implement some of the drills and the ideas and values that I learned at the highest level," Krieger told me after the camp.
"Also, just to have more of an intimate experience with the fans and get to know them more and have them get to know me, and that's where I think there's a big difference between any other adult camp and AKFC adult camp."
Full disclosure: I've done some work behind the scenes for AKFC so I have insight into it that others don't but I was still skeptical about how hands-on Krieger was really going to be at the camp. So I went gonzo journalist and hung out with the camp crew to check it out.
How much AK involvement is in AKFC? A lot, actually.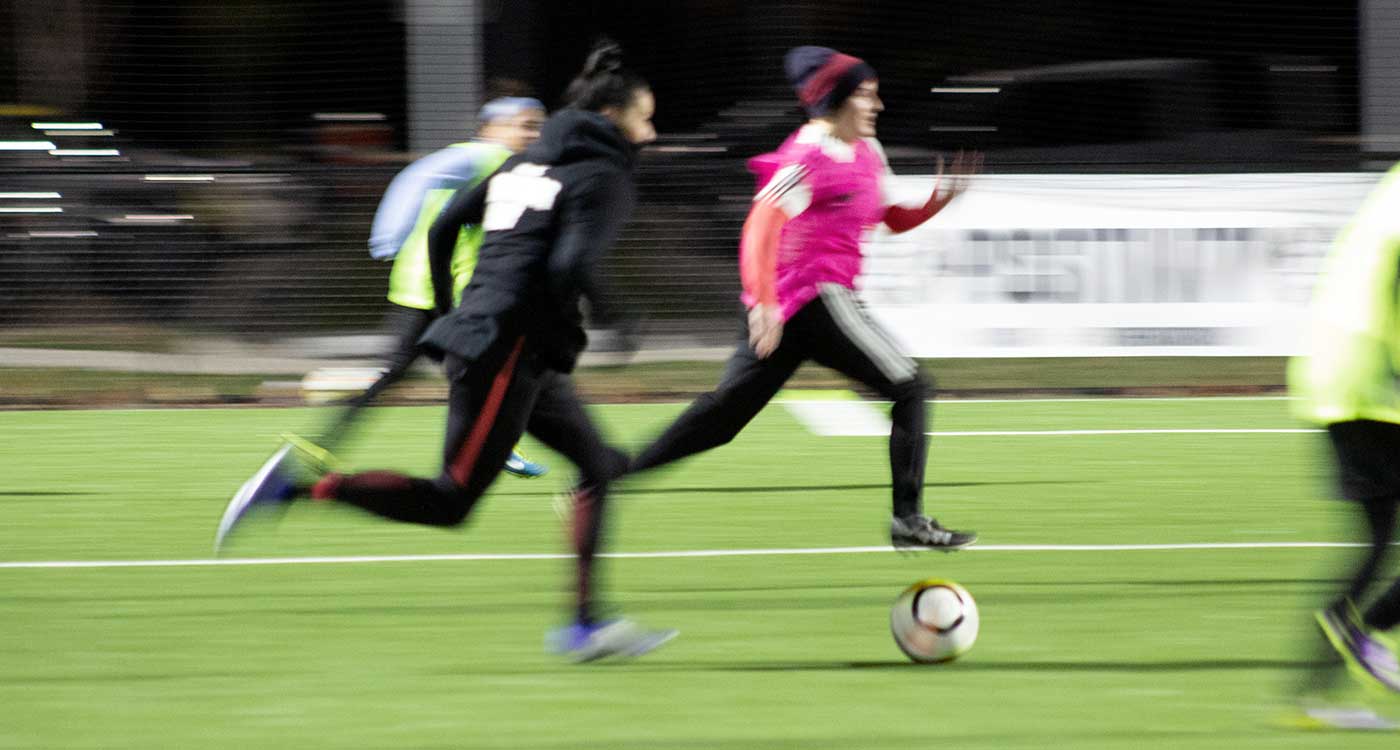 Planning and Then More Planning
The devil is always in the details, and the detail put into these camps takes a lot of planning that starts weeks, sometimes months, before a camp.
Krieger is involved in all aspects of putting together the puzzle that is AKFC, including planning, setting up, coaching, and cleaning up. (The banners hanging along the sides of the field fences must be centered according to Krieger's eye.)
Securing field space that works with Krieger's availability is just one piece of the puzzle. Luckily, home base for AKFC is at the eponymously named Ali Krieger Sports Complex in Dumfries, Virginia, but booking 2019 camps elsewhere is a bit of a shot in the dark right now because the National Women's Soccer League schedule hasn't entirely been set.
Even with an "in" at the Ali Krieger Sports Complex, the hotbed of youth soccer that is Northern Virginia means field space is at a premium and makes margins for, say, bad weather, thin.
Despite all of the planning that goes into putting on a camp, the AKFC crew can't control the weather as evidenced by the cold, rainy, and windy three-day Veterans Day weekend of the adult and youth camps.
As a result, the first session of the adult camp, originally scheduled for Friday afternoon followed by a happy hour, was moved to Saturday.
The happy hour, though, went ahead as scheduled and is a core part of the "intimate experience" Krieger talks about creating.
Held in a private space at a local eatery, happy hour was a chance for the players to get to know one another better. Food and drinks were covered in the registration price and the sliders were plenty along with free-flowing beer, wine, and other adult beverages.
The setup at this happy hour consisted of tables and chairs, not exactly conducive to mingling as players naturally camped out at tables in their own groups. I thought Krieger might post up at a table but she made it a point to visit each table, spending quite a bit of time getting to know everyone. The format of future happy hours will change based on the camp location and logistics. (I didn't take pictures or interview the players during happy hour and opted to observe. With a glass of wine.)
Happy Hour lasted a couple of hours — keep in mind, the first on-field session was scheduled for 8 a.m. the following morning.
Inclusivity
The morning was cold, and the prior evening's rainfall threw another wrench into the plan. The first session was moved from the sports complex to a nearby field because the complex's grass field was soggy. The replacement field was good — actually, maybe a little better given the fall scenery surrounding it. And the evening session, back at the complex was even colder. (Hot chocolate was on hand after the session and was a nice touch.)
More than 20 players signed up for the adult camp. And here's a crazy stat: the majority of the players came from out of state — only six from Virginia and nearby Maryland with the rest from California, New York, Connecticut, Pennsylvania, Michigan, Kentucky, and North Carolina.
Krieger has some pretty passionate supporters so it's no surprise that a few made the trip despite the necessity of travelling out of state for it. The players I talked to were clear that the draw was Krieger. But relying on super fans isn't a sustainable business model and could dissuade experienced players from attending. It was one of the questions I had about the whole adult camp concept: Is it just going to be "stans" looking for a photo opportunity or would there be actual soccer?
Another full disclosure: I was going to play, I really was, but I didn't because I assumed the answer to that question was a camp filled with players who trended toward the beginner level and were there mainly for the photo opportunity. I was wrong.
Only three players self-identified at registration as beginners (I'm a fan and want to learn/have fun); the remainder identified as intermediate (I play pick-up/for fun) or competitive (I currently or recently played on an organized team), and of those competitive players, a few were soccer coaches. In terms of breakdown between women and men, the majority were women but two guys registered and a couple of Ali's childhood friends came out to play. It all made for a much more advanced group than I assumed would be there. And I should have played.
The level shouldn't give beginners pause though. Inclusivity is built into the concept behind all AKFCs, adult and youth. During the registration process for the adult camp, players self-identify as beginner, intermediate, or competitive. Krieger told me players of all levels are welcome and the sessions are tailored for each camp's demographics.
"All players are welcome to participate in adult camp, from those that have never kicked a ball to those that have played competitively," Krieger said. "We ask them to share their experience level when they register so we can plan the session groups and activities, accordingly.
"[…] we had quite a few experienced players, but we also had some beginners, including one woman who had never played. She stepped up and took a PK in her very first day of soccer. The look on her face was so inspiring. We really hope more and more beginners will join us and learn a new appreciation for the beautiful game."
Based off of the registration information, Krieger plans the sessions and selects the coaches. Krieger approaches the adult and youth camps in the same way and tailors sessions and selects coaches unique to every camp session. The only difference between the adult and youth camps is the added happy hour element.
Given the experience levels of this camp I think there's an opportunity to add more spots and cater the adult experience to intermediate to experienced adult players in separate sessions.
Coaches for this camp included Ken Krieger (Dad) and Dario Pot, D.C. United's U-16 head coach. Krieger floated in and out of drills, offering instruction, advice, and encouragement. There were the much maligned rondos to warm up before the iceberg-of-an-evening session and Krieger got stuck in the middle of one a little longer than she should have if I'm being honest.
And she played. There was scrimmages at the end of each session. Teams are divided and balanced as best as possible and they played full field, 11-a-side. Okay, Krieger didn't play like she was in a game, and there were a few moments where her competitive instinct kicked in and you could tell she realized it and dialed it back, but she was completely engaged and she yelled like she was in a real game.
Should you come to an adult camp, stop and listen: music! A mix of everything, including '90s R&B (the best R&B), rap, rock, and a little country ("The Devil Went Down to Georgia" was an especially inspired and bold choice), plays while you play. It's not overbearing and adds to the overall vibe of the camp.
To be clear: AKFCs are working camps, and players will be expected to work on the field. The camps are fun but if you're expecting to show up and skate through the camps, you'll be surprised. Beginning youth or adult players shouldn't be deterred, however. These aren't showcase or ID camps but you will be put through sessions that Krieger designs to mimic her own workouts. (Camps for more advanced players are on the horizon, too.)
Takeaways
I stuck around for the youth defense camp on Monday as well. Krieger was really in her element during both camps when she was instructing players. Good coaches tell players how to do something while great coaches not only show but also explain why. While it's too early to know if Krieger is the latter, her coaching style is to demonstrate (the technical how) and then provide game context (the tactical why and when). While running a drill on how to close down a player, Krieger explained and showed how to close down a player using angles. The players got it instantly and the drill continued with the defensive players shutting down the offensive players with ease.
Parents will be happy to know that capacity is also capped for the youth camps so the ratio of coaches to players is small and allows players more time with Krieger and instruction from the coaches.
Krieger makes herself available at the end of every camp for selfies and autographs. For the youth camps, she has a Q-and-A session with the players and their parents. Before the youth camp started, she spoke to just the parents and briefed them on what to expect during the sessions; she was pretty adamant that parents were there to observe and coaches were there to coach — no backseat coaching allowed at AKFCs.
The adult camp's happy hour was a hit with everyone. Future iterations of the adult camps will be longer and feature more off-the-field interaction through education and discussion sessions on wide-ranging topics and, possibly, game-viewing parties or game breakdown sessions.
The enthusiastic responses after the adult camp are proof that adult players and fans want these types of experiences and not just for the chance to meet a player and get an autograph. Decision-makers in positions to influence marketing and advertising budgets ignore this demographic at their peril — teams in the National Women's Soccer League and those within U.S. Soccer, take note: There's life outside the preteen and teen demographic — there's room for everyone — and getting people out on the field and authentically engaging with them off of it are just some of the ways to make new fans and spread the love of the game.
[dropcap]W[/dropcap]hat was really cool about the adult camp, and is the real takeaway, was watching how the players progressed from strangers at separate tables during happy hour to teammates high-fiving, laughing, and taking selfies a day later. There's a cliché in there but it also rings true: sport — soccer, in particular — at its best and most basic has the power to unite us. Whether she knows it or not, Krieger's hope for future AKFCs aligns with that sentiment:
"I hope to go around the country and inspire a lot of other adults with AKFC and just share that experience and meet new people and share the passion for the beautiful game that I have and that everyone else obviously showed me tonight. I think it could be incredible experience for everyone. I think I just would love to give back in that way and I think our adult supporters and fans deserve that. I'm willing to travel all over the world to meet new people and be inspired and motivated and continue to spread good football all over the world."
But I never did find out who left their pants behind.
Sights and Sounds from AKFC Adult Camp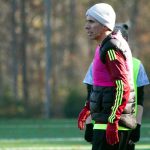 Joseph Alfonzo came from California with his wife, Karla. Both are beginners and were inspired to get on the field by Krieger. Krieger's goal of an intimate experience was met for the Alfonzos, who were impressed with the entire experience.
"[It was] Amazing. I would say it was a whole journey," Joseph said after the camp. "I think it was very special, too, because Ali brought us here with her team and she's shown us where she's from, she's shown us her teammates, her friends from when she was little, family — dad. She's taken us to her field, her hometown, and she's teaching us with her crew how to play football. It's so intimate and close that they made us feel like family or like super close friends — amazing."
Kelly Southers made the trek from Detroit, Michigan. The P.E. teacher picked up a few teaching tips from Ken Krieger, a former P.E. teacher as well, to take back with her to Michigan along with memories of a relaxed group experience and a good workout.
"It kicked my butt a little bit but I had so much fun," Southers said. "I learned a lot from even her dad; he's a former P.E. teacher and I'm a P.E. teacher so that was really cool. Very cool group. A lot of the same humor, which helps. Everyone was just very laid back and chill."
Kiera "Kentucky" McAvoy came from, well, Kentucky for the camp. The AKFC camp crew actually found her on the side of the road and drove her to the camp's first session. No lie. I don't think that type of customized experience will scale or be replicated, however.
Getting to know Krieger at happy hour and playing with her were the draws.
"I'm from Kentucky and I flew in to come to this camp and it was well worth the money and well worth the time. […] I had fun at the night time when we got to have drinks and food we got to meet Ali personally. And then the next day we got to play; there's two sessions and you get to do a bunch of drills, you get to play, and Ali's there the whole time, so it was a great experience."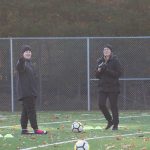 Last full disclosure: Within seconds of sitting down at my table at the happy hour, Kentucky asked if I was Krieger's mom. Her mom. I'm going to chalk that up to adult beveraging and not the wrinkles around my eyes. The opening salvo made me want to curl up in a ball and hide in a corner for a bit.
I also somehow got nutmegged while filming on the sideline from one of the people in the picture to the right.
Call me somebody's mom and I'll get over it, but nutmeg me?
That made me want to curl up into a ball and die.
I really should have played though.