The second series of the highly successful Ultimate Goal starts again in the U.K. on Tuesday night and once again brings together young women from around the world who hold the dream of not only becoming a professional footballer but also inspiring the next generation of young girls in their corner of the world.
Many have been through various hardships to get to where there are now and aside from receiving professional coaching from former players and current coaches, will also get to share their stories with their teammates as they look to earn a spot in the finals at St. George's Park.
Four of the participants offered glimpses into what they've been through to get to where they are now.
Stefany Ferrer van Ginkel
One of those who has already enjoyed a big career move since speaking to OGM earlier this year is Brazilian-born Stefany Ferrer van Ginkel, who joined Liga MX Femenil side Tigres UNAL in the summer, becoming their first foreign signing after van Ginkel was left undrafted by a National Women's Soccer League after completing college in the United States last year.
The 22-year-old forward grew up in Brazil, where her young mother couldn't look after Stefany and her two sisters. They went to live with their grandmother, but she struggled to make ends meet to look after them and they went to an orphanage when Stefany was just three.
She was separated from her older sister Larissa, who was sent to a different orphanage. Larissa refused to be adopted without her sisters, and eventually a Spanish couple adopted all three sisters and took them to live in a small village near Barcelona. At the age of 12, she began playing for a boys team and at 16  was called up to play for Barcelona.
Unfortunately, with both parents working full-time she was unable to travel to the training center. This didn't stop her success, and she eventually went on to play for RCD Espanyol, scoring 49 goals in one season and being promoted to the second division. Stefany was subsequently offered a scholarship to West Virginia University to play NCAA D1 soccer.
"My agent talked to me about coming here to England and gaining more exposure and insight into professional football," said van Ginkel. "I finished college in the USA and as soon as I knew I was going to come here and do Ultimate Goal, I watched the first season and was like, 'Wow, this is more than just football.'
"People were talking about their lives and you realize a lot of people are going through the same things and it's been cool to be able to share those stories because there's a lot of people who can connect with what you've been through and I felt like that side of it was close to my heart."
While Stefany has enjoyed success in the months since and settled into a professional league in Mexico, she believes the Ultimate Goal experience immediately had an impact on her ability to speak about her upbringing with others.
"It helped me to learn to open up more because not only can it help you, but it can help others too. That was really my motivation, not just for it to be about football.
"We get to meet people like us. People who have been through things not just in football, but in their lives too. It has motivated me to do everything I can to succeed and a lot of the people here with me are an inspiration."
The forward's previous life would take its toll on any young girl, but the move to Spain inadvertently led van Ginkel on the path to where she is now and she admitted she wouldn't change her journey and the person it has made her today.
"I'm forever grateful for that and where I am now. Everything happens for a reason. My family, my friends, my sisters, parents, cousins, they've all been there for me.
"My background makes me stronger, everything that's happened to me and everything I've been through made the person I am now, so I'm grateful for my journey and what I've become."
She particularly holds close to her heart the relationship she has with her sisters, who she could have easily been split from had it not been for their refusal to be separated from each other when back home in Brazil.
"We've been through the same things together and I'm so glad we stayed together," she said. "That's the most exciting part for me, seeing each other succeed in different places and different parts of our lives. That's what has made me the happiest, seeing them succeed too."
Zainab El-Mouden
Eighteen-year-old defender/midfielder Zainab El-Mouden, from England, wants to break barriers as a hijabi woman playing football.
"Being the only person on the pitch wearing a hijab can be quite daunting," she said. "It took me a while to be proud of looking different."
She wants to continue inspiring young Muslim girls to play sport through sharing her experiences, and wants to be the first professional hijab footballer in the U.K. With a close-knit family of two sisters and a brother, she has received lots of support for her ambitions and even got into boxing for more than five years thanks to her brother and his coach. She is currently playing for Leyton Orient in the Greater London Women's Football League.
"It feels so great to be here because I'm surrounded by players who are incredible," she enthused. "The level is amazing, honestly, and to be competing with them maybe knowing I'm not at that level inspires me to try harder.
"The whole experience has been about improving as a player and a person and I hope when I go back I can take those notes from these amazing players and coaches because I've been pushed to such extreme levels that I can't go back now to how I used to play."
El-Mouden's other motivation behind taking part in Ultimate Goal is to inspire a new generation of Muslim footballers, admitting there is a "lack of a Muslim athletes" across the country.
"When I grew up the question was always, 'Who inspired you to get into football?' or 'Who was your idol?' and I can't answer that question because nobody did, there wasn't anybody like me. I played football because my friends were doing it and I feel if I had someone who looked like me as a kid that would have given me an extra push.
"I've now come into this environment where for most of the girls it's been a dream all their lives and now I have to catch up, because it was a dream but never a goal as I didn't feel it was realistic for someone like me. Nobody looks like you on the pitch and I've never played with someone outside school who looked like me."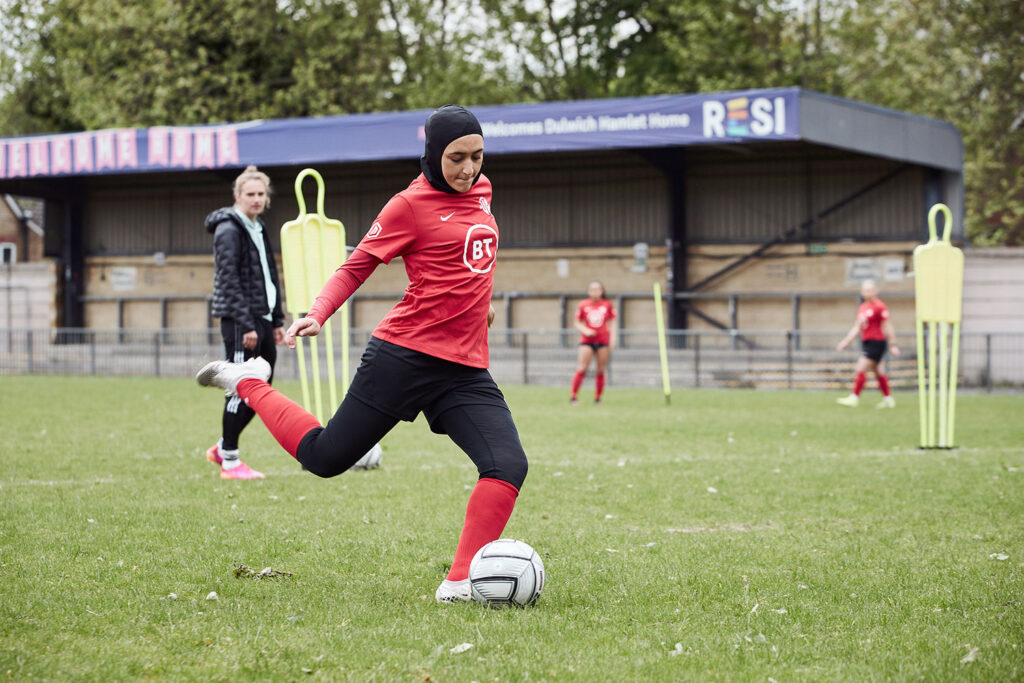 Zainab has had to contend with those doubts as a teenager and is now starting to not just accept who she is but to "be proud of it" too.
"It's upsetting because sometimes you look scruffy because you have to wear extra layers or people will underestimate you because of how you look."
She does, though, make sure she's heard on the pitch and isn't afraid to respond to any ignorant comments she might get about how she dresses in order to play football.
"I'm a truly loud person," she laughed. "These girls will tell you they can hear me before you'll see me! I feel like you're very insecure in different moments. When you have to wear leggings or skins and you get that question of 'Aren't you too hot?' 'Well, if you're hot, I'm clearly hot!'
"I think I've realized when it comes to my teammates a lot of it was in my head and my teammates were pretty accepting of me and just saw me as me. As much as my headscarf is so important to me, it doesn't define me because there's so much more to me."
Like Stefany, Zainab has received plenty of support from her family for taking part in the new series and she hopes she can inspire more young Muslim girls to take part in football, admitting even if just one young girl took inspiration from her she could "die happy."
"If I don't make it professionally I will probably still be a part of a Sunday league team until the day I can't walk," she laughed. "But I want to be that person someone looks at and says, 'I want to be like her.' That's more rewarding for me.
"When I received the phone call about Ultimate Goal I went to my family and said, 'I think I'm going to be on TV' and everyone was so supportive. My auntie and uncle literally drove me here and I'm lucky in that sense because they appreciate I like to do certain things even if it's unacceptable in other cultures."
She added, "At first, they just saw it as a hobby and thought I'd stop but I realized I didn't want to stop. At first, they were a bit wary, I had to travel a couple of hours to Enfield every day and my mum was like, 'Can you do this?' and I said, 'listen, I want to do this!'"
The defender/midfielder now hopes more girls like her will not only receive the inside support she had to fall back on but will also see her as an inspiration and start up a new community of Muslim girls who want to become professional footballers in the U.K.
"As clichéd as it sounds, it would mean the world to me," she admitted. "A lot of us, our parents weren't born here, they came here to give us a better life. An education, a job to sustain you, and the women's game isn't very stable in that respect because we need a dual career, a plan B.
"People need to understand you can do both. I've got A-Level exams as soon as I finish here. Parents need to understand that having football in your life can actually be a release from education. If there were professional Muslim women in the FA WSL, I'm 100% sure they'd get some sort of negative comments, there's not enough done to understand Islamophobia, and I hope over time we get more understanding and progression and acceptance of race and religion."
Vanessa Ogbanna
Vanessa Ogbanna, a 24-year-old forward, is another taking part in Ultimate Goal's new season. Vanessa moved from Nigeria with her mum, dad, and brother to Co. Waterford in Ireland to seek asylum at age six.
She describes being placed in a direct provision center as "being put away in a corner away from actual society." Sport was her gateway to life in Tramore and it wasn't long before she became a star footballer and joined the Football Association of Ireland's Emerging Talent program, earning an Ireland U-15 call-up.
However, without an Irish passport, her dreams were ruined.
"It was quite heartbreaking," she said. "The one thing stopping me was something out of my control. Being the first black African girl coming through, maybe people weren't thinking of it."
Vanessa fell out of love with the beautiful game for some time and when she finally decided to get back to it she tore her ACL and lost her dad within three weeks in her first year of college in America.
Vanessa is a vocal activist around Black Lives Matter and wants to prove to herself she should be at the top level and inspire black Irish girls to push past any barriers they face.
"My story of how I got involved is a little bit like Stef's in that my agent gave me a call and told me what it was all about," said Ogbanna. "I watched some of the videos, I spoke to Hayley Nolan, who had only good things to say. I couldn't see many negatives from going for it. Sharing stores and understanding that you're not alone in your journey.
"It's really nice to know you're not really that unique. It's not nice other people are going through things but it's kind of reassuring you're not going through things on your own."
Ogbanna has made Ireland her home since arriving at the age of 6 and it is the nation that gave birth to her passion for football and has led her to where she is today.
The forward admitted it was "meant to be a temporary thing" but it's clear it has become her home in more ways than one.
"You get your papers and move on, but now it's more a long-term thing. We were a family, we got our rooms in residency, I don't remember it ever being too traumatic but it was more about how I behaved. I wasn't inviting friends over, closing myself off, but Ireland's an amazing place and I was able to integrate. I never felt different, it's only when I leave I realize not everywhere is like that."
Ogbanna has a sharp wit as she proves when she admits she tried Irish dancing growing up but "realized it wasn't for me very quickly" before football became her passion and her focus and she was fortunate to be growing up in a town with a large football community.
"I think within a year me and my brother had tried nearly every sport," she recalled. "I was always high energy, our parents never shied away from letting us discover what we wanted to do. There was a big girls' football community in Tramore, I never played with boys, I had that luxury from being about 8 or 9 and not a lot of people in Ireland get to do that."
After falling out of love with football, an ACL injury, and losing her dad shortly after going to college in the U.S., it would have been easy for Ogbanna to never return to the sport, let alone take part in Ultimate Goal, and she admitted, "I don't really like losing" was a reason as to why she pushed through with continuing to play.
"When I came back to football I was with girls that I was better than, that really annoyed me," she laughed. "Going to America was a miracle in itself, they really trusted me. I got stronger in my faith as a Christian. Football isn't your life, it doesn't define you, and understanding that helps you overcome that adversity.
"Everywhere here has that in common, we can all push through things. There's strength in that and it's not usual to get a large group of girls to get to know each other so quickly. We've not been here long and already we have a high level of respect for each other."
Like most of the other participants, Ogbanna is doing Ultimate Goal not just for football but to inspire a generation behind her that they can do what she is succeeding in.
"Like Zainab said, you don't see many people like you on TV and it's why we're all so keen to inspire other people. A lot of time it's an effort, you want to live your life, you didn't ask to be a role model but you figure it out.
"It gives you a label. If I'm an activist for anything, I'm a black female who lives in Ireland, that's it. It's about understanding we're all different but we're all the same too. Going through adversity makes you more aware. I didn't choose to be black, I didn't choose to be a girl, it just makes you fight for bigger things within yourself."
Ogbanna continued, "Football is a good leveler that way. You just want to know if someone's good or not. If you're my teammate I just want you to play well. Growing up, I didn't see myself as different, I saw myself as more Irish than Nigerian. No one was calling me a black girl, it's only when you leave that comfort zone you realize you're different but it's something we have to deal with.
"I think our generation as a whole is becoming more accepting and accommodating of others. The thing about racism, sexism, et cetra, a lot of these things are conscious, people say things without understanding it hurts the other person."
Koral Hazan
The final player to speak to OGM is Israeli Koral Hazan, a 22-year-old forward who has played in the top division in Israel since she was 16, as well as for the Israel national team.
Her love of football was evident from a young age. At age four, her father bought her a football that she slept with at night and took everywhere with her. Recognizing a budding player, her father took her to a small local club. She has dreamed of playing pro football all her life, a tough dream for a young girl growing up in Israel, and dedicated all her time throughout military service to pursuing her dream.
It hasn't been easy. After rehabbing from surgery on her left knee at 18, she got her first international call-up – before injuring her right knee. After undergoing more surgery and rehab, she considered giving up on her dream, but realized there was nothing else she wanted to do. Since then, she has pushed even hard to make it as a pro player.
Koral hopes that progressing through Ultimate Goal will lead to more awareness of women's football in Israel, which currently gets no coverage for league games. 
"I'm very excited because in Israel it is very hard to become a professional footballer," she said. "Here, this is my opportunity to show myself to the world. I'm really excited for this and I'm really happy, I feel like this is where I need to be.
"My club manager in Israel sent me a message and said he needed to talk to me about 'something special' and I said, 'Oh, my God, okay, I'm coming,' and he told me about this show and I said, 'It's England, it's London, I have to do this…'"
Hazan has represented Israel at senior level already but admitted being a women's footballer in the country is "really hard" due to a lack of resources and like Zainab, another job would sustain her career, but she's so focused on football she's willing to earn a low salary to concentrate on her career on the pitch.
"You can't just get up in the morning and go to play football, you have to think about another career. The boys have everything they want, they have games on TV, good pitches, good salary, but the women, nobody really cares and it's really hard.
"I chose football because it's my goal and I know if I want to be a professional footballer I probably have to leave the country, because I've never really imagined myself doing anything else. I wanted to do it at 15 but I got some injuries and my career stopped for a while. It's not too late, though, I don't think."
Hazan has also gone through the standard military service every person in Israel must do, but as an athlete has had to spend less time completing her service, which has included working in the hospital booking appointments for military personnel but she has been able to continue playing football around her reduced service.
Like everybody else, Hazan also hopes to be able to inspire young girls back home in Israel who want to become professional footballers and hopes she can be the first to lead the way through Ultimate Goal.
"I want young players in Israel to look at me and say, 'She did it, so why can't I?' I want young players in Israel to look at my journey because there's a lot of talent in Israel, they just don't have the resources.
"We don't have the pitches and the salary is too low. Some players just quit because they think it's too hard and I just want to come to England and show every other girl they can do it too."
In the months since we spoke, Koral has signed for Croatian top division side ZNK Split.
The Ultimate Goal series two premieres on BT Sport 3 on Tuesday, November 2 at 10:15 p.m., with episodes airing over the next five weeks on Tuesdays on BT Sport. All six episodes from series two will be available to watch via the BT Sport App starting on Wednesday, November 3.