This story appears courtesy of Rosie White and first ran on Raw Stories by Rosie.
"Rosie, what is the most important life lesson that you've learned through playing soccer?"
I stepped back and pondered. I felt a little flushed. I should know the answer to this question but I don't think I'd ever verbalized it before. This could possibly be one of the most important and valuable lessons of my soccer career. At the time my answer was surface deep, and I wish I had said something more thoughtful like, "Through soccer I have learned how to be courageous." It sounds profound, but it's simple. I was given a metaphor that has helped me to be a more courageous person. When you're faced with a challenge or a question, you have the choice to respond with your courageous, brave lion, or your fearful and conforming lamb. I am no master of courage, but I recognize courage and fear in myself and I am working on bringing my lion to the table and leaving my lamb behind.
Recently, I attended an important soccer game hosted by America SCORES' Gardner Pilot Academy versus Umana Middle School. This was a momentous game for Gardner Pilot Academy as it was their only official home game of the year, hosted at Harvard University. Gardner Pilot Academy usually practices on the asphalt playground or wooden floor in the school's basement and have to travel to play any games. America SCORES is a nation-wide nonprofit with branches all over the country. America Scores Boston has a long-standing relationship with the Breakers, so I jumped on the opportunity to get involved with the organization. Their vision is "to be Boston's preeminent youth development organization, a community built around 'the beautiful game' of soccer and committed to the development of the whole child."
The girls were excited to have a professional soccer player chat with them and watch them play. It didn't matter that they'd never seen or heard of me before. I think they were mostly impressed with my foreign New Zealand accent. One highlight from the experience was the utter disbelief on the face of one kid who could not believe that New Zealand and New Orleans were not the same place. I was thoroughly entertained by the curve ball questions and I was blown away by some of the profound ones they asked me too: "What's the biggest life lesson you have learnt from playing soccer?" "How does it make you feel that you earn less money than men doing the same job?" "What's your favorite song?" "How far can you run without stopping at all?"
A slight fear of public speaking made me nervous to talk with the group, but their raw excitement and pure energy was infectious. Sometimes this kind of joy can be misplaced in professional environments, so immediately I appreciated the incidental reminder of why I still play. That reason is simple and it's because I love it, just as these kids do. The kids came from different walks of life, a lot of them don't speak English as their first language. I couldn't pretend to understand the kind of struggles or realities they've faced in their lives, but we were united through soccer and barriers like gender, race, or age suddenly became less robust.
Initially I was nervous that I wouldn't be able to connect with these kids because our lives are very different from one another. It turns out my apprehension was pointless because when I made an effort to step outside of my comfort zone and talk, I suddenly became vulnerable and open. I wanted to know more about these kids than they did me and speaking with some of them and hearing their stories gave me a real connection to America Scores and the experience as a whole. As always, the most memorable and most important component of this is the people, the kids in the program, and the people who make it all happen.
The Kids
America SCORES encapsulates the importance of sport, education, and community. I love how soccer is a universal vehicle that can be used to encourage kids to be active, to work in a team, to experience competition and challenge, and how to be a gracious winner or courteous loser. It is also encouraging these kids to be courageous — physically, mentally — in their communities.
"I love soccer it brings us [family] all together and we play massive games! It gets pretty competitive though; my dad's always telling me what to do. I like it though, I guess." — Katherine
"I don't get to see my dad's side much — they live in California, but I know they all love to play soccer too" — Nailah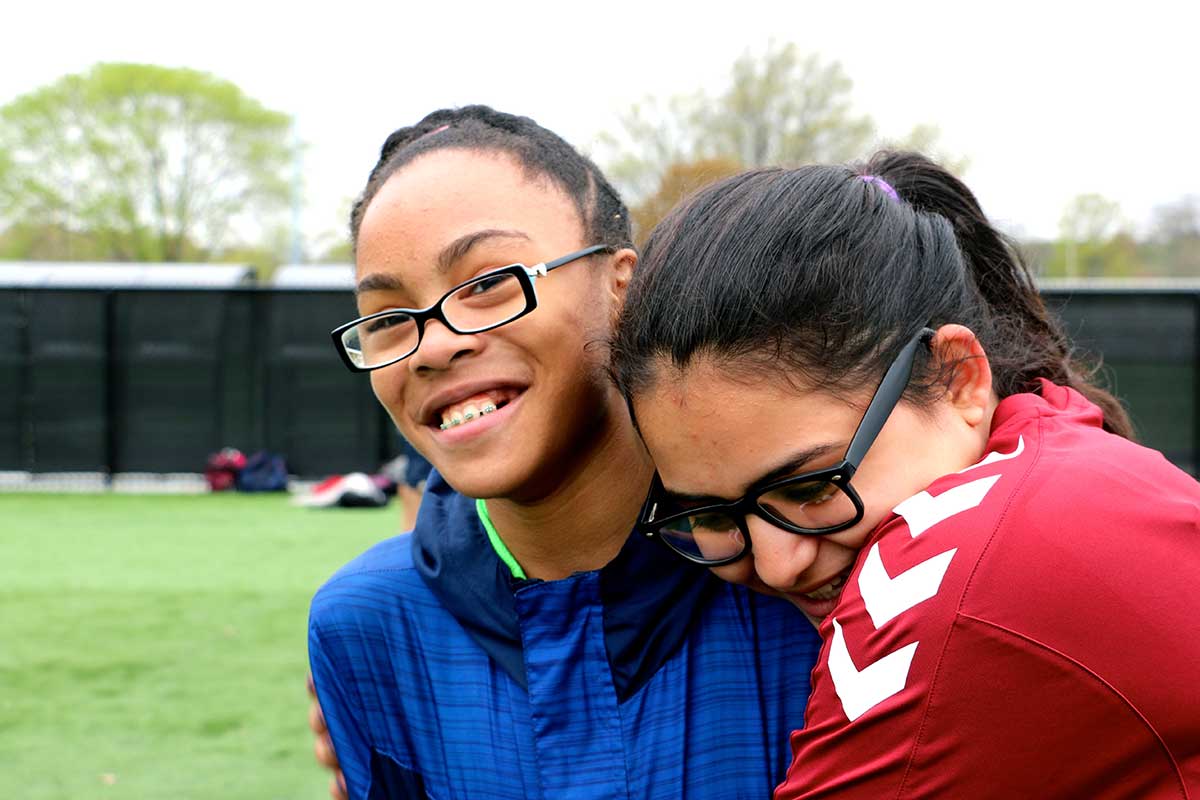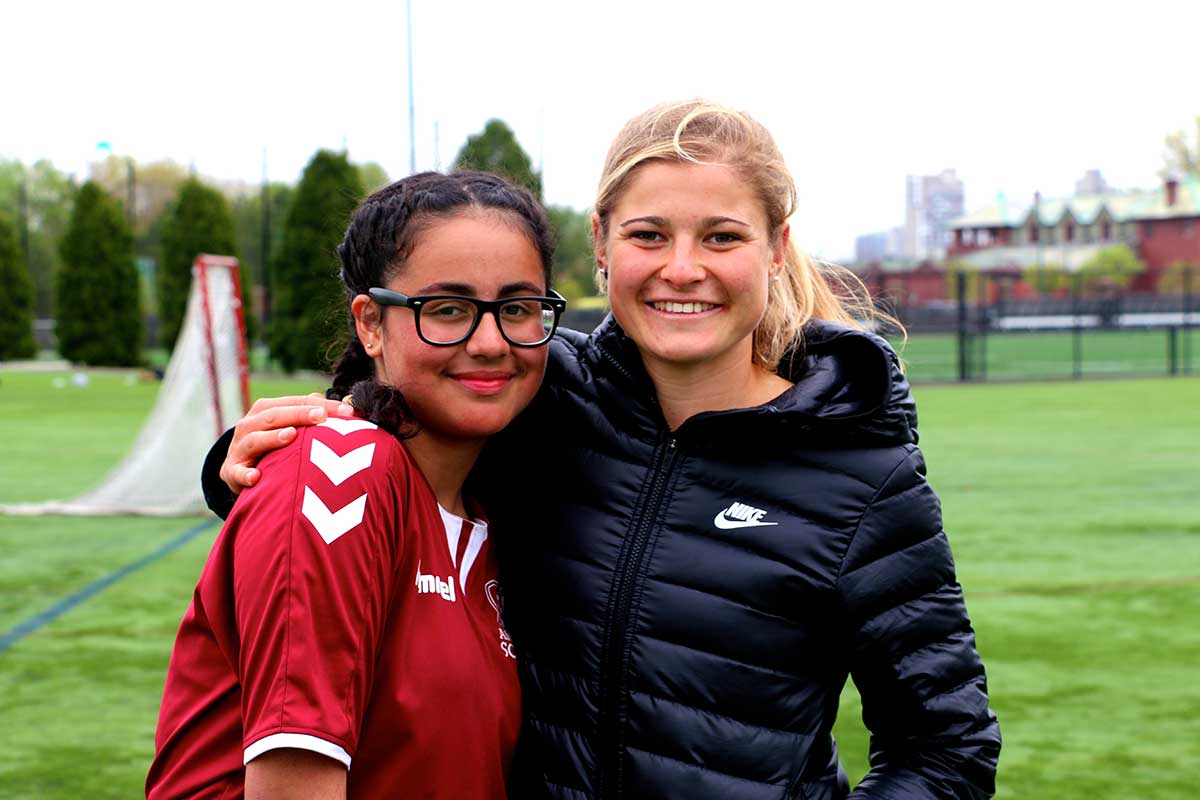 This is Yasmime from Gardner Pilot Academy. I talked with Yasmine and she expressed her love for the women's game and also her frustrations with the gender pay gap and other social issues. She said, "I want to empower women that's why I want to go pro. It's all I ever talk about, it's all I think about. My bedroom walls are covered with team rosters. I can't afford to buy them all so I just print some of them off myself."
Not only is Yasmime knowledgeable about everything going on in the women's sporting world, she is taking action! She is writing a children's book about Abby Wambach's story so that she can inspire and empower others. Yasmim is passionate, confident, and intelligent, a great role model and teammate. It was a pleasure to meet her!
I look forward to getting involved in the program again soon!