FC Kansas City and the Portland Thorns FC played to a scoreless draw at Children's Mercy Victory Field in Kansas City, Missouri, in what was a battle of the midfield.
Becca Moros started in the defensive midfield with Lo'eau LaBonta and Alexa Newfield was inserted in an attacking midfield role in Kansas City's 4-2-3-1. Meghan Klingenberg was back in the starting lineup at the left back position in Portland's usual 4-3-3.
The Thorns' Allie Long had a good look in the 28th minute when she took a pass from Hayley Raso at the top of the box and spun with ball between to Kansas City defender to create space and got off a low-driven shot that was right at goalkeeper Nicole Barnhart.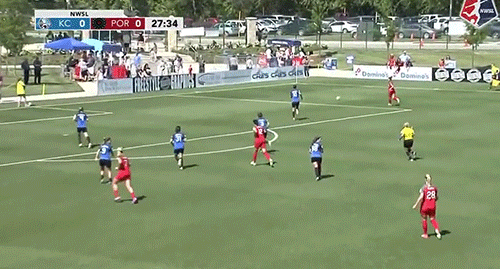 Raso had an opportunity from a Lindsey Horan redirected header played in off a corner kick but her stab at the ball went popped up and well over the goal.
In the 38th minute, Long started the attack for Portland by playing the ball to Nadia Nadim, who one-timed it to Christine Sinclair making a run in between two Kansas City defenders. When Becky Sauerbrunn failed to get a foot on the pass, it left Sinclair to outmuscle Moros and send a shot to the far post that had Barnhart beat but not the post.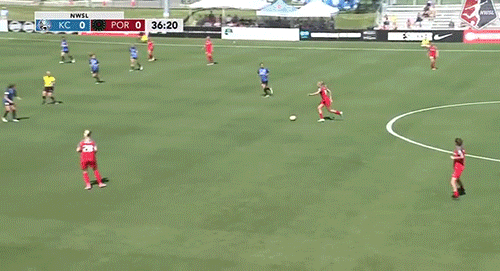 Kansas City's best opportunity came in the 65th minute when Erika Tymrak dispossessed Emily Sonnett and Sydney Leroux was able to get on the end of the resulting deflection with a wide-open look at goal. Portland's Adrianna Franch closed down the shooting angle and made the save to keep the Blues off the score board.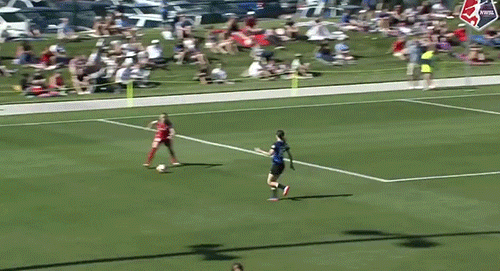 Moros had a look at goal in the 78th minute after getting to a poor clearance from Klingeberg but her shot to the far post was wide.
The scoreline remained at zero and both teams earned a point. Kansas City sits at 1-2-2 while Portland goes to 2-1-2.
Kansas City will travel to Washington to face a Spirit team coming off a 2-6 loss to Seattle. Portland heads to Boston to play the first Friday night game.
Attendance: 1,796
Lineups
FC Kansas City
18-Nicole Barnhart; 31-Christina Gibbons; 10-Yael Averbuch; 4-Becky Sauerbrunn; 13-Brittany Taylor; 3-Becca Moros; 9-Lo'eau LaBonta; 25-Brittany Ratcliffe (15-Erika Tymrak, 63′); 88-Alexa Newfield (6-Katie Bowen, 72′); 2-Shea Groom (44-Maegan Kelly, 82′); 14-Sydney Leroux
Portland Thorns FC
24-Adrianna Franch; 25-Meghan Klingenberg; 4-Emily Menges; 16-Emily Sonnett; 30-Celeste Boureille; 10-Allie Long (27-Meghan Cox, 93′); 7-Lindsey Horan; 28-Amandine Henry; 9-Nadia Nadim (26-Mallory Weber, 69′); 12-Christine Sinclair; 21-Hayley Raso
Discipline
FC Kansas City
Yellow Cards:
Becca Moros, 74′