U.S. Women's National Team (USWNT) midfielder Carli Lloyd has been nominated for Sports Illustrated's 2015 Sportsman of the Year award for her hat trick — the fastest in World Cup history — in the final of the 2015 FIFA Women's World Cup. Lloyd scored six goals in the tournament and won the Golden Ball as the tournament's best player.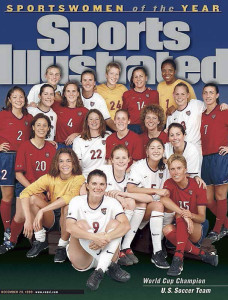 Lloyd is one of 12 nominated athletes, including Simone Biles, Usain Bolt, Stephen Curry, Thomas Davis, Novak Djokovic, Lionel Messi, American Pharoah, Ronda Rousey, Kansas City Royals team, Jordan Spieth, and Serena Williams.
The winner will be announced on December 14. Fans can vote in a reader poll through December 12, with the winner of the reader poll announced on December 13.
In 1999, the USWNT won the award — as Sportswomen of the Year — after winning the 1999 World Cup, and is the only soccer team or athlete to win the award since its creation in 1954.