Nine Squads, Nine Stories is a series that concentrates on one team in the National Women's Soccer League, highlighting a player or theme. This installment focuses on Sam Mewis and Abby Dahlkemper, former UCLA teammates currently playing with the Western New York Flash, as they make the jump from the college ranks to the professional level. The Flash drafted Mewis and Dahlkemper in the first round of the 2015 NWSL Draft.
---
 "With the six of us [graduating UCLA], we all kind of did the math and hoped that two of us were bound to be together but it was a question of which teams. We knew the Flash had four first-round picks so there was a pretty good chance that two of us were going to go to the same team." — Abby Dahlkemper

At the 2015 National Women's Soccer League draft, six of the first 19 players selected were former UCLA Bruins. The Western New York Flash selected Abby Dahlkemper and Samantha Mewis in the first round, third and fourth, respectively. During their rookie campaigns in 2015, both have been regular starters with the Flash and have produced steady performances on the field.
After the 2014 season saw the Flash finish out of the playoffs, the club made several offseason changes hoping to have a stronger 2015 season. Veteran players from the squad were traded or waived to pave the way for a core of younger professionals. While there have been some rough patches for the new-look Flash, Mewis believes that the team's younger players on the team are starting to hit their strides going into the final stretch of the season.
"We lost our first game, 5-1, [at Seattle] and that was kind of a rude awakening for both of us and kind of alerted us to how hard this league was going to be," said Mewis. "Since then, our team has made some really great strides and there has been a lot of improvement. We've beaten some of the best teams in the league now and as we go along, I think Abby and I are both trying to get to continue to get as much playing time as we can. We both have been on the field a lot and we want to keep that up."
Developing a Strong UCLA Group
"I think the biggest thing for us was when [Sam and I] came into UCLA," said Dahlkemper. "We had 11 or 12 players in our recruiting class and it just speaks volumes about the program that six players got drafted into the league. Throughout our years, having those players surrounding us everyday and getting to play with those players helped us prepare for the league."
That was certainly one advantage both Mewis and Dahlkemper had before being drafted into the NWSL. Year after year, the Bruins have produced quality professional players, in part due to squad depth that naturally promotes fierce competition in practice. In the past three years, the Bruins have sent nine players to the NWSL and another who signed overseas.
As incoming recruiting classes grow stronger each year, the number of high quality players on every squad means consistently performing well in high-pressure practices is necessary to earn time on the field, according to UCLA head coach Amanda Cromwell.
"When you look at last year," said Cromwell, "we had youth national team players that were on the bench and not playing much at all because of the strength of the classes above them and the depth of our team is what makes us so strong. And I think that is what helped prepare [Sam and Abby] for competition in the pro league because you have to deal with not starting sometimes or not knowing what the coach is thinking."
Most players will improve and grow when brought together in a competitive training environment day in and day out. It's why the Bruins have been so competitive the past few seasons and has helped to pave the way for seniors to make the jump to the professional level.
"We've said all along our class was so talented and was so good and if we were part of a class that wasn't as good, for me, my individual development would have suffered," said Mewis. "And I gained so much from being around players like Abby and Sarah Killion [Sky Blue FC] and Megan Oyster [Washington Spirit] and Caprice Dydasco [Washington Spirit] and Katelyn Rowland [FC Kansas City]. We made each other better and I think that played a big part in why so many of us went on to becoming professionals."
First Steps into the Pro Game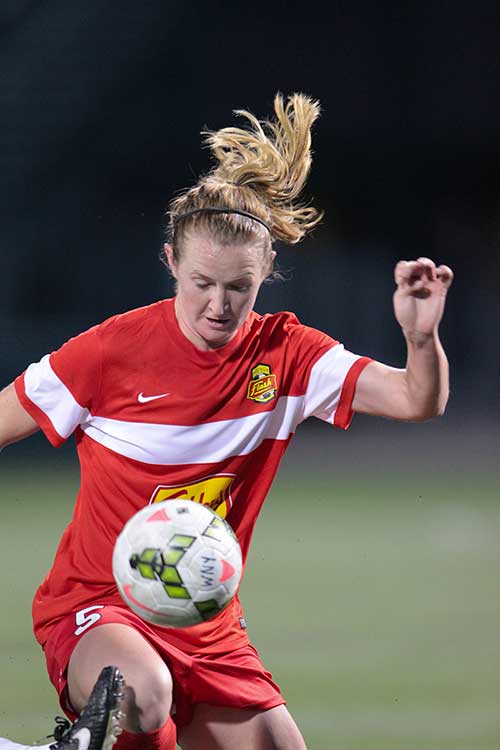 After the draft, Dahlkemper and Mewis headed to Rochester to join the Flash for preseason in anticipation of their rookie campaigns. It was a new experience for the pair — though both were very successful players at the collegiate level, the professional game is an entirely different monster. While adjusting mentally to the pro game can only come with experience, both Dahlkemper and Mewis were already well on their way to meeting the physical demands of the pro game.
"Physically, they both are beasts of athletes," said Cromwell. "You look at Sam's stature, and she is tall and athletic and a very agile player. And while Abby is not as tall as Sam, she is so strong and fast and both of them are very durable players. The other thing at that level is you need to stay healthy all the time because there is always going to be someone ready to take your spot. But those two's fitness level's were so high that I felt really good about their transition to the pro game on the physical side."
The results didn't come early in the season for the Flash as the young squad dropped four of their first five matches, leading some to wonder if the roster overhaul would pay off. Gradually, though, the Western New York Flash has found its footing and is starting to pick up points. Whether it was the extended learning curve for the younger players or just needing to gel as a team, Dalhkemper believes the team has made great strides since day one.
"There definitely was a learning curve in the league coming from college. The play is faster, the players are better than in college. Every team is really good in this league and that was a huge learning curve for us. I think now, since we are now more than halfway through the season, you can see there is a really big difference from where we were in the first four games to where we are now. The rookies have been fortunate enough where we are able to get a lot of experience on the field and get a lot of playing time for most of us. And I think that has made us a better team."
Finishing Strong and Looking Ahead
With the NWSL regular season in its final few weeks, the Flash are still in the hunt to grab a playoff spot after missing out on postseason play in 2014. Coming into this weekend's slate of games, Western New York sits in sixth place with 18 points. With five matches left in the regular season, the team trails fourth-place Houston by two points for the last playoff spot.
Although there's still a bit of work to be done, Mewis believes the Flash have the correct mind-set going into the final weeks of the regular-season schedule.
"I am very optimistic that we should make the playoffs and we should be contenders," she said. "We have a lot of talent and we can do great things but it is just going to take all of us to be fully bought in and come together. And I want us to make the playoffs this year. After the last season for the Flash, we have this goal of turning it around and getting the Flash back to the top of the table and making the playoffs would be huge for us, especially with such a young team."
Making it into the 2015 NWSL playoffs is one goal for the duo but another priority for both is to reach the next level in international play. Dahlkemper and Mewis played with the U.S. U-23 Women's National Team at the Six Nations Tournament in La Manga, Spain before the NWSL season began and Mewis has earned a few caps with the senior U.S. Women's National Team. But both want an opportunity to break into the USWNT mix and will do whatever it takes to help one another achieve that goal.
"I know that after watching the Women's World Cup and how well the U.S. women did this summer, I know that  I want to try and be on the national team someday and I know Sam does too," said Dahlkemper. "So we will push each other to get there and since we know each other so well on and off the field, that I think helps us as well to get each other to push through those personal goals."
Cromwell believes that both will reach that level and will make a lasting impact on the senior team.
"Sam has been in [senior] national camps before and I felt that she probably was one of the last ones that did not make the roster for the World Cup, but I feel that she is in the running for future U.S. National Team games. She definitely has a shot for the Olympics. Abby has to get in for a couple of games to make her case but if you look at Julie Johnston pre-World Cup, she wasn't a starter at the beginning of the year but got her chance right before the tournament and made the most of it. I think Abby is one of those players that if she gets her shot, she's never going to look back."