Nine Squads, Nine Stories is a series that focuses on one story per club, highlighting a player or theme. This installment focuses on the Boston Breakers and its core group of players who have been with the club for several seasons.
---
"Having that feeling that an organization that really wants you around and wants you to be a part of your future is great." — Julie King
With trades and free agency underlying the current landscape of American sports, it can be rare for players to stay with one team for several seasons.
When looking at the roster of the Boston Breakers, however, you see a core group of players who have been on the team for three, four, even five seasons; players who date back to Breakers teams playing in Women's Professional Soccer (WPS) and WPSL-Elite leagues. That current core includes: Katie Schoepfer and Alyssa Naeher, both of whom are now in their fifth seasons with Boston; Julie King, now in her fourth season in a Breakers jersey; Maddy Evans, who is in season three with Boston; and recent re-acquisition of Australian international Kyah Simon, who returns to the squad after playing her 2012 and 2013 seasons in Boston. The list should also include Cat Whitehill, who until she retired from soccer before the Women's World Cup, featured in four seasons and appeared in every regular season game for Boston between 2012 and 2014.
It's not a coincidence that these players have been with the Breakers for so long. The organization has made it clear it's willing to put in the hours to make the Breakers a household name in a sports-hungry city and will have players on the roster who have bought into that mindset. Whether it's having the players out for countless appearances to promote the brand or establishing a true "pyramid style" development program starting from the grassroots through the youth ranks to a reserve team, the team is eager to do whatever it takes to become a fixture in Boston.
According to Breakers defender Julie King, it's a big boost of confidence to an athlete's mentality knowing the team has you in mind for seasons to come.
"I'm on my fourth contract now with the team if you count the WPSL-Elite year with the Breakers," said King. "And every year they have reached out and let it be known that they want me to come back. And anywhere that you are wanted, especially in a competitive league that Boston plays in with the NWSL, it's a great feeling. Having that feeling that an organization that really wants you around and wants you to be a part of your future is great."
Retaining the Core
"I think we play for an organization that believes [it] can be one of the top organizations in the league and be a model organization for the league. They try to do things professionally and try to listen to the players on how to improve things and they make it a great environment for everybody to get better. You really feel like you are a professional athlete when you're with the Breakers and not just someone who plays soccer in the summer and then goes about their business for the rest of the time."
"We have great fan support and we enjoy being a part of the community and Harvard is a great home for us. I think it shows when people come here that they are happy and that they buy into what the organization is selling and all want to be a part of something."
Those are the words from Breakers forward/midfielder Katie Schoepfer, who is in her fifth season with Boston. The former Penn State grad grew up in Waterford, Connecticut, which is roughly a two-hour drive from Soldiers Field Soccer Stadium where the Breakers currently play. Schoepfer grew up with team, traveling from Connecticut to watch the Breakers play in the days when the team played in the Women's United Soccer Association. It was one of those full circle moments when she was able to play for the team after being released by Sky Blue FC after the 2010 WPS season.
"Even though I was so thankful for getting drafted back in the WPS, I felt like there was always something a little bit off and that I was meant to play for the Breakers, and when I didn't get picked by them [in the WPS draft] and was picked by somebody else, I was still hoping at some point in my career that I would get back to the Breakers. I didn't think that it would be for five years but I was hoping at some point I would get back to play for them."
Having those veteran core players like Schoepfer and King was something general manager Lee Billiard wanted for the team. He took over as general manager of the Breakers before the 2012 season, with the team eventually becoming involved with the WPSL-Elite after WPS folded. One of Billiard's main goals was to have a sense of community and family atmosphere surrounding the Breakers. Having players like Schoepfer, King, Naeher, and others who were also committed to the cause makes his job of finding and signing players a lot easier.
"They are completely invested in the Boston Breakers, and to have such a leadership group be the mentors of what it means to be a Breakers player is invaluable to me," said Billiard. "They really lead by example, as to what it takes on and off the field to be a professional female soccer player. In my three-and-a-half years here, I have never heard any of those girls complain — they show up, train hard, do their job, and will do anything they can off the field to grow the Breakers brand and to share their knowledge of the game with young players.  I have so much respect for that core group of ladies, and I am proud to call them Boston Breakers players."
One of the main perks of being involved with one team for a majority of a player's career is the opportunity to set franchise records in one form or another. Schoepfer and Naeher are climbing up the ladder of overall appearances with the Breakers, both having made more than 70 career appearances with the team so far. If Scheopfer plays in this Wednesday's game against Chicago, she will pass Angela Hucles, who played for Boston in WPS between 2009-2011, for second most games played all-time with the Breakers with 77. It's a feat that even Schoepfer still can't believe.
"It is a little crazy to think about. Hucles is a legend around here. She's on the Pillars of Excellence and I remember watching her play with the national team. It's cool, because every year I always told myself that I would go one more year with the Breakers after I got cut from Sky Blue. I didn't want to play anymore but I told myself I would go one more year and maybe I would get lucky and Tony [DiCicco] would put me in a couple of games here or there but I never thought it would come to this where I would be one of the oldest players here."
The Future Core
Part of establishing that core presence is the Boston Breakers Youth Academy, which is run similarly to the pyramid system often seen in Europe. According to Billiard, it started with the Boston Breakers College Academy team and then the Boston Breakers Reserves team, both of which now compete in the Women's Premier Soccer League (WPSL). The main purpose of having those teams is to have players train under the system the Breakers use with the first team and identify players to potentially draft or sign out of college, which came into full fruition this past year.
"Our current striker, Stephanie McCaffrey, who we drafted back in January, was a member of the College Academy team for two years," Billiard said. "It really allowed us to see more of Steph, and for Steph to get a feel of training as a pro player. We knew what she was capable of and I think she has shown she can play at this level and has more to give, so I have to credit the College Academy program for allowing us to see her so frequently and getting to know her as a player and person."
As for the Reserves team, it gives players a chance to play every day and get themselves ready for the professional ranks if they don't get signed right out college. That's something Schoepfer complimented on because it gives players the opportunity for a second chance at their professional soccer career.
"When we as first-team players go see these younger kids play, whether it is our young teams or our College Academy team or even our reserve team kids, you see that there are opportunities where you just don't get cut and then say, 'Well, have a nice life and thanks for playing soccer,'" Schoepfer said.
"There is a year or two that needs a year or two of development after college. And that's something that I wished I had years ago, was that extra year of development when I got drafted and there really wasn't a place to do that. So instead of spending a season as basically a glorified practice player, I would have had a team to play for and go to play games with and spend the year to get better and then be better prepared for the next season."
After establishing those two teams, the Breakers launched the youth system after partnering with a local soccer club, the Scorpions Soccer Club, and now have teams competing at ages ranging from nine years old all the way through high school. The organization, Billiard said, is "in a good place to develop our own players, and have the Boston Breakers brand be represented by thousands of players on soccer fields all over the country."
Known All Across Town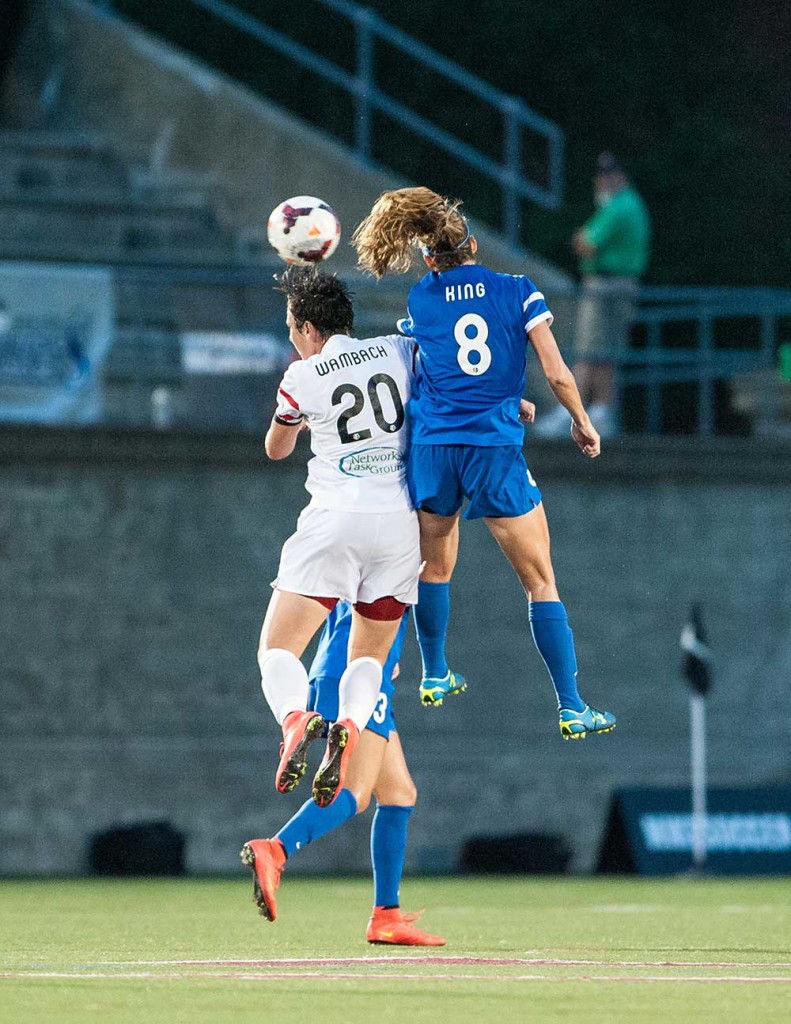 It's tough to compete in a city that includes teams with history like the Boston Red Sox, the Boston Bruins, and the New England Patriots. You also can't forget the rabid college sports scene in Boston with four prominent Division I schools and the annual Beanpot Hockey Tournament. With all of those teams fighting for exposure in Boston, it's easy to get lost in translation.
But combining local players and the long-term core players, as well as the academy set up, has paid dividends on building the foundation of a fan base. The players and organization, however, know that they still have plenty of work to do in terms of getting to the level of where they want to be.
"The past couple of years we have managed to grow our revenue streams, and therefore the culture around the pro team has been changed," said Billiard. "This year, all players and staff have a 'bigger and better' saying we use a lot. This year out of the past three really is 'bigger and better,' and that is largely to do with how we changed the business culture of the organization over the past two years."
"On field, we are now in year one of our three year re-building plan," he continued. "I sat down with coaching staff toward the end of last season, and several times in the offseason where we collectively agreed on the culture we wanted to create on the field, and how that culture will resonate off the field and into the youth grassroots development. We have been very pleased with the group of players we have, they are hardworking players, they want to improve, win, and are also active in local communities helping youth players and town programs grow the game."
"We understand that there are many times we have to go and find a new fan, it is not the case they will just come running to us. The group we currently have has adopted that thought process and are aware that the work they do off the field is just as important as what they do on the field."
It makes building and expanding easier for the organization when you also have players who have been around the team for a few years, understand the system, buy into the club's goals, and are willing to do whatever they can to help.
"It would only make sense for us to bring back most, if not all of our players, year after year," said King. "And I think that the organization has really made improvements trying to be bigger and better. It really is the little things and the details, especially in this league where we are trying to create a foundation for something that is going to grow for future generations. It's the small details that made the difference in the long-term and we can sell to the fans that the league is getting better every year and the organization is looking out for us. And for us players, it makes us want to be around the team and want to continue building that culture."