[dropcap size=small]T[/dropcap]he four teams heading to the semifinals of the 2014 CONCACAF Women's Championship – Costa Rica, Trinidad & Tobago, United States, and Mexico – met the press with the knowledge that in a few days, three will have punched their tickets to the 2015 Women's World Cup in Canada. The fourth-place team will have to go through an intercontinental playoff against Ecuador next month in a home and home series.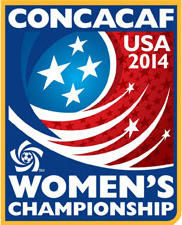 The Ticas of Costa Rica come into their match against Trinidad & Tobago with high confidence knowing that the foundation of work the group has put in to this point will give them the edge in their contest. While they know that Trinidad & Tobago have weapons in their flank play and speed, this Costa Rican team is a product of years in the making and things, according to Head Coach Garabet Avedissian, are coming together at the right time.
"A lot of factors have come together at this specific moment," said Avedissian during the Costa Rican press conference on Thursday.
"This is a group of young ladies that have played together and have gotten to know each other by qualifying for the U-17 World Cup and qualifying for the U-20 World Cup. It's a result of bringing together that group and it wasn't hard to have the same idea of wanting to accomplish our goals. But we also wanted to make sure that they wanted to share the same idea of how to play on the field and what they want to accomplish. Since 2010, Costa Rican women's football has taken huge steps and the reason for that is qualifying for the youth World Cups."
This group truly believes that they can accomplish anything that they want as long as they have the right attitude. And it has shown, not only by the product that they display on the field but how their players are improving every day and getting opportunities to showcase their talents outside of the national team.
Shirley Cruz is an example of that as she has been playing with French side Paris Saint-Germain since 2012, and had stints before that with Lyon. Now, 15-year old Gloriana Villalobos has risen through the ranks, playing for the U-17 and U-20 World Cup teams, and has earned a starting role with the senior team, all in the past seven months. Most rcently, Villalobos had the opportunity to train alongside with Cruz at PSG.
The result of all of this preparation and work for Costa Rica is a berth berth in the Women's World Cup, which according to defender Daniela Cruz,  is the ultimate achievement.
"This is a group of people that has worked for a real long time and just being here now is just amazing. And for Costa Rican football, by giving support for this generation (from U-17 to now the group with the senior team) that we can do it. There is talent in this country, we just need the support. These are 90 minutes [against Trinidad & Tobago] for us to decide everything. This is our final."
For the United States, they are coming into this weekend with a perfect record in group play with wins against Trinidad & Tobago, Guatemala, and Haiti. But for them personally, it was more challenging to get to the semifinals than they've wanted it to be. They've faced teams putting several players behind the ball defensively, forcing the them to break down their opponents' defensive shape.
"These games have certainly given us things to look at. Going into any game, teams can play better against us tactically," said Head Coach Jill Ellis. "And it is a good challenge and it is our job as a staff to make sure our players don't get frustrated and recognize how to problem-solve the game. And when you get a little tight and frustrated you go back to things that you know what your comfortable with. So for us, it's trying to stick to game plans and try to be patient at times."
While midfielder Carli Lloyd echoed Ellis' sentiments in the sense that the team is getting used to dealing with teams sitting back defensively, it's ultimately up to them to maintain their composure.
"This team does a really good job of when things are going well, things are great," said Lloyd. "And when things are a little bit off or sensing that something is different there, we tend to kind of freak a little bit. But I think we are getting better with that, and I think playing against bunker teams, and we are still scoring a decent amount of goals and getting balls into the box, crossing the ball in, taking shots from outside the box, our outside backs are able to get the ball and dictate the play and [Lauren Holiday] as well."
The challenge that lies ahead is an all too familiar opponent: a date with Mexico, with a win guaranteeing the United States a place in the World Cup next summer. Though the results have overwhelmingly gone the way of the United States in this rivalry (the U.S. is 29-1-1 all time), including taking a pair of friendlies in September by a combined score of 12-0, Friday's match will be nothing like the last meetings between the two teams.
"In a semifinal, the level is raised. [Mexico] have gotten better, we have gotten better, it's definitely going to be a better game," said Christie Rampone. "We've faced [Mexico] a lot of times. I think we just have to stay in our own mindset and have to focus on what we have been focusing on and continue to have better tempo, being more aggressive, having the mentality of going forward and go after it, we have to put more pressure on them."
This match up is also familiar not only in the number of friendlies the sides play against each other but also because the last time these two teams met in a World Cup qualifier, it was Mexico who walked away with a 2-1 victory in the 2010 CONCACAF Women's Championship in Cancun and an automatic berth in the 2011 Women's World Cup. The loss sent the U.S. into a must-win, third place match against Costa Rica in which a win sent the team into a playoff against Italy for the last spot in the World Cup. That night at the Estadio de Beisbol Beto Avila is one that still sticks in the back of the mind of U.S. players and will be motivation for Friday night's match.
"I don't think I'll ever forget that game," said Rampone. "As an athlete, you definitely remember the tough times and how to get through them. And it's always in the back of my head. So we have to come out with the right mindset and stay communicating, stay organized and are decisive, have a good tempo and stick to the game plan."
For Mexico, Head Coach Leo Cuellar is hoping lightening will strike again on Friday evening.
"We just played a game against Canada where we lost that game and we had to play the US," said Cuellar about the match in 2010. "After the game against Canada, we were already upset, angry and disappointed with ourselves because of our performance in front of our own people and we wanted to represent them and we wanted to get back on the field. We had a good beginning of the game; right away, we had the momentum of the game and got the fans behind us and the U.S. players experienced something that they may have never experienced before. It was a very small field with fans very close to them. We ran the adrenaline very high and we were in the right mindset from the start. Even when we were tied, we scored a couple minutes later and it was just one of those games, and it was a deserving victory."
Cuellar believes that on Friday night his squad will need to have that same desire and focus in order to get the result they want. While these two teams are facing each other in a similar scenario from four years ago, the tides have turned since then and Cuellar knows that everything needs to fall into place at PPL Park on Friday.
"We need to play the perfect game. We cannot make mistakes in any area>We need to be efficient, we need to be disciplined and concentrate very high and we expect to be ready mentally."
This a Mexican team that has evolved through the course of the tournament. The team started out Group B play with a 1-0 loss to Costa Rica; one of the team's brightest and most experienced prospects, Alina Garciamendez,  flew in to meet the team on the day of the Costa Rica match after taking a test for school. Since then Garciamendez has been the steady workhorse at center back and the mentality of the squad, according to midfielder Veronica Perez, is more optimistic and headed in the right direction.
"We didn't let [the result of the Costa Rica game] break us down," said Perez. "We came together as a team and talked about it and for the next two games we knew we had to step it up and play well and I think that is what we did."
But even then, the pressure on the Mexican camp is at an all-time high coming into this weekend. Cuellar explained that if Mexico doesn't progress, there would be big consequences to come of it.
"We must be in the World Cup to continue our program, to continue getting the support that we need, to continue the structure and getting the competition for our younger girls and to create our own league. And in order to get that, we must get ourselves in the World Cup."