Ten Squads, Ten Stories is a series that concentrates on one team in the National Women's Soccer League (NWSL), and highlights a player or theme. This installment features Janine Beckie of the Houston Dash and her journey to the Rio 2016 Olympics as a member of Canada's Olympic team. 
"For me right now, it's all about everything that I do, every decision that I make, what do I eat, when do I go to bed. It's all about the next three months. And that's how it's been for the past year for me of making these little choices and decisions that I've been making that has given me this big impact on my game."
The past 12 months have been a roller coaster ride for Janine Beckie. She was left off of Canada's roster for the 2015 World Cup but has since rebounded: while routinely called into subsequent camps, Beckie has won a Big 12 Conference title at Texas Tech and was drafted by the Houston Dash in the first round of the 2016 National Women's Soccer League College Draft.
And now it's come full circle for Beckie, who recently learned she had been named to the 18-player roster selected to represent Canada at the upcoming Rio 2016 Olympics.
For the 21-year-old striker, who has been touted as one of Canada's brightest rising stars, a lot has been riding on  her performances for both club and country. After a good start to her rookie campaign with the Houston Dash, which includes starting in six of eight matches played and scoring on her debut against the Chicago Red Stars in April, Beckie is in good form heading into the Olympics.
"I'm really excited to be named to the team" she said. "It really hasn't set in yet, still feeling a bit on cloud nine at the moment. But I'm really excited, really proud, and it was really cool for me to hear how excited my family was for me and I'm looking forward to playing with this group of girls."
Accepting the Challenge
It was a tough pill to swallow for Beckie when she found out she hadn't been selected to Canada's 23-player World Cup roster. Participating in any major tournament is the pinnacle for any soccer player but even more so when the tournament is on home soil in front of your family, friends, and fans.
Rather than dwelling on what could have been, Beckie decided to re-evaluate her game and figure out what she could do to become a better player. She wanted to improve her game so when the next major tournament rolled around, there would be little doubt of her inclusion in the roster. For that to happen, it was Beckie's mentality that had to change in order for her game to grow.
"I've been told that I have the ability to play at this level and the ability to be on [Canada's] roster, but I wasn't ready yet," said Beckie. "And it wasn't anything big, it was little differences, small tweaks in my game, but the big thing was it was a mentality thing. In terms of, if I want to do this, this is my choice and it is not someone else telling me, 'Well, you're not fast enough, you're not strong enough.' No one was telling me those things. It was you have all the capabilities, all the talent, and everything in your game that you need to be successful, you just need to choose if you want to do it."
With that in mind, Beckie set off on a period of adjustment, and little by little, she saw her ability improve over the next few months. She was named to Canada's Pan American Games roster, and appeared in five games and scored two goals for the squad en route to a fourth-place finish. She scored 14 goals in her senior season at Texas Tech while leading the Red Raiders to a Big 12 Championship and an appearance in the NCAA Tournament. Finally, she capped off the 2015 calendar year by playing in all four matches and scoring twice for Canada at the International Tournament of Natal in Brazil.
Beckie credited the experience of playing in the 2015 Pan American Games, which was hosted in Toronto shortly after the World Cup, as a big factor in setting her on the right track for a potential Olympic roster spot.
"It was really great to have something to look forward to so soon after the Women's World Cup squad was named. It was like a mini-Olympics and I enjoyed myself. We didn't get the results that we wanted to, so in terms of the soccer we knew with such a young team that the expectations couldn't be so high, so we worked with what we had, and I grew a lot in that tournament along with the players who played in that tournament who are also on the Olympic roster."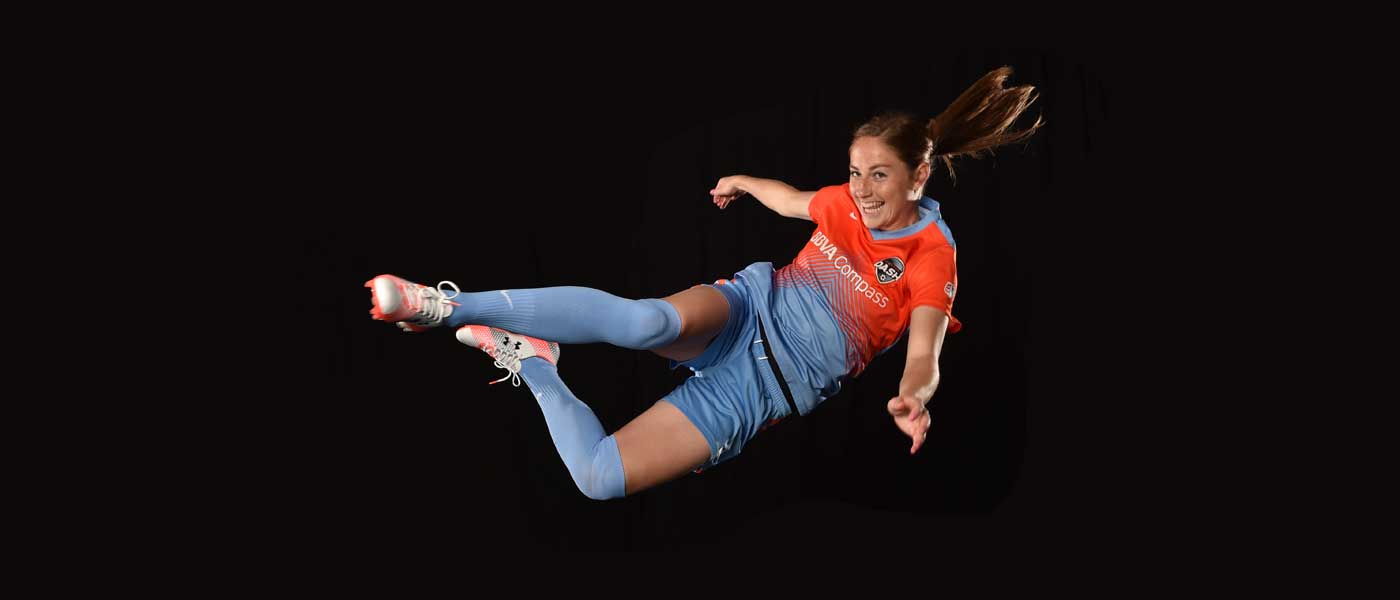 Progressing to Professional
"I knew we were going to get a player that could help us both in our transition and our possession play and she has been able to do that for us so far this season," said Houston Dash head coach Randy Waldrum. "That part of her game I am really happy about. The good thing about her is if you can get her around the goal, she is very good in that area and consistent in her finishing."
Waldrum had three picks to work with in the first round of January's 2016 NWSL College Draft and selected Beckie, English international Rachel Daly, and former Notre Dame defender Cari Roccaro.
The transition period for rookies playing in the National Women's Soccer League always comes with a learning curve. The play is much faster and more physical than in the college game and players have to learn how to manage themselves through the long and grueling season. And even with Beckie having international experience under her belt, she was no exception to that rule.
"It's been a challenge, the transition has not been easy. For me, at the international level, I've been playing with this team for two years now and they know what I can do and where I play. And when you come into this environment, it's new players, new coaches and it's a very athletic league. But I've loved the league so far and I love being in Houston so far."
Waldrum believes that one of the things that will help Beckie continue to grow in her attacking role learning to create more chances for the Dash and to be more aggressive in the final third. He knows that this is just another part of her game to grow and trusts the developmental process, as he believes she can potentially be one of the best forwards in the league.
"One phase we have gotten out of [Janine] is working on our buildup and possession play. Now we've got to get her to become even more dangerous on a more consistent level and I think she has the ability to do that, it's just going to take some adjustment over time."
Beckie, along with Waldrum, admit that the Dash haven't performed up to what their expectations were at the beginning of the year at this point. The Dash currently sit in ninth place as the league approaches the halfway point of the season, far below where many people thought they would be along with many in the the media who predicted the team would be a playoff team come October.
But Beckie knows that this year's Dash team will continue to fight and look to try and make a push so when she comes back after the Olympics, Houston will have a fighting chance to make the playoffs
"It's been tough with the results so far that we've gotten but we keep pushing and there is a lot of season left, even for us who are leaving," she said. "I haven't scored as much as I've wanted to but we haven't put in the performances that we've wanted to as a team that we've looked forward to but we are on the rise and it will be an exciting next couple of months for this team."
Taking the Big Stage
In August, Beckie and the rest of her Olympic teammates will be taking the field for group stage play in Brazil. The Canadians took home a bronze medal four years ago in London and will have to navigate through a group that features Australia, Germany, and Zimbabwe to better or duplicate their successes from the last Olympics.
Waldrum predicts his young forward will have a strong tournament based off her recent form with Canada, which include scoring the winning goal against Brazil in a friendly on June 7th in Ottawa.
"I know the Canada staff have worked with her as well in being consistent in creating and finishing her chances, similar to what we've done here in Houston," he said. "And she's done really well in her last couple of call-ups and I could see her having a really good run in Rio."
[dropcap]B[/dropcap]eckie is confident that Canada is poised for success once again in the Olympics after earning their spot  comfortably through CONCACAF qualification last February. As this will be Beckie's first major tournament, she is looking forward to taking in the sights and sounds of the event, but come the first match, it will be all business from there — all eyes on the prize.
"We are going to go in [to Rio] confidently and ready to win. This team is ready to be on the podium again and I have no doubt about that. I'm excited for the experience and it is going to be unbelievable and I'm going to soak it all in. But at the end of the day, I want to come home with a medal."
And if there was ever an added bonus for Beckie on her debut Olympics experience, her birthday is on August 20th, one day after the gold and bronze medal matches. And if would not be the worst thing in the world to be bringing home a shiny new piece of jewelry as an early present to herself.
"It would be the best birthday gift I have ever received. So hopefully I'll be coming home with a pretty heavy birthday gift around my neck."